D5015, 5015, 24015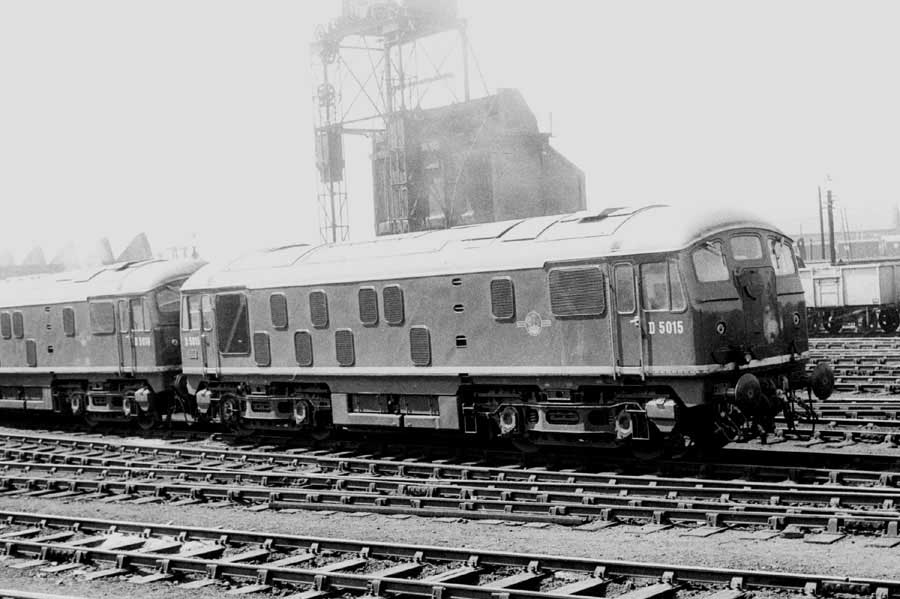 Photograph courtesy Colin Williams
D5015 & D5016 at Crewe South, date unknown, but early in their careers (the cab front is still remarkably clean as is the roof). Clearly visible are the Athermos axleboxes fitted to D5010 - D5019 and the five upper and four lower air filters fitted to a number of the early build of Type 2s from Derby.
The sixteen year one month year career of D5015/24015 included allocations to the London Midland Region and and Scottish Region.
Built Derby Locomotive Works.
Delivered with Athermos axleboxes (D5010 - D5019).
Full size fuel & water tanks, (shortened water tank fitted later).
Five upper and four lower air filters on non-BIS side, four upper and four lower on BIS side.
Time between last Classified repair and withdrawal: ?? months.
Time between withdrawal & scrapping: 17 months.
Allocations
The frames for D5015 were laid down during the early spring of 1959 at Derby Works. D5015 was new to Crewe South (5B) on May 30th 1959. Further transfers were:
June 1959 to Derby (17A) on loan.
June 1959 to Crewe South (5B).
August 1959 to Camden (1B).
September 1959 to Willesden (1A).
October 1959 to Camden (1B).
December 1965 to Bescot (2F).
April 1966 to Birmingham Division (D02).
May 1967 to to Stoke Division (D05).
October 1971 to Polmadie (66A).
March 1972 to Eastfield (65A).
July 7th 1975 stored serviceable.
August 16th 1975 - withdrawn.
Renumbered April 1974.
After withdrawal 24015 was stored at Eastfield until October 1976 when it moved to Glasgow Works. On May 2nd 1976 it moved to Doncaster Works, where it was broken up by January 1977.
Movement: 24015/16/71, 24117 Glasgow Works – Doncaster May 3rd 1976, (behind 26046 at Berwick).
Works Visits
Works visits (records incomplete).
Noted Derby Works February 1960.
Noted Derby Works April 1961.
Noted Derby Works July, September, November 1963.
Noted Doncaster Works October 1964.
Noted Derby Works January & May 1965.
Noted Derby Works February 1966.
Noted Derby Works August 1967.
Highlights
1959
Delivered new from Derby during June D5015 had a hectic time during its first year in service, being allocated to Crewe South, Derby, Crewe South, Camden, Willesden and Camden again, where it then settled down for six years service at the southern end of the WCML. Whilst allocated to Crewe South the summer timetable saw D5015 working on several routes. This included the 7.35pm Holyhead - Birmingham from Crewe, returning with the following morning's 6.30am all stations Birmingham - Crewe. So noted were D5015/16 and D5015/30. The first pair mentioned were involved in working June 9th - 13th's 08.00am Birmingham - Newcastle between Derby and York, returning on the 12.43pm Newcastle - Bristol as far as Derby. On August 5th D5015 worked the 8.25pm Crewe - Birmingham New Street.
The winter timetable commencing November 2nd found D5015/16/18/19 taking over some of the local workings out of Euston.
1960
D5015 was noted at Derby Works during February.
1963
D5015 was noted at Derby Works from July through November.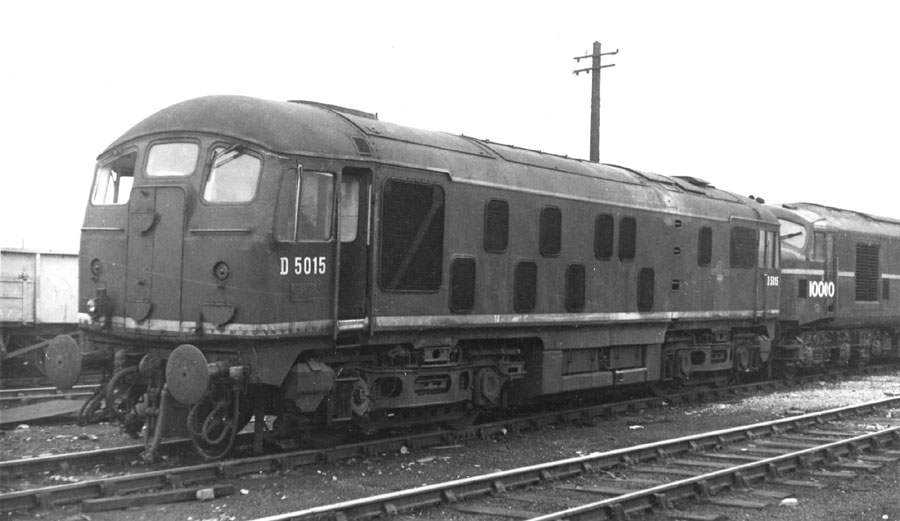 Photograph collection A Stubbs
Looking a little the worse for wear D5015 awaits attention at Derby Works early in its career, it still has the roof mounted water filler cover in place - these did not last long once the locomotives were placed in service. Although the date is not recorded this could be 1963 when D5015 spent at least four months in Derby Works.
1964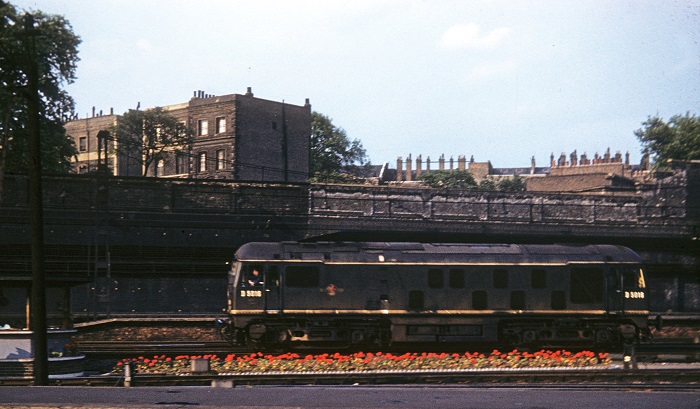 Photograph collection Roger Geach
Its August 1964 and D5015 is on duty at Euston. The flowerbed and the old buildings add some ambience to the view.
1965
D5015 was noted at Derby Works during January & May.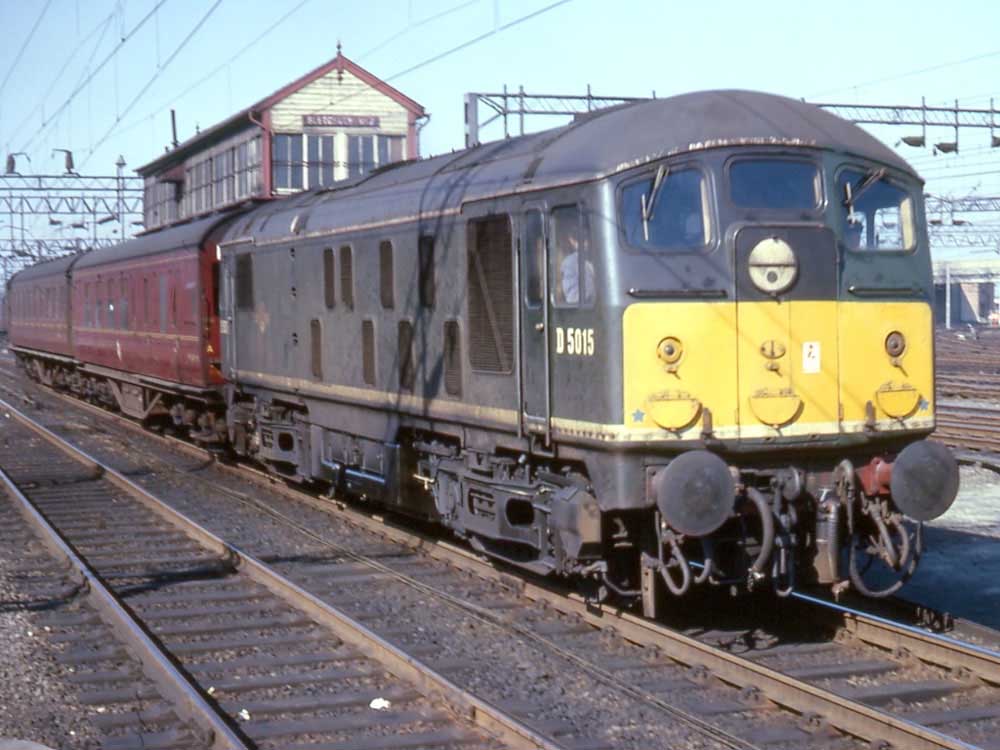 Photograph courtesy Bill Wright 'Barkingbill'
A fine view of D5015 passing Bletchley No.2 signal box on March 29th 1965 with one of the local services to Euston. The locomotive is wearing a work stained livery but is generally unchanged since delivery from Derby Works almost six years ago. D5015 has about six months left working these services before heading north Bescot and later the Stoke Division (D05) as a result of the completion of the electrification out of Euston.
After spending just over five years at London area sheds D5015 moved north to Bescot (2F) during December.
1967
After eighteen months allocated to Birmingham area depots D5015 was transferred to the Stoke Division (D05) during June.
Photograph collection of webmaster
D5015 & 5144 wait for their next turn of duty from Cockshute shed, date unknown.
1969
Condition August: green livery with small yellow warning panels, squared upper corners, yellow panel covers frame level stripe; full size water tank, shortened fuel tank, valencing in place, SKF axleboxes, three-rung bogie mounted footsteps.
1971
In October the Scottish Region Polmadie depot (66A) became home for 5015/16/17 and many of their sisters, being used to retire the few remaining NBL & Clayton locomotives from the fleet.
1972
During the first quarter Polmadie depot closed so 5015/16/17 and many others migrated across Glasgow to Eastfield during March.
1973
The use of A4 60009 on specials between Inverkeithing & Dunfermline on September 8th found 5015 & 5307 hauling the excursion from Edinburgh to Inverkeithing, with 5015 working the return leg alone.
Condition date uncertain but prior to renumbering: blue/yellow livery, yellow livery applied to roof gutter, gangway doors sheeted over, headcode discs centered on cabfront, full size fuel tank, shortened water tank fitted, no blanking plates, hand/footholds plated over, three-rung bogie mounted footsteps, side ventilators 5/4 non-BIS side.
1975
During July 24015 was stored serviceable and withdrawn the following month.
Condition final: blue/yellow livery, gangway doors sheeted over, full size fuel tank, shortened water tank fitted, hand/footholds plated over, three-rung bogie mounted footsteps, flat sided sandboxes.
flk 0716
Page added July 5th 2016.
Last updated July 10th 2018.