D5105, 5105, 24105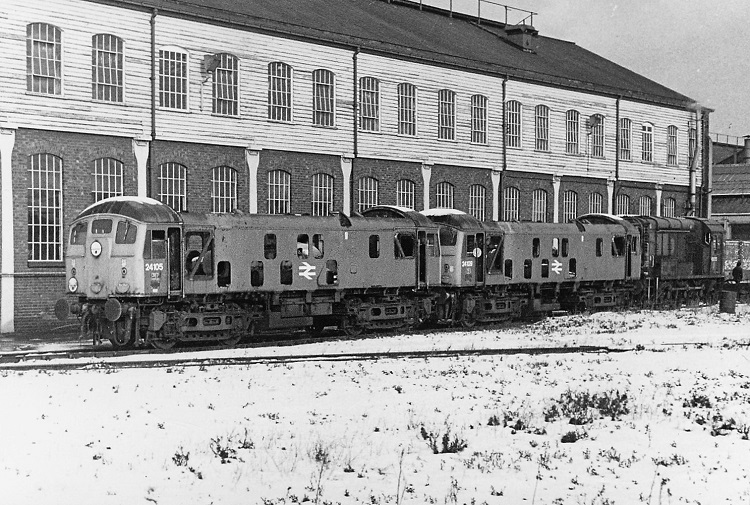 Photograph collection of webmaster.
24105 & 24109 at Doncaster Works in January/February 1978.
The fifteen year one month career of D5105/24105 was split between North Eastern Region and Scottish Region depots.
Allocations
The frames for D5105 were laid down at Darlington Works during May 1960, D5105 was new to Gateshead (52A) on September 10th 1960. Further transfers were:
May 1974 to Eastfield
August 1975 - stored serviceable
October 5th 1975 withdrawn
Renumbered February 1974.
After withdrawal 24105 was stored at Cadder Yard during August & September 1975, then stored at Carlisle from September 1975 until December 29th 1977 when it was forwarded to Doncaster Works and broken up during February 1978.
Movement: 24013, 24105/109/111 07.00 Carlisle - Doncaster 9Z14 December 29th 1977.
Works Visits
Works visits (records incomplete).
Noted Darlington Works March 1961.
Noted Darlington Works June 1962.
Noted Darlington Works January & February 1963.
Noted Derby Works May & June 1966 (ex-works).
Noted Crewe Works September 1966.
Noted Glasgow Works June 1969.
Noted Glasgow Works October 1970.
Noted Glasgow Works October & November 1971.
Noted Glasgow Works October & November 1972.
Highlights
1966
Condition July: green livery with yellow warning panels, squared upper corners, warning panel does not cover frame level stripe, shortened fuel tank, full size water tank, blanking plates fitted, hand/footholds present, three-rung bogie mounted footsteps, ridge sided sandboxes, locomotive is in ex-works condition.
1970
During November a local bus strike on Tyneside required the strengthening of many local diesel multiple unit services. On November 23rd authorities did not have a multiple unit available for the 17.40 Newcastle - Carlisle (and 19.55 return), a scratch set of four coaches and no heat 5105 was used. The mild weather and pre-heated stock presumably kept the passengers reasonably comfortable.
1978
Condition final: blue/yellow livery, gangway doors sheeted over, headcode discs centered on cab front, shortened fuel tank, no water tank, hand/footholds plated over, three-rung bogie mounted footsteps, flat sided sandboxes.
flk 1016 (partial)
Page added October 25th 2016
Last updated November 3rd 2016