D5134, 5134, 24134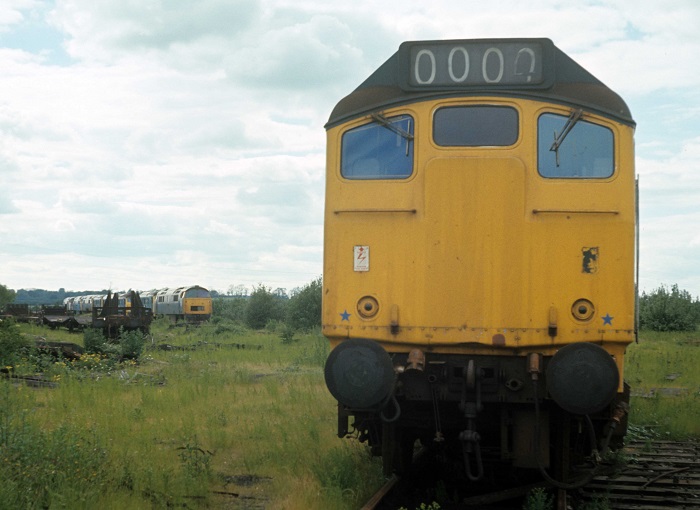 24134 and a line-up of withdrawn Westerns at Swindon during June 1977. This is the No.2 end of 24134 which sports the modified headcode box housing with sloped sides.
The sixteen year two month career of D5134/24134 was spent allocated only to London Midland Region depots.
Allocations
The frames for D5134 were laid down at Derby Locomotive Works during June 1960, D5134 was new to Longsight (9A) on October 8th 1960. Further transfers were:
January 1962 to Camden (1B)
October 1962 to Longsight (9A)
December 1964 to Rugby (1F)
April 1965 to Longsight (9A)
November 1965 to Rugby (1F)
April 1966 to London Division (D01)
April 1966 to Longsight (9A)
December 1966 to London Division (D01)
March 1967 to Longsight (9A)
June 1968 to Manchester Division (D09)
November 1968 to Stoke Division (D05)
May 1973 to Crewe
October 2nd 1976 stored unserviceable
December 4th 1976 withdrawn
Renumbered February 23rd 1974.
After withdrawal 24134 was stored at Crewe from October 1976 to May 31st 1977 when it was forwarded to Swindon Works and broken up by the middle of September 1978.
Movement: 24079/85, 24134/41 Crewe-Swindon May 31st 1977.
Works Visits
Works visits (records incomplete).
Noted Derby Works January 1961 (silencer).
Noted Derby Works August 1961.
Noted Derby Works August 1962.
Noted Derby Works August, September & November 1963.
Noted Derby Works July 1965.
Noted Derby Works October 1970.
Noted Derby Works January 1975.
Highlights
1960
The recent arrival of a number of Type 2s at Longsight saw them working new turns, one such was the 9.35pm Huddersfield Hillhouse – Willesden Class D freight returning north as far as Northampton on the 2.50pm ex Euston, so noted have been D5083, 5134 – 5137/39. By this time just over fifty percent of the passenger trains out of Euston were in the hands of the diesels, the EE Type 4s clearly dominating on the long distance expresses, with the Type 2s a distant second on the local workings.
1965
January 9th saw over 5,000 tickets issued for the local Aston Villa - Coventry football match. Eleven specials were provided whilst D5134 on the daily Lowestoft - Birmingham had its load doubled at Rugby to 12 coaches, with the service extended to Witton!
1967
The Easter weekend provided much additional work for steam in the north-west. Huddersfield witnessed a multitude of steam extras including a none too healthy 73035 on a Manchester - Leeds relief. On the return working substitution came in the shape of D5135, putting up a creditable performance across the Pennines with ten coaches. Sister machine D5134 visited Huddersfield on Easter Tuesday hauling an afternoon relief from Darlington.
Condition September: green livery with small yellow warning panels, curved upper corners, frame level stripe covers bottom of warning panel, hand/footholds present, no blanking plates, locomotive reasonably ex-works.
1968
Whilst working a Liverpool - Manchester service on March 7th D5134 was noted on fire near Allerton.
On June 5th D5134 hauled away the last steam locomotives from Trafford Park shed, including Stanier Black 5s 4-6-0 45316 & and 45258.
1974

24134 at Springs Branch on March 7th 1974. 24134 might be considered a bit of a hybrid having acquired a modified headcode panel at the No.2 end and the radiator frost screen from one of the early Class 24's. It is also missing various parts of its frame level skirting. The handholds/footsteps to the roof mounted water filler are plated over but the access steps on the bogie are still present.
Photograph courtesy Tom Sutch.
Condition August: standard headcode box at No.1 end, headcode box with 'wings' at No.2 end, split radiator grille on non-BIS side.
December 27th found 24134 in trouble at Bagillt whilst running light to Chester. A bulldozer had been driven onto the line by vandals which derailed the locomotive, damaging the bogie. The Class 24 was removed to Derby Works for repair.
1975
24134 was noted at Derby station on June 8th in reasonably ex-works condition with the No.2 end cab roof fitted with a Class 25/1 headcode box and horn array.
September 6th found the Bradford Forster Square – Red Bank empty vans in charge of 24134 & 40095.
Condition final: blue/yellow livery, gangway doors sheeted over, headcode box at No.1 end is from a Class 25/1, headcode box with 'wings' at No.2 end, water tank removed, blanking plates fitted, hand/footholds plated over, split radiator grille on non-BIS side, standard radiator grille on BIS side, straight sided sandboxes, three-rung bogie mounted footsteps.
1976

24134 eastbound at Chester with a parcels train. Although the date is not known, the presence of the modified cab roof and the condition of the paintwork suggests 1976.
Photograph collection of webmaster.
1977

24134 at Swindon on June 12th 1977. This end of the locomotive sports the unusual headcode housing with the sloping sides rather than the more rectangular look.
Another trip round Swindon on April 30th 1978, again in the rain, finds 24134 still relatively intact. This end of the loco shows the later style of headcode housing with the airhorns.
24134 would be one of the last Class 24s to be broken up at Swindon Works, the very last Class 24 to be broken up at Swindon was 24084 during December 1978.
flk 0816
Page added August 19th 2016.