D5198, 5198, 25048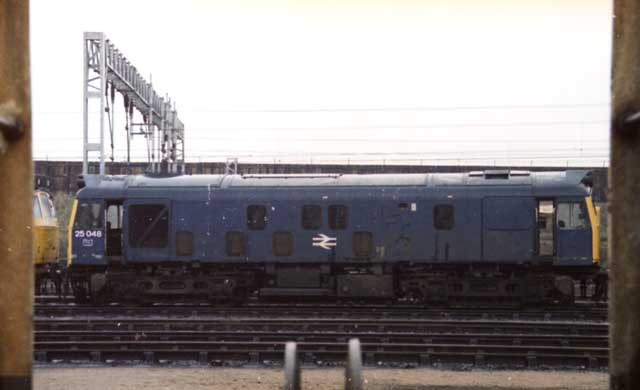 Photograph collection of webmaster
25048 at Crewe, probably during 1984.
The twenty two year career of D5198/25048 was spent mostly at London Midland Region depots apart from thirty months allocated to the Western Region at Laira.
Built:Derby Locomotive Works.
Boiler equipped.
Dual brake equipped 1975.
Royal Train locomotive - circular access panel on cab fronts.
Time between last Classified repair and withdrawal: 70 months.
Time between withdrawal and scrapping: 14 months.
Allocations
The frames for D5198 were laid down during January 1963 at Derby Works. D5198 was new to Toton (18A) on May 18th 1963 and re-allocated:
September 1963 to Nottingham (16A)
February 1964 to Leicester (15A)
January 1965 to London Midland (Midland) Lines (LMML)
October 1967 to Wigan Springs Branch (8F)
May 1968 to Longsight (9A)
June 1968 to Manchester Division (D09)
May 1973 to Longsight
October 1975 to Springs Branch
May 1978 to Laira
November 1980 to Bescot
January 1983 to Cricklewood
November 1984 to Bescot
July 1985 to Crewe Diesel
February 21st to unserviceable store
February 24th 1986 - withdrawn.
Renumbered February 16th 1974.
After seven months allocated to Crewe 25048 was stored unserviceable on February 21st 1986 and then withdrawn on February 24th 1986, being stored at Crewe. During December 1986 25048 was sold to Vic Berry, Leicester and moved to Knighton Sidings, Leicester on January 23rd 1987 with 25145/175, 25231, 25303, entering their yard three days later. By the second week of April 1987 25048 had been scrapped.
Works Visits
Works visits (records incomplete).
Noted Derby Works November 1964.
Noted Derby Works December 1966 and March 1967.
Noted Derby Works December 1970.
Due for a Classified Repair Jan 1975??? dual brakes fitted.
Noted Derby Works September 1978.
Noted Derby Works February - April 1980 (Intermediate repair).
Noted Derby Works June - July 1983 N4 repairs.
Highlights
1967
On October 17th D5198 & D5283 worked the 12.30 Manchester Central - St. Pancras throughout. On December 2nd the 03.32 Leeds - Halifax was hauled by D5198.
1969
The 10.00 Sheffield - Llandudno Town and the return 14.28 Llandudno Town - Sheffield were worked by 5198 & 5210 on June 14th.
1971
A Stalybridge - Yarmouth was worked to Norwich on September 28th by 5198 & 5205.
1972
On April 8th a Manchester Piccadilly - Leicester football special was worked out (& back?) by 5198 & 7597.
The 09.20 Manchester Piccadilly - Yarmouth to Lincoln Central and the return 09.28 Yarmouth - Manchester Piccadilly from Lincoln Central were worked by 5198 & 5200 on June 17th.
1973
Condition June: blue/yellow livery, gangway doors fitted, blanking plates fitted, hand/footholds plated over.
1974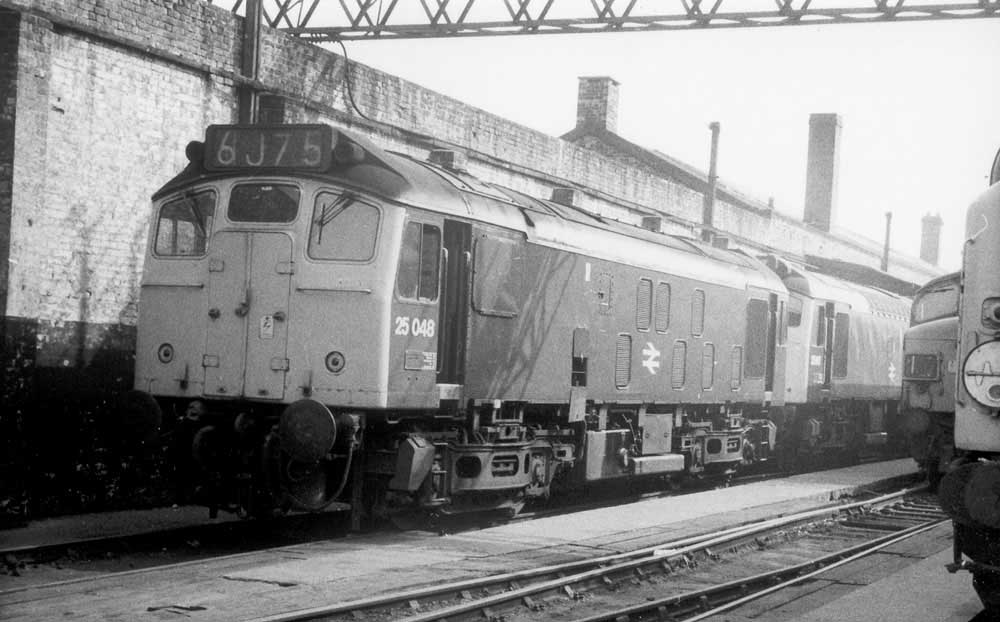 Photograph collection of webmaster
25048 at Longsight depot, date unknown but possibly late 1974 into early 1975. The locomotive retains its gangway doors, which would be sheeted over in a Classified repair during 1975.
1975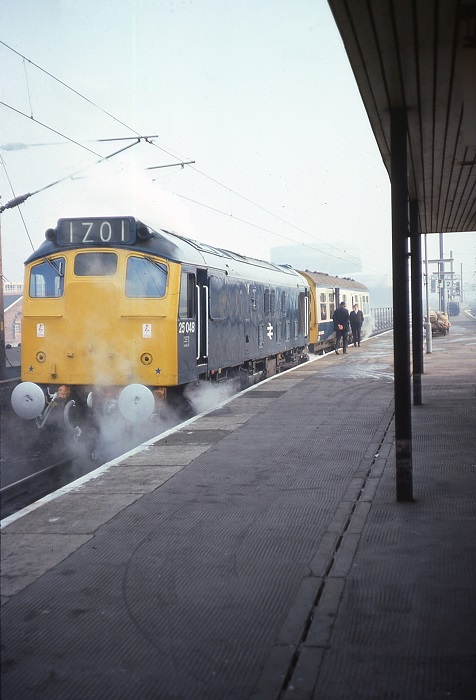 Photograph courtesy D Felton, collection of webmaster
A sparkling and steamy 25048 at Wigan North Western station on November 14th 1975. In contrast to the view at Longsight above, 25048 has lost its gangway doors and has received dual braking equipment. Sadly the details of this working are not known.
1976
On January 24th the Pennine Venturer 3 railtour was worked by 25048 from Liverpool Exchange to Manchester Victoria and from there with 25104 forward to Bradford Exchange.
On February 20th four Royal Train coaches were brought into Edinburgh by 25048 & 25053.
1977
A Lichfield City - Barmouth day excursion on September 20th was worked round trip by 25048 & 25039, a total of 290 passenger miles.
1978
During May 25048 was transferred to Laira, this would lead to 25048 being extensively used on the local Exeter, Newton Abbot & Plymouth services. The first recorded passenger working for 25048 in the Exeter area took place on May 21st when it was noted with 25058 on an evening Newton Abbot - Exeter St. Davids service.
Its May 29th 1978 and 25048 has only recently been transferred to Laira. It is seen here at Newton Abbott in charge of the 10am Paignton - Plymouth.
Photograph courtesy Peter Lovell.
A typical day's workings were recorded on August 5th when 25048 worked the 09.50 Exeter St. Davids - Barnstaple and the return 11.57 Barnstaple - Exeter St. Davids, the 16.38 Exeter St. Davids - Barnstaple and the return 18.03 Barnstaple - Exeter St. Davids and finally the 20.20 Exeter St. Davids - Newton Abbot.
1979
1979 was another year when 25048 was used extensively on the South Devon passenger services. An early recorded working for 1979 took place on January 30th with the 18.05 Plymouth - Cardiff being worked as far as Exeter St. Davids by 50008 & 25048, the Class 25 being required to heat the train, 45049 took over at Exeter St Davids.
The known recorded passenger mileage for 25048 during the summer of 1979 produced 1,300+ miles, obviously a great many more were worked that so far remain unrecorded. A rescue job on April 24th saw the 12.00 Plymouth - Paddington with 50045 requiring the assistance of 25048 between Exeter St. Davids and Westbury, where both locomotives were replaced. Not all the passenger workings were this lengthy, on June 2nd as banker 25048 assisted the 11.00 Exeter St. Davids - Waterloo to Exeter Central.
On June 30th 45073 failed at Taunton whilst working the 07.32 Derby - Paignton 25048 & 31165 dragged the service to Paignton. The Type 2s returned northbound on the 10.20 Paignton - Manchester Piccadilly as far as Taunton, being replaced by 47030.
On August 1st 25048 worked the 11.08 Paignton - Exeter St. Davids, the 14.10 Exeter St. Davids - Paignton, the 17.30 Paignton - Exeter St. Davids and the 18.44 Exeter St. Davids - Paignton.
August 18th was another full day for 25048, working the 08.20 Paddington - Barnstaple forward from Exeter St. Davids, the 14.40 Barnstaple - Paddington as far as Exeter St. Davids, the 16.38 Exeter St. Davids - Barnstaple and the return 18.03 Barnstaple - Exeter St. Davids.
The transfer of 25048 to Laira during May 1978 led to many new types of workings, including this view of 25048 & 25107 passing Pinhoe on April 21st 1979 working the Chard Junction - Exeter milk tanks.
Photograph courtesy Peter Lovell.
June 30th 1979, the 07.32 Derby - Paignton made it as far as Taunton before 45073 failed. The train reached Paignton behind 25048 & 31165, the pair returning north with the 10.20 Paignton - Manchester service as far as Exeter where 47030 took over.
Photographer unknown.
1980
The recorded passenger workings for 25048 during 1980 were less than in 1979 and again centered on the Exeter area services.
25048 was stabled at Exeter on January 26th.
25048 worked an Exeter - Paignton service on July 19th. 25048 was stabled at Exeter on July 24th.
During November 25048 was transferred away from the Western Region to Bescot. On December 22nd 25048 was noted passing through Peterborough with the late running 15.15 Manchester Piccadilly - Harwich Parkeston Quay.
25048 & 25138 were stabled at March Hundred Road holding sidings on the afternoon of December 21st.
1981
On January 11th the 18.37 Birmingham New Street - Norwich was worked by 25048.
A portrait of 25048 at Toton on March 14th 1981. The locomotive has gained the circular plate on the cab front for use when on Royal Train workings. The builders plate has been removed from the cab door.
Photograph courtesy Tony Sayer.
The 17.12 Walsall - Birmingham New Street was worked by 25048 on April 24th following the failure of the electric multiple unit. On May 4th the 13.15 Birmingham New Street - Norwich is believed to have been worked by 25048. On May 30th the 10.10 Euston - Aberystwyth from Birmingham New Street and the return 18.00 Aberystwyth - Wolverhampton were worked by 25048 & 25219.
A roundtrip St Pancras - Derby - St Pancras took place on July 14th. Three weeks later on August 7th 25048 worked the 12.40 Glasgow Central - Carlisle.
On August 3rd 25048 & 25139 were noted on a North Wales - Chester permanent way train.
On October 11th the unadvertised 02.15 Euston - Hemel Hempstead was worked by 25048.
A Smithfield Market charter was worked by 25048 & 25044 on December 8th from Aberystwyth to Wolverhampton (for Euston), it is presumed the same pair worked the return from Wolverhampton.
1982
25048 was noted at Newcastle with the terminated 1E39 Edinburgh - Kings Cross on January 13th, due to an ASLEF strike.
On March 9th 25048 worked the 04.27 St. Pancras - Derby.
25145 & 25048 were noted southbound at Crewe with short wheelbase oil tanks on April 8th. Four days later on April 12th 25048 & 25219 rescued the 08.40 Stoke-on-Trent - Llandudno Town day excursion at Crewe after 40169 failed, and returned the service to Stoke. Another day excursion saw 25048 & 25044 work a 290 mile roundtrip Manchester Piccadilly - Aberystwyth on May 3rd.
On May 21st 25048 worked the five coach 4V12 09.22 Shrewsbury - Malago Vale Sidings parcels.
On June 5th 25048 & 25200 worked the 07.40 Euston - Aberystwyth from Wolverhampton, returning with the 14.00 Aberystwyth - Shrewsbury, however 25048 failed near Cemmes Road and was dragged the rest of the way.
June 22nd was a busy day for 25048 working the 09.45 Manchester Victoria - Bangor, the 13.58 Bangor - Manchester Victoria and the 17.45 Manchester Victoria - Llandudno Junction. Two months later on August 25th 25048 worked the relief 12.15 Crewe - Holyhead and the relief 16.15 Holyhead - Crewe.
October produced a couple of trips for 25048, on October 12th it worked the 08.20 Leeds - Birmingham New Street with 25050 and on October 16th the same pair worked the 'Pennine Perambulator' railtour between Bletchley & Toton.
1983
During January 1983 25048 was transferred to Cricklewood, though most of its passenger workings took place nowhere near Cricklewood. On April 2nd 25048 & 25084 worked the 'The Annesley Annabis' railtour between Bescot & Annesley Colliery.
25048 & 25054 were noted passing Brocklesby light engines on February 18th. An usual duty on February 24th for 25048 was the movement of recently preserved Hymek D7076 from Leicester via the Hope Valley line to the East Lancashire Railway group at Bury.
The evening Shresbury - Rugby parcels were worked by 25048 on March 31st.
On August 23rd the 17.10 Bangor - York failed at Colwyn Bay behind a Class 45, 25048 dragged the service to Chester where 25044 & 25059 took over.
September proved to be a busy month for 25048 in the Carlisle area, starting on September 8th with the 08.40 Carlisle - Glasgow Central. Four days later (12th) a Blackpool North - Kilmarnock charter was worked forward from Carlisle by 25048 & 25140. On September 23rd & 24th the 10.40 Carlisle - Leeds and the return 16.00 Leeds - Carlisle were worked by 25048. On September 30th 25048 was stabled at Sheffield Midland with a parcels train.
Two railtours were handled during October. 25048 was stabled at Crewe on October 1st. 25048 was noted at Manchester Piccadilly at the buffers on October 7th, possibly attached (having rescued?) a Class 86 powered service. The next day on October 8th a Bewdley - Paddington charter was worked between Bewdley & Coventry by 25048 & 25236. On October 29th the 'Bedford Bricker' railtour was worked by 25048 & 25245 between Bletchley & Stafford (out & back).
On November 23rd 25048 was noted passing Lea Marston en route to Bescot with a consignment of continuously welded rail.
And finally for 1983 25048 worked the 15.50 Glasgow Central - Carlisle on December 13th.
1984
Overhead line damage in the Preston area on January 14th saw 25048 assist two passenger services between Preston and Wigan NW. Five days later on January 19th the 07.16 Manchester Victoria - York was worked by 25048.
The 'Vital Statistician' railtour on February 11th was worked by 25048 & 25035 between Birmingham New Street & Toton. On February 23rd 25048 was noted eastbound at Leeds with a lengthy parcels train (at least 15 mostly bogie vehicles) (Newcastle - Red Bank?).
On March 10th the 21.15 Manchester Victoria - Blackpool North and the next day's 09.42 Blackpool North - Euston to Preston were worked by 25048. A month later on April 7th 25048 worked the 10.43 Cardiff - Bristol Temple Meads, the 13.10 Bristol Temple Meads - Weston-super-Mare and the 14.00 Weston-super-Mare - Bristol Temple Meads.
25048 was the Manchester Victoria pilot on April 28th.
25048 was stabled at Bletchley at noon on May 30th.
25200 & 25048 were noted eastbound at Chester on June 1st with a train oil tanks.
The 07.35 Euston - Aberystwyth from Wolverhampton and the return 14.00 Aberystwyth - Shrewsbury were worked by 25048 & 25037 on July 21st.
On August 5th 25048 & 25235 were noted at Polmadie with a BOC (?) bogie tank train, at least ten tankers.
Finally for 1984 25048 was reallocated to Bescot during November and ended up north of the border on November 6th working the 08.40 Carlisle - Glasgow Central, the 13.45 Glasgow Central - Carlisle and the 17.40 Carlisle - Glasgow Central, a total of 345 passenger miles.
The transfer of 25048, 25176, 25244 & 25311 during November from Cricklewood left the depot with no Class 25's on allocation. Cricklewood was the last London area depot to hold on to its Class 25's.
1985
Early January brought two passenger turns for 25048. On January 4th the 15.50 Hull - Lancaster failed at Leeds behind 31453, being replaced by 25048 (25048 also reported on this date at York). And on January 8th the relief 04.27 St. Pancras - Leicester was worked by 25048. 25048 & 25231 were stabled at Birkenhead Mollington Street on a snowy January 17th. 25048 was noted on a short freight at Guide Bridge on January 22nd and was noted passing Skelton Junction light engine on a snowy January 24th.
The next four passenger workings involved north-west area services. On April 12th the 17.03 Euston - Blackpool North was worked forward from Preston by 25048.
25048 was noted at York stabling point on May 4th. 25048 & 25213 were noted at Leeds on May 9th with bogie oil tanks (Stanlow - Leeds?). 25048 & 25190 were noted passing through Runcorn East with an oil train from Stanlow on May 24th.
The 18.20 Glasgow Central - Manchester Victoria was worked forward from Preston by 25048 on June 3rd. The next day (4th) 25048 was fuelled up at Newton Heath. 25048 was stabled at Shrewsbury on June 7th. During July 25048 was transferred to Crewe - its last transfer.
25048 & 25109 worked the 6S75 12.55 Severn Tunnel Junction - Mossend on July 3rd.
Engineering work on August 18th saw the 23.50 Euston - Liverpool hauled forward from Crewe via Earlstown by 25048. Finally on September 4th 25048 worked the 21.42 Preston - Liverpool, being the Liverpool portion off the 1M40 18.15 Glasgow - Manchester.
On October 19th 25048 & 25181 were stabled at Warrington Arpley.
25048's last recorded passenger working took place on November 1st when it assisted the 13.12 Peterborough - Harwich Parkeston Quay between Ely and Bury St. Edmunds, where the booked locomotive 31426 which had previously failed was restarted. 25048 was noted passing Springs Branch on November 7th.
1986
25048 and an unidentified Class 31 were noted together at Bristol Bath Road depot on January 24th.
25048 was stabled at Bescot on February 20th.
25048 was taken out of service on February 24th.
Distinguishing Features
No.2 cabside: driver's side: corner/cabside valencing missing: July 1978.
No.1 cabfront/corner/side: 2nd man's side: considerable dent/scrape on and above valencing from corner front to cabdoor: May 1982 - June 1982 (painted over/patched by November 1985).
No.2 cabfront: driver's side: vertical mark (missing paint?) from below handrail to valencing near corner: October 1982 until withdrawn.
No.2 cabfront: 2nd man's side: three scrapes, paint missing near corner, level with bottom of window: May 1985.
No.2 cab: behind driver's side cab door: scrape or discolouration at same height as TOPS panel: April 1984 until withdrawn.
BIS bodyside: lengthy discolouration or scrape below cantrail to left of radiator grille: (not present July 1980), September 1983 until withdrawn.
Passenger workings courtesy Alan Baylis.
134/8304
flk 0317 (1)
Page added November 23rd 2009
Last updated May 9th 2017