D5202, 5202, 25052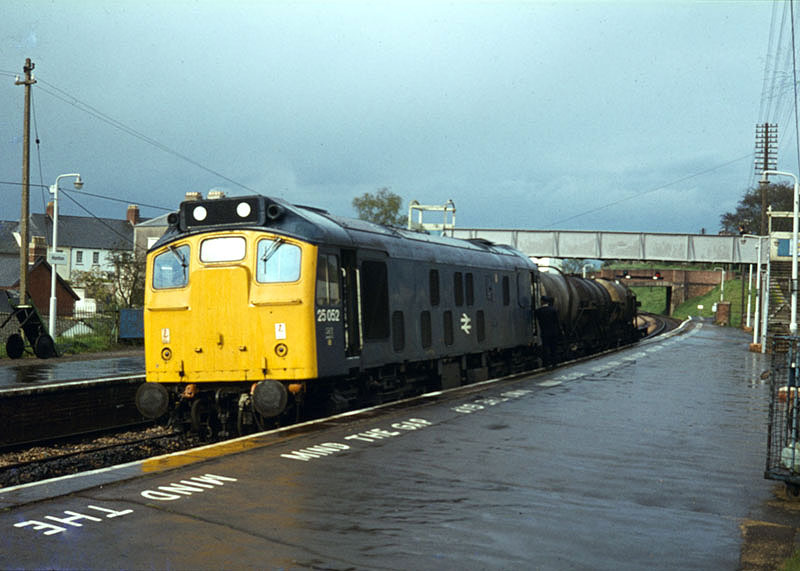 Photograph courtesy Neil Cannon.
25052 pauses at Honiton with the returning milk wagons from Chard Jct, a heavy downpour has just ended, the Class 25 waits for an up train to pass.
The seventeen year and four month career of D5202/25052 included almost ten years allocated to London Midland depots, the remainder on the Western Region.
Built: BR Derby Locomotive Works.
Boiler equipped.
Assuming the transfer to Skipton (10G) is correct, D5202 was the only Class 25 ever allocated there.
Possibly the shortest time for any Class 25 between withdrawal and scrapping - about six weeks.
Allocations
D5202 was new to Toton (18A) on June 1st 1963. Further transfers were:
September 1963 to Toton (16A) (depot code change).
January 1964 to Longsight (9A).
May 1964 to Skipton (10G).
July 1964 to Longsight (9A).
September 1964 to Toton (16A).
December 1964 to Nottingham (16D).
January 1965 to Nottingham Division (D16).
June 1965 to Saltley (2E).
April 1966 to Birmingham Division (D02).
April 1966 to London Midland (Midland) Lines LMML.
November 1967 to Springs Branch (8F).
June 1968 to Liverpool Division (D08).
January 1972 to Bristol (82A).
May 1976 to Laira.
Withdrawn October 5th 1980.
Renumbered February 1974.
25052 was the 46th Class 25 withdrawn.
After withdrawal 25052 was moved to Swindon Works on October 8th 1980 and scrapped there during the second week of November 1980.
25052 at Swindon Works on October 26th 1980. At this point the locomotive is very much intact, however 25052 would have a very quick demise, within three weeks of this view 25052 would be no more.
Works Visits
Works visits (records incomplete).
Noted Derby Works August - October 1964.
Noted Derby Works May 1965.
Noted Derby Works December 1966.
Noted Derby Works October & November 1975.
Noted Derby Works August 1977.
Highlights
1969
The reported passenger workings for the early years of D5202/25052 are very sparse. On June 29th 5202 & 7532 worked a roundtrip Wellingborough - Brighton day excursion.
1970
On August 15th 5202 & 5209 worked a Blackpool North - Glasgow Central service via Beattock due to a derailment at Kirkconnel on the GSW line. At this time the Class 25s were no strangers to passenger work over the northern end of the WCML, however to have the opportunity to ride over both Shap & Beattock on the same service no doubt added a little spice for any enthusiasts on the train. On November 21st the FA Cup first round matches began, with 5202 & 7650 working a Wigan - Tyne Dock football special. The empty coaching stock ran onto South Shields allowing the locomotives to reverse and head off to Heaton Carriage sidings.
1972
On June 27th the 15.20 York - Bristol Temple Meads saw 5202 take over at Sheffield, remaining on the train to Bristol Temple Meads.
On November 22nd the 08.00 Bristol Temple Meads - Penzance saw 5202 replace 6553 & 824 (failed) at Exeter, the Class 25 worked at least as far as Plymouth.
1975
On June 13th 25052 was noted at Newton Abbot assisting 47083 with a westbound passenger service.
Condition June: blue/yellow livery, gangway doors present, no blanking plates, hand/footholds plated over, Royal Train circular communication access cover in driver's side gangway door.
1976
During May 25052 was transferred to Laira, resulting in the locomotive featuring on the summer passenger locals in the Exeter & Plymouth area. On June 1st 25052 worked the 14.10 Exeter St. Davids - Paignton, no doubt many other similar workings like this took place during this summer and the summers of 1977 - 1980.
On July 28th was noted at 6.45am at Lostwithiel with an unidentified Up freight.
On the evening of August 6th 25052 & 25220 were noted passing Liskeard with a St Blazey - Temple Mills freight.
On September 13th the 10.20 Penzance - Leeds was worked to Plymouth by 47001 & 25052. A Christmas working saw 25052 handle the 19.35 Exeter St. Davids - Paignton on December 23rd.
1977
1977 produced a further selection of local Exeter area passenger workings. Other highlights included on June 4th a Bideford - Paddington day excursion to celebrate the Queen's Silver Jubilee was worked from Bideford to Exeter St. Davids by 25052 & 25223. On August 29th a charter train was noted between Meeth & Barnstaple with 25052 & 25223 top and tailing. On October 9th a Paddington - Kingswear railtour was worked roundtrip Exeter St. Davids - Paignton by 25052 & 25223.
25052 & 25223 pass Marsh Barton on an overcast October 9th 1977 having just taken over from 40081 & 40084 at Exeter. The Class 25's will work the special down to Paignton.
Photograph courtesy Peter Lovell.
1978
Typical of the workings of the summer of 1978 included the 16.40 Plymouth - Paignton on July 25th and the next day's 10.00 Paignton - Plymouth. The 'Welsh Wonder Relief' railtour on December 2nd from Paddington - Blaenavon saw the Paddington - Severn Tunnel Junction leg handled by 25052 & 25225.
Par station basks in the warm summer sun of May 25th 1978, the beginning of another holiday season. All is quiet with the exception of 25052 which is positioning itself ready to assist soon-to-arrive 50001 and its terminating freight train.
Photograph courtesy Peter Lovell.
25052 & 25207 head north at Respryn Bridge (near Bodmin Road) on June 12th 1978 with a St Blazey - Carlisle freight.
Photograph courtesy Roger Geach.
1979
The summer of 1979 produced a considerable quantity of local Exeter area passenger workings. June 30th's 22.41 Manchester Piccadilly - Penzance was worked forward from Plymouth by 25052 & 25080. After a summer of local workings the Crewe - Meeth/Meldon Quarry 'Atlantic Coast Express' on October 20th/21st was worked roundtrip Exeter St. Davids - Meeth/Meldon Quarry by 25052 & 25223.
The Wirral Railway Circle's 'Atlantic Coast Express' stands at Torrington with 25052 & 25223. This railtour had started out the previous evening at Crewe behind Class 47 No.47515. At Exeter St. Davids the two Class 25's took over for a trip to Meldon Quarry before returning to Crediton to take the line to Barnstaple, Torrington and Meeth. Then it was back to Exeter for the long haul back to the Midlands.
(Photograph collection of webmaster/Pete Slagel).
1980
It must be assumed that 25052 did work some passenger services during 1980, if so these workings went unrecorded.
The end of the summer timetable saw 25052 withdrawn during the first week of October, it was quickly moved to Swindon Works and scrapped there by early November 1980, one of the quickest disposals recorded for any Class 25.
Pictures of D5202/5202/25052
The details of this view are not known, but 25052 & 25223 were paired together several times on railtour duty. Perhaps this is one of the 1977 tours they handled.
Photograph courtesy Ian Mawson.
An undated view 25052 at Exeter St Davids.
Photograph courtesy Ian Mawson.
A line up headed by 25052 in the yard at St Blazey. And like their diesel hydraulic predecessors the paintwork in these machines is not holding up too well. Hidden behind the Class 25 on the right is a Class 37.
Photograph courtesy Andy Hoare.
36/1907
flk 1015
Passenger workings courtesy Alan Baylis (www.class25.info)
Not all known passenger workings are recorded on this page.
Page added May 3rd 2013
Last updated January 19th 2017