D5205, 5205, 25055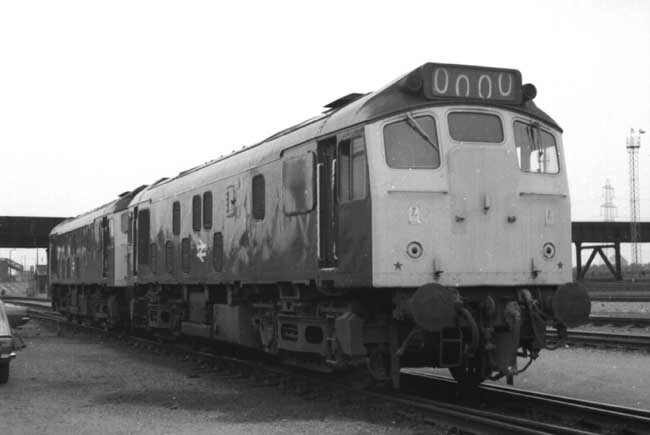 Photograph collection of webmaster
25055 at Severn Tunnel Junction, date unknown.
Apart from eleven months allocated to Cardiff the seventeen year career of D5205/25055 was spent allocated to a variety of London Midland depots.
Built: BR Darlington Works.
Boiler equipped.
Allocations
D5205 was new to Toton (18A) on June 15th 1963. Further transfers were:
July 1963 to Cricklewood (14A).
August 1963 to Toton (18A) then (16A).
March 1964 to Derby (16C).
January 1965 to London Midland (Midland) Lines.
November 1967 to Springs Branch (8F).
January 1968 to Carlisle (12A).
May 1968 to Stoke Division (D05).
November 1968 to Liverpool Division (D08).
November 1970 to Manchester Division (D09).
May 1973 to Longsight.
May 1976 to Crewe.
December 1976 to Cardiff.
November 1977 to Crewe.
August 1980 to Kingmoor.
Withdrawn November 2nd 1980.
Renumbered February 23rd 1974.
After withdrawal 25055 was stored at Newton Heath and moved with 25122 (also ex-Newton Heath) and 25100 & 25281 (ex Reddish) to Swindon Works by February 27th 1981. 25055 had been broken up by the third week of December 1981.
Works Visits
Works visits (records incomplete).
Noted Derby Works August 1965.
Noted Derby Works November 1966.
Noted Derby Works September & October 1975.
Noted Derby Works April 1979 (N1 repairs).
Highlights
From May 1976 to August 1980 25055 was allocated to either Crewe or Cardiff, these allocations allowed 25055 to run up a considerable passenger mileage on the Crewe - Cardiff route. Prior to 1976 its recorded passenger workings had been sparse. Its first recorded working was on March 4th 1967 handling the 13.28 Derby - Manchester, whilst on October 18th 1967 5205 & 7575 worked a Leeds - St. Pancras service throughout. Further north on December 9th 1967 5205 worked the 1300 Carlisle - Edinburgh and the 17.54 Edinburgh - Carlisle via the Waverley route.
On September 28th 1971 5205 & 5198 worked a Stalybridge - Yarmouth to Norwich (presumably coming back with the return working?).
Its January 9th 1974 as 5205 and a short engineers train pass Winwick Junction. The headcode identifies the working as Target 78.
Photograph courtesy Danny Preston, collection Neil Johnson.
On August 31st 1974 25055 & 25144 worked the 09.19 Manchester Piccadilly - Yarmouth to Lincoln Central returning with the 09.15 ex-Yarmouth.
25054 & 25055 were on Royal Train duty on May 14th 1975 arriving at Kings Lynn with the stock for a late evening departure for the Duke of Edinburgh. The train ran to Salford via Peterborough, Grantham, Nottingham, Chesterfield, stopping overnight at Bamford.
A day excursion on June 3rd 1976 took 25055 & 25264 from Leamington Spa to Aberystwyth. On the return 25264 failed at Upton Magna (Shrewsbury), with both locomotives replaced by 47489 at some point.
During December 1976 25055 acquired its first reported passenger haulage over the Crewe - Cardiff route. It would be well used on this route, being noted on at least sixty workings (but in reality no doubt many, many more) until its last Cardiff - Crewe working on July 5th 1980.
An Open Day at Cardiff Canton on October 1st 1977 featured over fifty locomotives, including 25055, 25109 & 25243.
On September 21st 1979 whilst working the 06.03 Crewe - Cardiff 25055 failed and required assistance to Cardiff by 37230.
1979: The year closed out with heavy rains leading to flooding from December 27th in many areas. The Central Wales line was closed south of Llanwrtyd Wells, whilst the Hereford – Newport line was cut in two places, at Ponthir & Pandy, 25055 on the 16.02 Crewe - Cardiff encountered moderate flooding at Woofferton.
25055's last recorded passenger working took place on September 15th 1980 with 25041 working the 11.50 Glasgow Central - Nottingham forward from Carlisle and assumed to Nottingham.
25055 was withdrawn on November 2nd 1980.
00/000
no flk
Passenger workings courtesy Alan Baylis (www.class25.info)
Not all known passenger workings are recorded on this page.
Page added February 19th 2013
Last updated October 11th 2014.