On June 15th 25057 was on the North Wales mainline with an inspection saloon.
At lunchtime on September 9th 25057 & 25155 were noted on Exeter stabling point. Later this day 25057 & 25225 would work the 21.00 Exeter - Newton Abbot.
During the early evening of September 13th 25057 & 25223 were noted at Exeter stabling point, 25057 would later work the 19.30 Exeter - Paignton.
Shortly after midnight on September 16th 25057 was stabled at Exeter.
September 13th 1979, 25057 leads the 11.08 Paignton - Exeter past Dawlish, the tide is in and the summer season is almost over. 25057 would spend one more summer season in the West Country.
Photograph courtesy J Davenport.
On November 10th 25057 & 25058 worked the F&W 'Yorkie' Plymouth – York railtour throughout.
1980
25057 moved to Longsight in November.
A glimpse at the TOPS report at midday on November 25th revealed 25057 was arriving at Springs Branch.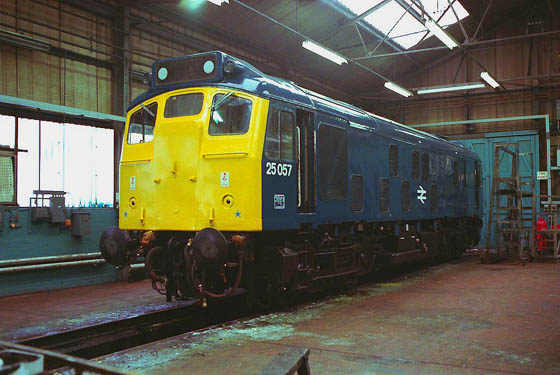 Photograph courtesy Martin Bray/Phil Trotter

Its February 23rd 1980 at Derby Works and 25057 receives its last coat of fresh blue & yellow paint whilst in BR service.

1981
A look at the TOPS information for late afternoon on January 15th found 25057 on the 6T44 to Ashburys.
Its been a year since 25057 was released from Derby Works, its February 21st 1981 as 25057 and friend await their next turn of duty from Newton Heath.
Photograph courtesy Tony Sayer.
The 'Easter Tommy' railtour from Liverpool to Lincoln via the Woodhead route utilised 25057 & 25083 for the out and back Liverpool - Guide Bridge legs on April 21st. The railtour started out about forty five minutes late, the driver having been advised the locomotives were at Lime Street when in fact they were at Edge Hill, the driver then being sent to Edge Hill by taxi to collect the locomotives.
On May 3rd 25057 hauled a Bolton - Birmingham International day excursion throughout.
On June 1st 25057 worked the 08.40 Carlisle - Glasgow Central and 12.40 return and on June 16th it powered the 17.42 Manchester Victoria - Bangor.
Longsight's 25057 was definately being borrowed on July 20th when it worked an afternoon Kilmarnock - Stranraer Harbour passenger service.
On the Cambrian passenger workings 25057 & 25240 were noted on September 5th hauling the 10.10 Euston - Aberystwyth forward from Wolverhampton, returning with the 18.00 Aberystwyth - Wolverhampton.
Although the Eastern Region grew increasingly unhappy about Class 25's running over their metals there was little they could do about it when received on inter-regional workings. Here 25057 lays over at Thornaby on December 13th 1981.
Photograph courtesy Tony Sayer.
25057 was stabled at Thornaby on a snowy December 13th.
1982
Class 25s could still be seen at Glasgow Central on passenger workings, principally the 8.40 from Carlisle (via GSW) and 12.40 return. Noted in March were 25057 (6th), 25219 (9th, 11th, 18th) and 25062 (15th), 25027 (24th & 25th) although 25219 was declared a failure on two of the days! April saw 25218 used on 2nd, whilst Classes 26/27 were well represented.
On June 1st with the Pope at Bellahouston Park, Glasgow many specials ran including 25057 handling an eight coach special from Cumbernauld to Corkerhill, other specials used almost every class the Scottish Region had available. June 24th found the same locomotive on a morning Ayr - Glasgow passenger, whilst on 30th perhaps because of the NUR action 25057 worked the 21.05 Edinburgh – Kings Cross as far as Newcastle, replaced by 40025 with the Class 25 returning north on a parcels working. By July 3rd 25057 had reached Leeds, allowing it to be used on the 16.05 to Carlisle.
On August 13th 25057 worked the 18.10 Manchester Piccadilly - St Pancras mail as far as Derby.
A short working for 25057 occurred on September 15th when it dragged a morning Derby - Crewe service forward from Blythe Bridge after the diesel multiple unit failed.
The Settle & Carlisle was traversed by 25057 on September 28th whilst working the 16.05 Leeds - Carlisle, being used the next day to work the 10.00 Carlisle - Leeds & 16.05 return, the southbound working was generally a Class 47 turn but Holbeck seemed to send back a Class 25 on many occasions. The 28th's southbound service had been hauled to Leeds by 47459, no doubt Holbeck could better utilise it elsewhere rather than send it back to Carlisle on an undemanding secondary passenger working. 25057's last passenger working for 1982 occurred on October 4th hauling the 15.13 Manchester Victoria - Barrow and coming back with the 18.30 Barrow - Liverpool.
1983
On March 16th 25057 & 25175 were noted at Carlisle on an oil working from Dalston. The third week of March found 25057 busy with passenger workings in the Preston area, covering a couple of Manchester - Blackpool turns on 18th and the 22.47 Crewe - Blackpool forward from Preston on 19th, 21st & 22nd. These short journeys contrasted with the use of 25057 & 25083 on April 2nd's day excursion from Manchester Victoria to Aberystwyth. Three days later it was off to Llandudno Junction on the 17.45 ex Manchester Victoria. One more passenger working during April for 25057 was 18th's 18.18 Birmingham New Street - Norwich as far as March.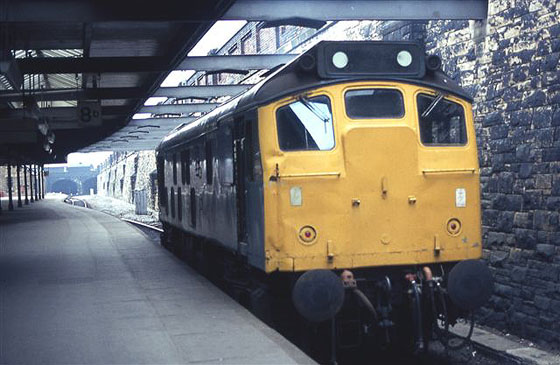 Photograph courtesy Andy Key


25057 at Sheffield Midland on July 19th 1983, the photographer has captured how platform 8 has some curves to it. Many an evening was spent at Sheffield Midland in your webmaster's early spotting days as we made frequent trips to Doncaster to watch the comings and goings of the ECML traffic. The return trip home meant the usual bog into Sheffield and then the wait for a westbound NE/SW service behind the inevitable Peak or Brush Type 4. On one occasion a Class 40 showed up, a brief word with the crew indicated they were getting used to this somewhat unusual power, when we left the train at Derby the Class 40 was still on whistling merrily as it headed out to New Street.

Class 25's filled in on a couple of turns on the Birmingham – Norwich services early in July including July 6th's 16.14 to Norwich behind 25057 after the failure of booked 31421 at New Street, the Class 25 worked through to Norwich.

1984
Passenger workings for 25057 began early in the year, on January 27th it worked the 06.10 Carlisle - Glasgow Central and 15.50 return. A month later on February 26th it worked the 12.40 Carlisle - Glasgow.

March 24th saw 25057 working the 02.35 Euston - Bletchley passenger/staff train.

The first two weekends in April had seen a number of Class 25's busy in the Euston area, shepherding electrics around engineering works between Euston/Camden & Willesden. On April 1st 25209/213/218/256 were in action whilst 8th saw 25057, 25209/218/236 used.

RESL's 'Easter Highlander', a twelve hundred mile enthusiast railtour over the weekend of April 20 - 22 provided typical '25' haulage though of a mediocre nature. Diagrammed to handle the St Pancras - Derby portion the trip commenced behind 25042 & 25057, only for the latter to lose power almost immediately, becoming a total loss at St Albans. Heroic efforts by 25042 took the train to Bedford where 31118 was added for the run to Derby. All three were replaced at Derby by 40028. On the return leg 25057 & 25202 were waiting at Derby to relieve 40028 for the run upto St. Pancras. All was not well with 25202 which expired, again at St Albans. Here the train was cancelled and the hapless excursionists transferred to a following service from Sheffield hauled by 45131.

On June 30th 25057 & 25237 worked the 07.44 Shrewsbury - Aberystwyth & 10.10 Aberystwyth - Euston as far as Shrewsbury.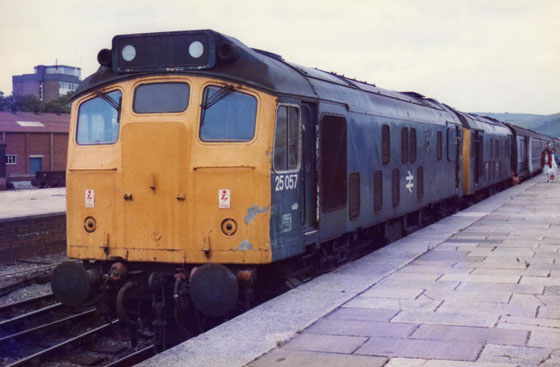 Photograph courtesy Mark Bennett

As mentioned in the text above 25057 & 25237 made a visit to Aberystwyth on June 30th 1984. Here the locomotives and train are seen at Aberystwyth on a dull looking day.

25057 and some hauled stock covered for a failed diesel multiple unit on an evening Manchester Victoria - Southport round trip on August 24th. Two days later the 10.30 Manchester Piccadilly - Sheffield received the delights of 25057 after the booked junk in the shape of 31296 was declared a failure before starting.

The 6S78 18.10 Severn Tunnel - Mossend was worked by 25200 & 25057 on September 26th to ??

It was railtour duty for 25034 & 25057 on November 16, kicking off the weekend's RESL 'The Grampian Highlander', covering the first leg from St Pancras to Derby, here 46026 took over for the run to Newcastle, the Class 46 was deputising for D200/40122, and this run would be the last train ever worked by 46026! More passenger duty occurred for 25057 when it rescued 47119 at Bolton on November 30th's 15.20 Glasgow - Nottingham, both locomotives were replaced at Manchester Victoria.

December 21st 25057 worked the 12.28 Birmingham - Peterborough service. This had been a reasonable year for haulage behind 25057, covering seventeen recorded passenger/excursion workings with a total of 1,105 miles.

1985
The failure of a diesel multiple unit on January 17th found 25057 covering the 06.00 Crewe - Derby.

On March 21st 25057 worked the morning Baglan Bay service, returning in the afternoon with a freight from Margam.

Short passengers duties for 25057 in May included May 9th's 16.45 Norwich - Birmingham New Street which expired at Leicester behind 31413, a week later 25057 rescued the 12.02 Great Malvern - Birmingham New Street diesel multiple unit at Stourbridge Jct, in both cases 25057 completed the journies into Birmingham.
25057& 25145 pass through Watford Jct on May 19th 1985 was a ballast train. The locomotive is certainly in need of some bodywork repairs and a repaint, but it would soldier on this condition until the end.
Photograph courtesy Ian Hammond.
Transfers in May, the first for quite a while involving the Class 25's saw Longsight's allocation of four machines (25057/316/321/324) moved to Crewe, joining them in July was 25058.
During June 25057 received power unit from the recently retired 25119.
The failure of 86205 on July 22nd's 01.15 Holyhead – Euston at Kings Langley saw 25057 coming to assist, but when the Class 25 attempted to return north light engine it too failed!
With the power off south of Bletchley 25057 dragged a Stirling - Euston service to the capital on the afternoon of August 30th. Continuing its wanderings 25057 worked September 8th's 09.08 Llandudno - Scarborough as far as Manchester Victoria.
25057 was noted at Crewe station on September 14th. 25057 & 25058 worked a Blackpool - Edinburgh day excursion forward from Carstairs to Edinburgh on September 16th.
The 25057 & 25058 combination re-surfaced on October 9th taking an afternoon Liverpool - Scarborough forward from York, despite the Eastern Regions's known aversion to these fine machines. Remarkably they returned with the 17.55 Scarborough - Liverpool working through out despite a lack of heat, arrival being thirteen minutes late at Lime Street. By the time the train reached Leeds word had reached the rail enthusiast community of this fine working, with BR gaining additional revenue as admirers joined the train for the slog across the Pennines. On October 12th 25057 was noted at Llandudno Junction shed.
1986
In January 25057 rescued two passenger services, firstly assisting an HST between Stone & Stafford on January 7th and then a diesel multiple unit between Stourbridge Junction & Langley Green on 10th. By late January 25057 was noted in the Exeter area, working early morning Cartics from Severn Tunnel Jct on 23rd & 29th.
It was obvious that the Class 25's had a very bleak future, which automatically made them a popular choice for the enthusiast railtour market. May 5th saw F & W Railtours 'Valley Explorer' (1Z26) run from Crewe to Barry Island - Cardiff Penarth Curve - Leckwith Jct - Bridgend - Margam, then Margam - Bridgend - Aberthaw - Barry - Cardiff, including a number of valley freight lines. The 450 mile round trip was handled successfully by 25109 & 25057 being noted on time at New Street on the return leg. When a Newcastle - Llandudno Town service arrived at Manchester Victoria on May 23rd with 37216 leading a failed 45124 both were replaced by 25057 for the remainder of the journey. It returned with the 15.16 to York, replaced at Chester by 47458. 25057 was noted shunting at Cauldon Low on May 29th.
On July 1st 25057 worked a Northampton - Birmingham parcels, the next day it was noted at Manchester Victoria. Two more passenger trains in trouble were assisted by 25057 in July. On 12th a St Pancras bound HST hit cows near Kibworth, 25057 was used to drag the HST back to Leicester, whilst three days later a similar working expired at Glendon Junction, 25057 dragged the HST to Bedford where the service was terminated. By 26th 25057 was back in the Preston area, taking an ex Euston service forward to Blackpool and returning to Preston with a Dundee bound train.
25057's last recorded passenger working occurred on August 29th and again was rescuing a failure, this time dragging electric multiple unit 304 045 from Kidsgrove to Stafford.
1987
This would be the last year of service for the few remaining members of the Class 25 fleet. That three consecutively numbered machines (25057/58/59) had reached this point was quite remarkable, especially in the light of the woes that had befallen 25058 over the last couple of years. All had received classified repairs towards the end of such repairs to the Class 25s and all were dual braked, providing them with some advantages over other members of the dwindling Class 25 fleet.
25057 was at Carlisle on Christmas Eve 1986, on January 2nd it made a round trip to Ayr, then a trip to Penrith on January 4th, noted at Stoke on January 8th, by 11th it was attached to 25035. It visited Etches Park on January 17th for attention to the brake blocks, and was back at Carlisle by January 24/25th, it moved south to Newton Heath by January 27th, remaining in the area at least until January 30th.
On February 11th it was at Machynlleth, by 12th it was back at Shrewsbury, 15th at Crewe, 17th at Longsight, where it worked to Nuneaton Hartshill, then the 7H56 to Guide Bridge. An 'A' exam was carried out at Crewe on February 18th, noted at Toton on February 21st, then remaining in the Crewe/Stoke/Chester area until March 3rd. 25057 & 25191 were noted on February 27th in charge of a Ravenhead Jct – Oakamole sand empties.
After March 3rd it worked to Stanlow, then to Aberystwyth, arriving back at Stanlow by 4th. It was noted at Warrington Arpley on the evenining of March 10th. It then remained in the Birkenhead/Ellesmere Port area until March 14th when it was called to Basford Hall, being withdrawn on March 15th.
Distinguishing Features
No.1 cab driver's side: minor faint scrape marks from corner on lower cabside panel: December 1981 until withdrawn.
Cab front numbers: not present No.1 end May 9th 1985, not present No.2 end September 14th 1985. Present on No.1 end by May 29th 1986.
Substantial dent on No.2 end 2nd man's side, present at least by July 19th 1983, maybe as early as June 1982.
(With thanks to Neil Cannon for making available the TOPS reports for 1987 & to Alan Baylis for his books on the 1984/85 Class 25 passenger workings and other resources).
flk 0316 (1)
Page added October 25th 2004
Last updated July 10th 2017
Return to Picture menu
Return to Home page