D5215, 5215, 25065
A Sunday morning, August 22nd 1976, at Saltley produces a good selection of locomotives including this line up of Class 25's headed by 25065 and 25074. The morning sun shows off the 'standard' BR corporate blue. Also highlighted is the revised fuel/water/battery housings which were changed from D5176 (25026) onwards.
1963
Constructed at Derby Works during the second quarter of 1963 D5215 was delivered to Toton (18A) in July. D5215 & D5216 made their test run to Corby together on July 9th 1963. D5215 was quickly reallocated to Cricklewood (14A) in August.
1964
For D5215 October & November were spent at Derby Works receiving repairs to accident damage.
1968
The D01 London Division was the new home for 25065 in June.
1970
During October 5215 again returned to Derby Works for repairs.
1973
During May 25065 was transferred to Cricklewood.
1975
In January 25065 was transferred to Toton. On March 29th a Bletchley - Lowestoft excursion arrived at Norwich behind 25065 & 25083. The new summer season began on Saturday May 24th with the Derby - Yarmouth in charge of 25065 & 25073, on the 26th this same pair powered a Nuneaton - Whitley Bay excursion. Another visit was made to Derby during September.
1976
In October 25065 was transferred to Springs Branch but almost immediately ended up back at Derby Works for accident repairs, not being released until February 1977.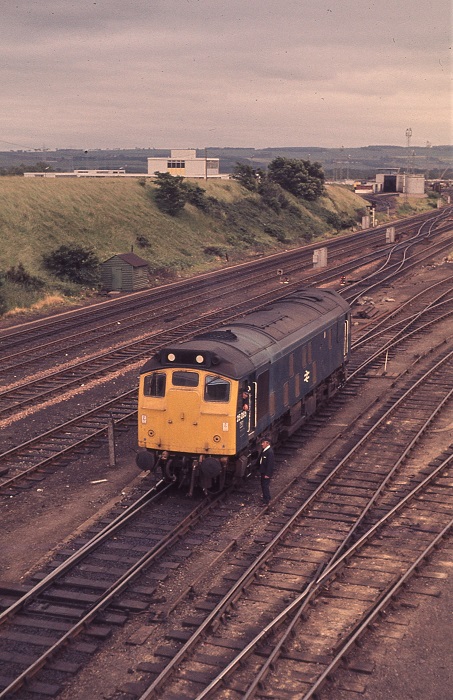 25065 moves off for its next turn of duty, Millerhill June 30, 1977.
1977
25065 was transferred to Haymarket during May.
1978
On a chilly February 19th 1978 25065 sits in the snow at Haymarket depot. The winter of '78 proved to be a tough one, at the end of January much of Scotland succumbed to heavy snowfalls with major disruption to all forms of transport. The lines out of Inverness saw a number of services trapped in snowdrifts. The cold weather returned with a vengance in Scotland on February 12th, it would not be until February 23rd before a thaw set in.
Photograph courtesy Tony Sayer.
The 16.50 Glasgow Queen Street - Edinburgh, regularly diagrammed for MkII vacuum braked stock, resulted in quite a variety of haulage including Inverness Type 2's, examples noted during April were 26018 (4th), 26021 (17th) and 25065 (14th).
1979

The southbound West Coast Postal accelerates away from Aberdeen with 25065 in charge on July 18th 1979. This working was more normally in the hands of Classes 26/40, today however, Derby's finest will rattle & roll down the east coast coast of Scotland as far as Dundee before heading inland.
Photograph courtesy Mike Cooper.
On October 10th the 13.40 Glasgow - Carlisle was powered by 25027 & 25065.
1980
An intermediate repair for 25065 was carried out at Glasgow during February & March.
No doubt as to the identification of this locomotive. The view was taken sometime in 1980 so is presumed to be before its entry into Glasgow Works for repair & repaint.
Its March 1980 and 25065 receives its final intermediate repair. The number placement behind the cab and the large numerals reveal it to be Glasgow Works undertaking the repair. Despite this repair 25065 had less than a year left in service.
Photograph courtesy Martin Bray.
1981
25065 was withdrawn on February 1st and stored at Kingmoor. It remained here until June 25th when it made the long journey south to Swindon along with withdrawn 25246.
1982
25065 was broken up at Swindon in January.
Undated Views

Crewe is host to 25065 on an unidentified passenger working, date unknown.
Photograph courtesy Ian Mawson.
Page added February 20th 2000
Last updated April 14th 2011
Return to Picture menu
Return to Home page