D5217, 5217, 25067
The First Class 25 to be Preserved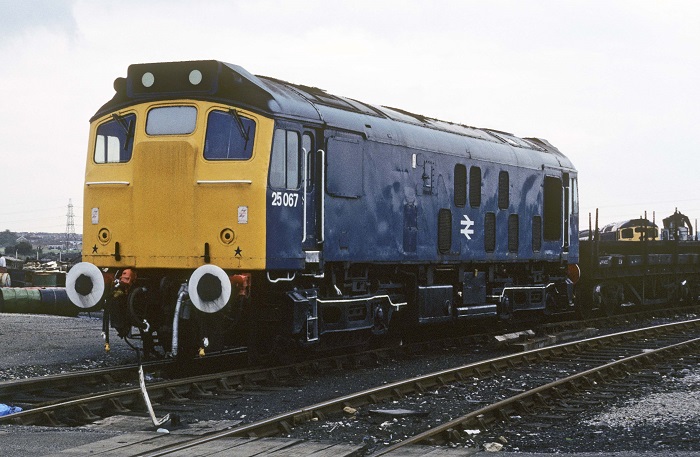 Photograph courtesy Roger Geach.

25067 at Swindon Works during on June 13th 1985. This would be the first Class 25 to reach preservation.

The nineteen year four month career of D5217/25067 was, apart from one year at Toton, spent allocated to LMR London area depots.

Built: BR Derby Locomotive Works.
Boiler equipped.

Allocations

D5217 was new to Toton (18A) on August 3rd 1963. Further transfers were:

August 1963 to Cricklewood (14A).
September 1963 to to Cricklewood West (14B).
January 1965 to London Division (D14).
June 1968 to London Division (D01).
May 1973 to Cricklewood.
January 1981 to Toton.
February 1982 to Cricklewood.
Withdrawn December 13th 1982.

Renumbered March 16th 1974.

25067 was the 157th Class 25 to be withdrawn.

After withdrawal 25067 was stored at Bescot until October 11th 1983 when it moved to Wellington to feature in a 'Rail Week' promotion. Following this 25067 returned to storage at Bescot but was noted at Wolverhampton during early 1984. It was moved to Swindon Cocklebury Yard on July 16th 1984 and into Swindon Works on July 23rd 1984. On July 22nd 1985 25067 was sold to the Winchester & Alton Railway (Mid-Hants), leaving Swindon Works with 27007 on November 26th 1985.

Works Visits

Works visits (records incomplete).

Noted Derby Works October 1964.
Noted Derby Works August 1965.
Noted Derby Works February 1967.
Noted Derby Works February 1971.
Noted Derby Works February 1977.

Highlights

1963
Constructed at Derby Works during the second quarter of 1963 D5217 was delivered to Toton (18A) in August. On July 30th D5217 & D5218 made their test run to Corby. After a short time at Toton D5217 was transferred to Cricklewood (14A) in August.

1964
In November D5217 paid a visit to Derby Works.

1965
Derby was again visited by D5217 in August.

1967
Another visit to Derby for D5217 occurred in February.

1968
During June 5217 was transferred to the London (D01) Division.

1970
March 7th saw another of the Luton Town football specials receive Class 25 haulage destined for Rochdale with 5217 & 5220 handling twelve coaches, though their performance at heating the train was inadequate. No other power could be found so they remained with the diagram.

1972
On October 17th 5217 came to the rescue of ailing Class 45 No.83 on the 19.05 St Pancras - Sheffield, taking over at Napsbury.

1973
After five years allocated to Willesden/London Division (D01) 5217 was transferred across north London to Cricklewood during May.

On July 14th a roundtrip Leicester - Skegness was hauled by 5217 & 5220.

On November 5th the 16.30 St Pancras - Nottingham with Class 45 No.28 failed south of Leicester, 25067 dragged everything to Nottingham.

1974
On October 5th a Marylebone - Ruabon excursion set out with 25067 & 25066, however trouble befell 25067 en route with the machine becoming a total failure at Wolverhampton. 47195 came to the rescue with the two Cricklewood Class 25s visiting the delightful environs of Bescot for the rest of the day.

1975
On May 31st 25067 worked the 07.35 Nottingham - Llandudno Town, returning with the 13.00 Llandudno to Nottingham.

Condition May: blue/yellow livery, gangway doors present, blanking plates fitted, hand/footholds plated over, three-rung bogie mounted footsteps, straight sided sandboxes.

1977
25067 was noted at Derby Locomotive Works during February.

On July 30th and August 13th 25067 worked the 07.35 Nottingham - Llandudno Town and the return 13.05 Llandudno Town - Nottingham. On August 20th 25067 & 25051 worked the 08.00 Walsall - Yarmouth to Norwich returning from there with the 14.15 Yarmouth - Walsall.

1978
April 22nd found 25067 & 25036 working throughout on the 'Yorkshire Rover' (DAA/DEG) St. Pancras - York railtour, the return trip using the ECML as far as Newark, where the freight only Bottesford branch was taken.

On June 10th 25067 & 25277 worked the 10.40 Euston - Aberystwyth forward from Wolverhampton, returning with the 16.10 Aberystwyth - Shrewsbury. The next day (11th) the same pair worked a Plymouth - Aberystwyth day excursion roundtrip Birmingham New Street - Aberystwyth.

December 5th found 25067 & 25114 in charge of the 39 vehicle 21.50 Northampton - Willesden freight, whilst passing through Tring thirteen of them derailed, three overturning, closing the slow lines for four days.

1981
After about eight years allocated to Cricklewood 25067 moved north to Toton in February.

On March 14th (also reported as February 14th) a Bewdley/Kidderminster - Paddington special was worked by 25067 & 25075.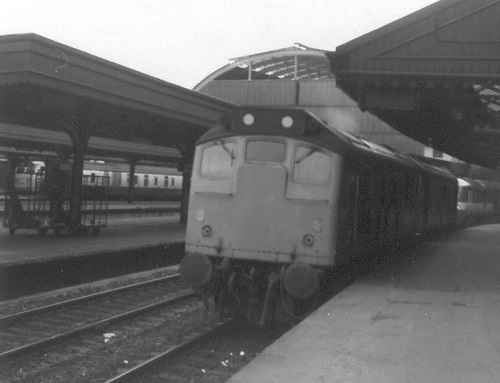 Photograph courtesy Mark Cook.
25067 & 25075 are released from the buffer stops at Paddington after having arrived with an excursion on March 14th 1981.
25067 worked the 07.47 Manchester Victoria - Bangor on April 22nd.
A lengthy day out occurred on June 17th when 25067 & 25126 worked a roundtrip Wellingborough - Rhyl day excursion. Three days later (20th) 25067 was back on the North Wales coast working the 07.35 Nottingham - Llandudno Town and the return 13.26 Llandudno Town - Nottingham.
Here is 25067 on August 21st 1981 at Crewe Gresty Lane having come up from Nuneaton on the T57 job. The black & yellow shunt disc to the right of the locomotive allows you to shunt on the neck and pass the signal in on/danger position if the route is set for the shunt neck. 25067 has about another eighteen months in service and would be one of the first to reach preservation.
A late season day excursion on September 24th saw 25067 & 25156 work a roundtrip Leicester - Llandudno Town
An East Anglia working during October saw 25067 work the 10.15 Birmingham New Street - Norwich as far as March on October 16th, whilst on October 30th 25067 worked the 13.45 Manchester Victoria - Bangor.
On December 10th the 13.15 Birmingham New Street - Norwich was worked by 25067, whilst on December 20th 25067 worked the 02.15 Euston - Hemel Hempstead unadvertised service.
25067 was stabled at March depot on a snowy December 12th.
1982
After being allocated to Toton for about a year 25067 was transferred to Cricklewood during February, this would be its last move. Despite this move 25067 worked a mixed bag of passenger services during 1982.
On March 11th 33001 failed at Shrewsbury working the 16.02 Crewe - Cardiff, 25067 dragged everything to Cardiff.
The use of Class 33/1s on the Cardiff - Crewe route was rare, if they did show up they tended not to complete the diagram, as happened to 33104 on March 26th. After spending a day and a half on the regular diagram 33104 jumped ship onto the 15.02 Manchester - Bristol parcels, leaving the 16.02 Crewe - Cardiff in the hands of 25067.
On the North Wales mainline April 24th found Type 2s in abundance on Manchester - Bangor passenger workings including 25067 working the 9.42 Manchester Victoria - Bangor, the 13.38 return and the 17.42 Manchester - Bangor.
25067 was stabled at Leicester on June 5th.
The 08.57 Leeds - Carlisle and the return 15.37 Carlisle - Leeds were worked by 25067 on June 14th.
On July 3rd 25067 & 25033 worked the 10.10 Euston - Aberystwyth forward from Birmingham New Street, returning with the 16.05 Aberystwyth - Shrewsbury.
25067 was noted light engine at Lawrence Hill on July 28th en route to Bath Road shed.
25067 was noted at Cockshute stabling point on August 1st, the next day (2nd) it was noted passing Bescot with one engineers wagon and a brakevan.
On August 7th 25067 & 25036 worked the 07.38 Shrewsbury - Aberystwyth returning with the 10.07 Aberystwyth - Euston to Wolverhampton.
25067 was north of the border on October 25th working the 08.40 Carlisle - Glasgow Central and starting out with the return 13.45 Glasgow Central - Carlisle but failing at Glasgow Central Muirhouse Junction, 27023 dragged everything to Carlisle. All was well by the next day (26th) when 25067 worked the 10.00 Carlisle - Leeds and the 16.02 Leeds - Carlisle. It is perhaps ironic that the reported last workings for 25067 were a long way from its home depot of Cricklwood.
On September 22nd 1982 25067 had been assigned to duties in the Aylesbury area. However these were abruptly stopped when the locomotive derailed one bogie whilst shunting. Seen here having split the points 25067 awaits the re-railing crew.
Photograph courtesy Mark Cook
Moments earlier 25067 had been busily going about its daily duties, seen here marshalling a parcels vehicle towards the parcels facility.
Photograph courtesy Mark Cook
Another view of the errant 25067 awaiting assistance from the rerailing crew. In fact 25067 only had a few months left in service, withdrawal would come in December. Ironically withdrawn 25067 was used, with 25202, as part of an exhibition at Kidderminster Goods Yard in May 1983 to publicise the improved Birmingham - Worcester service. A similar use was made of 25067 during October 1983 for a 'Rail Week' at Wellington. After a final trip to Swindon good news came in September 1985 when 25067 was successfully tendered for, reaching Alton for preservation at the Mid Hants Railway in November accompanied by 27007.
Photograph courtesy Mark Cook
On November 19th 25067 was noted northbound through Cudworth with a loaded train of 60 Ford Transit vans.
25067 was withdrawn on December 13th 1982 and stored at Bescot.
Condition Final: blue/yellow livery, gangway doors sheeted over, brackets and other fitting removed from center of cab front, blanking plates fitted, hand/footholds plated over, three-rung bogie mounted footsteps, straight sided sandboxes.
1983
In the second week of May an Open Day at Kidderminster Goods Yard included 25202 and 25067 (withdrawn) as well as Tyseley diesel multiple unit set TS417 along with a number of other exhibits. The displays were to publicize the service improvements between Worcester & Birmingham. Presumably 25067 returned to Bescot for further storage.
Withdrawn 25067 moved from Bescot to Wellington on October 11th as one of the exhibits for a 'rail week'. This may have been similar to a rail week at Wrexham from October 1st that included withdrawn 40106 and was part of the advertising campaign to highlight the new Chester - Shrewsbury - London service.
25067 was noted at Wolverhampton High level station on May 27th fully repainted and looking very smart, being seen with a Class 86 and an exhibition coach in the south bay. On June 23rd 25067 was stabled at Wolverhampton Low level station with at least three coaches.
1984
25067, 25101/157/187 were moved as the Wolverhampton ('067) - Bescot - Swindon dead engine movement between July 6th & July 11th.
1985
The GWR 150 celebrations intended for Swindon Works obviously never took place due to the impending closure of the Works. Closure notices officially appeared late in September whilst Vic Berry, Leicester had been called in for the removal of scrap from parts of the site. One piece of good news however was the successful bid on March 22nd 1985 for 25067 for preservation, the Type 2 awaiting movement from Swindon to its new home.
After a wait of several months the first preserved Class 25, 25067 made its way from Swindon Works to Alton (for the Mid Hants Railway) on November 26/27th, accompanied by 27007.
46/6547
flk 1116
Page added February 20th 2000
Last update November 15th 2016