D5222, 5222, 25072
One of Cricklewood's Finest
Photograph collection of webmaster.
Brand new D5222 on display at Derby Works Open Day on August 31st 1963.
The twenty two year two month career of D5222/25072 was spent allocated to London Midland Region & Scottish Region depots.
Built: BR Derby Locomotive Works.
Boiler equipped.
Royal Train locomotive.
Center lampbracket & other fittings removed.
Allocations
D5222 was new to Cricklewood East (14A) on September 21st 1963. Further transfers were:
January 1965 to London Division (D14).
September 1965 to London Midland Midland Division (LMML).
December 1965 to Leicester Division (D15).
January 1967 to London Division (D14).
June 1968 to London Division (D01).
May 1973 to Cricklewood.
August 1974 to Willesden.
June 1975 to Cricklewood.
October 1976 to Eastfield.
January 1980 to Haymarket.
March 1982 to Eastfield.
October 1982 to Crewe.
Withdrawn December 5th 1985.
Renumbered March 21st 1974.
25072 was the 261st Class 25 to be withdrawn, one of ten retired during December 1985.
After withdrawal 25072 was stored at Toton until moved to Vic Berry, Leicester on December 2nd 1987 for storage pending sale intio preservation. 25072 was moved on March 17th 1988 by road to the Swindon & Cricklade Railway, Blunsden.
Works Visits
Works visits (records incomplete): to be added later.
Highlights
1963
D5222 was constructed at Derby during the summer of 1963, being delivered to Cricklewood (14A) during late September and becoming part of the large fleet of diesel locomotives & multiple units being used to replace steam northwards from St Pancras. It the last of the first batch of Class 25's (D5186 - D5222) to be constructed at Derby, the following ten machines (D5223 - D5232) which had been part of that same Derby order were transferred to Darlington whilst Derby tackled the redesign issues as later revealed in D5233. After D5222 Derby built ten more Type 2's (D7568 - D7577) in the older style prior to the change to that reflected in D5233.
D5222 was one of those locomotives on display at the annual Open Day at Derby Works at the end of August. Shortly after this on September 4th 1963 D5222 went out on its test run to Corby.
1965
During November D5222 was transferred to the Leicester Division.
1966
Crewe Works began to recieve Type 2's for heavy repair, so noted in May were D5220 & D5222. This was no doubt possible due to the availability of resources created by the diminishing steam repairs and the winding down of the Brush Type 4 construction.
1967
During January D5222 returned south to Cricklewood (14A).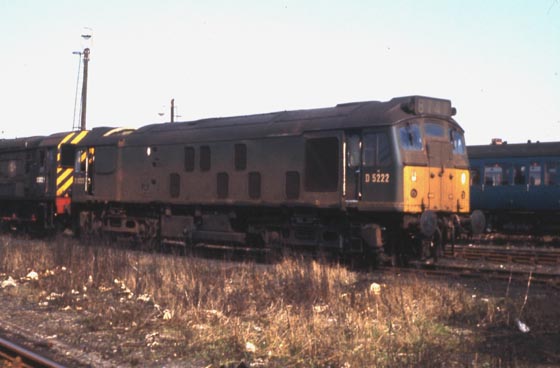 Photograph courtesy Grahame Wareham.
D5222 stands at Cricklewood during April 1969.
1968
During June 5222 moved across town to Willesden and allocation to the London Division (D01). It would spend the next eight years allocated to either Willesden or Cricklewood.
1970
Gatwick Airport was host to two specials from Leicester on March 11th & 12th, hauled respectively by 5219 & 5222 and 5216 & 5222, the empty coaching stock being collected from Etches Park.
1972
Because of the proximity of Wolverton Works, where the Royal Train was kept when not in use, the boiler equipped Class 25's at Willesden and Cricklewood were favourites for handling the Royal Train workings, either in the forwarding moves or when members of the Royal Family were actually on board. On November 16th 5221 & 5222 conveyed a five coach Royal Train with Princess Anne aboard from Euston to Hope. The train returned ecs to Wolverton via the Midland to Market Harborough.
1973
5222 was noted at Derby Works during March and was transferred to Cricklewood during May.
1974
During April 5222 was back at Derby for repairs.
Passengers on a Marylebone –York excursion on April 25th enjoyed the delights of being routed via Penistone and Huddersfield, the locomotives for the day were 25072 & 25036.
On May 11th a Luton - Aberystwyth Merrymaker utilised 25070 & 25072 from Luton to Shrewsbury via the Nuneaton Flyover, Bescot and Wolverhampton. At Shrewsbury the Class 25's were replaced by 24074 & 24056, with the Merrymaker now doubling as the 11.40 all stations to Aberystwyth, with four coaches on the train reserved for the regular passengers. The return working is reported as 24056 hauling four coaches to Dovey Junction where a set back was made onto nine coaches, stock from a return Leamington - Barmouth special. 24082 & 24087 were added to the train, at least as far as Machynlleth where 24087 was removed, leaving the two Type 2's to carry one eastwards with thirteen coaches.
5222 was transferred to Willesden during August whilst receiving collision repairs at Derby.
1975
During August 25068 - 25072 were transferred to Cricklewood. On November 18th the arrival of the President of Tanzania at Gatwick saw the Royal Train in use to Victoria, afterwards 25072 arrived at Stewarts Lane to return the stock to Wolverton.
1976
An engineer's special hauled by 25068 & 25072 ran on June 3rd from Walsall to Willesden via Tyseley & Banbury, included in the formation was a track recording coach.
After thirteen years allocated to a variety of LMR depots 25072 moved north to Eastfield during October 1976.
New Year's Eve found the 1G33 8.04 Perth - Edinburgh dmu on fire at Bathgate Jct. 25072 was used to shunt the damaged vehicles into the up loop, then took the lead coach onto Edinburgh, just over one hundred minutes late. The fire completely gutted Dundee based SC51540, withdrawal coming in January. 25072 had also been noted on the 11.22 Dundee - Edinburgh and 13.20 return, usually a dmu working, but now operating with a rake of Mk 1 coaches, normally hauled by a Class 25 or 26.
1977
A major repair for 25072 was carried out at Glasgow Works from April to June.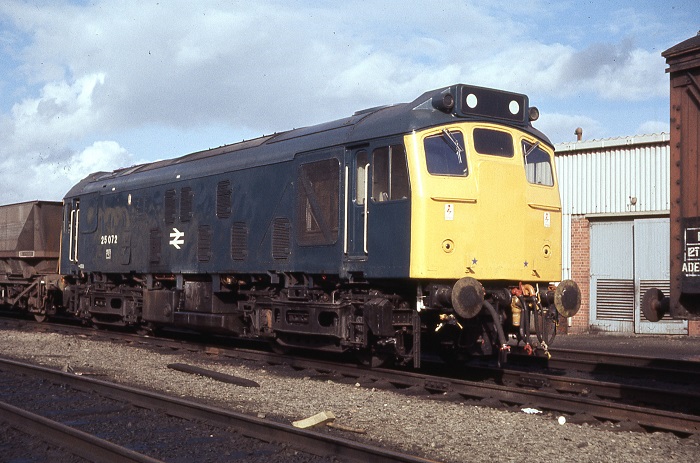 25072 stands at Eastfield depot, September 3rd 1977. The locomotive spent April through June 1977 undergoing repair at Glasgow Works. The paint job still shows some of its freshness.
1978
On May 6th the Scottish Cup Final at Hampden Park featured Glasgow Rangers & Aberdeen, with five specials scheduled. The 09.30am left behind 25072 & 25087, the 10.00 had 25227 & 25033 whilst the other three featured 40167, 40063 & 40159.
1980
January found 25072 at Glasgow Works for an N4 repair, at the same time it was transferred to Haymarket.
A doubled headed Type 2 working featured the (Fridays only) 17.25 Glasgow Central - Stranraer and the next days 09.43 SO Blackpool - Stranraer, from Ayr. On July 11/12th 27012 & 25076 were noted, 25238 & 26032 on 18/19th, though 25238 was replaced by 25109 on the Ayr run, 25235 & 25079 on 25/26th, 25246 hauled the first leg on August 1st, 47353 did the second leg! 25246 was also noted on the 17.43 Glasgow - Ayr and 19.22 return on August 5/6th, 25072 worked this turn on August 13th and came back on the 15th with the 17.25 Glasgow Central - Stranraer.
1981
The 15.57 Aberdeen - Carstairs postal used 25072 on May 18th, there appeared to be no consistency for this train's haulage, with Classes 26 & 40 frequently being used.
June 27th 1981 finds 25072 hiding in the shrubbery at Glasgow Works.
A wonderful night time view of 25072 & 27003 at Aberdeen. Photograph courtesy S Pierce via 'abpr'.
During October 1981 25072 received an 'E' exam at Haymarket.
1982
25072 paid another visit to Derby during February, this again for an N4 repair.
Haymarket allocated 25072 receives attention on February 6th 1982. It had been sent down from the Scottish Region with a handful of Class 27's to receive repairs caused by extreme wintry weather north of the border. Behind the Class 25 is HST power car 43037.
Photograph courtesy Jerry Glover.
Eastfield became 25072's new home during March, though from the following reports it appears everywhere but there. It was used on May 2nd to work a scheduled Birmingham - Norwich service, whilst on 8th it handled a Five Ways - Chester church special with 25138. Several days were also spent in the South Wales area at the end of May.
On June 2nd(??) 45121 on the 12.05 Liverpool - Scarborough failed at Diggle, the following service pushed everything to Huddersfield, where 25072 assisted to Leeds, here the train was cancelled. On June 16th 25072 worked the 03.00am Severn Tunnel Junction - Aintree tinplate freight. On July 31st Tinsley provided 25072 for the 8.57 Sheffield - Llandudno, the Type 2 being replaced at Huddersfield. By October 25072 was transferred for the last time, moving south to Crewe.
1983

Heading westbound at Helsby July 5th 1983 25072 leads five empty container flats & one brake van.
1984
On May 13th 25072's first passenger working of the year occurred, jointly with 25207 it assisted a WCML working over the de-energised Northampton - Coventry section.
Photograph courtesy Tony Sayer
25072 rests at Northwich shed on August 11th 1984.
The 16.20 Glasgow - Liverpool continued to use Class 25's for the journey south of Preston. Noted were 25072 (Aug 24th), 25229 (Aug 31st), 25210 (Sept 6th), 25190 (Sept 7th), 40009 (Sept 12th) and remarkably 20212 & 20219 (Sept 14th). On September 19th 25072 worked a Derby - Craigentinny ecs throughout, returning south light engine. When October 19th's 16.35 Carlisle - Hull expired at Garsdale behind 31432 it was left to 25072 to take the train as far as Leeds.
1985
25072's first day of passenger working in 1985 proved too much for the locomotive, after succesfully covering a Blackpool - Preston working, it expired at Euxton Jct on January 21st whilst taking forward an ex-Glasgow service from Preston on to Liverpool. 47016 was procured to get the train to its destination.
The failure of a Class 47 at Perth on a Glasgow - Aberdeen service on April 4th led to 25064 & 25072 working the train through to Aberdeen.
Late in June 25072 ended up on the Glasgow - Carlisle circuit. A southbound trip took place on 26th, the next day 25072 was being used by Gateshead depot for the local Coxlodge working. However by the morning of 28th 25072 was back at Glasgow, set up to work a round trip to Carlisle (the 7.40 southbound, 12.40 northbound).
On July 19th 25072 worked the 6Z48 Garston - Mansfield Concentration sidings, then returning light engine to Tinsley.
On September 27th 25037 worked the 6Z98 Warsop - Stanlow empty tanks, Class 25s on this working were infrequent. The loaded wagons had arrived at Warsop from Stanlow the day before behind 47335. 25037 had run light engine from Tinsley arriving at Warsop at about 13:20 to pick up the empties. There were no run round facilities in the Oil sidings so 25037 worked the empties to Mansfield Concentration sidings to perform this task. the area. It is reported this was the last time a Class 25 worked onto the LD line.
A gloriously wet July 27th 1985 finds 25072 and an engineers train passing through Gaerwen, a short distance from the junction with the main line.
Photograph courtesy Steve Morris.
Kingmoor have captured 25072 for use on the passenger workings over the GSW route to Glasgow. Seen here at Carlisle on July 29th 1985 its coaching stock has just been released to allow it to prepare for its next leg north. This was the last summer in service for 25072, by December withdrawal had come, ending its days dumped at Leicester.
Photograph courtesy Richard Howatt.

Stanlow oil terminal on November 23rd provided a veritable feast of Class 25's with 25190 & 25192 and 25279 & 25325 on workings from Leeds and 25035 & 25072 from Dalston.

25072 was taken out of service on December 5th, being turned off and stored at Leicester depot.

1986
On January 27th 25072 was moved from Leicester to Toton, to become Toton's training locomotive.
25072 at Toton with 45046 on March 15th 1986.
Photograph courtesy Jerry Glover.
25072 inside the depot at Toton on October 11th 1986.
Photograph collection Ian Hammond.
1987
On December 2nd 25072 was moved from Toton to Leicester Humberstone Road and entered Vic Berry's yard the next day. However during January 1988 25072 was acquired for preservation.
Into Preservation
On March 17th 1988 25072 left Vic Berry's by road destined for the Swindon & Cricklade Railway at Blunsden. Whilst here it acquired GWR steam style '5222' numberplates. At the end of February 1992 ARC's Sentinel shunter at Whatley Quarry suffered a breakdown. D5222 was made available to covered the shunting duties of 2,500 ton stone trains. It was moved by road and began its duties on March 1st 1992. Several minor faults were quickly rectified, with the locomotive being available for 23 hours per day for about a month.
In a manouevre probably undreamed of when 25072 was brand new, almost forty years earlier, today locomotives and other large pieces of rolling stock now routinely move about the country by road on low loaders. 25072 is seen in just such a move between preservation sites during 2002.
Photograph courtesy Fraser Thornton.
A close up of the side panels reveal that the preservation of forty year old locomotives in the damp English climate is an ongoing challenge, especially when the locomotives are stored outdoors and run up infrequently. The view also clearly shows the hinged ventilators, unique to the dual braked examples from the 25026 - 25082, 25218 - 25247 series.
Photograph courtesy Fraser Thornton.
Since October 1993 the locomotive has passed through several owners and operated on several preserved lines.
Page created January 4th 2004
Page updated January 20th 2017.