D5230, 5230, 25080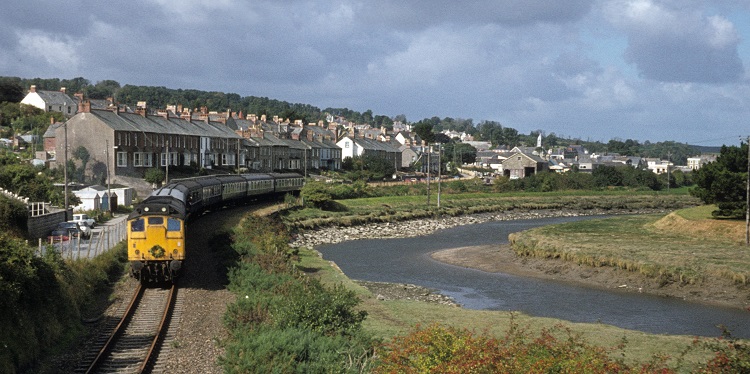 Photograph courtesy Bernard Mills
The overnight Derby - Wadebridge 'Wadebridge Wanderer Railtour' is seen departing Wadebridge on September 30th 1978 with 25080 returning the train to Plymouth. The River Camel is to the right, whilst Guineaport Road to the left was widened after closure of the line and now occupies the trackbed at this location.
The twenty two year career of D5230/25080 was spent allocated to London Midland Region and Western Region depots.
Built BR Darlington Works.
Boiler equipped.
Center lampbracket & other fittings removed: No.1 cab only.
Last Class 25 to recieve an Intermediate Repair at Derby Locomotive Works (August 1980).
Time between last Classified repair and withdrawal: 60 months.
Time between withdrawal & scrapping: 93 months.
Allocations
D5230 was new to Cricklewood West (14B) on October 19th 1963. Further transfers were:
January 1965 to London Midland Midland Lines (LMML)
February 1968 to the Nottingham Division (D16)
May 1968 to London Midland Midland Lines (LMML)
June 1968 to Nottingham Division (D16)
January 1972 to Bristol (82A)
May 1976 to Laira
October 1980 to Longsight
May 1984 to Crewe
Withdrawn September 2nd 1985.
Renumbered January 29th 1974.
25080 was the 255th Class 25 to be withdrawn, one of three retired during September 1985.
After its withdrawal 25080 was stored at Toton from October 1985 to August 1988. On August 17th 1988 it was moved to Leicester depot, and then into Vic Berry's yard by September 1988. It then moved to Basford Hall, Crewe on May 12th 1989, where it was stored until moved to Crewe Heritage Center on November 7th 1991. It returned to Basford Hall on February 17th 1992. 25080 was moved by road to MC Metals, Glasgow, arriving on May 28th 1993 and broken up within a matter of days.
Works Visits
Works visits (records incomplete).
Noted Derby Works August 1965.
Noted Derby Works May 1967.
Noted Derby Works September & October 1971 (acquired blue livery?).
Noted Derby Works February 1975 (gangway doors sheeted over?).
Noted Derby Works May - August 1980 (intermediate).
Highlights
1969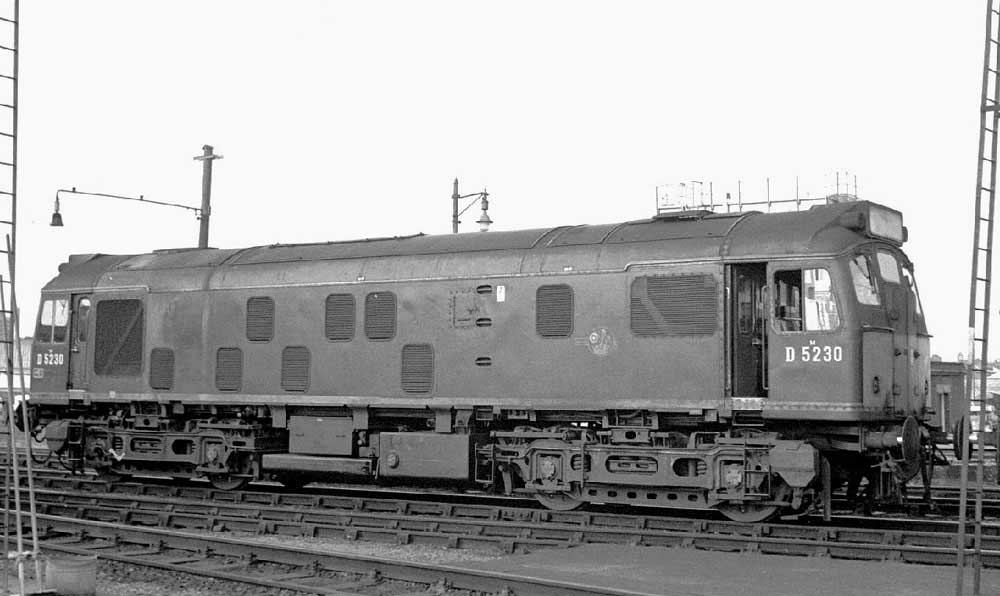 Photograph courtesy Tony Sayer
D5230 at Cambridge Road, St Pancras on July 12th 1969.
Two weeks before the view above was taken, Nottingham Division allocated 5230 had worked June 28th's 1E83 07.00 Derby - Yarmouth as far as Norwich.
Condition July, green livery with small yellow warning panels, curved upper corners, warning panel covers frame level stripe, three-rung bogie mounted footsteps, ridge sided sandboxes.
1972
During January 1972 5230 was transferred to Bristol, but this appears not to have led to any increased appearances on passenger workings.
1973
On September 5th the Class 33 diagrammed for the 10.10 Exeter St Davids - Waterloo failed before departure. 5230 substituted for the Class 33, but it is unclear how far the Class 25 worked.
1974
A rescue job occurred on June 15th when a Paddington - Penzance service behind 50042 failed in the Taunton area. 25080 dragged the train to Exeter St. Davids.
1976
For the start of the 1976 summer timetable 25080 was transferred to Laira leading to many passenger workings based on Exeter. The earliest recorded working whilst at Laira occurred on May 9th working the 18.09 Exeter St. Davids - Newton Abbot. This working was also handled on May 30th.
August 22nd 1976.
Photographs courtesy Peter Lovell.
The three views above show 25080 working the 14.20 Exeter St Davids - Barnstaple and the 15.55 return. The left view shows the train having arrived at Barnstaple with the locomotive about to runround the train using the former route to Bideford to accomplish this. The center view shows the locomotive dropping down into the station. The former Bideford route runs off to the left whilst the long lifted route to Ilfracombe curves to the right under the road bridge. The right view shows the train at Lapford. 25080 would be a regular performer over the Exeter - Barnstaple route, the round trip being a total of 78 miles. At other times it would be very familiar on the Exeter - Newton Abbott (round trip 40 miles) and Exeter - Paignton (round trip 56 miles) services.
1977
From time to time other workings also came the way of 25080. On June 11th7 25080 & 25170 worked the 1M39 09.35 Penzance - Wolverhampton as far as Plymouth.
Between its regular Barnstaple workings a Watford - Barnstaple day excursion was worked forward from Exeter St Davids on June 26th behind 25080 & 25215.
1978
The summer of 1978 brought many local workings for 25080. On September 8th the 00.05 Penzance - Paddington became a failure behind 47445 somewhere in Cornwall, 25080 & 37267 provided assistance to ?? (maybe Penzance?).
September 30th 1978.
Photographs courtesy Peter Lovell.
The overnight Derby - Wadebridge 'Wadebridge Wanderer Railtour' on September 30th utilized 25080 between Plymouth and Wadebridge. In the above views the train is seen at Bodmin, Wadebridge and Bodmin Road, where 50020 was noted passing.
On September 29th/30th the MLST Derby - Wadebridge 'Wadebridge Wanderer Railtour' provided quite a workout for several Class 25s. 25074 & 25073 worked Derby - Long Eaton - Nottingham (reverse) - Loughborough - Leicester Narborough - Hinckley - Coventry - West Ruislip - Greenford - Drayton Green Junction - Hanwell - (via GWML) - Bath - Bristol Temple Meads - Taunton - Exeter St Davids - Newton Abbot - Plymouth. At Plymouth 25080 took over for the route Plymouth - Royal Albert Bridge - Liskeard - Bodmin Road - Bodmin General - Boscarne Junction - Wadebridge (Down Platform), then returning at midday over the same route to Plymouth. Here 25073 & 25074 returned to the train for the run from Plymouth - Newton Abbot - Exeter St Davids - Honiton - Yeovil Junction - Salisbury - Basingstoke - Reading - Leicester - Nottingham - Derby.
1979
The recorded passenger activity for 1979 was not as much as 1978 but did produce some different workings. On June 21st 25080 worked the 16.07 Portsmouth Harbour - Cardiff forward from Bristol Temple Meads. Just over a week later on June 30th 25080 & 25052 worked the 22.41 Manchester Piccadilly - Penzance forward from Plymouth. On September 22nd the 18.15 Birmingham New Street - Norwich was worked as far as Peterborough by 25080.
1980
1980 would be the last year for 25080's allocation to Laira, unfortunately for its passenger workings June through August were spent at Derby Works receiving an Intermediate repair, this would be the last Class 25 at Derby Works to complete an Intermediate and of interest is that 25080 was vacuum brake fitted. Whilst under repair the No.1 cab was replaced.
On April 12th 1980 the 07.50 Paddington - Meldon Quarry 'Atlantic Coast Express IV' railtour was worked forward from Exeter St. Davids by 25080 & 25225, 169 miles were covered by the Class 25's, the train being seen here at Meeth. The tour started out and ended with 31163 & 31304.
Photograph courtesy Neil Cannon.
One of the last recorded passenger workings prior to being called to Derby Works took place on June 2nd when 25080 worked the 13.40 Exeter St. Davids - Barnstaple.
Whilst at Derby Works undergoing an 'Intermediate' repair it appears a bogie exchange took place, with the new bogies having two-rung cab footsteps. 25080 did not receive dual brake equipment.
After outshopping from Derby Works late in August 25080 worked a couple of day excursions with 25115 prior to its return to the Western Region. On August 24th an excursion was worked from Wellingborough to Llandudno Town (366 miles), the next day it was an excursion from Burton on Trent to Southport. It is presumed in each case the Class 25's worked both the out & return legs. It is believed 25080 returned to the Western Region on August 28th, working a freight down the NE/SW main line.
Having returned to the Western Region, on September 1st 1980 25080 with shiny paintwork worked the 11.04 Paignton - Exeter St. Davids and the 14.20 Exeter St. Davids - Paignton.
Photograph courtesy Peter Lovell.
One of the last workings handled by 25080 whilst allocated to Laira was on October 5th working with 25223 the Exeter St Davids - Barnstaple legs of a day excursion from Alfreton & Mansfield Parkway. At the end of the summer timetable 25080 was transferred to Longsight.
1981
Whilst allocated to Longsight 25080 continued to see a varied amount of passenger haulage. Being boiler equipped it was able to handle winter workings, diagrammed or otherwise. Workings included a Crewe - Cardiff on January 9th, the February 28th's 13.15 Birmingham New Street - Norwich and 18.32 return. April 1st found 25080 back on the 15.10 Cardiff - Crewe. A day excursion on May 4th from Manchester Piccadilly to Aberystwyth used 25080 & 25071. Flat batteries on 25080 prevented its return on the excursion.
25080 at Nuneaton on July 2nd 1981 working the T43 job to Bescot. The following weekend (July 4th & 5th) 25080 & 25224 were busy working round trips over the Cambrian line to Aberystwyth. On its return working on July 5th it worked the 18.00 Aberystwyth - Euston as far as Nuneaton. On July 9th 25080 was back at Aberystwyth (with 25032) on a charter from Coventry.
Photograph courtesy David Smith.
For a change of scenery 25080 spent four consecutive days on the Glasgow Central - Carlisle services on August 19th/20th/21st/22nd 1981, working round trips on 20th & 21st. On September 9th 1981 25080 and Divisonal Manager's Saloon 45029 were noted at Warrington Arpley.
25080 receives attention at Reddish on October 11th 1981. On the last day of October 25080 & 25221 worked the Shrewsbury - Warrington portion of a day excursion to Stirling.
Photograph courtesy Tony Sayer.
Christmas Day 1981 found 25080 stabled at Carnforth Furness sidings with a light snowfall on the ground.
1982
During 1982 25080 ran up quite a variety of passenger miles, the first occurring on May 7th working the 08.40 Carlisle - Glasgow throughout. Its next working two days later was less successful, when it failed at Petterill Bridge Junction whilst working the return 'Skirl of the Pipes 1' railtour with 25303. The Type 2s had joined the train at Carlisle. 25303 was left to handle the Carlisle – Blackburn – Bamber Bridge – Farrington Junction route alone with dead 25080 in tow. Oh how the Settle & Carlisle route must have echoed to the sound of a hard working Sulzer six cylinder that afternoon!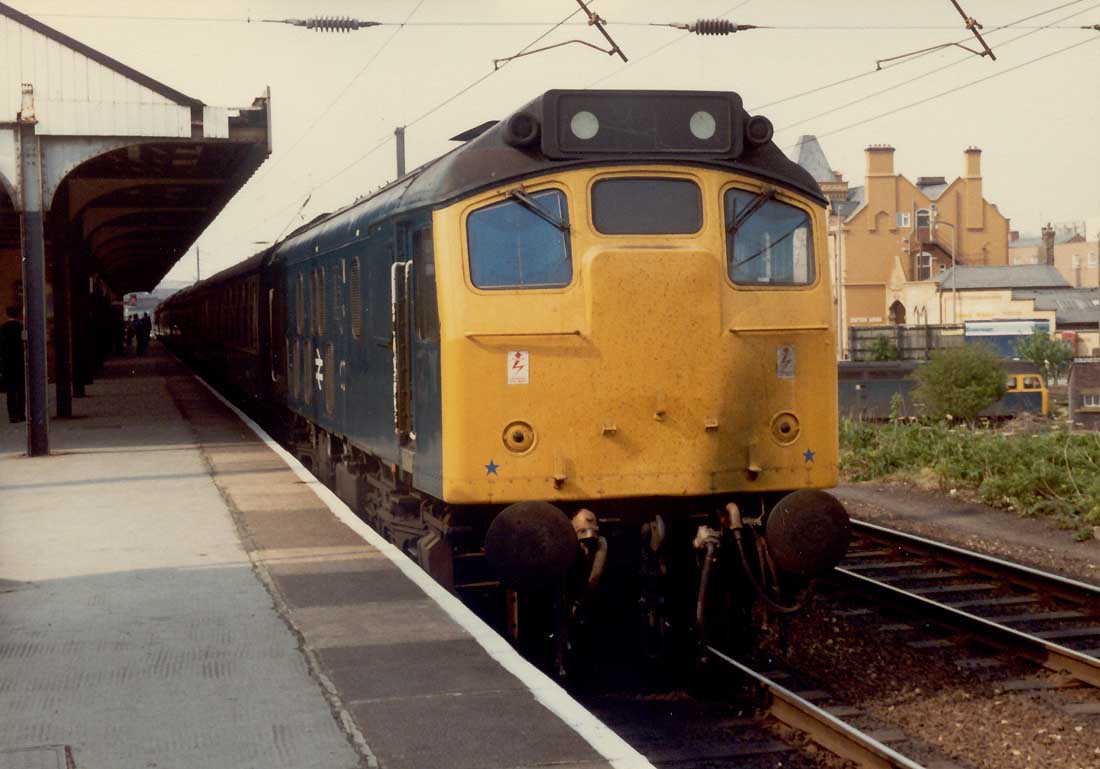 Photograph courtesy Jerry Glover.
25080 at Warrington Bank Quay on May 12th 1982, not sure if this is an empty coaching stock move, but 25080 has obviously been put right after its failure on the 'Skirl of The Pipes 1' railtour three days earlier.
The summer of 1982 continued the variety of workings, on June 2nd 25080 went east on the 13.15 Birmingham New Street - Norwich. On June 19th it headed east again when 31146 & 31240 required rescuing at Beeston on the 08.33 Derby - Yarmouth. On reaching Nottingham, all of three miles, 47369 was on hand to take the train forward. It was northwards on August 25th working the 16.05 Leeds - Carlisle. And then westwards three days later on August 28th handling the 13.45 Manchester Victoria - Bangor. A month later on September 29th 25080 worked the 10.15 Birmingham New Street - Peterborough and the 13.19 return. A rail strike in East Anglia had prevented the train travelling beyond Peterborough. A late season day excursion on October 16th found 25080 & 25042 working a Carlisle - Aberystwyth excursion forward from Crewe.
On November 11th & 12th 25080 was busy working over the Settle & Carlisle, working the 08.57 Leeds - Carlisle and 15.37 return on both days. On November 25th it worked the 16.17 Birmingham New Street - Norwich as far as March. The last working of the year involved the Midland mainline, handling November 30th's 23.59 Sheffield - St. Pancras.
1983
1983 opened with an odd working, on January 3rd the locomotive for the 16.00 Sheffield - St. Pancras suffered a brake problem before departure. A hasty substitute of three vacuum braked coaches and 25080 filled in for the working up to the capital. The only other recorded working for 1983 involved another failure, this time the diesel multiple unit for May 20th's 17.10 Manchester Victoria - Southport, with 25080 covering the journey.
1984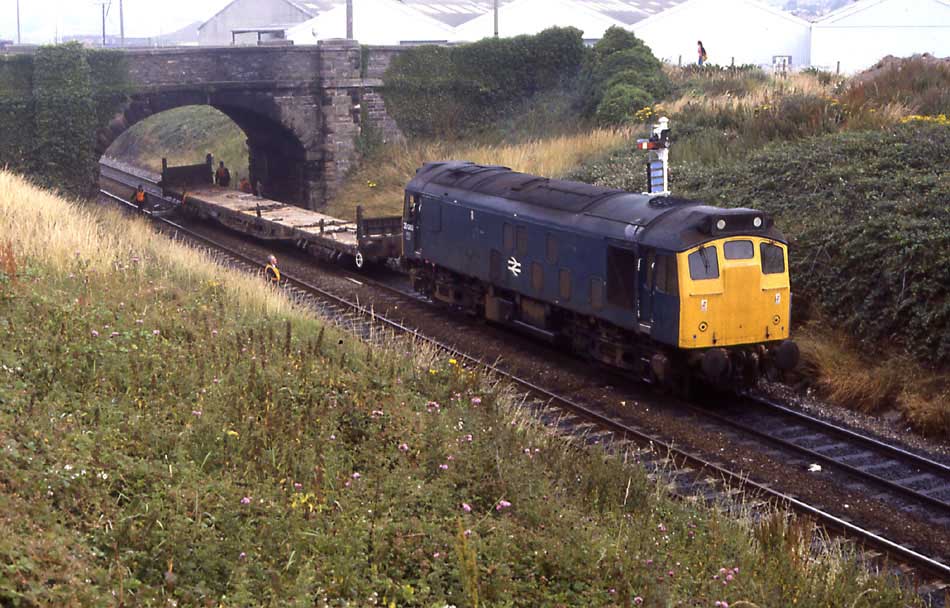 Photograph courtesy Pat Webb
On July 28th 1984 25080 was at Holyhead assisting in the rerailing of a bogie wagon.
On April 6th 25080 took a trip across the Pennines with the 07.16 Manchester Victoria - York as far as Leeds. A month later on May 7th 25080 & 25042 worked the 08.48 Burton on Trent - Skegness and 19.00 return to Leicester. A special Wigan – Ipswich on August 31st arrived behind 25080, the locomotive returning light at least as far as Bury St Edmunds. The late summer was quiet until September 18th when 25080 worked the 01.00 Blackpool - Edinburgh as far as Preston.
A wandering ballast working caused problems on the Oxford – Bletchley line on October 4th. The up Oxford line was already closed due to out-of-gauge track, all traffic using the down line, including the ballast working behind 25175. Having cleared the single line section it was then decided to return the train to Aylesbury using recently arrived 25080. This locomotive derailed whilst changing tracks, the scene cleared by the Bletchley rerailing team later that evening with the ballast train being towed away by 25175! On December 28th 25080 (with working boiler) & 40118 assisted in the operation a Steam Santa Special over the Settle & Carlisle route, possibly deputising for a failed steam locomotive.
1985
The passenger workings for 25080's last year in service were few, but started out well January 4th with the 06.05 Carlisle - Glasgow Central. On March 10th the 09.45 Euston - Glasgow Central was dragged between Stafford & Crewe by 25080 because the power was off for engineering work.
25080 was noted at Earlestown on May 16th with a five coach parcels train.
On June 29th 25080 & 47188 were noted passing through Stafford. 25080's last recorded passenger workings covered a diesel multiple unit failure with hauled stock on July 16th's 17.10 Manchester Victoria - Blackpool and the 19.05 return.
25080 was withdrawn on September 2nd 1985.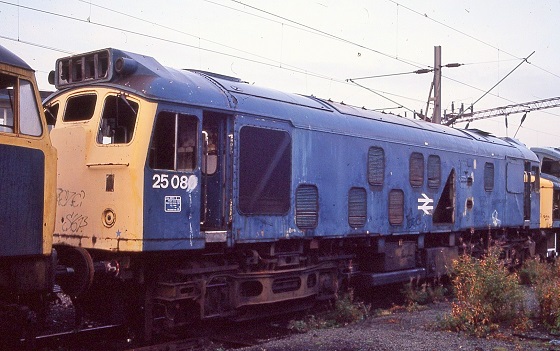 Photograph collection of webmaster
25080 at Crewe on October 10th 1990. After a working life of twenty two years it would spend nearly eight more years in a withdrawn state prior to being broken up.
Condition Final: blue/yellow livery, gangway doors sheeted over, brackets and other fitting removed from center of No.1 cab front, No.2 end retained the fittings, blanking plates fitted, hand/footholds plated over, two-rung bogie mounted footsteps, straight sided sandboxes.
flk 1015
Passenger workings courtesy Alan Baylis (www.class25.info)
Page added December 10th 2012
Last updated June 13th 2017