D5256, 5256, 25106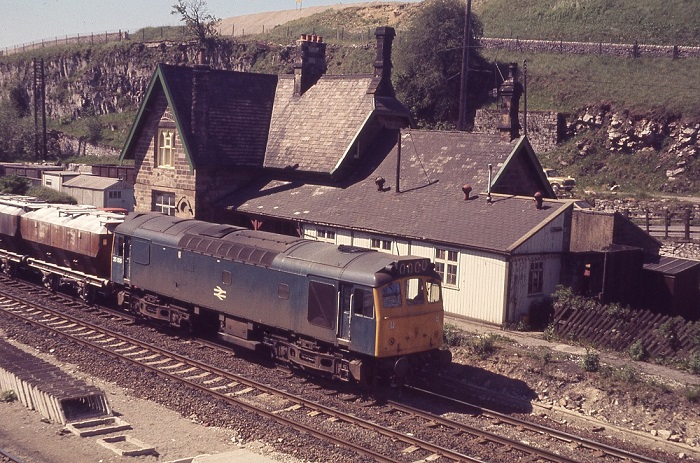 Peak Forest lost its train service from March 6th 1967 but some of the station buildings still remain. Here Longsight allocated 25106 eases by with a train of covered hoppers on June 22nd 1977. It is easy to forget that this line once hosted the original 'Peaks' (D1 - D10, Class 44) and the Blue Pullmans.

The nineteen year seven month career of D5256/25106 included many allocations to Eastern and London Midland Region depots.

Built: BR Derby Locomotive Works.

Allocations

D5256 was new to Toton (16A) on March 13th 1964. Further transfers were:

August 1964 to Derby (16C).
January 1965 to Nottingham Division (D16).
December 1965 to Thornaby (51L).
December 1965 to Nottingham Division (D16) on loan.
January 1966 to Thornaby (51L).
October 1966 to Holbeck (55A).
December 1967 to Carlisle (12A) on loan.
May 1968 to Springs Branch (8F).
June 1968 to Liverpool Division (D08).
May 1973 to Springs Branch.
October 1974 to Tinsley.
January 1975 to Bescot.
July 1975 to Longsight.
October 1980 to Toton.
May 1981 to Bescot.
September 1981 to Crewe.
January 1983 to Kingmoor.
Withdrawn October 9th 1983.

Renumbered May 17th 1974.

25106 was the 198th Class 25 to be withdrawn.

After withdrawal 25106 was briefly held at Springs Branch before moving to Swindon Works between October 28th 1983 & November 16th 1983 and was scrapped during the first week of February 1984.

Works Visits

Works visits (records incomplete).

Noted Derby Works September 1971.
Noted Derby Works December 1976.

Highlights

1964
Condition new: two-tone green livery with small yellow warning panels, three-rung bogie mounted footsteps, straight sided sandboxes.

1966
In a very short lived inter-regional transfer between Leicester/Nottingham and Thornaby D5248 - 5256 were exchanged for D5370 - 5378. The actual transfer of D5248/49/50 and D5370/71/72 occurred on New Year's Day with the Class 25s being sent north from Leicester, the Class 27s coming down from Thornaby, the crews changing at Masborough!

1967
Whilst allocated to Holbeck depot D5256 was noted working a Leeds - Morecambe service on July 22nd 1967.

1976
During November 25106 was noted at Derby Works with collision damage to the No.1 cab end, the buffers had been knocked off, there were minor wrinkles in the cab sheet metal suggesting the cab had been forced downwards, the repair estimate was £18,000.

1978
On July 30th 1978 25106 & 25214 worked the 08.40 Leicester - Skegness and 18.30 Skegness - Leicester.

1979
On July 7th 1979 25106 worked the 07.50 Cardiff - Crewe with sister 25107.

1980
The 13.00 Llandudno Town - Nottingham on May 31st 1980 was worked by 25106 (25101 worked the outward leg). The only recorded passenger working on the Cambrian line took place on June 28th 1980 with 25106 & 25125 handling the 10.10 Euston - Aberystwyth from Birmingham New Street, returning with the 16.10 Aberystwyth - Shrewsbury.

1981
The 07.05 Blackpool North - Euston was dragged between Stafford & Rugby by 25106 & 25182 on October 18th 1981 due to the power being off for engineering work.

1982
Weather conditions on January 9th 1982 saw 25106 piloting a diesel multiple unit on the Blaenau Ffestiniog - Llandudno Junction service.

On February 23rd 25106 was noted passing through Trent with Merseyrail Class 502 electric multiple units for scrap at ??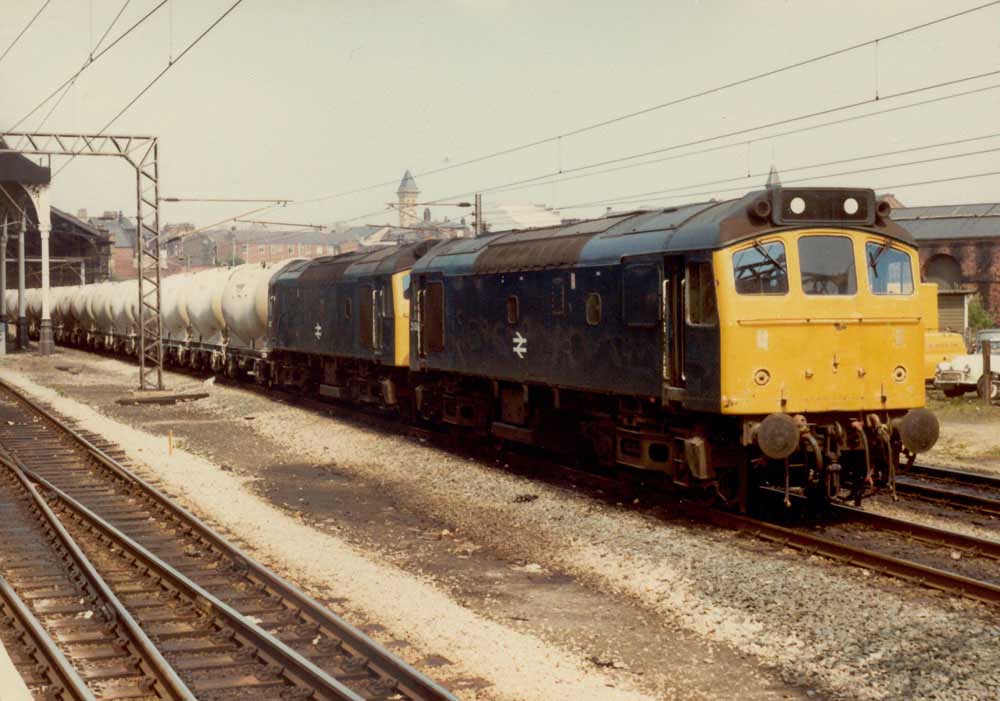 Photograph courtesy Jerry Glover
25106 & 25120 head south through Preston on May 12th 1982.
Early September found 25106 north of the border. On September 6th 25106 worked the 11.55 Glasgow Central - Carlisle and the 17.22 Carlisle - Glasgow Central. The next day (7th) 25106 worked the 11.55 Glasgow Central - Carlisle. On September 9th the 10.35 Stranraer Harbour - Ayr was worked by 25106.
1983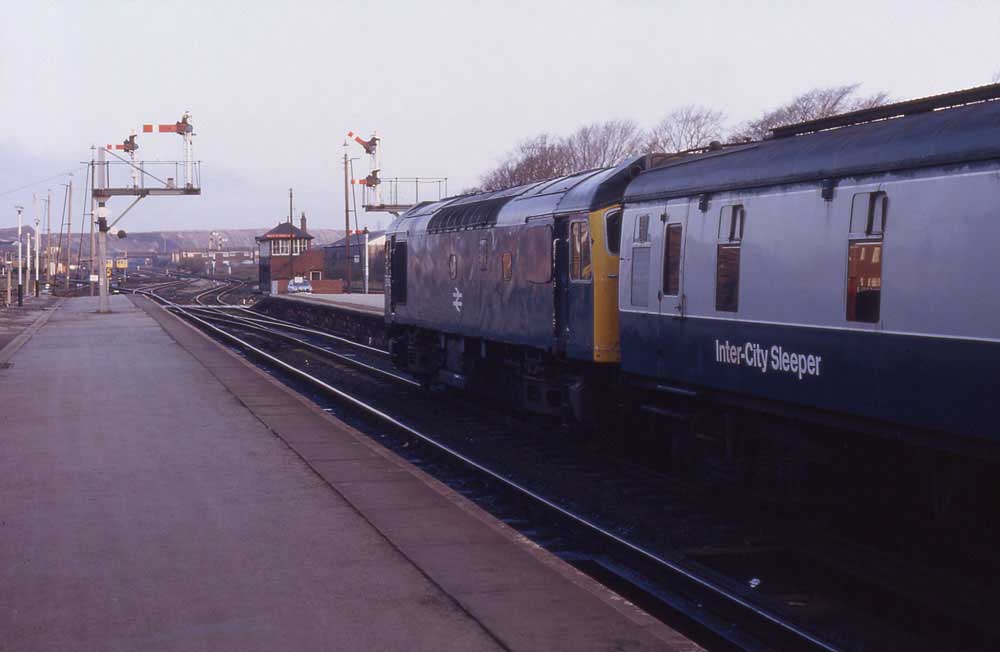 Photograph courtesy Barry Daniels.
25106 with sleeper coaches at Barrow on April 2nd 1983.
1983 brought the final passenger workings for 25106, beginning on April 3rd with the 23.45 Euston - Barrow forward from Preston. Two days later (5th) the relief 10.50 Barrow - Preston was worked by 25106. A roundtrip Leicester - Skegness was worked on June 18th 1983 by 25106 & 25212.
The remarkable combination of a Class 25 & 40 on the Ditton – Broughton Lane BOC tanks continued throughout the summer, although pairs of Classes 25 or 40 were occasionally seen, such as 25106 & 25307 on July 28th.
The final recorded passenger working for 25106 took place on August 9th 1983 working the 14.40 Euston - Blackpool North forward from Preston.
25106 was withdrawn on October 9th 1983.
Passenger workings courtesy Alan Baylis (www.class25.info)
Not all known passenger workings are recorded on this page.
19/1571
flk 1115
Page added August 13th 2013
Last updated November 5th 2016