D5260, 5260, 25110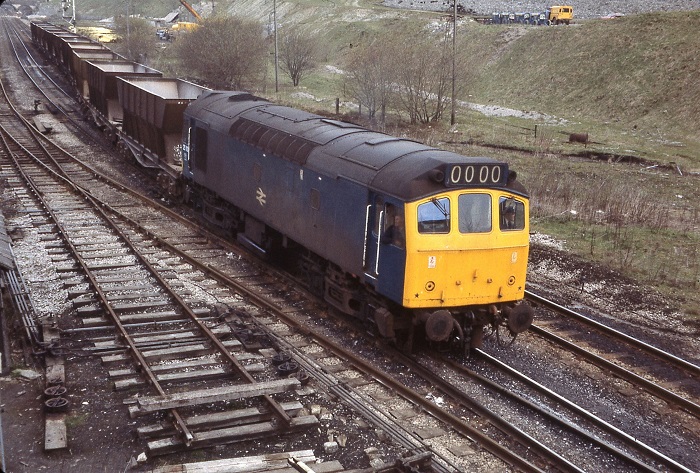 25110 and empty ICI hoppers drop down towards Tunstead to pick up their next load of limestone, April 27th 1979.
The sixteen year seven month career of D5260/25110 included allocations to only London Midland Region depots.
Built: BR Derby Locomotive Works.
Boiler room grilles sheeted over.
Allocations
D5260 was new to Toton on March 26th 1964. Further transfers were:
May 1964 to Derby (16C).
January 1965 to Nottingham Division (D16).
October 1967 to Springs Branch (8F).
May 1968 to Allerton (8J).
June 1968 to Liverpool Division (D08).
March 1972 to Nottingham Division (D16).
May 1973 to Toton.
May 1973 to Springs Branch.
Withdrawn November 2nd 1980.
Renumbered February 16th 1974.
25110 was the 56th Class 25 to be withdrawn, one of seventeen withdrawn during the month of November 1980.
Just prior to withdrawal 25110 was moved to Swindon Works on October 30th 1980 and broken up there during the last week of March 1982.
Works Visits
Works visits (records incomplete).
Noted Crewe Works June 1969.
Noted Derby Works April 1970.
Noted Derby Works March 1972.
Noted Derby Works June - August 1976.
Highlights
1964
On June 21st 1964 a roundtrip Derby - Llandudno Town excursion was worked by 5260.
1972
On July 1st 1972 5260 & 5232 were noted at Yarmouth, possibly on a regular diagram from the Midlands.
1978
The 08.32 Derby - Yarmouth to Norwich on August 19th 1978 was worked by 25110 & 25118.
1979
25110 was noted passing through the Garstang area with an inspection saloon on March 6th 1979.
Although the recorded passenger workings for 25110 were quite sparse, the month of July 1979 was relatively busy. On July 7th 1979 25110 & 25125 worked the 08.00 Walsall - Yarmouth to Norwich returning from there with the relief 12.50 Yarmouth - Derby, being the Yarmouth - Peterborough extended to Derby. Two days later (9th) the same pair worked a relief roundtrip Nottingham - Skegness. Near the monthend on July 28th 1979 25110 & 25141 worked the full Derby - Norwich - Yarmouth - Norwich - Walsall diagram.
1980
The last recorded passenger workings for 25110 took place during August 1980. On August 23rd 25110 & 25089 worked the 04.10 Shrewsbury - Aberystwyth and the 10.07 Aberystwyth - Euston to Wolverhampton. The next day (24th) the same pair worked the 08.45 Birmingham New Street - Aberystwyth and the 18.10 Aberystwyth - Euston to Wolverhampton.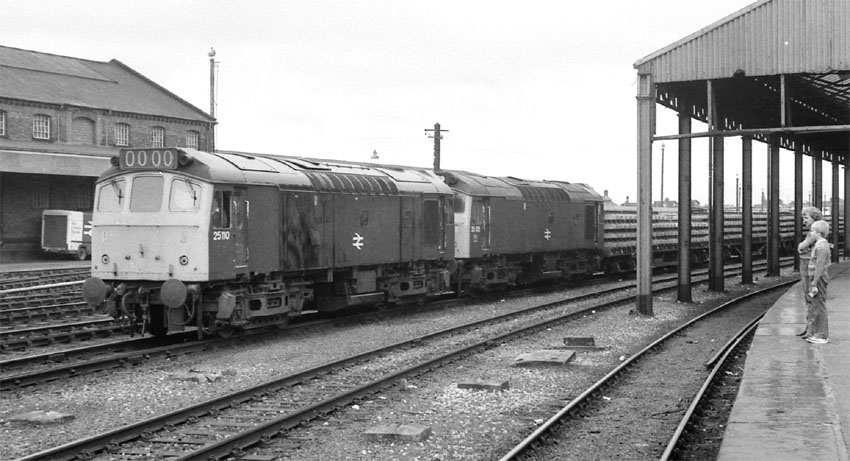 Photograph courtesy Pat Webb.
25110 & 25105 pass through Chester sometime during 1980. 25110 was always allocated to LMR depots, spendings its time at either the Nottingham Division or Liverpool Division depots.
Passenger workings courtesy Alan Baylis (www.class25.info)
Not all known passenger workings are recorded on this page.
15/1670
flk 1115
Page added October 3rd 2013
Last updated December 15th 2016