D5265, 5265, 25115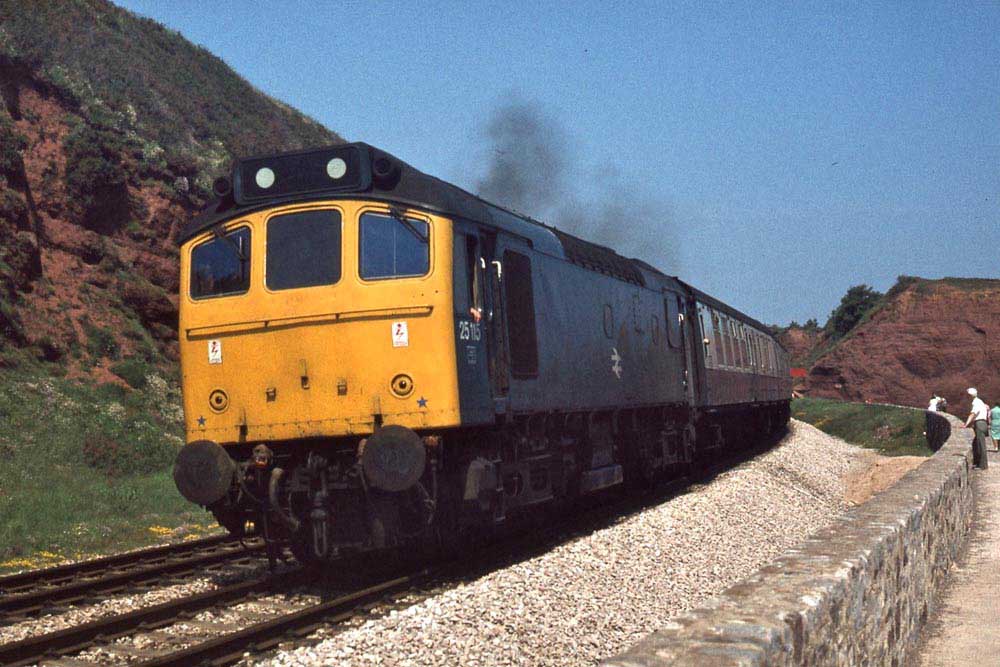 Photograph courtesy Peter Lovell
Toton allocated 25115 at Dawlish on June 11th 1979 working the 14.10 Exeter - Paignton.
The nineteen and a half year career of D5265/25115 was spent allocated to a variety of London Midland depots.
Built: BR Derby Locomotive Works.
Boiler room grilles sheeted over.
Time between last Classified repair and withdrawal: 43 months.
Allocations
D5265 was new to Nottingham (16A) on April 22nd 1964. Further transfers were:
May 1964 to Derby (16C)
January 1965 to Nottingham Division (D16).
October 1967 to Springs Branch (8F).
March 1968 to Longsight (9A).
May 1968 to Springs Branch (8F).
June 1968 to Liverpool Division (D08), then to Springs Branch following abandonment of the Division allocations.
October 1975 to Carlisle (KD).
May 1976 to Springs Branch.
October 1977 to Toton.
April 1981 to Cricklewood.
November 1981 to Crewe.
November 1982 to Cricklewood.
Withdrawn October 2nd 1983.
Renumbered April 1974.
At withdrawal 25115 was stored at Toton between December 1983 & July 1984. It was moved to Gloucester on July 10th 1984 with 25056/090/139 before moving with 25139 to Swindon Works on July 24/25th 1984. 25115 was broken up by the middle of December 1985.
Works Visits
Works visits (records incomplete).
Noted Crewe Works April 1966.
Noted Crewe Works February 1968.
Noted Derby Works February 1975 (classified?).
Noted Derby Works December 1979 - February 1980 (Intermediate repair).
Highlights
1978
The first recorded passenger workings for D5265/25115 commenced quite late in its career. On July 11th 1978 25115 & 25136 worked a round trip Birmingham New Street - Skegness day excursion, a distance of 317 miles. About a month later on August 9th 25115 was noted assisting the 10.15 Birmingham New Street - Norwich following the failure of 31276. The following week on August 16th 25115 & 25133 worked the 10.25 Nottingham - Glasgow Central to Leeds (assumed). The next day (17th) the same pair worked a roundtrip Nottingham - Southport excursion (for the flower show). The remainder of the workings in 1978 featured Skegness. On August 23rd, 24th, 27th, 28th & 29th 25115 & 25122 worked the 09.53 Nottingham - Skegness and 18.15 return (except on 29th when it is not clear if they worked the outward turn). On 30th the same pair worked a round trip Stoke-on-Trent - Skegness extra.
1979
On June 2nd 1979 25115 & 25209 worked the Derby - Norwich/Yarmouth - Walsall diagram. Just over a week later 25115 was noted in Devon, on June 11th working the 11.15 Exeter St. Davids - Paignton and 14.10 Exeter St. Davids - Paignton. Another seaside visit took place on August 4th working the 07.30 Nottingham - Llandudno Town and 13.00 return.
1980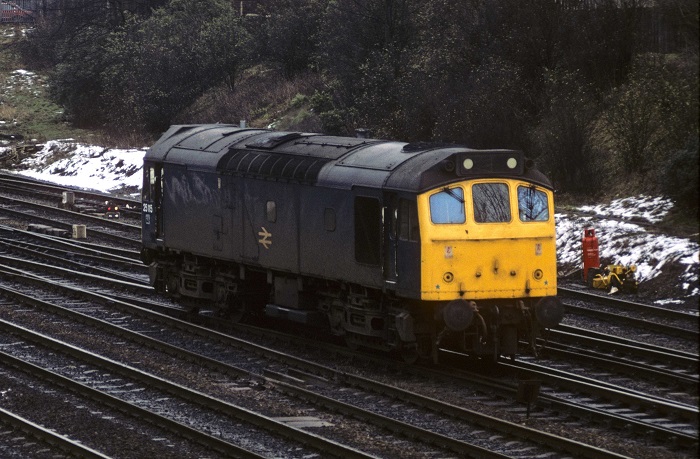 Photograph courtesy Roger Geach
25115 passes York Holgate on February 16th 1980.
1980 brought more visits to Yarmouth and Llandudno Town. On June 7th 1980 25115 & 25136 worked the Derby - Norwich/Yarmouth - Walsall diagram. Several visits to Landudno Town followed, on June 28th with 25134 on a relief roundtrip from Blyth Bridge and on July 12th & August 9th from Nottingham. A week later on August 16th 25115 was working the Nottingham - Llandudno Town but only as far as Derby, being replaced by 25270. Its working day was not done however, the 10.55 Weymouth - Leeds arrived at Derby behind 25253 & 25290, they were replaced here by 25115 & 25214 for the run to Leeds. On August 24th 25115 & 25080 worked a roundtrip (presumed) Wellingborough - Llandudno Town day excursion, a total of 366 miles. The next day the same pair worked the return leg Southport - Burton on Trent day excursion.
1981
From July 15th - 22nd 1981 25115 & 25158 were on Motorail duty from Kensington Olympia to the Willesden area (?) A month later on August 15th 25115 & 25126 worked the Derby - Norwich (for Yarmouth) - Derby diagram whilst the next day the same pair went out on the 08.21 Leicester - Skegness and 18.30 return.
1982
The last recorded passenger workings for 25115 took place in 1982, after transfer to Cricklewood in November 1982 passenger workings would be more difficult to come by. On August 16th 1982 25115 worked a Holyhead - Crewe service. On the following two days 25115 worked the 16.24 Llandudno Town - Blaenau Ffestiniog and 17.48 return following a diesel multiple unit failure. On August 20th 25115 was noted at Llandudno Junction with a nuclear flask from off the Blaneau branch. Three days later on August 23rd 25115 worked a relief 15.10 Crewe - Llandudno Town. The final recored passenger working was the result of another diesel multiple unit failure, on October 5th 1982 working a Chester - Manchester Victoria service.
1983
25115 was withdrawn on October 2nd 1983.
Distinguishing features
No.2 cab front: centre lampbracket present, other fittings removed.
flk 1115
Passenger workings courtesy Alan Baylis (www.class25.info)
Not all known passenger workings are recorded on this page.
Page added March 22nd 2013
Last updated February 17th 2017