D5272, 5272, 25122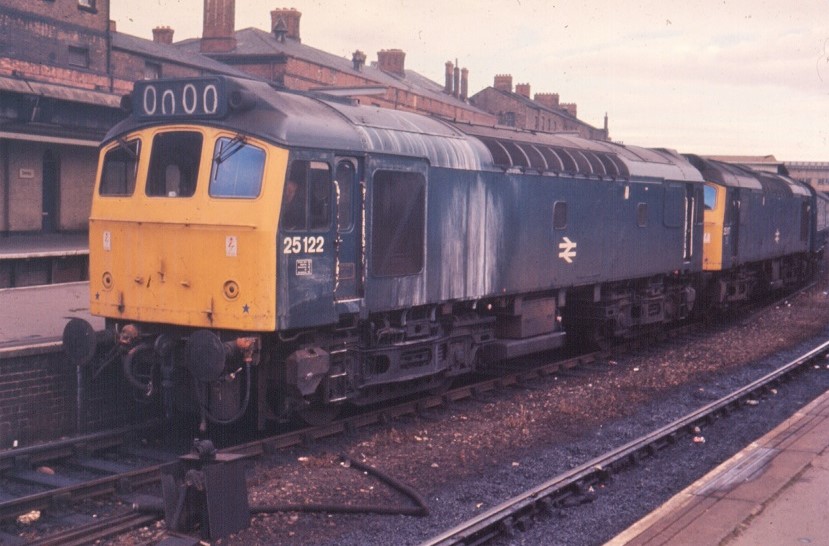 25122 & 25117 depart Derby on July 31st 1976 for Yarmouth.
A variety of London Midland Region depots were home to D5272/25122 during it sixteen year five month career.
Built: BR Derby Locomotive Works.
Allocations
D5272 was new to Nottingham (16A) on May 22nd 1964. Further transfers were:
June 1964 to Wellingborough (15B).
September 1964 to Nottingham (16A).
January 1965 to Nottingham Division (D16).
September 1967 to London Midland (Midland) Lines.
June 1968 to Nottingham Division (D16).
July 1968 to Liverpool Division (D08).
November 1968 to London Division (D01).
October 1969 to Birmingham Division (D02).
February 1970 to Manchester Division (D09).
January 1971 to Liverpool Division (D08).
October 1972 to Nottingham Division (D16).
May 1973 to Toton.
Withdrawn November 2nd 1980.
Renumbered January 29th 1974.
25122 was the 57th Class 25 withdrawn and one of seventeen retired during November 1980.
After withdrawal 25122 was stored at Newton Heath from November 1980 until February 27th 1981 when 25055 (Newton Heath), 25100/281 (Reddish) & 25122, (Newton Heath) moved to Swindon Works, being scrapped there by the third week of June 1983.
Works Visits
Works visits (records incomplete).
Noted Crewe Works July & August 1969.
Noted Derby Works February 1971.
Noted Crewe Works March 1975.
Noted Derby Works September 1975 (including repaint).
Noted Derby Works June 1977.
Highlights
1973
Pairs of Class 25s substituted for Class 45ís on coal trains destined for the Kent area, on May 18th 5272 & 5284 worked a Brent - Southfleet service and the return Betteshanger - Toton.
On May 27th 5272 & 5225 worked a roundtrip Nottingham - Yarmouth day excursion. A Walsall - Norwich (for Yarmouth) - Derby diagram was worked on August 4th with 7665.
1975
1975 brought two passenger workings to the east coast. On July 5th 25122 & 25024 worked the 08.30 Chesterfield - Scarborough. A week later on July 12th 25122 & 25131 worked the 06.40 Coventry - Yarmouth to Norwich. It was the start of the Coventry Works holiday week, so this was normally the 07.25 Birmingham - Norwich extended for the occaision.
1976
More seaside resorts were visited during 1976. 25122 & 25136 worked a Leicester - Skegness round trip on May 29th whilst on July 31st 25122 & 25117 worked the Derby - Norwich - Yarmouth - Norwich - Walsall diagram.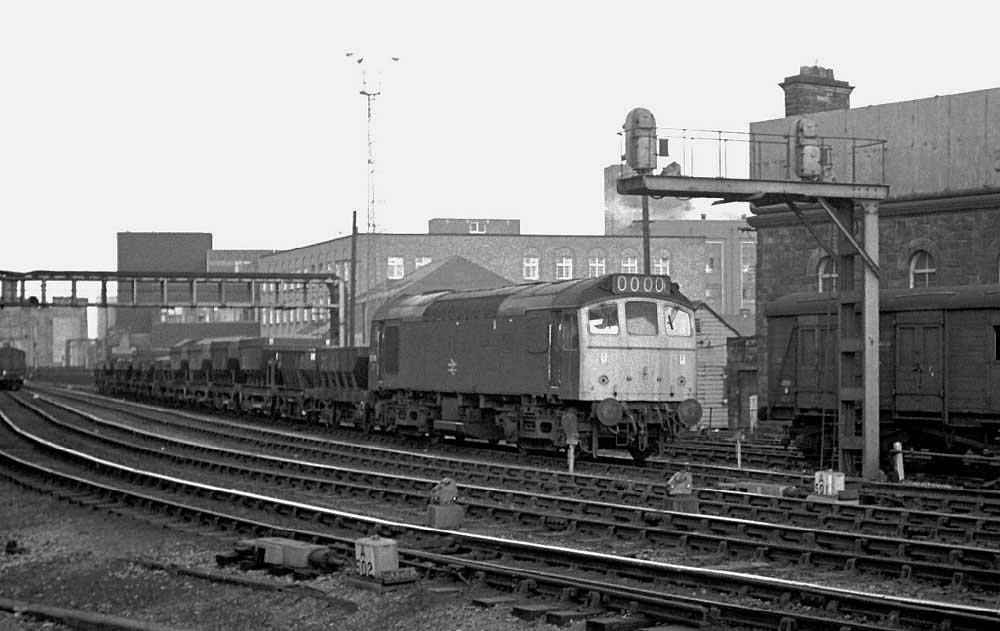 Photograph courtesy Tony Sayer
Looking east at Newcastle Central 25122 runs through with a engineers/ballast wagons on February 25th 1976.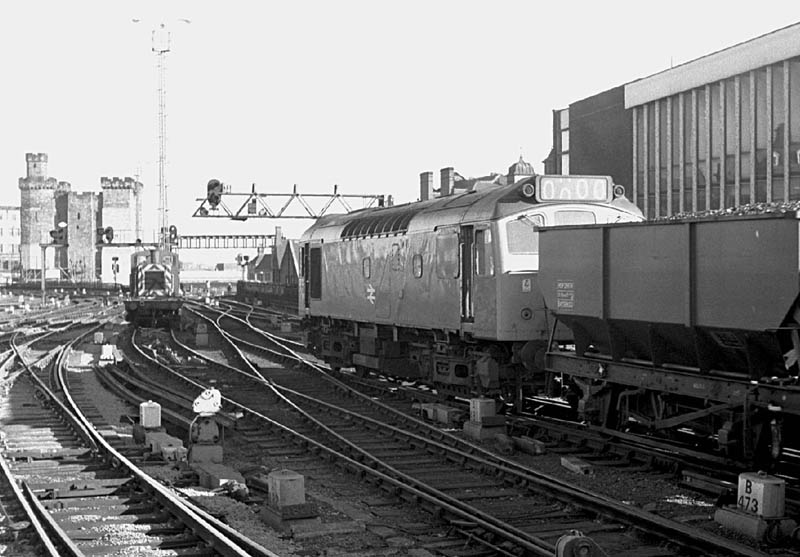 Photograph courtesy Tony Sayer
25122 heads east at Newcastle Central on February 25th 1976.
1977
The summer of 1977 saw 25122 continue its visits to the seaside resorts. Skegness was a popular destination, round trips being made on July 17th & 18th from Derby with 25164 and from Leicester on July 26th & 27th with 25213. Then followed three Nottingham - Llandudno Town roundtrips on August 20th, 27th & September 3rd. The next day (4th) 25122 & 25134 worked a Leicester - Skegness roundtrip.
1978
For 1978 Skegness was a very popular place for 25122. However the first recorded passenger trip of the year took place on June 17th working the 08.00 Walsall - Yarmouth to Norwich with 25126 and returning from Norwich with the 14.15 Yarmouth - Derby. The Skegness roundtrips began on June 18th with 25136 from Leicester, then with 25115 on August 23rd (relief), 24th (relief), 27th (relief) 28th (relief) & 29th (relief, round trip assumed) from Nottingham. The next day (30th) an additional roundtrip Stoke on Trent - Skegness was worked by 25122 & 25115.
1979
No further Skegness or Yarmouth workings have been recorded for 25122, instead 25122 visited the Cambrian line for further passenger workings during 1979 & 1980. On April 14th a returning Pwllheli - Euston railtour utilised 25122 & 25040 from Machynlleth to Wolverhampton (46011 was added from Shrewsbury for heating purposes). 25218 had failed on the outward working at Machynlleth, with 25040 working alone to Pwllheli and back prior to 25122 being added. Two days later (16th) the same pair worked a roundtrip Walsall - Aberystwyth day excursion. On June 30th 25122 & 25263 worked the 04.15 Shrewsbury - Aberystwyth and the 10.09 Aberystwyth - Euston to Wolverhampton.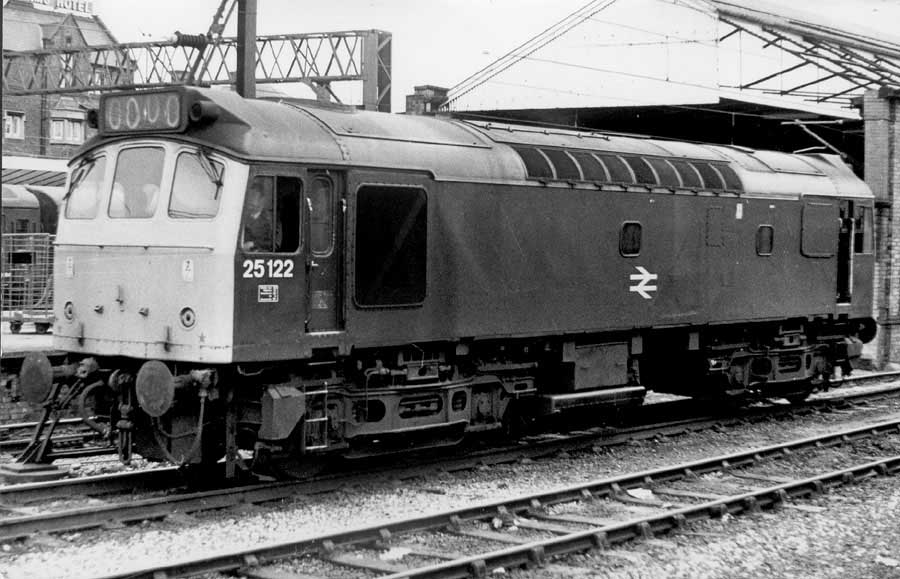 Photograph collection of webmaster
25122 at Crewe, date unknown.
1980
The last weekend in May found 25122 back on the Cambrian line, with 25267 on May 24th working the 04.10 Shrewsbury - Aberystwyth and the 10.07 Aberystwyth - Euston to Wolverhampton and the next day's (25th) 08.45 Birmingham New Street - Aberystwyth and the 18.10 Aberystwyth - Euston to Wolverhampton. The final passenger working took place on August 2nd working the 15.05 Blackpool North - Glasgow Central to Preston.
25122 was noted at Oxford depot October 24th & 26th 1980.
25122 was withdrawn on November 2nd 1980.
Passenger workings courtesy Alan Baylis (www.class25.info)
Not all known passenger workings are recorded on this page.
53/5661
flk 1115
Page added June 16th 2013
Last updated January 28th 2017