D5280, 5280, 25130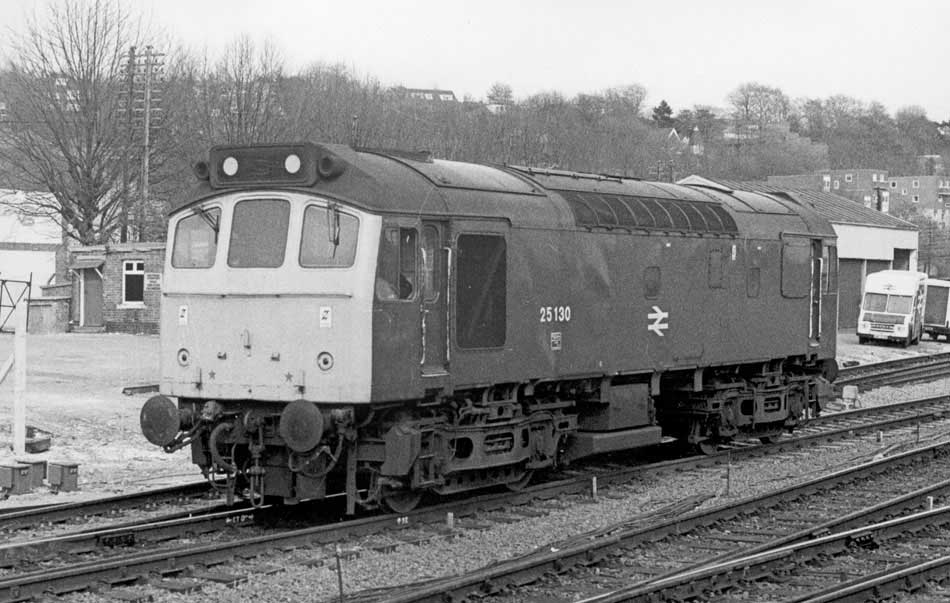 Photograph courtesy Danny Preston, collection Neil Johnson.
An undated view of 25130 at Luton, upside, south end.
The eighteen year five month career of D5280/25130 saw allocations only to London Midland Region depots.
Built: BR Derby Locomotive Works.
Time between last Classified repair and withdrawal: ?? months.
Time between withdrawal & scrapping: 49 months.
Allocations
D5280 was new to Toton (16A) on June 20th 1964. Further transfers were:
July 1964 to Derby (16C).
January 1965 to Nottingham Divison (D16).
September 1967 to London Midland (Midland) Lines.
June 1968 to Nottingham Divison (D16).
July 1968 to Liverpool Division (D08).
November 1968 to Preston Division (D10).
April 1972 to Nottingham Division (D16).
May 1973 to Toton.
February 1982 to Cricklewood.
Withdrawn December 6th 1982.
Renumbered March 1st 1974.
25130 was the 156th Class 25 to be withdrawn.
After withdrawal 25130 was stored at Springs Branch from December 1982 until moved to Swindon Works on July 27th 1984 and scrapped there by the second week of January 1987.
Works Visits
Works visits (records incomplete).
Noted Derby Works September & October 1964.
Noted Derby Works June 1973.
Glasgow Works repair sometime between July 1977 & April 1978
Noted Derby Works November & December 1980 (N4 repairs).
Highlights
1964
The frames for D5280 were laid own at Derby Works during the spring of 1964, with delivery to Toton during June. D5280 made its Corby test run with D5279 on June 10th.
D5280 spent much of September and October at Derby Works (collision damage repairs?)
1966
On May 21st the summer dated roundtrip Nottingham - Llandudno Town service was worked by D5280 & D7505.
1973
On August 4th a roundtrip Derby - Skegness service was worked by 5280 & 5234.
1974
On July 6th the 08.00 Walsall - Yarmouth to Norwich and the return 14.15 Yarmouth - Derby from Norwich were worked by 25130 & 25245. A month later on August 10th 25130 & 25256 worked the Derby - Norwich - Yarmouth - Norwich - Derby diagram.
On December 10th 25130 was sent to Whaley Bridge to collect diesel multiple unit M50435 when it derailed near Chapel-en-le-Frith and rolled over. It was rerailed three days later.
1975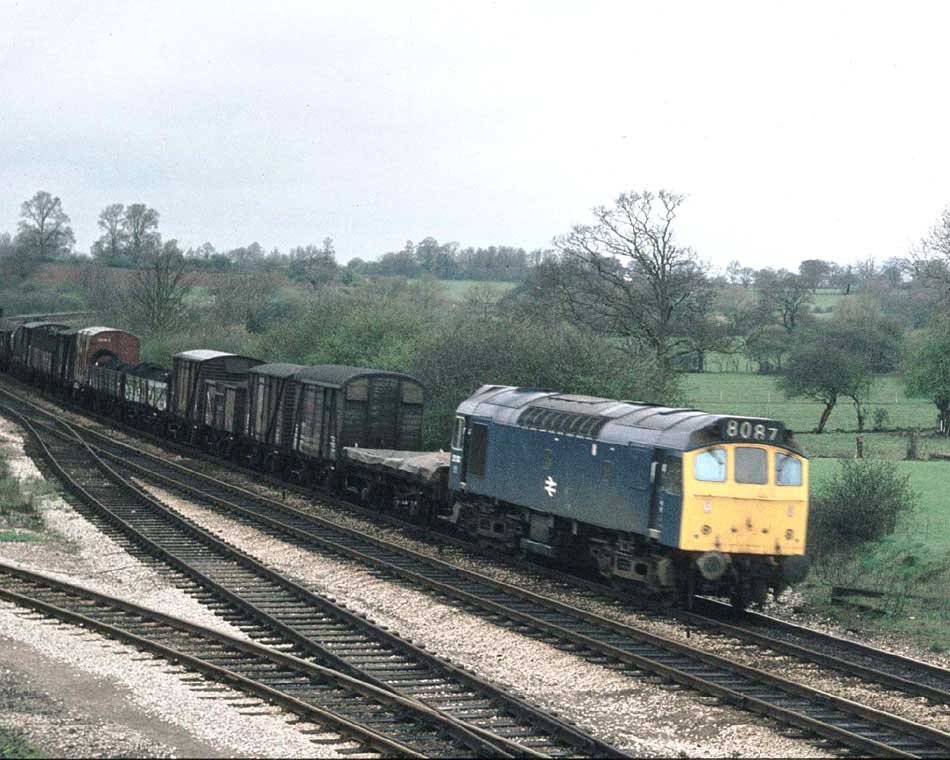 Photograph courtesy Tony Sayer.
Its April 21st 1975 and 25130 heads south down Hatton Bank with an Eastleigh bound freight. On very rare occasions the Class 25s would work through to Eastleigh, but more likely they would be exchanged at Banbury, Oxford or Reading.
On June 28th the 08.52 Leicester - Skegness and the return 12.30 Skegness - Leicester were worked by 25130 & 25211. Almost a month later on September 20th 25130 & 25079 worked the Derby - Norwich - Yarmouth - Norwich - Walsall diagram.
1976
25130 was noted at Derby Works during May.
On July 17th the 08.00 Walsall - Yarmouth to Norwich and the return 14.15 Yarmouth - Derby from Norwich were worked by 25130 & 25037. A week later (24th) the same pair of Class 25s worked the Derby - Norwich - Yarmouth - Norwich - Walsall diagram. The following weekend on August 2nd 25130 & 25075 worked a roundtrip Derby - Skegness service.
1978
25130 was noted at Nottingham with a mixed freight on April 5th.
On June 1st 25130 was noted at Peterborough with an engineers train. On June 7th 25130 & 25107 were noted at Skegness with a day excursion from ?? Three days later (10th) 25130 & 25218 worked the 09.19 Manchester Piccadilly - Yarmouth to Lincoln Central, returning from there with the 09.15 Yarmouth - Manchester Piccadilly.
On September 2nd 25130 & 25131 worked the Derby - Norwich - Yarmouth - Norwich - Walsall diagram as far as Perterborough on the return leg, here 31175 took over.
1979
25130 was at Toton on March 13th.
On May 26th the 08.02 Walsall – Yarmouth to Norwich and the return 14.15 Yarmouth - Derby from Norwich were worked by 25130 & 25135, on 28th & 29th the same pair worked a return Derby - Skegness 'Jolly Fisherman'.
On June 27th 25130 was shunting oil tanks at Guide Bridge.
On July 23rd 25130 was stabled at Dunfirmline Townhill. On July 28th the summer dated roundtrip Nottingham - Llandudno Town were worked by 25130, at Derby on the return trip 25209 took over.
1980
There was a multitude of Class 25s in the area of Bushey & Oxhey station from February 17th onwards following the dramatic derailment there of the 16th's 20.25 Euston – Manchester due to a track defect. The locomotive 87007 was the only part of the train to remain on the tracks, four of the MkIII coaches ended up on their sides, with one (M12162) bringing down the overhead gantries, which blocked the slow lines. Most fortunately there were only minor injuries. Three breakdown cranes attended, from Bescot, Finsbury Park – brought in by 25279 & 25256, and Old Oak Common – arrived behind 25152 & 25189. The slow lines were reopened late on the 17th, the dc lines late on the 19th, the fast lines by the 25th. Spoil trains used 25222 & 25243 and 25130 & 25173, this first pair returned with track panels on 21st, followed by 25256 on the re-wiring train. Because of the implications of this derailment the Class 86/0's regained their 80 mph speed restriction whilst the use of Classes 81 – 85 on air braked, air-conditioned trains was permitted.
On March 20th Carlisle sent Eastfield's 25001 south on the 12.20 freight to Severn Tunnel Jct, via the Settle & Carlisle. Progress was marred by its failure at Kirkby Stephen, being rescued by 40140. Both were replaced further south with the Class 25 receiving repairs in time to work the 21.45 Warrington – Llandudno Jct freight. It faired little better on this, failing at Frodsham, requiring assistance from 25130. After a week at Chester it returned north with 25041 on the early morning Winsford – Millerhill rock salt
May 19th saw 25130 hauling Class 52 No. D1062 and Longmoor Military Railway No. 600 in the Worcester area.
On June 8th the 18.10 Aberystwyth - Euston was worked from Shrewsbury to Wolverhampton by 25130 & 25154.
25130 was stabled at Cockshute on October 4th.
25130 was noted at Derby Works during November & December for N4 repairs.
1981
April 25th's 'The Palatine' railtour from Euston to Buxton featured the use of 25130 & 25129 between Bescot, Buxton and Crewe, the intended pair of Class 25's (25033 & 25076) had been failed!
May 16th saw 45013 replaced at Birmingham by 25056 & 25130 on a special from Newcastle to Bridgnorth.
On June 8th the 16.00 Crewe - Cardiff was worked by 25130 until its failure at ??, where it was rescued by 47103.
25130 was stabled at Saltley on July 4th. For three weekends in a row 25130 was active on passenger workings. On July 18th it worked a round trip over the Cambrian lines between Wolverhampton & Aberystwyth with 25119, the following weekend the same journey was made, this time attached to 25164. On the 26th 25164 & 25130 arrived with day trippers from Gloucester, 25254 & 25278 from Lincoln, both specials having used Class 47's as far as Wolverhampton. And on August 1st & 2nd it was back over the Cambrian for more roundtrips, this time coupled to 25224.
25130 was stabled at Thornaby on September 7th.
1982
During February 25130 was transferred to Cricklewood, its last move. On February 21st 25130 was stabled at March depot.
On March 1st 507022 was moved from Hall Road to Allerton for wheel turning by 25130.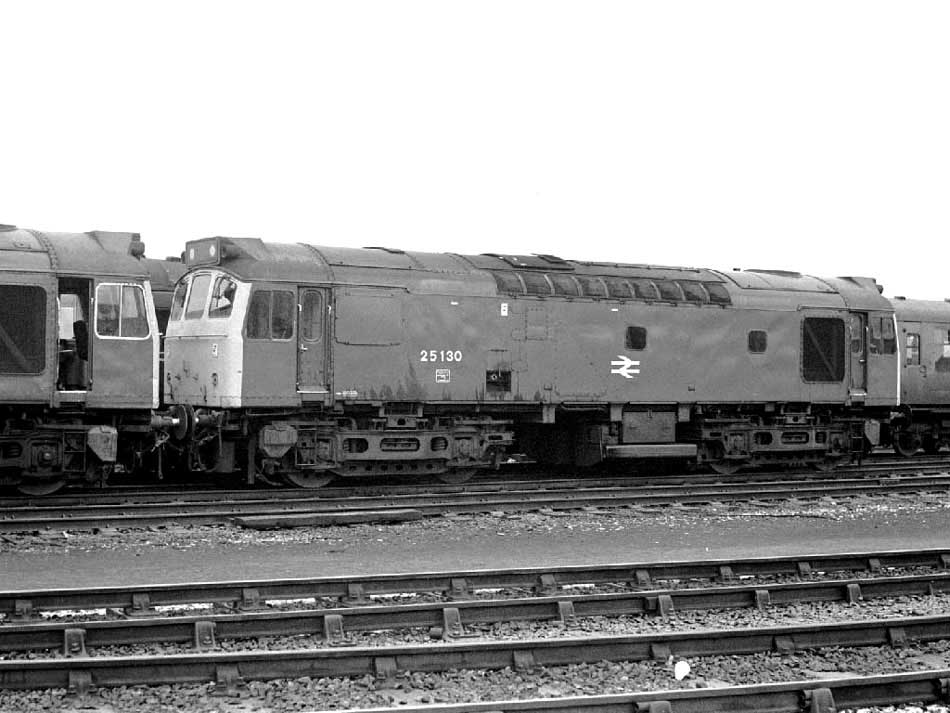 Photograph courtesy Tony Sayer.
Six days after taking 507022 to Allerton 25130 is noted at a somewhat damp Newton Heath on March 6th 1982.
On May 22nd 25130 worked two roundtrips between Manchester Victoria & Bangor. Just over a week later on May 31st 25130 worked the 16.15 Manchester Victoria - Blackpool North, the 18.40 Blackpool North - Manchester Victoria and the 21.45 Manchester Victoria - Blackpool North, all three services supported the Pope's visit to the North-West. A half-hourly service had been instituted on this route with Class 40s predominating, however 25032, 25130/189 & 25282 were noted as well.
At the beginning of August 25130 & 25090 worked roundtrip services to Skegness, on 1st from Derby and on 2nd from Burton on Trent. Possibly 25130's last passenger working was on September 1st working the 16.05 Leeds - Carlisle.
25130 was withdrawn on December 6th 1982.
67/7490
flk 0817.
Not all known passenger workings are recorded on this page.
Page added October 10th 2001.
Page updated July 28th 2018.