D5296, 5296, 25146
A Day Trip to Yarmouth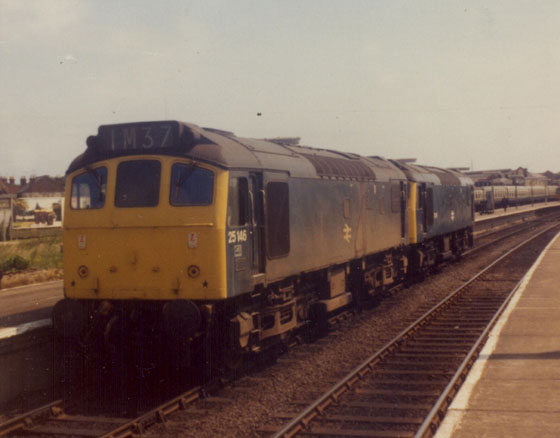 Photographer unknown
25146 & 25126 at Great Yarmouth on July 5th 1975 - see further notes below for more information about this working.
A career of eighteen years and eleven months saw D5296/25146 allocated to a variety of London Midland Region depots.
Built: BR Derby Locomotive Works.
Allocations
D5296 was new to Toton (16A) on September 18th 1964. Further transfers were:
September 1964 to Derby (16C).
October 1964 to Nottingham (16D).
January 1965 to Nottingham Division (D16).
January 1965 to Colwick (40E) on loan.
April 1965 to Nottingham Division (D16).
March 1967 to London Midland (Midland) Lines.
August 1967 to Birmingham Division (D02).
March 1972 to Manchester Division (D09).
May 1973 to Longsight.
March 1974 to Kingmoor (KM).
January 1975 to Carlisle (KD).
Withdrawn August 7th 1983.
Renumbered November 6th 1973.
After withdrawal 25146 was moved to Derby Works by the last week of October 1983, then moved to Swindon Works on February 4th as part of a large scrap engine movement. 25146 was broken up by the middle of April 1985.
Works Visits
Works visits (records incomplete).
Noted Derby Works February 1967.
Noted Derby Works October 1972.
Noted Derby Works August 1978.
Highlights
1964
D5296 was constructed at Derby Works during the summer of 1964, being released to traffic on September 18th, initially allocated to Toton (16A), but then quickly moved to Derby (16C). During October D5296 was transferred to Nottingham (16D).
1965
In January D5296 was transfered to the Nottingham Division (D16). Whilst here it was loaned to Colwick (40E) from January to April when it returned to the Nottingham Division. Its replacement at Colwick would be D7578.
1967
D5296 was noted at Derby Works during February.
It was transferred to the Midland Lines during March and then on to the Birmingham Division (D02) during August.
1972
After almost five years based in the Birmingham Division 5296 headed north to the Manchester Division (D09) during March.
Derby Works October 1972
1973
Reallocation took place to Longsight (LO) during May.
5296 was renumbered to 25146 early in November. On November 10th an ex-works 25146 was noted arriving at Exeter, the headcode showing 6V51.
1974
A further move north took place in March to Kingmoor (KM).
1975
During January 25146 was transferred to Carlisle (KD).
On July 5th 25146 & 25126 paid a visit to the east coast resort of Great Yarmouth, a regular Class 25 working for a number of years during the summer months.
Having started out with the Derby - Yarmouth 25126 & 25146 are seen arriving at Yarmouth with the ex-Walsall train, having taken over at Norwich. Judging by the position of the number on 25126 it must be assumed that its last repair & repaint had been carried out at Crewe Works.
Photographer unknown
25146 & 25126 run up the platform at Yarmouth station. 25146 has already acquired the headcode for the first of its two-part journey back to the London Midland Region. It will take the 1M37 Derby service as far as Norwich.
Photographer unknown
The pair started out on the 1E83 08.12 Derby - Yarmouth, working the train as far as Norwich. Here they took over the 1E91 08.00 Walsall - Yarmouth, working the last eighteen miles into Great Yarmouth. After a short break they returned with the 1M37 14.15 Yarmouth - Derby as far as Norwich, here they would take over the 1M66 14.30 Yarmouth - Walsall and worked this train through to its destination. The locomotives would travel about 365 passenger miles on this diagram, which excluded any empty coaching stock movements at the beginning or end of the day.
Two views from the same date, show a Class 31/4 and another arriving at Yarmouth and 31135 and the Class 03 pilot at Yarmouth Vauxhall.
The left photograph with the 1E76 headcode suggests this is the summer Saturday Manchester - Lincoln - Yarmouth service. From time to time Class 25's worked the first leg of this train to Lincoln where they would be exchanged for Class 31's.
Photographer unknown
And on the way home!
Presumably the photographer caught the return working judging by the views above. The location of the left view with the sharp check-railed curve is at Ely North Junction. The train is on the West Curve heading towards March. The banner repeater in front of the locomotive is R22 and beyond the B1382 road overbridge is 22 signal itself with a white sighting board behind the arm. The center view is possibly Norwich and the right view is after the photographer left the train at Peterborough. It looks like the further west the train went the cloudier it got!
With regard to the left hand view above contributor Richard Pike writes - I have fond memories of class 25's at Ely North Junction on, most probably, Derby - Yarmouth trains. Once past the box, when heading for Norwich and the road was clear, the noise was fantastic as they opened up to climb the 1 in 178 over the River Ouse. I had a cab ride one evening from Norwich to March in a 25 with cab front doors. I remember the driver commenting on the draughts. It had formed an extra from Leicester to Norwich, formed with two MK1's that had been laid on because of a really late running service. I caught it at Peterborough and went through to Norwich. It returned as empty stock and the driver dropped me at March. I want a time machine. I'd pay a pretty penny to do that again!
1976
Longsight Class 25's were diagrammed to handle the Saturday's only Manchester – Lincoln leg of the 1E76 09.20 service to Yarmouth, but during July this occurred only once on 17th with 25090 & 25146. Their return working was the diagrammed 1M74 09.15 ex Yarmouth.
1978
25146 was in attendance at the Derby Locomotive Works Open Day on August 5th.
Approximately twelve years after being released new from Derby Works, 25146 was outshopped from the same location after having received its last Classified repair. It was one of the exhibits on display at the Locomotive Works Open Day on August 5th 1978. During this last repair the boiler room grille was sheeted over, as is easily visible in this fine view.
Photograph courtesy Graham Turner
Not sure of the date on this one, but the locomotive is not long out of Derby Works judging by the fresh paint, even the white cabside handrails show no signs of wear yet. The parcels train is just north of Leicester station heading southwards.
Photograph courtesy E A Wood
On October on 15th 25146 hauled fire damaged 85025 over the Settle & Carlisle from Carlisle to Hellifield, with 40020 going forward with it to Crewe Works.
1981

25146 gets its portrait taken on an overcast May 9th 1981 at Toton. A set of the three piece miniature snowploughs has been acquired and a new window frame has been fitted to the second man's side of the rear cab.
Photograph courtesy Tony Sayer
It was off to the coast on May 30th when 25146 & 25126 worked a return Stalybridge - Aberystwyth passenger day excursion.
On August 8th 25146 handled a couple of workings over the North Wales route starting out with the 07.42 Manchester Victoria - Bangor, returning with the 11.12 back to Manchester Victoria. Then followed the 15.42 to Bangor, coming back with the 19.25 to Manchester Victoria. A total of 400 miles of passenger working this day for 25146.
Four days later (12th) 25146 & 25152 worked a round trip day excursion from Kettering - Blackpool via Chesterfield and the Hope Valley route.
1982
On April 29th a long slow haul commenced for 08106/415/419/451 as they moved from the Carlisle area bound for Swindon Works, the journey started with 25146 via the Settle & Carlisle route. 08106 was for scrap, the others for overhaul.
25146 managed a series of Cambrian Line workings over the last weekend of July. On July 31st 25146 & 25123 worked the 10.10 Euston - Aberystwyth forward from Birmingham New Street, returning with the 16.05 to Shrewsbury. The next day the same pair of locomotives worked the 08.45 Birmingham New Street - Aberystwyth forward from Shrewsbury. Whilst on the coast they filled in with the 16.40 Aberystwyth - Machynlleth and 17.25 return. Then it was time to head back eastwards with the 18.15 Aberystwyth - Euston as far as Wolverhampton.
1983
25146 came to the assistance of March 17th's 19.26 Bangor - Manchester Victoria which was being hauled by 25138 & 25245. The latter was removed at Chester and 25146 added for the last forty miles to Manchester.
On July 18th 25146 was busy at the southern end of the WCML being noted on a Hemel Hempstead to Euston parcels train.
Time ran out for 25146 during the summer of 1983, nineteen years of service came to an end when it was retired on August 7th.
By the end of October 25146 was at Derby Works, initially for spares removal. It would spend the next fifteen months here.
1985
After languishing at Derby Works 25146 became part of one of the three convoys of withdrawn locomotives that went down to Swindon. The dead engine movement of February 3rd & 4th comprised 25050/062, 25129/133/146, 25220/233/274/294.
By the middle of April 1985 25146 was no more.
Undated
25146 & 25119 head north from Crewe with a loaded sand train, date unknown.
Photograph courtesy Phillip Moore
With thanks to Alan Baylis for the passenger workings.
Page added September 13th 2008
Last updated March 28th 2015