D7504, 7504, 25154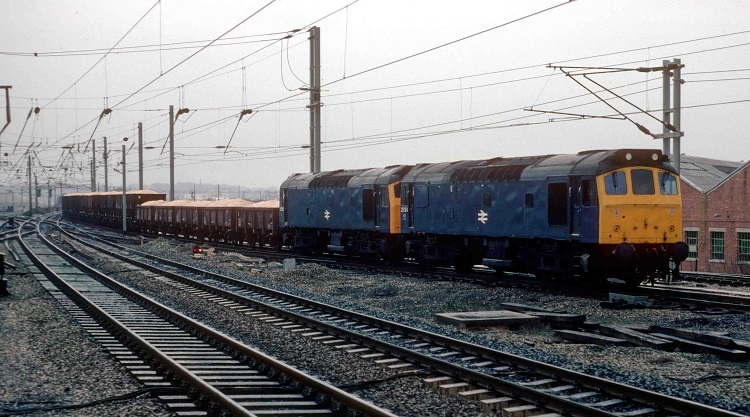 Photograph courtesy Roger Geach
25154 & 25152 pass through Warrington Bank Quay with an Oakamoor - St Helen's sand train on March 29th 1983.
London Midland & Western Region allocations would be the homes for D7504/25154 during its twenty year five month career.
Built: BR Derby Locomotive Works.
Dual brake equipped.
Allocations
D7504 was new to Toton (16A) on October 17th 1964. Further transfers were:
December 1964 to Burton (16F).
January 1965 to Nottingham Division (D16).
January 1968 to London Division (D14).
February 1968 to London Midland (Midland) Lines.
June 1968 to Nottingham Division (D16).
January 1972 to Laira (84A).
November 1972 to Bristol (82A).
December 1972 to Cardiff Canton (86A).
December 1976 to Crewe.
March 1978 to Longsight.
January 1980 to Bescot.
September 1981 to Crewe.
April 1982 to Kingmoor.
November 1982 to Cricklewood.
January 1984 to Bescot.
Withdrawn March 27th 1985.
Renumbered March 1974.
25154 was the 238th Class 25 withdrawn, one of three retired during March 1985.
After withdrawal 25154 was stored at Tyseley from March 1985 until March 30th 1987 when it moved with 25192 to Bescot, then next day to Basford Hall Yard. It was forwarded to Leicester Humberstone Road on July 9th 1987 (see details below) and to Vic Berry's Yard the next day. The locomotive was placed into the stack until early November 1987 when it was removed and broken up by the middle of November 1987.
08473, 25154/192, 97405 Crewe – Vic Berry, Leicester July 9th 1987 (Cl. 08 & 40 sent in error)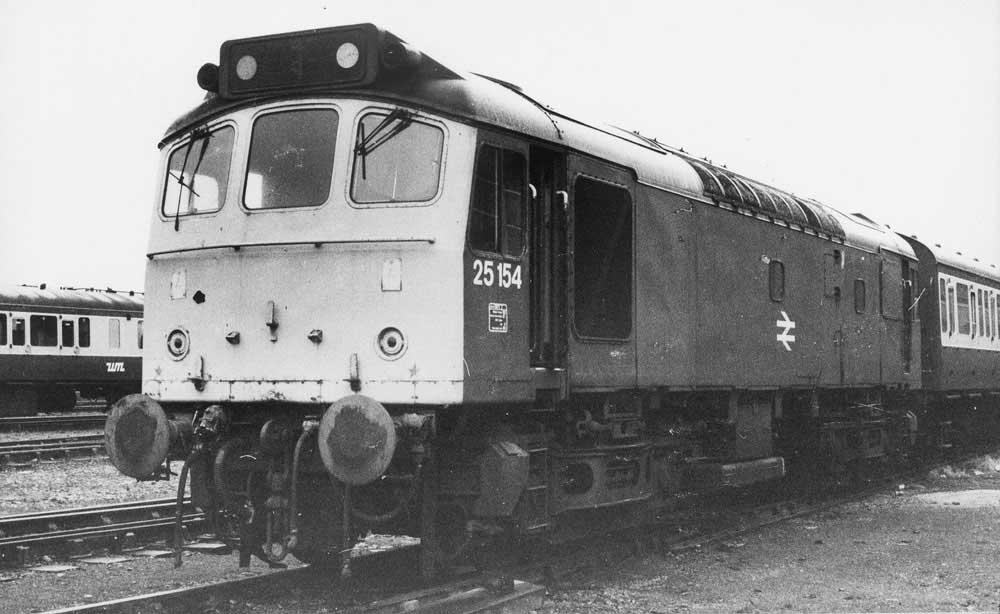 Photograph collection of webmaster
25154 out of service at Tyseley. It ended its days at Vic Berry's, Leicester during July 1987.
Works Visits
Works visits (records incomplete).
Noted Derby Works May 1967.
Noted Derby Works February & March 1974 (Dual brake equipment fitted).
Noted Derby Works January 1977.
Noted Derby Works August & September 1979 (Intermediate repair).
Noted Derby Works October 1980.
Noted Derby Works September & October 1982 (N4 repairs).
Highlights
1966
On August 20th 1966 D7504 & D7577 worked the roundtrip Nottingham - Llandudno Town.
September - on the Great Central line at Blackwell (MP61) by the LMR boundary 7504 & 7521 were noted on track lifting trains the week following closure. Authorities were anxious to remove the re-useable rail prior to the right of way being severed by the construction of the M1 motorway.
1969
On November 11th 5246 & 7504 worked a 22.00 Narborough - Hamworthy special, going as far as Eastleigh, thence returning light to Banbury, where they were procured to work the 12.10 Banbury - Reading West and 14.50 return, the last working regularly featured Class 25s .
1972
During January 1972 7504 was transferred to Laira, although very few passenger workings have been recorded during its time in Devon & Cornwall.
On June 17th 7504 & 7505 worked the 7B34 19.40 Bristol Temple Mills to Ponsandane freight, the 1E21 10.30 Penzance to Bradford passenger service to Plymouth, then light engines to Laira depot and ending with the 7B31 18.20 Plymouth Friary to Par freight.
7504 worked the 12.18 Barnstaple - Exeter St. Davids on July 22nd.
1974
Whilst allocated to Cardiff 25154 worked the 13.30 Manchester Victoria - Llandudno Town on July 27th 1974.
1976
On July 10th 1976 25154 & 25107 worked the 08.00 Walsall - Yarmouth to Norwich, returning with the 14.15 Yarmouth - Derby from Norwich. On July 29th 25154 worked the 13.33 Taunton - Cardiff and 17.45 Cardiff - Bristol Temple Meads.
1978
When 40147 failed at Long Preston on July 27th 1978 with a Huddersfield - Largs day excursion 25154 & 25137 were on hand to take the train to Carlisle.
On the evening of November 28th 25154 was noted at Crewe station with an HST barrier vehicle and ex-works HST power car 43078 on wheelskates under the leading axle at the cab end.
1979
On July 14th 25154 was noted at Llandudno Town with a summer timetable service from Stoke on Trent.
25154 worked the 10.40 Manchester Victoria - Llandudno Town on August 11th.
1980
Recorded workings during 1980 focus on roundtrips over the Cambrian line to Aberystwyth, on June 7th & 8th with 25261, on the return working 25261 failed at Newtown (fire) and was dragged to Shrewsbury; June 21st with 25138 and June 28th & 29th with 25262.
On August 2nd 25154 worked the 09.28 Leeds - Morecambe and 11.45 Morecambe - Leeds. 25154 returned to the Cambrian line with 25208 to work the 10.10 Euston - Aberystwyth from Birmingham New Street, returning with the 16.10 Aberystwyth - Shrewsbury.
1981
On March 4th 1981 25154 worked the 13.15 Birmingham New Street - Norwich from Leicester to Norwich (?) after the failure of the Class 31/4.
The Nottingham - Llandudno Town summer dated service on May 16th was noted at Stoke on Trent with 25154.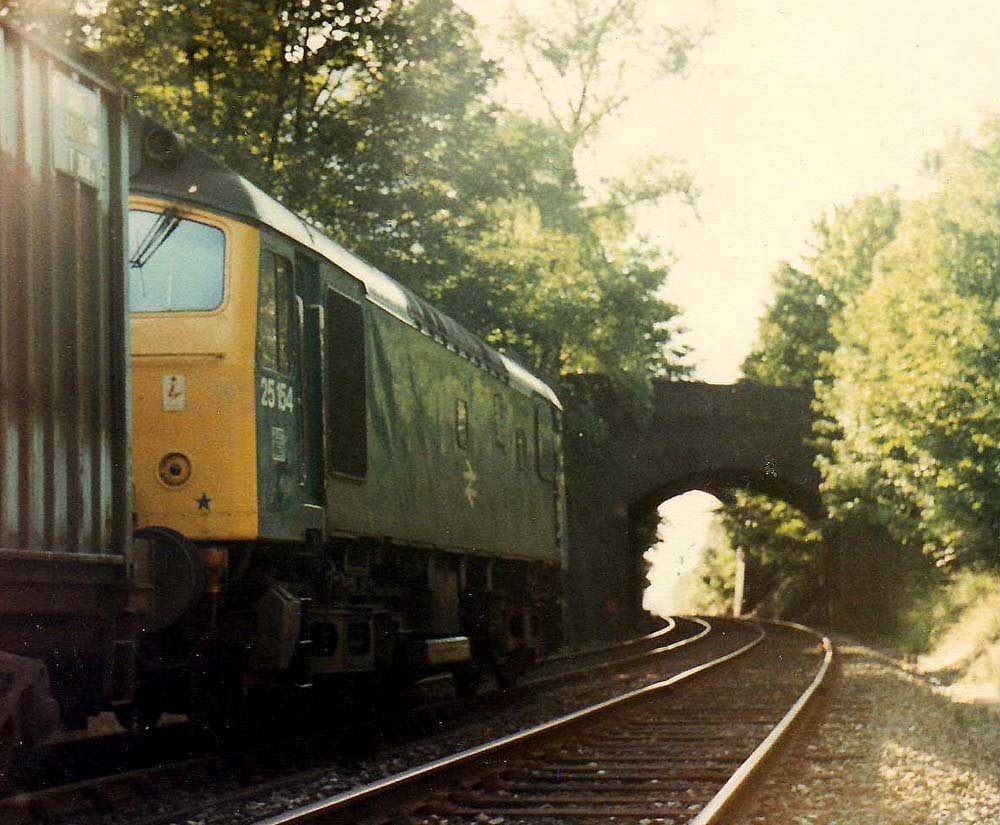 Photograph courtesy David Smith
25154 waits for a signal just south of Sutton Park on July 3rd 1981. The working is the 4L51 return containers from Gosford (Bell Green) to Linwood via Dudley.
On August 1st the 08.22 Barrow - Blackpool North was worked by 25154 to Preston (? or throughout?). A short working on August 22nd saw 25154 work the 09.58 Bradford - Paignton to Leeds. A late season run over the Cambrian line took place on September 12th with 25154 & 25160 working the 10.10 Euston - Aberystwyth from Birmingham New Street, returning with the 18.00 Aberystwyth - Wolverhampton.
1982
A diesel multiple unit failure on May 4th 1982 saw 25154 assist the 15.28 Birmingham New Street - Cambridge from Melton Mowbray to Cambridge. Two Cambrian line visits followed, on June 12th 25154 & 25200 worked the 10.10 Euston - Aberystwyth from Shrewsbury, returning with the 16.05 Aberystwyth - Shrewsbury. The next day (13th) the same pair worked the 08.45 Birmingham New Street - Aberystwyth from Shrewsbury, the 16.40 Aberystwyth - Machynlleth and 17.25 return followed by the 18.15 Aberystwyth - Euston to Wolverhampton.
25154 was stabled at Longsight on July 10th whilst 25154 & 25104 were noted arriving at Newton Heath on July 17th.
On July 23rd 25154 worked the 08.57 Leeds - Carlisle, whilst on August 13th the 15.12 Manchester Piccadilly - Harwich Parkeston Quay was worked by 25154 between Sheffield and Peterborough.
1983
The 16.20 Glasgow Central - Liverpool was worked forward from Preston by 25154 on June 20th 1983. Two days later (22nd) 25154 was noted on the early afternoon Dean Lane to Appley Bridge rubbish train.
Two weeks later on July 2nd 25154 & 25211 worked the 07.44 Shrewsbury - Aberystwyth, but approaching Aberystwyth 25154 failed and was dragged into the station.
On July 10th 25154 and a ballast machine were noted at Harpenden and later at Dudding Hill.
25154 was stabled at Leeds City station on September 16th.
The 15.02 Manchester – Bristol parcels continued with Class 25 haulage, on November 15th 25154 failed on this working at Hereford, remarkably 25244 was available to take the train forward. About a week later a rescue job took place on November 23rd when 45026 failed at Stalybridge on the 15.00 Scarborough - Liverpool, 25154 worked the train forward to Liverpool.
1984
45136 working January 31st's 12.05 Liverpool – Scarborough failed at Greenfield, 25154 pushed the train to Huddersfield, here removing the Peak. Replacement 47145 got no further than Dewsbury before requiring assistance from the following train, a Bangor – Scarborough service headed by 45145, which pushed the failed train into Leeds.
25154 was stabled at Toton on February 18th.
On the last day of February 25154 worked the afternoon Elswick – Ardrossan tanks returning the next day with the empties.
25154 was stabled at Cockshute on April 8th.
Two railtours followed - on May 6th a return LNER Society charter from Aberystwyth to Euston was worked by 25154 from Shrewsbury to Wolverhampton. The next day (7th) a Swindon - Aberystwyth Wessex railtour was worked from/to Birmingham New Street by 25154 & 25209, running as service trains west of Shrewsbury. On May 8th 25154 was noted passing Claydon (Oxon) with a down van train comprised of at least 25 short-wheelbase vans mostly in railfreight livery.
The 13.35 Crewe - Cardiff was worked by 25154 on May 27th.
On June 2nd 25154 was stabled at Cockshute, whilst on June 18th southbound oiltanks from Stanlow (for Salfords?) was noted behind 25078 & 25154 at Leighton Buzzard.
On July 18th 25154 was stabled at Cricklewood.
Two Cambrian line workings followed, on August 4th 25154 & 25161 worked the 10.10 Euston - Aberystwyth from Wolverhampton, returning with the 17.05 Aberystwyth - Shrewsbury. On August 11th 25154 & 25095 worked the 07.35 Euston - Aberystwyth from Wolverhampton, returning with the 14.00 Aberystwyth - Shrewsbury.
25154 was noted at Hooton on September 16th with a train of ballast. Two days later (18th) 25154 & 25191 were noted southbound through Penrith with a trainload of steel coils.
1985
The Ashburys - Dowlow trip freight on March 10th was worked by 25154, The train included a variety of about twenty wagons and a Stanier brakevan, with the mixture of vacuum braked wagons having likely received repairs at Ashburys wagon shops.
25154 was withdrawn from service on March 27th 1985.
Distinguishing Features
No.1 cab front, 2nd man's side, next to lightning flash - dent/missing paint at least March 1983 to withdrawal.
Passenger workings courtesy Alan Baylis (www.class25.info)
Not all known passenger workings are recorded on this page.
52/4597
flk 0716
Page added July 20th 2013
Last updated January 25th 2017