D7511, 7511, 25161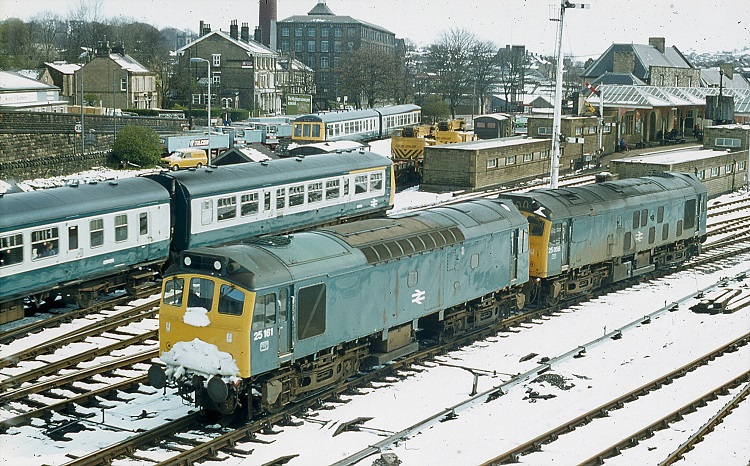 Photograph collection of webmaster.
A busy scene at Skipton, possibly December 1981, with 25161 & 25056 passing through the station.
The twenty year career of D7511/25161 started with seven years on the LMR followed by four years on the Western Region with the remainder back on the LMR.
Built: BR Derby Locomotive Works.
Modification: Boiler room grills sheeted over.
Allocations
D7511 was new to Nottingham (16A) on November 17th 1964. Further transfers were:
November 1964 to Nottingham (16D).
April 1968 to London Midland (Midland) Lines.
June 1968 to Nottingham Division (D16).
January 1972 to Ebbw Junction (86B).
May 1974 to Cardiff.
May 1975 to Bristol.
January 1976 to Crewe.
Withdrawn November 28th 1984.
Renumbered April 1974.
25161 was the 226th Class 25 to be withdrawn.
After withdrawal 25161 was stored at Toton, then moved with 25193 & 25207 Toton – Gloucester – Swindon between February 21st - 25th 1985. On June 3rd 1987 it was moved to Cocklebury Yard following the closure of Swindon Works. On June 4th/5th 1987 25161, 25207/208, 25327 moved from Cocklebury Yard to Vic Berry, Leicester for scrapping. 25161 was placed in the stack by October 1987 and removed during March 1988 for cutting up which was completed by the last week of March 1988.
Works Visits
Works visits (records incomplete).
Noted Derby Works October 1971.
Noted Derby Works September 1977.
Noted Derby Works August - October 1979 (intermediate repair).
Highlights
1966
On July 2nd the summer dated roundtrip Nottingham - Llandudno Town was worked by 7511 & 7561.
1967
On August 12th the summer dated roundtrip Nottingham - Llandudno Town was worked by 7511 & 7523.
1968

Its June 15th 1968 and behind 7511 is the ten road Workington steam shed, which had officially closed to steam six months earlier, from January 1st 1968. Although 7511 was not boiler equipped, it carried a through steam pipe, as can be seen by the steam pipe fittings on the buffer beam.
Photograph courtesy Pete Hackney.
7511 is seen after a minor collision, date & location unknown. 7511 was noted at Derby Works during October 1971, perhaps it was there to make good this damage?
Photograph courtesy EA Wood.
1971
Condition July: two-tone green livery with full yellow ends, exhaust in original position, three-rung bogie mounted footsteps, straight sided sandboxes, 'D' prefixes still present.
1973
On July 15th the return leg of a Wellington - Southend day excursion utilised 7511 & 5133 between Nuneaton and Wellington.
7511 & 7513 at Cardiff? date unknown, but since 7511 was allocated to Ebbw Junction and Cardiff between January 1972 & May 1975 it is probably in this time period.
Photographer not known.
1975
The BOBLPS 'Atlantic Coast Express' railtour from Paddington to Meldon Quarry on May 17th was worked by 25161 & 25224 between Crediton - Torrington -Exeter.
1976
On September 4th the 10.07 Aberystwyth - Euston to Shrewsbury was worked by 25161 & 25057.
Condition November: Blanking plates still fitted.
1978
It was a busy day for 25161 on May 26th, working the 13.30 Manchester Victoria - Llandudno Town from Chester afrer 24082 failed, followed by the 16.42 Llandudno Town - Crewe, the 20.30 Crewe - Bangor and the 22.45 Bangor - Llandudno Junction.
On August 26th the 10.40 Euston - Aberystwyth from Wolverhampton and the 16.10 Aberystwyth - Shrewsbury were worked by 25161 & 25260.
On October 7th 25161 & 25195 came to the rescue of 6000 on the 'Marches Venturer' railtour after the King suffered a hotbox, taking the train forward to Chester. They would later work the Chester - Hereford return leg of 'The Fenman' railtour, replacing 7029.
1979
On June 23rd the 04.15 Shrewsbury - Aberystwyth and the 10.09 Aberystwyth - Euston to Wolverhampton were worked by 25161 & 25272. The next day (24th) the same pair set out with the 08.45 Birmingham New Street - Barmouth but were failed at Bescot Yard and replaced by 25032 & 25120.
The 07.30 Nottingham - Llandudno Town and the return 13.00 Llandudno Town - Nottingham were worked by 25161 on July 7th.
On October 5th the 12.25 Birmingham New Street - Norwich was worked by 25161.
1980
On September 3rd a Leamington Spa - Aberystwyth day excursion was worked roundtrip by 25161 & 25125.
After the closure of Peak Forest station to passengers the 'Up' platform was eventually demolished, its place partially taken by a number of sidings where 25161 stands on the sunny morning of June 6th 1980. 25161 reveals a typical Derby paint job, though at some point the Works have sheeted over the boiler room grille, carried out on a number of Class 25's overhauled at Derby. At the time of this photograph 25161 was allocated to Crewe.
1981
The 16.05 Aberystwyth - Wolverhampton was worked forward from Shrewsbury by 25161 & 25242 on July 4th.
An unusual working for 25161 on September 27th was to assist single parcels DMU 55994 on the 03.35 Manchester Victoria - St Helens newspapers (was this September 27th 1982?).
1983
Most unusual visitors to Eastleigh on January 14th were 25161, 25167 & failed 25230. They had arrived on an unidentified freight and turned on the loop at the diesel depot to keep the failed 25230 at the rear of the trio.
On the evening of March 19th 25161 was noted southbound at Sheffield working a parcels service.
25161 was noted at Bescot on May 25th with a train of ballast wagons.
On June 3rd 1983 recently overhauled 08421 & 08631 were noted passing through Preston behind 25161 en-route from Crewe Works to Scotland. 25161 was stabled at Skipton on June 12th.
On July 12th was noted southbound at Kearsley with a five coach parcels train. A week later on July 19th 25161 was noted southbound at Clifton with a one van parcels service.
The 08.01 Crewe - Cardiff and the 11.40 Cardiff - Crewe were worked by 25161 on August 15th. 25173 & 25161 were noted passing Crewe on August 25th 25th August 1983 with loaded BIS sand hoppers from Oakamoor to St. Helens.
On September 7th 25161 was noted at Bangor with hopper wagons, whilst on September 20th 25161 worked the 09.15 Bangor - York.
The 'Cheshire Cheeser' railtour on November 26th, from Plymouth to the Merseyside area, was worked between Liverpool & Warrington Arpley Junction by 25161 & 25042
25161 was stabled at Llandudno Junction on December 29th.
A fine, well lit study of 25161 at Speke Junction on February 15th 1983.
Photograph courtesy Danny Preston, collection Neil Johnson.
25161 & 25254 approaching Llandudno Junction with a train of track panels on July 16th 1983.
Photograph courtesy Steve Morris.
25161 negotiates the yard tracks at Rhyl with a track panel track panel train on October 6th 1983. An underused yard, lifted tracks to the bay platforms, semaphore signalling - clearly an indication of declining fortunes for the railways. Yet the preponderance of the track panels suggests renewal is continung for part of the local railway scene. It would not last however, supermarkets and other retail outlets now occupy much of the former railway land.
Photograph courtesy John Powell.
1984
25161 passed through Manchester Victoria on April 10th working a train of eastbound presflo cement hoppers.
On May 27th 25161 & 25229 top and tailed an empty track train from engineering work between Maghull & Ormskirk.
On July 30th 25161 worked the 4V12 0922 Shrewsbury - Malago Vale sidings parcels train.
The 10.10 Euston - Aberystwyth from Wolverhampton and the 17.05 Aberystwyth - Shrewsbury were worked by 25161 & 25154 on August 4th. Four days later (August 8th) 25161 was at Bescot with a loaded ballast train.
On September 27th 25161 was noted southbound at Bescot hauling 08691, 27028 & 27034 to Swindon Works, arriving at Swindon the next day, the Class 08 was to be overhauled, the Class 27s were for scrap.
Possibly the last passenger working for 25161 took place on November 2nd when a diesel multiple unit failure saw 25161 work the 18.20 Crewe - Lincoln St. Marks to Derby.
25161 was withdrawn on November 28th 1984, but would not be scrapped until March 1988 at Vic Berry's Leicester yard.
30/2964
flk 1116
Passenger workings courtesy Alan Baylis (www.class25.info)
Not all passenger workings are recorded on this page.
Page added January 30th 2013
Last updated November 17th 2016