D7523, 7523, 25173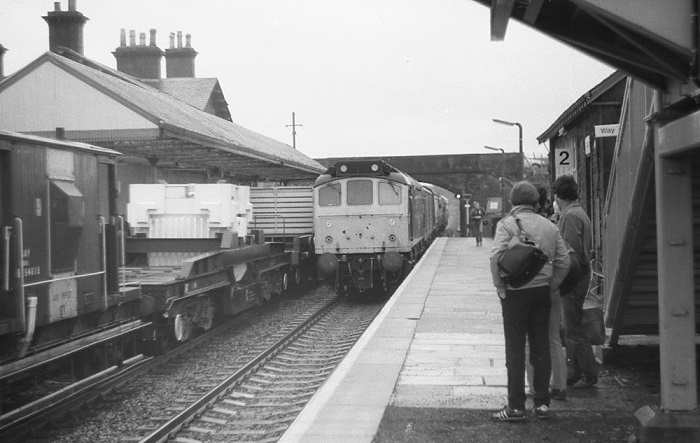 Photograph courtesy Richard Howat

25173 rolls into Annan on July 17th 1985 in charge of the 17.40 Carlisle - Glasgow Central service. On the opposite track the 'Fairlie' nuclear flask train passes, running from Hunterston to Sellafield for processing of spent material, the train this day in the hands of a Class 20.


The twenty two year two month career of D7523/25173 included allocations to a variety of London Midland depots.

Built: BR Derby Locomotive Works.

Allocations

D7523 was new to the Nottingham Division (D16) on January 16th 1965. Further transfers were:

May 1968 to London Midland Midland Lines (LMML).
June 1968 to Nottingham Division (D16).
August 1972 to London Division (D01).
October 1972 to Manchester Division (D09).
May 1973 to Longsight (following abandonment of the Division allocations).
May 1973 to Willesden.
June 1975 to Cricklewood.
October 1976 to Toton.
May 1977 to Cricklewood.
October 1977 to Toton.
March 1978 to Cricklewood.
January 1984 to Crewe.
Withdrawn March 19th 1987.

Renumbered April 20th 1974.

After withdrawal 25173 was stored at Crewe Gresty Lane until moved from Basford Hall to Leicester Humberstone Road on July 29th 1987 and into Vic Berry's yard the next day. The locomotive was sold into preservation and moved from Vic Berry's yard to Crewe Works between September 24th 1987 & October 1st 1987. The locomotive was found to contain asbestos so remained at Crewe until June 21st 1988 when it moved to Leicester depot, reaching Vic Berry's yard on June 28th 1988. With the asbestos removed it left Vic Berry's yard on January 19th 1989 for Leicester depot, where it remained until May 12th 1989 when it moved to Basford Hall. It was named 'John F Kennedy' at BREL Crewe on July 21st 1990.

Works Visits

Works visits (records incomplete).

Noted Derby Works July 1967.
Noted Derby Works April 1968.
Noted Derby Works June & August 1974 (continuous?).
Noted Derby Works September & October 1976.
Noted Derby Works January 1977.
Noted Derby Works May & June 1978 (dual brake equipment fitted)

Highlights

1965
The frames for D7523 were laid at Derby during the autumn of 1964 with delivery taking place in January to the Nottingham Division, one of a continuous batch of forty seven so allocated.

1970
With the summer season in full swing the seasonal extras were again running with June 20th's Nottingham - Llandudno in charge of 7523 & 7528.

1973
Ascot Week saw a number of specials arriving in the hands of Class 47's, however two from Manchester Piccadilly received Class 25's between Willesden and Ascot, 7523 & 7530 on June 20th and 7645 & 7662 on June 21st.

1977

It looks like a fine summers day as 25173 approaches Great Rocks Junction with another set of twelve empty wagons from Northwich, May 30th 1977.
Photograph courtesy Dave Homer
1978
In May 25173 returned south to Cricklewood, though it first underwent a classified repair at Derby which included the fitting of dual brake equipment, being released back to traffic late in June.
1980
There was a multitude of Class 25's in the area of Bushey & Oxhey station from February 17th onwards following the dramatic derailment there of the 16th's 20.25 Euston - Manchester due to a track defect. The locomotive 87007 was the only part of the train to remain on the tracks, four of the MkIII coaches ended up on their sides, with one (M12162) bringing down the overhead gantries, which blocked the slow lines. Most fortunately there were only minor injuries. Three breakdown cranes attended; from Bescot, Finsbury Park - brought in by 25279 & 25256, and Old Oak Common - arrived behind 25152 & 25189. The slow lines were reopened late on the 17th, the dc lines late on the 19th, the fast lines by the 25th. Spoil trains used 25222 & 25243 and 25130 & 25173, this first pair returned with track panels on 21st, followed by 25256 on the re-wiring train.
On June 18th the APT failed at Weedon with pantograph problems, 25173 was sent from Rugby to assist.
1981
When 40033 failed at Stalybridge on May 30th's 09.08 Scarborough - Llandudno it was left to 25173 to take the train forward. However on reaching Warrington the Class 25 succumbed, requiring 40140 to complete the journey!
An 'E' examination was carried out at Crewe during September.
1982

25173 with a short train of coal hoppers is seen in the Aylesbury area on March 10th 1982.

Photograph courtesy Mark Cook.
1983
A hot July 13th saw 25173 assist a failed HST (power cars 43055 & 43082) between at least Kettering & Leicester, the service was over an hour late at Leicester.
On August 21st 25173 & 25191 dragged an electric service behind 86207 between Bletchley & Rugby.
1984
The final transfer for 25173 came in January, the new home being Crewe.
On April 4th the 1M12 14:10 Cambridge – Blackpool service failed at Preston behind 47491. Cheers from watching enthusiasts arose when 25173 was seen coming off Ladywell House sidings to take the train forward to Blackpool.
25173 was noted at Carlisle station on April 4th on passenger stock.
Preston continued to see Class 25's on passenger duty, 25173 worked the 17.03 Euston - Blackpool forward from Preston on May 18th, this was normally a Class 47 turn. The only record of 25173 on a Cambrian passenger turn in 1984 occurred on June 23rd, working with 25237 on the 1J20 07.35 Euston - Aberystwyth (from Wolverhampton) returning with the 2J84 Aberystwyth - Shrewsbury.
25173 for reasons unknown took over the 11.45 Cardiff - Crewe on August 27th (deputising for the regular Class 33) and continued with the diagram until lunchtime on 30th. On each day one round trip was made, except for August 29th when two trips were run giving a total of 556 passenger miles, the highest daily total for any Class 25 in 1984, although it was jointly shared with 25211 which ran the same number of miles on August 24th. On September 20th 25173 worked the late evening Preston - Barrow service, returning the next morning on the 07.33 Barrow - Preston, assisted by 25206 from Dalton Junction. A round trip on the afternoon Derby - Crewe circuit occurred on October 16th, using hauled stock to cover for a non-existant diesel multiple unit. Another diesel multiple unit casualty on October 29th found 25173 assisting the late evening Worcester - Birmingham diesel multiple unit from Stourbridge.
1985
A late running long distance WCML service on the evening of February 22nd allowed 25173 to work a short Preston - Wigan relief.
On March 12th 25173 worked the daily morning Ashburys - Dowlow trip, with the bulk of the consist containing five covered hoppers for Dowlow and numerous cement PCAs for Earles sidings.
April 9th saw 25173 in charge of the 09.45 Severn Tunnel Junction - Bescot comprised of fourteen empty bogie steel wagons. 25173 was again noted at Severn Tunnel Junction on April 13th. Four days later (17th) 25173 & 25231 were in charge of a Cardiff - Gloucester parcels working.
25173 & 25229 were diagrammed on May 2nd for the first part of a Birkenhead North to Wolverton unfitted special, taking an electic multiple unit to Works for repair. Later that day a diesel multiple unit failure brought out 25173 to cover a late evening Manchester Victoria - Blackpool working.
The afternoon of May 29th witnessed 25173 & 25201 on the ECML at Thirsk with a train of coal empties.
25173 was in the Derby area on June 13th being noted alongside the station with Railfreight wagons and noted southbound at Long Eaton with with an engineers train including electrification vehicles. By June 18th 25037 & 25173 were noted at St Helens Junction with an Oakamoor -Ravenhead sand train.
On the same date as the opening view, July 17th 1985, 25173 has completed its journey from Carlisle to Glasgow Central.
Photograph courtesy Richard Howat.
By July 20th 25173 was in the Manchester area being noted on a Redbank parcels working at Manchester Victoria.
25173 was still in the Manchester area on August 1st, being noted passing Manchester Victoria with a short civil engineers train.
August took 25173 on a couple of seaside visits, on August 7th a round trip Manchester Victoria - Bangor working took place, the eastward working did in fact run through to Newcastle, passengers forward from Manchester had to suffer the abomination of 31165. The next day (8th) 25173 was on banking duties at Manchester Victoria, whilst on August 9th it was noted at Warrington Arpley. On August 20th 25173 was noted at March with a train of merry-go-round hoppers. The next day (21st) 25173 covered a four coach 09.39 Long Eaton - Skegness relief (which should have started at Derby), the return working only going as far as Nottingham.
25173 and a lengthy train of ballast heads east through Bangor station on September 5th 1985.
Photographer unknown.
Two WCML drags occurred in September, between Norton Bridge - Stafford on 8th & Crewe - Stafford on 17th.
25173 & 25213 were noted stabled at Severn Tunnel Junction September 15th.
Another short hop took place on October 24th with 25173 working between Blackpool & Preston on a Euston bound service.
25173 was noted at Hereford on October 6th with a train of continuously welded rail.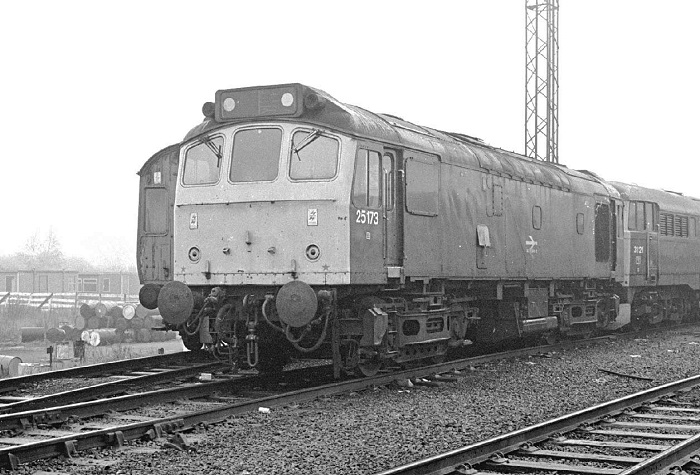 Photograph courtesy Tony Sayer

It has been two years since Toton lost it's allocation of Class 25's, but they would continue to visit until the March 1987. Seen here on November 30th 1985 25173 sits out a typical damp/misty November day.


1986
Present at Immingham on March 4th working steel empties was 25173, two days later the locomotive handled a Bescot - Banbury freight. On March 7th 25173 was noted at Bristol Bath Road.

25173 and four Class 20s were noted arriving at Warrington Arpley stabling point on March 29th.

On May 24th 25173 was noted at Manchester Victoria with parcel vans for Red Bank sidings, and later noted with 25059 as the Miles Platting banker.

On May 27th 45131 failed shortly after departing Manchester Victoria with the 12.03 Liverpool - Scarborough. The train was reversed back into platform 12, where the station pilot 25173 was attached to take the train forward to York where the service was cancelled.

25173 was noted at Llandudno Junction on June 12th shunting two Presflo (?) wagons. 25173 was the station pilot at Manchester Victoria on June 27th.

25173 was in the Crewe area during early July, being noted on the stabling on July 9th and passing through the station on July 10th with a train of eleven bogie engineers wagons.

The 20.30 Manchester Victoria - Blackpool North and the return 22.45 Blackpool North - Manchester Victoria were hauled by 25173 using hauled stock on July 16th. Six days later (22nd) the 16.20 Manchester Victoria - Blackpool North was lauled by 25173.

25173 was noted passing through through Crewe station with a mixed freight on August 7th.

On August 21st & 23rd 25173 was noted stabled at Stoke on Trent station (see photograph below).
It's the last summer in service on BR for 25173 as the locomotive keeps company with a pair of Class 20's at Stoke on Trent on August 23rd 1986. The locomotive number has been stencilled on the cab front.

Photograph courtesy Paul Bettany.
12/09/1986 when the 18.58 Great Malvern - Birmingham New Street diesel multiple unit failed (?) at Old Hill on September 9th, 25173 assisted through to Langley Green.
25173 was noted running through Manchester Victoria light engine on September 26th.
A Labour Party Conference relief on October 3rd saw 25173 work the 14.05 Blackpool North - Euston to Preston.
Possibly 25173's last passenger working for 1986 was the 21.40 Preston - Wigan NW relief service on November 3rd.
On December 22nd 25173 was noted through Stafford on loaded sand or stone wagons.
For 25173 much of the Christmas week was spent in the Toton area, being noted there on 24th & 29th and January 2nd.
1987
After starting the New Year at Toton 25173 soon returned to Lancashire, being at Newton Heath depot at midday on January 8th. It was allocated the 3J05 to Manchester Victoria followed by the 01.00 1D00 Manchester Victoria to Bangor. This sequence of events was repeated on January 11th. Red Bank sidings was reached on the evening of 13th allocated to the 3J08 to Manchester Victoria, then the 1S03 22.47 Manchester Victoria - Glasgow/Edinburgh as far as Preston.
On the afternoon of January 14th a journey to Northampton was completed, followed by a local job to Rugby. By the afternoon of January 24th 25173 had arrived at Bletchley, then allocated to the following morning's 2L45 to Watford Jct, taking up job BC07 to Willesden. 25173 remained in the Willesden area until at least February 1st, handling numerous local jobs.
At teatime on February 10th 25173 & 25278 were at Carlisle allocated to the 7S52 to Fairlie High and the return 7M22 to Carlisle. 25173 was noted stabled at Carlisle station sometime on February 11th, possibly before its trip across the Pennines to Tyne Yard on the 6E86, returning with the 6M26 to Carlisle Upperby. The evening of 12th found 25173 still paired with 25278 to work the next day's 3S07 02.50 Carlisle - Ayr and 5S07 to Falkland Yard. February 13th was spent around Ayr, in the early morning of 18th 25173 was en-route from Carlisle with the 3S07 & 5S07 again, returning to Carlisle that same evening. Three days were spent at Motherwell (21st - 23rd) on local trips. A move north to Polmadie on 24th found 25173 & 25278 allocated on the 1M65 22.37 Glasgow Central - Nottingham to Carlisle. At breakfast on the last day of February 25173 was noted at Dalrymple.
From March 3rd to 9th 25173 seems to have worked many miles between Carlisle and Ayr on the 3S07 & 5S07 and return workings. On 8th a side trip, the 9Z61 to Barassie was made. By lunchtime on March 16th it was back to Manchester Victoria to handle the 6Z45 to Basford Hall, then light engine to Newton Heath. Here it worked the 0J18 to Stalybridge and 3J18 to Manchester Victoria. On 17th a morning trip was made to Ince Moss, getting back to Manchester Victoria at 12.35 Also handled was the 4P05 Mayfield to Preston. March 18th saw it on the 0K37 to Guide Bridge followed by the 6K37 to Nuneaton Hartshill, returning with the 7H55 to Guide Bridge. The final working for 25173 was the 6Z40 07.30 Glazebrook - Parkeston Quay on March 19th as far as Crewe, here it was removed from the train and taken out of service.
By March 22nd it was at Gresty Lane, remaining here until July 29th when it was joined to 25201 & 25288 on the 9L37 10.50 Basford Hall - Leicester Humberstone Road. The next day it was tripped as the 9T16 08.00 Humberstone Road - Vic Berry's, with 27045 added to the three class 25's.
However 25173 reached preservation, making a trip to Crewe Works for repair. It left Vic Berry's yard approx September 13th for Humberstone Road, reaching Crewe Works sidings on October 2nd 1987. After the discovery of asbestos it moved on June 15th 1988 as the 9R78 10.00 Crewe Works - Humberstone Road, being tripped into Berry's yard the next day. By January 28th 1989 25173 was back at Leicester depot for a long spell. It moved on May 12th 1989 as 9R66 16.10 Leciecter - Basford Hall, and taken from there to Crewe Works on June 1st 1989.
With thanks to Alan Baylis for the 1984/85 passenger movements & to Neil Cannon for the comprehensive 1987 TOPS movements.
Its July 11th 1987 and the majority of the Class 25's are stored in the Crewe area. Here 25173 & 25089 heads a line of the withdrawn Type 2's at Crewe Gresty Lane.

Photograph courtesy Mark Jones.
A stranger in a foreign land - 25173 at Crewe Works for repair following its purchase for preservation - seen here probably in the last quarter of 1987.

Photograph courtesy Ian Mawson.
flk 0116
Page added February 7th 2002
Page updated January 11th 2016