D7527, 7527, 25177
Oh my, what to do?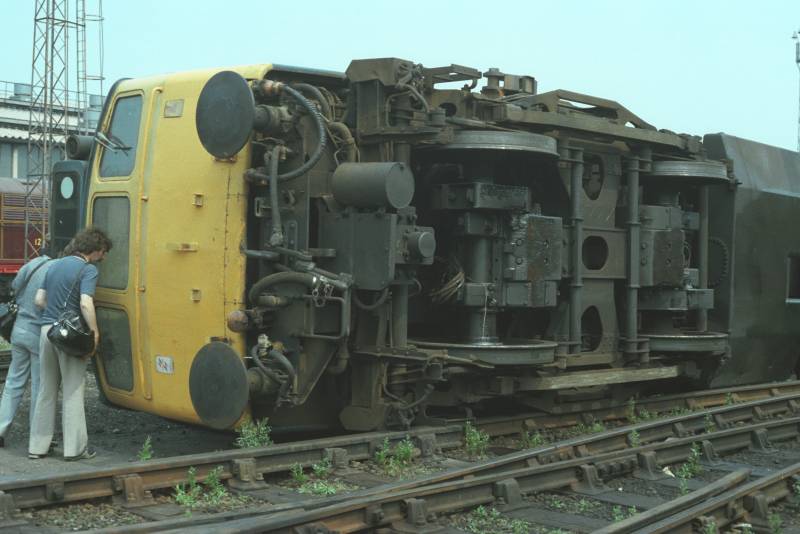 Photograph courtesy Gary Thornton

Not a view you would normally see, but here's 25177 at Stratford on July 9th 1983 in the middle of a rerailing exercise put on for the Open Day visitors.

1965
D7527 was delivered from Derby Works to the Midland Lines during January 1965 as part of the large fleet used to remove steam from the Midland Lines northwards.

1968
D7527 visited Derby Works during August.

1971
During October Willesden (D01) became the new home for 7527.

1973
Repairs were carried out at Derby to 7527 in January.

1979

Its February 27th 1979 and ex-works 25177 drifts south near the site of Nottingham Road station, Derby. Three years later the shiny paint would be dulled, rust would be creeping round the sheet metal joints on the cab, and the end for 25177 would be many miles from Derby.
25177 received a general repair during January & February at Derby. A maintenance dispute brought many strangers into South Wales including a number of Class 25's. So noted towards the end of March were 25294 on the 14.46 Great Bridge - Llandeilo flats (21st), 25177 on oil tanks to Llandarcy oil terminal (April 2nd) as well as a number of light engine movements west of Cardiff, 25256 & 25312 (10th) and 25184 & 25194 (12th).
1980
25177 was back at Derby from February to May, undergoing collision repairs, it left the Works in October.
1981
A Liverpool - York special hauled by 850 'Lord Nelson' required the assistance of 25177 on Miles Platting bank on March 11th. In the early hours of April 8th a train of ammonia tanks partially derailed west of Hadfield station, with the ninth tank hitting the platform and becoming derailed. Two breakdown trains attended, 37128 from Tinsley and 25177 from Longsight (?), whilst 47214 arrived with empty tanks to transfer ammonia from the damaged vehicles.
On July 23rd Derby turned out 25177 & 25158 to work the 10.05 service to St Pancras, both were replaced at Bedford by a Peak after 25158 failed. A heavily loaded 15.02 Bristol - Manchester parcels on October 9th used 25177 & 25179,
1982
On July 3rd 25177 went for a romp across Lancashire and Yorkshire in charge of the 08.40 Manchester Victoria - Scarborough, the return working was covered by 40014. This was possibly 25177's last passenger working.
25177's career came to an end when it was retired in November, quickly being moved to Stratford for rerailing exercises, other Type 2's present here were condemned 25214 and ETH vehicle 24142.
1983
March would see 25177 & 40092 used in rerailing exercises at Temple Mills yard after which it would languish at Stratford, prior to dispatch to Swindon.
Photographs courtesy Gary Thornton (all three top row), Paul O'Garra (left & center bottom row) & John Powell (right Bottom Row)
Its July 9th 1983 and the engineers at Stratford Open Day have 25177 on display as an example of how rolling stock is rerailed/lifted back on to the tracks. With the locomotive on its side there is ample opportunity to explore parts of the locomotive not normally visible. One traction motor is missing.
1984
25177 made its final journey during June 5th - 14th from Stratford to Swindon, accompanying it were 08550 & 40092 as the 9Z28 Stratford - Swindon.
1986
During May Swindon finally cut up the remains of 25177.
Page added October 16th 2001
Page last updated November 12th 2006