D7535, 7535, 25185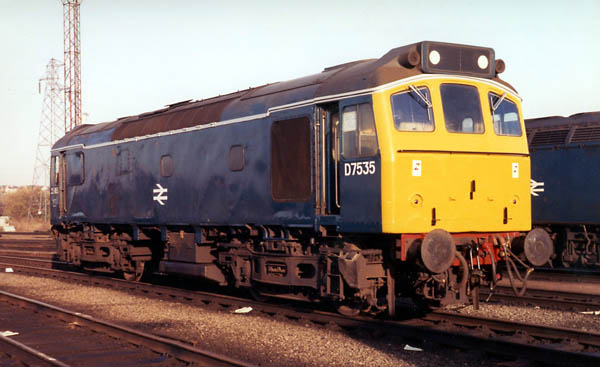 Hmmmm, not bad looking for a withdrawn locomotive, 25185 at Toton on December 3rd 1984 - see details below.

Photograph courtesy Steve Morris


The nineteen year eight month service life of D7535/25185 saw it allocated to a multitude of London Midland Region depots.

Built: BR Derby Locomotive Works.

Allocations

D7535 was new to the Nottingham Division (D16) on March 6th 1965. Further transfers were:

July 1969 to the London Division (Western Lines) (D01).
May 1970 to the Birmingham Division (D02).
July 1970 to the London Division (Western Lines) (D01).
December 1971 to the Birmingham Division (D02).
May 1973 to Bescot.
July 1973 to Willesden.
October 1974 to Toton.
March 1975 to Willesden.
June 1975 to Cricklewood.
January 1976 to Longsight.
October 1976 to Crewe.
May 1977 to Kingmoor.
February 1981 to Springs Branch.
April 1981 to store (at Toton).
May 1981 reinstated to Springs Branch.
October 1982 to Crewe.
Withdrawn November 5th 1984.

Renumbered February 28th 1974.

After withdrawal 25185 was stored at Toton, having been sold to the Dart Valley Railway. It moved from Toton on March 15th 1986.

Works Visits

Works visits (records incomplete).

Noted Derby Works September 1971.
Noted Derby Works June 1973.
Noted Derby Works February & March 1978 (dual brake equipment fitted).

Highlights

1965
D7535 was new to the Nottingham area (then M16) in March, one of a large batch of Class 25's used to oust steam from the Midland mainline, northwards from St Pancras to Toton, and travelling east to March and west to the Birmingham area. As with the majority of the last batches of Type 2's there was no train heating equipment fitted, these were freight machines, though during the summer season their use on passenger workings was common and often over quite lengthy distances.

1967
The LMR seemed to be never quite sure how it wanted to describe its allocation structure, thus in August the M16 allocation for D7535 changed to D16, still synonymous with the Nottingham area and Toton in particular.

1969
A move south came during July when 7535 moved to Willesden (D01).

1970
A brief move north came in May with 7535 off to the Birmingham Division (D02), but by July the locomotive was back at Willesden.

1971
Part of September was spent at Derby Works under repair, by December 7535 was back working off the Birmingham Division (D02).

1973
More time was spent at Derby Works during June, then it was off to Willesden again during July.

1974
On July 13th the Walsall - Norwich (for Yarmouth) - Derby diagram was worked by 25185 & 25305.

1975
A short move across town was made to Cricklewood during June.

1976
After six month at Cricklewood it was up to Longsight in January, then down to Crewe at the end of the summer timetable in October.

1978
February and March were spent at Derby Works, the repair included the fitting of dual braking equipment. On March 18th the 12.07 Derby - St. Pancras with 45108 was piloted as far as Leicester by 25185 as a running-in turn.

1979
On November 13th a goods train split in two and became derailed near Middlewich. The 22.50 Shrewsbury - York was diverted over the freight only line between Arpley & Skelton, with 25185 assisting the Class 86.

1980
A diesel multiple unit failure on a morning Morecambe - Leeds service on March 1st saw 25185 assist throughout.

1981
25185 was withdrawn briefly during February, but quickly reinstated to Springs Branch the same month. An 'E' exam was carried out at Tyseley during August.

On June 27th the 08.40 Carlisle - Glasgow Central was worked by 25185.

1982
The reported passenger workings for 25185 increased considerably during 1982 compared to previous years. On May 4th 25185 worked the 17.26 Barrow - Carnforth following a diesel multiple unit failure.

On May 26th the 14.10 St. Pancras - Derby was worked forward from Wellingborough by 25185 assising ?? Three days later (29th) 25185 & 25120 worked the 07.40 Euston - Aberystwyth forward from Wolverhampton, returning with the 14.00 Aberystwyth - Shrewsbury. On June 2nd 25185 worked the 20.40 Shrewsbury - Wolverhampton.

A busy couple of days in August saw 25185 & 25097 active on Cambrian metals. On August 14th they worked the 10.10 Euston - Aberystwyth forward from Birmingham New Street, returning with the 16.05 Aberystwyth - Shrewsbury. The next day (15th) they worked the 08.45 Birmingham New Street - Aberystwyth from Shrewsbury, then the 16.40 Aberystwyth - Machynlleth and the 17.25 return, before heading home with the 18.15 Aberystwyth - Euston to Wolverhampton.

On August 27th the 07.40 Norwich - Birmingham New Street failed at Nuneaton Midland Junction behind 31318, 25185 was used to push the train to Nuneaton Abbey Junction. On September 2nd the 08.25 Wolverhampton - Bournemouth excursion was worked between Banbury & Basingstoke by 25185.

The last transfer for 25185 came in October when it was transferred to Crewe.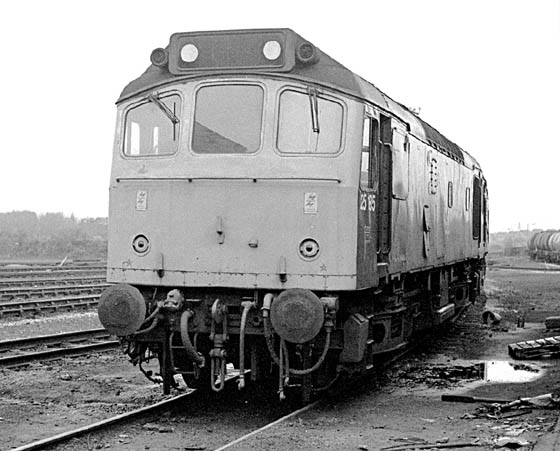 An overcast March 19th 1983 finds a pair of 25's, led by 25185 sitting around at Newton Heath.




Photograph courtesy Tony Sayer


1983
Edinburgh took advantage of Crewe allocated 25185 on February 26th, after arriving on a parcels service it was then noted on local empty coaching stock duties.

With the power off for engineering work 25185 & 25195 assisted two electric services between Crewe & Preston on June 13th.

September 19th found the Mountsorrel - Elstow Redland stone working used 25044 & 25185, a working then normally in the hands of pairs of Class 31's.

On December 8th the 06.20 Wolverhampton - Paddington failed behind 47459 with 25191 assisting to Banbury. Here both locomotives were replaced by 25185 for the run to Paddington (also reported as 25182). On December 20th when the southern end of the WCML was having serious operating issues in the Hemel Hempstead area, the 08.10 Northampton - Euston was worked by 25185.

1984
Heavy snows on January 22nd in places to a depth of two feet blocked both the GSW & CR routes into Scotland, with drifts of fifteen feet being reported. Engineering work on the ECML was quickly postponed, although too late to prevent one ECML passenger train being diverted towards Carlisle, then having to retrace its steps after word of the snow blockages spread. The failure of the 23.40 Edinburgh/Glasgow - Bristol near Crawford was not helped by the rescuing locomotive becoming stuck in a sizeable snowdrift. The gale force winds did nothing to help matters, quickly undoing the arduous work of the snowploughs. The down 'Clansman' became stuck at Dalwhinnie, somehow an ex Glasgow service forced its way alongside taking all the passengers to Inverness. It was several days before the stock of the 'Clansman' was freed from the snow. In later snow clearing operations here 26044 suffered serious fire damage, leading to withdrawal. The most affected train was an overnight Inverness - Euston service that was initially diverted via Aberdeen, suffered a partial locomotive failure, reached Motherwell only to find the way south blocked. A circumnavigation of the Hamilton circle found the train headed for Kilmarnock and the GSW route to Carlisle, having taken fifteen hours to cross the border. The 23rd's 10.15 Euston - Glasgow used 25185 & 25212 between Carlisle & Newcastle, as nothing was available at Newcastle to replace the Type 2's the train was terminated here, with the empty coaching stock returning to Carlisle. Many services were cancelled, others running many hours late, to ease the problems all freights north of Carlisle were cancelled.

A working once familiar to the Class 25's was seeing a greater use of other classes, the 18.12 Manchester - St Pancras parcels, as far as Derby. Noted during August were 25185 (1st), 25316 (20th) & 25249 (22nd) as were a number of the fast disappearing Class 40's.

The end came for 25185 in November at Cricklewood being stopped with a traction motor fault, it soon reached Toton for storage. However the locomotive was chosen as the basis for a 'Heavy Maintenance' course utilising small teams to carry out the equivalent of a C exam plus repairs.

The second team to complete this session (featured in the photograph below) had charge of the locomotive from November 12th to December 7th 1984. The C exam was completed, additionally several pistons and liners were removed due to low compression, the piston rings were renewed. The traction motor fault that had condemned the locomotive was investigated, the number 4 motor interpole cables were found to be to earth, causing the locomotive to run on only two motors. Although diagnosed the team were not permitted to change the motor.

Following the mechanical review of the locomotive two of the team gave 25185 a good clean, repainting the yellow cabfronts and the red buffer beams. To confirm the operational status of the locomotive a test run was made to Westhouses, albeit on the two good traction motors. The first team had also made a test run, the locomotive carrying an unofficial name 'Realfright'.

After this treatment 25185 returned to its slumbers as Toton, but it was not to go the way of the majority, preservation was in the future for D7535/25185.

1986
The second Class 25 to be preserved, 25185 made its last BR journey on February 13/14th when it ran under its own power from Toton to the Dart Valley Railway at Paignton.

(Above) Three views of D7535 and its 'Heavy Maintenance' team, with views at Westhouses, from the cab on the test run (presumably somewhere between Pye Bridge & Bennerley) and of the team and locomotive at Toton. Team members were Steve Morris, Rigby Wason, Alistair Sinclair, Colin Morris , John Tyler & Mike Wright.

With thanks to Steve Morris for the information and photographs of 25185's post-withdrawal activities. It is believed that on its two test runs there were a number of lineside photographers who might have photographed this unusual working. Steve would be most interested in any views of these workings - Thanks.

24/1793

Page added July 31st 2004
Last updated April 27th 2015

Return to Picture menu
Return to Home page