D7541, 7541, 25191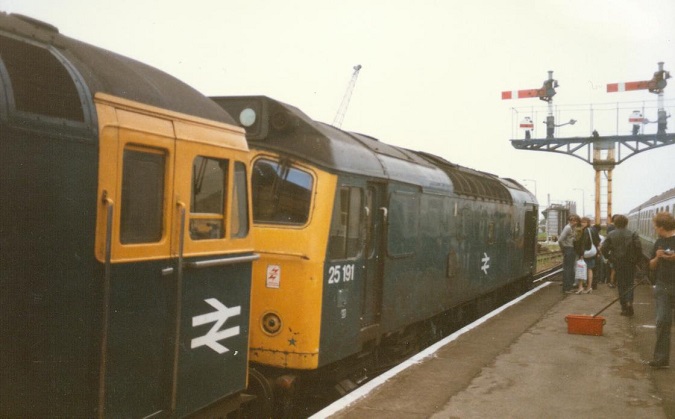 Photograph courtesy Mark Jamieson
On June 27th 1986 25181 & 25191 worked a railtour on to Southern metals, from which 25181 never came back and 25191 was partnered with 33011 for part of the journey, including working the branch to Littlehampton, from where they are seen here awaiting departure.
The twenty one year eleven month career of D7591/25191 included allocations to London Midland Region depots, with a bias towards the northern depots.
Built: BR Derby Locomotive Works.
Dual brake equipment fitted.
Preserved.
Allocations
D7541 was new to Toton on April 10th 1965. Further transfers were:
October 1965 to London Division (Midland) (D14).
May 1968 to Longsight (9A).
June 1968 to Manchester Division (D09).
October 1971 to Liverpool Division (D08).
May 1973 to Springs Branch.
May 1973 to Kingmoor (KM).
January 1975 to Kingmoor (KD).
May 1986 to Crewe.
Withdrawn March 18th 1987.
Renumbered April 1974.
After withdrawal 25191 was stored at Basford Hall Yard until sold to Vic Berry, Leicester, being moved to Leicester Humberstone Road on July 8th 1987 and into Berry's yard the next day. During November (?) 1987 25191 was sold to the North Yorkshire Moors Railway, departing Vic Berry's by rail on January 25th 1988 to Toton, then Tinsley & York (26th), Tees Yard (27th) and Grosmont NYMR (29th).
Works Visits
Works visits (records incomplete).
Noted Derby Works January 1973.
Noted Derby Works April 1975.
Noted Derby Works May & June 1978 (dual brake equipment fitted).
Noted Derby Works December 1979 - February 1980 (N4 repairs).
Noted Swindon Works March 1980 (N4 repairs).
Noted Derby Works May 1983 (N4 repairs).
Highlights
1965
The frames for D7541 were laid down at Derby during early 1965, with delivery to traffic taking place in early April to the Nottingham Division (M16). During October D7541 was moved to the London Division (D14) at Cricklewood.
1968
During May D7541 moved to Longsight (9A).
On August 3rd the 09.35 Sheffield - Llandudno Town and the 14.28 Llandudno Town - Sheffield were worked by 7541.
1969
On July 7th the 10.00 Sheffield - Llandudno Town & 14.28 Llandudno Town - Sheffield were worked by 7541 & 7592. A month later on August 16th the 14.50 St. Pancras - Sheffield was worked from Nottingham by 7541.
1971
During October 7541 was transferred to the Liverpool Division (D08).
1973
7541 moved north to Kingmoor in May.
1975
On August 16th the late running 09.42 Newcastle - Manchester Victoria with 40181 took assistance from 25191 from Leeds (?) due to problems with the Class 40.
1978
On February 14th 24019/66, 24102/121 were hauled by 25191 from Carlisle to Skipton, from here 31183 took over.
A Stoke-on-Trent - Skegness on July 1st was worked by 25191 & 25326 (throughout?), the train return as empty coaching stock.
1979
On August 2nd the 13.40 Glasgow Central - Carlisle was worked by 25191. A month later on September 3rd 25191 worked the 17.20 Llandudno Town - Manchester Victoria.
1980
The continuing shortage of locomotives, partly caused by a backlog of repairs at the main workshops, led to Swindon Works receiving unclassified repairs for locomotive types it had not dealt with before. On March 9th collision damaged 31124 & 31154 were moved from Doncaster to Swindon. Likewise 25191 and 25236 were also received for repairs. During March approximately six hundred locomotives were awaiting attention of which only one third (about 160) were out of traffic for scheduled repair. For the Class 25's fifty eight were laid up, the Class 31's had thirty out of traffic, whilst for the Class 47's one out of every five machines was awaiting some sort of attention. Eight Class 25's had been out of traffic for at least three months (25035/42, 25113/147/177/191, 25234/252), obviously the aforementioned move of 25191 to Swindon was a start in repairing these bad ordered machines. To provide Swindon with a source of spares 25111/147/252 were withdrawn during March and consigned there (25111 was the first to arrive on May 6th), not surprisingly two of these machines were in the batch long overdue for repairs.
In order to clear up a backlog of out-of-service locomotives Swindon started to recieve a wide variety locomotives previously not repaired there, this included a number of classes not previously repaired here. This included several Class 25's, 25191 being one of the fortunate ones, seen here on March 23rd 1980.

On August 7th the 13.40 Manchester Victoria - Llandudno Town was worked by 25191 & 25107.

1981
25191 received an E exam at Kingmoor during December.

1982
On May 28th 25191 worked the 12.50 Carlisle - Glasgow Central throughout.

1983
On August 21st 25191 & 25173 dragged one WCML service between Bletchley & Rugby due to the power being off for engineering work.

An unusual arrival at Follingsby on December 6th was 25191 on a freightliner working from Trafford Park. Two days later (8th) it assisted a failed 47459 between Leamington Spa & Banbury, here both were replaced by 25185 taking the ex Wolverhampton service all the way to Paddington! On December 14th 25191 was noted heading west through Port Talbot.

1984
The end of March saw much continued activity of Class 25's in the North East including 25191 & 25205 on the Stranraer Speedlink and Carlisle cement workings on 30th.
With a solitary Railfreight wagon behind the drawbar, 25191 is not taxed at all as it heads west approaching New Mills South Junction on June 7th 1984.
Photograph collection of webmaster

The aging diesel multiple units on the Crewe - Lincoln service, already way beyond their best provided a number of diesel locomotives with additional passenger mileage, either dragging them or substituting with rakes of coaching stock. Typical of this was 25191 working the 14.20 Crewe - Cleethorpes, from Stoke on Trent (?) as far as Derby on June 19th, for the remainder of the year diesel substitutions would continue, using Classes 20/25/31/47.

A Northampton - Blackpool excursion on July 11th featured 25191 roundtrip between Preston & Blackpool, it was used later that day on a returning Edinburgh - Manchester Victoria forward from Preston. The following day (12th) it was back in action on the Blackpool North - Preston leg of a returning excursion to Birmingham. A week later (19th) it was more local action, firstly between Preston & Barrow on an ex-Crewe service returning south throughout with the 18.21 Barrow - Liverpool.

A round trip between Carlisle & Glasgow was worked by 25191 on August 21st, working the 06.05 ex Carlisle and the return 15.50 ex Glasgow Central.
Almost to the end of their lives the Class 25's were frequently found in pairs on the various oil train workings out of Stanlow. Here at Chester on October 1st 1984 25191 & 25201 go about their business.
Photograph courtesy Paul O'Garra.

On December 18th travellers on the 07.28 Hereford - Birmingham New Street diesel multiple unit had the delights of 25191 forward from Stourbridge Junction after the unit failed.

1985
On January 21st the diesel multiple unit working the 15.00 Whitehaven - Carlisle failed requiring assistance throughout from 25191.

April 5th saw the 21.00 Euston - Stranraer Harbour with 47483 piloted by 25191 between Ayr & Stranraer Harbour. On April 8th the 07.30 Stranraer Harbour - Glasgow Central failed behind a Class 47, 25191 assisted throughout. On June 22nd 25191 & 25230 worked the 13.40 Aberystwyth - Shrewsbury forward from Shrewsbury to Wolverhampton when the train was extended due to late running. Two days later tragedy befell 25191 working the Shrewsbury - Bristol vans after striking and killing a lady at Leominster. The police investigation delayed the following services, with 25191 held later at Hereford.
A moody shot of 25191 as it crosses one of the many estuaries on the line from Carnforth to Barrow in Furness, seen here at Plumpton, May 17th 1985.
Photograph courtesy John Broughton.
An almost empty Wigan Springs Branch shed appears to only have 25191 in for attention on June 29th 1985.
Photograph courtesy Stephen Houlker.
Another view of 25191 at Wigan Springs Branch on July 21st 1985, now accompanied by a pair of Class 20's.
Photograph courtesy Stephen Houlker.

On September 25th the 06.05 Carlisle - Glasgow Central and the 15.45 Glasgow Central - Carlisle were worked by 25191. Just over a week later on October 3rd 25191 worked the 10.46 Preston - Liverpool, the 13.05 Liverpool - Preston and the 14.33 Preston - Liverpool.

Another diesel multiple unit failure on November 3rd found 25191 assisting the 13.00 Wolverhampton - Chester service forward from Shrewsbury.

1986

Two views of 25191 & VDA 200959 at Low Moor crossing, Clitheroe on Tuesday February 11th 1986, with a return working from Castle Cement Works.
Photographs courtesy Stephen Houlker.
During May 25191 moved to Crewe - its last transfer. On May 1st 25191 was noted at March with a lengthy train of merry-go-round wagons. An unusual working for 25191 on May 12th was to haul a broad gauge replica of 'Iron Duke' from Tyseley to Didcot.
More adventurous was the F & W 'Coastway Crusader' excursion (1Z36) on July 27th, from Wolverhampton to Bognor Regis/Littlehampton, via Bristol and Westbury. The trip started behind 50050, 45128 taking over at Birmingham for the run to Bristol. Here 25181/191 took over reaching Ludgershall, via Andover where 25181 failed with oil pressure problems. The machine was partially revived but unfortunately ran back down the branch with its handbrake on. At Andover and now with bad wheel flats the unfortunate Class 25 was detached and replaced with 33011 for the run via East Putney, Tulse Hill, Wimbledon and Epsom to Littlehampton. On the return trip it had been intended to replace the Class 25/33 combination with 37046/117 at Westbury, however in an unusual move 25191 remained on the train, tucked in behind the 37's, running in this fashion back to Bristol where 45128 was waiting for the run home. With 25181 having bad wheel flats it was hauled to Eastleigh using a wheel skate on August 5. This was its last trip however as it was condemned here and would be broken up by Vic Berry on site during July 1988.
Two views of the 'Coastway Crusader' at Chichester (left) & Amberley (right). By this time 33011 had replaced the unfortunate 25181, looks like the day was somewhat overcast.
Photographs courtesy Paul Garvey.
The 06.30 Wolverhampton - Shrewsbury local service was hauled by 25191 on August 12th. Due to engineering work 25191 was used to drag three services the short distance between Glasgow Central & Shields Road on September 28th.
The limelight fell on 25191 on October 2, when it hauled 89001 on its first ever outing, from Crewe to Derby Research Dept.
A visit to Llandudno Jct on December 6th found 31176 present for driver training, with three of the 'old guard' present, 25191, 25213 & 25903.
1987
25191 was noted at Crewe Depot over the New Year attached to 25059. It was noted stopped at Crewe on January 7th with flat batteries, these were fixed in time for its January 10th visit to Machynlleth attached to 25109, no doubt for permanent way work. By 17th it was back in the Crewe area, then to Carnforth on 24th & Skipton the next day. towards the end of the month it was at Toton for an 'A' exam with attention to its brake blocks and a low power problem.
The beginning of February found it back in the Crewe area, by the 11th it was at Manchester Victoria, then to Guide Bridge to work the 6K37 to Nuneaton Hartshill. For the remainder of February 25191 seems to have been active mostly in the Crewe area. On 27th 25057 & 25191 were in charge of a Ravenhead Jct – Oakamole sand empties.
March began with 25191 in the Stoke area, by the end of the first week it had made a trip to Buxton. On March 16th it ran out to Llandudno to work the 9T77 11.50am to Crewe Gresty Lane permanent way train. It remained in the Crewe area until withdrawn from service on March 18th. It was one of six Class 25's to be withdrawn this day - 25191/265/279/313/903/910.
For so long a mainstay on the North Wales passenger & freights here is 25191 at Rhyl on what I believe is its last working during March 1987.
Photograph courtesy - its in my archives somewhere, I'll track it down - sorry!

25191 would escape the scrappers torch and be sold to the North Yorkshire Moors Railway during August 1987.

36/2722
no flk

Passenger workings courtesy Alan Baylis (www.class25.info)
Not all known passenger workings are recorded on this page.

Page added October 23rd 2004
Last updated April 25th 2014