D7548, 7548, 25198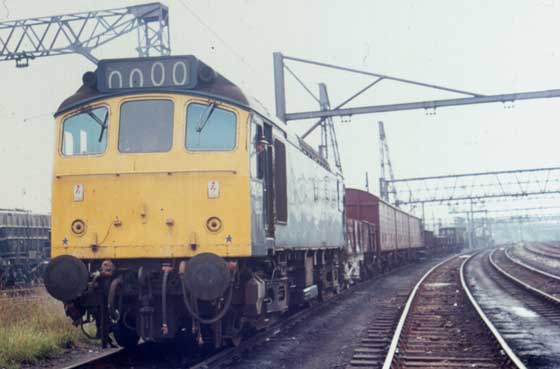 Photograph collection of webmaster
25198, date unknown possibly at Speke.
The twenty year eight month career of D7548/25198 included allocations to London Midland Region depots, with a very distinct preference for north-west area depots.
Built: BR Derby Locomotive Works.
Dual brake equipped.
Allocations
D7548 was new to the Nottingham Division on May 22nd 1965. Further transfers were:
November 1967 to Springs Branch (8F).
May 1968 to Allerton (8J).
June 1968 to Liverpool Division (D08).
October 1968 to Preston Division (D10).
May 1973 to Kingmoor (KM).
January 1975 to Kingmoor (KD).
October 1975 to Longsight.
May 1984 to to Kingmoor.
Withdrawn February 24th 1986.
Renumbered March 19th 1974.
After withdrawal 25198 was stored at Crewe depot until moved (see details below) to Vic Berry, Leicester on January 12th 1987. By the third week of February 1987 25198 had been scrapped.
25064, 25198, 25224/269 Crewe – Vic Berry, Leicester January 9th-12th, 1987. This was the first movement of scrap locomotives from Crewe to Vic Berry, Leicester.
Works Visits
Works visits (records incomplete).
Noted Derby Works March 1974 (dual braking equipment fitted).
Noted Derby Works February 1976.
Noted Derby Works June & July 1979 (General repair).
Noted Derby Works October 1980 (N4 repairs).
Noted Derby Works March 1982 (N1 repairs).
Highlights
1970: The completion of new LTE underground stock at Metro Cammell required the use of two specials to deliver the new stock. These ran as the 23.42 Washwood Heath - West Ruislip on September 9th & 28th using Class 25's 7602 and 7548 respectively.
1980: On November 29th stored 40146, 46041/42/43 were moved from York to Swindon by 25198.
1987: As 1987 began the future held little hope for the Class 25's. It had been six years since classified repairs ceased and almost two years since any had seen Works attention. The start made by Vic Berry's in late 1986 of clearing the Works and depots of withdrawn machines would continue with a vengeance. On January 9th Crewe sent four machines, 25064, 25198, 25224/269, the first of many convoys of Class 25's direct to Vic Berry's yard at Leicester for breaking.
D7548/25198 acquired a modest selection of passenger workings, its first recorded passenger working being on February 17th 1973 with 5211 working a roundtrip Oldham - Hull rugby special.
The 09.20 Manchester Piccadilly - Yarmouth to Lincoln Central and the return 09.15 Yarmouth - Manchester Piccadilly was worked by 25198 & 25113 on June 26th 1976 and by 25198 & 25088 on August 26th 1978. The 'Gricer's Heaven' railtour on November 24th 1979 was pushed from Rainhill to Manchester Victoria after 40188 failed with a vacuum fault.
The 09.42 Llandudno Town - Manchester Victoria, 14.40 Manchester Victoria - Llandudno Town and the 18.17 Llandudno Town - Manchester Victoria were worked by 25198 on May 17th 1980. No passenger workings have so far been recorded for 1981. An early evening Crewe - Derby service on September 6th 1982 was worked by 25198 following a diesel multiple unit failure.
The 12.25 Crewe - Cardiff on May 10th 1983 failed before departure with 33063, 25198 worked the service and returned with the 17.10 Cardiff - Crewe. The 'Manchester Railway Reunion' railtour on June 18th 1983 was worked by 25198 & 25196 from Manchester Victoria to Hellifield. On November 28th (?) 1983 th 21.44 Preston - Liverpool was worked from Wigan N.W. by 25198, being the Liverpool portion of the 18.20 Glasgow - Manchester.
The latter half of 1984 produced a number of passenger workings for 25198. On July 23rd 1984 the 08.20 Liverpool - Birmingham International was worked to Crewe by 25198 due to a power failure. The next day (27th) 25198 worked the 21.44 Preston - Liverpool (ex 18.20 Glasgow - Manchester). On July 28th 1984 25198 & 25178 worked the 10.10 Euston - Aberystwyth from Wolverhampton returning with the 17.05 Aberystwyth - Shrewsbury. On August 14th 1984 25198 worked the relief 02.47 Carlisle - Newcastle following the failure of the diesel multiple unit. A lineside fire on August 23rd 1984 saw the 09.45 Euston - Glasgow Central assisted between Preston & Lancaster by 25198 due to the power being off. The next day (24th) the 17.03 Euston - Blackpool North was worked forward from Preston by 25198. The failure of 33021 on September 3rd 1984 at Harlescott whilst working the 11.45 Cardiff - Crewe saw 25198 drag the train to Crewe. On September 9th 1984 25198 & 25202 worked the 12.10 Glasgow Central - Euston between Preston & Crewe due to engineering works requiring a diversion. The 07.20 Blackpool North - Manchester Victoria, 10.15 Manchester Victoria - Blackpool North and the 13.55 Blackpool North - Manchester Victoria were worked by 25198 on September 18th 1984.
The last recorded passenger workings for 25198 took place during 1985. On January 16th 1985 the 14.40 Euston - Blackpool North was worked forward from Preston by 25198. Three days later (19th) 25198 & 25211 were noted northbound at Basingstoke taking the Reading line - a passenger working or coaching stock move? An Eastbourne - Bedford charter on April 27th 1985 was worked forward from Mitre Bridge Junction by 25198 & 31217 after 47597 failed. The 'Blackpool Boomerang' railtour on June 1st 1985 from Kings Cross to Blackpool North was worked from Horbury Junction to Blackpool North by 25198 & 25175. On August 22nd 1985 the 19.00 Euston - Holyhead failed at Nuneaton behind 87101, 25198 dragged the train to Crewe. The last passenger working for 25198 took place on September 2nd 1985 working the 15.25 Carstairs - Edinburgh, being the portion off the 11.10 Birmingham - Inverness.
Pictures of D7548/7548/25198
Coming in from the west are a pair of Class 25's led by 25198 passing through Guide Bridge station with an engineers train on August 29th 1976.
An interesting view of 25198 and brake van at York on a chilly November 20th 1981. 25198 was taken out of service at Bletchley, was moved to Crewe and then on to Vic Berry's, Leicester, being cut up during February 1987.
Photograph courtesy Jerry Glover.
Passenger workings courtesy Alan Baylis (www.class25.info)
Not all known passenger workings are recorded on this page.
32/2187
No flk.
Page added August 31st 2013
Last updated November 13th 2014