D7561, 7561, 25211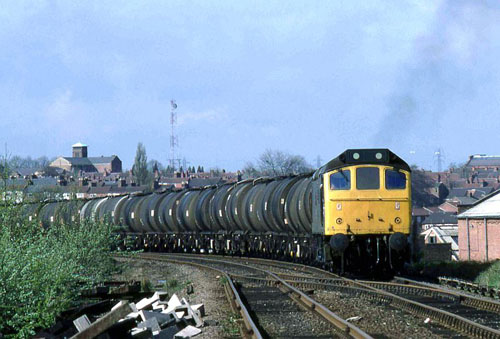 Photograph courtesy Ron Kosys

Its May 7th 1986 and 25211 heads the last train of oil tanks from Ripple Lane to Charringtons terminal at Hawkesbury Lane. The northbound loaded working was the 6M43 04.05 Ripple Lane - Charringtons and is seen here approaching the site of Coundon Road station. The Class 25 has just replaced an electric locomotive at Coventry and will return the the empties to Coventry where an electric locomotive will take over for their journey down the WCML.

The twenty year eight month career of D7561/25211 was spent entirely allocated to London Midland Region depots.

Allocations

D7561 was new to the Nottingham Division (D16) on October 23rd 1965. Further transfers were:

April 1967 to London Division (D01)
March 1968 to Birmingham Division (D02)
November 1970 to Nottingham Division (D16)
May 1973 to Toton
March 1979 to Longsight
July 1984 to Bescot
July 1985 to Crewe
Withdrawn June 27th 1986.

Renumbered November 24th 1973.

After withdrawal 25211 was stored at Crewe before moving to Bescot Yard during October 1986. 25211 was sold to MC Metal Processing, Glasgow about September 1993. After seven years dumped at Bescot it was taken by road to Glasgow, arriving at MC Metals on June 14th 1995. By the first week of July 1995 25211 had been broken up, the last Class 25 to be so treated.

Works Visits

Works visits (records incomplete).

Noted Derby Works October 1966.
Noted Crewe Works August 1969.
Noted Derby Works October 1972.
Noted Derby Works November 1973.
Noted Derby Works February 1976.
Noted Derby Works November & December (including dual braking).
Noted Derby Works September & October 1982 (N4 & collision repairs).

Highlights

1965
The frames for D7561 were laid down at Derby during May 1965, being completed and released to traffic towards the end of October, the initial allocation was to the Nottingham Division (M16/D16). This locomotive had been assigned No. 24 of order N5705 but this number was used for D5299, which had originally been scheduled for item No. 40 of order N5704.

1966
On July 2nd D7561 & D7511 were in charge of the 08.36 Nottingham - Llandudno Town and return working.

D7561 was noted at Derby Works during October.

1967
The New Year began with the continued removal of withdrawn steam locomotives from various locations. Dispatched from Colwick depot to Draper's at Hull on March 17th was D7561 hauling 48370 & 48651.

D7561 was reallocated to the London Division (D01) during April.

1968
After almost a year working in the London area D7561 was reallocated to the Birmingham Division (D02) during March.

1969
7561 was noted at Crewe Works during August.

1970
7561 was reallocated to the Nottingham Division (D16) during November.

1972
7561 was at Derby Works during October.

1973
When the LMR discontinued the 'Division' allocation of its locomotives during May, 7561 became allocated to Toton.

On July 5th the 13.35 Banbury - Marylebone DMU service required the assistance of 7561 throughout following the failure of the DMU.

When the 08.01 Manchester Piccadilly - St. Pancras failed at Derby on October 23rd behind Class 45 No. 132 the train was taken forward to Leicester by 7581, here the Class 25 was replaced by a Class 45.

7561 was noted at Derby Works during November, it was renumbered on November 24th, presumably when it was still in Works.

1974
A late evening working on May 31st found 25211 assisting 46023 between Birmingham New Street & Derby on the 19.30 Bristol Temple Meads - Newcastle.

It was a trip to the seaside with 25046 on August 3rd working the 12.30 Skegness - Leicester having presumably worked out on the 08.52 from Leicester.

1975
During the summer of 1975 there were several trips to the seaside for 25211. On June 28th with 25130 it was noted on the 12.30 Skegness - Leicester, presuambly having worked out on the 08.82 from Leicester. The next month, on July 12th it worked the 1D30 07.35 Nottingham - Llandudno Town and 13.00 return. Then on August 16th with 31200 it worked the 1E86 08.52 Leicester - Skegness and 12.30 return.

1976
25211 was noted at Derby Works during February.

On June 12th it was off to Norwich with 25065 on the 08.00 Walsall - Yarmouth, returning from Norwich with the 14.15 Yarmouth - Derby.

On August 14th 25211 & 25029 had quite a day out working the 1V77 09.49 Nottingham - Paignton throughout. Its not recorded how the Class 25's returned from the West Country.

1977
A charter working on July 17th saw 25211 & 24023 working the 18.45 Rhyl - Walsall.

1978
During November & December 25211 was at Derby Works for repair & the fitting of dual braking equipment. During this final Classified repair the boiler room grilles were sheeted over, an alteration not frequently carried out on the later build of the Class 25/2s.

1979

A blanket of snow covers south Derbyshire on January 6th 1979 as 25211 & 25197 pass Stenson Junction with a short train of oil tanks. The passing trains have mostly blown the snow off the track formation, but in the distance the Crewe lines branching to the right still have a good covering of snow on them.


During March 25211 was reallocated to Longsight.

During April 24081 was a regular visitor to Hereford. It arrived with 25211 on 9th on a freight from Stoke to South Wales, returning north with the 15.10 Radyr – Shotwick. On Easter Monday April 16th the good weather saw large numbers of visitors spend a day at Blackpool. This was great for business but overwhelmed the passenger services when it was time for everyone to go home. To ease the crowded conditions the police asked BR to provide additional services to assist in getting the crowds home. With the evening's final diesel multiple unit services imitating sardine cans emergency resources produced 25211 with eight coaches and 40151 with elevens coaches, both bound for stations to Manchester Victoria.

There were more trips to the seaside during August, on 11th 25211 replaced 25133 at Derby with the 07.30 Nottingham - Llandudno Town and returned with the 13.00 to Nottingham. On August 15th 25211 & 25221 worked a Cliffe Hill - Hayes freight. The next day (16th) the same pair were off to the East coast on a roundtrip Derby - Skegness relief (the 09.53 from Nottingham which this day started from Derby) and the 18.15 return to Derby.

September 14th found 25211 in charge of the 15.15 Plymouth - Manchester Piccadilly between Gloucester and Birmingham New Street, naturally requiring a pair of Class 37's to assist the train up Lickey Incline. 25211 would recieve an 'E' exam (its last?) at Reddish during September.

A month later on October 14th 25211 worked the 15.15 Flint - Euston as far as Crewe. This train normally started from Holyhead. The next day (15th) the 13.22 Norwich - Birmingham New Street failed behind 25211 at ??, 31417 pushed the service to ??

1981

June 6th 1981, New Cumnock.
Photograph courtesy Tony Sayer.
1982
A wintry portrait of 25211 at Toton on January 9th 1982. Behind the Class 25 is a line of Class 56's waiting for a call back to work on Monday morning.
Photograph courtesy Tony Sayer

25211 was noted at Derby Works during September & October for N4 and collision repairs.

1983
January 6th found 25211 making a couple of short passenger trips, noted on the 09.03 Cambridge - Birmingham New Street between Nuneaton and Birmingham with 31423. Later that day the same pair worked the 15.08 Birmingham New Street - Cambridge as far as Nuneaton, both locomotives were replaced by another Class 31.

A month later on February 20th 25211 & 25196 were on hand to assist 86318 between Tring & Bletchley after it had failed on the 09.40 Euston - Wolverhampton. At Bletchley 47537 replaced the three locomotives.
25211 heads west towards Manchester Victoria with a mixed freight on May 18th 1983.
Photograph courtesy Jerry Glover

The Cambrian lines were visited on June 4th when 25211 & 25202 worked the 07.35 Euston - Aberystwyth forward from Wolverhampton, returning from the coast with the 14.00 Aberystwyth - Shrewsbury. Two weeks later on June 18th 25210 & 25211 were part of the Manchester Railway Re-union railtour, top and tailing the short Carnforth - Morecambe/Heysham section. Jubilee 5690 'Leander' had brought the train into Carnforth.
A view of Heysham station as it is visited by the Manchester Railway Re-union railtour on June 18th 1983. At the front of the train is 25210, out of sight at the other end of the train is 25211
Photographer not known.

It was back to the Cambrian metals on July 2nd when 25211 & 25154 worked the 07.44 Shrewsbury - Aberystwyth, 25154 failed outside of Aberystwyth. 25211 continued with the diagrammed 10.10 Aberystwyth - Euston as far as Wolverhampton. 25211 was back at Carnforth on July 13th assisting the 09.19 Morecambe - Leeds DMU forward from Carnforth to Leeds due to lack of fuel on the DMU.

There were two short passenger turns in October. Firstly from Ashton-under-Lyne to Manchester Victoria in providing assistance to the 17.10 York - Manchester Victoria. Secondly on the same route on October 15th when 45077 working the 08.05 Liverpool - Newcastle required assistance from Stalybridge to Leeds, where both were replaced by 46045.

On November 1st 25211 provided assistance to the 07.40 Norwich - Birmingham New Street from Nuneaton to Birmingham New Street after 31419 had failed.

More failures in December, again in the Manchester area brought more unexpected passenger haulage for 25211. When the 22.34 York - Shrewsbury with 45103 expired at Standedge Tunnel, it was 25211 that took the train on to Crewe. Then shortly after Christmas on December 28th 46026 expired at Manchester Victoria with the 08.05 Liverpool - Newcastle, 25211 took the train on to Leeds.

1984
January 3rd saw the first Class 25 passenger haulage for 1984, with 25211 taking over a failed Class 47 at Manchester Victoria with the 09.05 Liverpool - Scarborough service, the Type 2 working as far as Leeds. Class 25's were still frequent visitors to Parkeston, often heading back to the LMR on the evening Parkeston – Ditton working so noted was 25211 on January 27th. Pairs of Type 2's were still common on the Ellesmere Port – Riverside bitumen tanks, so noted were 25244 & 25211 on February 14th.

When 47413 failed at Kilmarnock on March 14th with the 21.50 Glasgow Central - Euston 25211 worked the train forward to Carlisle. On April 9th Edge Hill could provide nothing bigger than 25211 for the 09.05 Liverpool - Scarborough which it worked as far as Leeds before being replaced.

The failure of a Class 31 at Nuneaton on June 29th whilst hauling the 12.10 Cambridge - Birmingham New Street saw 25211 on hand to take the train forward to New Street.

25211 was reallocated to Bescot during July.

August 20th found the Severn Tunnel Jct – Whitemoor 'Speedlink' service, normally a Class 37 turn, in the hands of 25211 & 25258. 25211 was still in the area on the 23rd when it started a three day turn on the Cardiff - Crewe services, starting with the 23rd's 11.45 Cardiff - Crewe from Abergavenny after 33008 failed. Another seven workings followed, ending on the 25th with the 10.03 Crewe - Cardiff, a total of approximately 1,080 miles over these three days. Two days later (27th) 25211 assisted the 20.36 Lichfield City - Longbridge from Lichfield City to Birmingham New Street after the DMU failed at the outset.
A wonderful nightime view of 25211 at Manchester Victoria on September 14th 1984. From reading the available workings of 25211 it seems that this locomotive spent a lot of time handling jobs in this area, including coming to the assistance of a number of passenger workings through Manchester Victoria.
Photograph courtesy Phillip Moore.

1985
February 10th's 21.44 Preston - Liverpool was worked by 25211.
Toton 25211 February 16th 1985.
Photograph courtesy Tony Sayer.

Noted at Scunthorpe on April 11th was 25211, whilst sister machine 25210 became the first Class 25 to be broken up at Doncaster Works since 25015 in 1975.

When the 14.13 Portsmouth - York arrived at Birmingham on May 2nd Saltley had turned out 25211 to work the service northwards. The good news ended at Derby where a Class 45/1 was waiting to take over. At the end of the month 25211 was back on the NE/SW route, this time however the Class 25 was allowed full access to the route working May 28th's relief 14.25 York - Plymouth as far as Bristol Temple Meads. What a delight that must have been, happy days!

The last transfer for 25211 came in July when it was allocated to Crewe.

25211 was north of the border on August 11th when it worked the 13.45 Plymouth - Edinburgh forward from Carstairs. It appears to have stayed in the area for a couple of days as it was noted on ECS duties at Edinburgh Waverley on August 14th.

1986
A broken rail north of Rugby on March 3rd caused the diversion of the 13.06 Rugby - Stafford local service via Coventry with 25211 dragging the Class 304 unit to Nuneaton.

Many of BR's freight services were frequently withdrawn from the timetable with little fanfare and often mourned only by those locals who knew of their operations. One such working was the Charringtons oil train from Ripple Lane to the small Charringtons depot at Hawkesbury Lane on the Coventry - Nuneaton line. This was generally electrically hauled over the WCML to Coventry where a diesel would take over for the short run to Hawkesbury Lane. The last working of this train occurred on May 7th 1986, after which the depot was closed, its work being transferred to their Brownhills facility. The diesel locomotive on duty this was day 25211 and local enthusiast Ron Kosys was aware of this last working and was able to capture on film both the north & southbound workings (see below). The northbound loaded working was the 6M43 04.05 Ripple Lane - Charringtons, whilst the southbound empties was the 7E53 13.42 Charringtons - Ripple Lane.
The left view shows 25211 with the lengthy train of tanks bound for Charringtons as it passes Coundon Road Station signalbox on May 7th 1986. The second view show 25211 on the spur to the Charrington's terminal at Hawkesbury Lane.
Photographs courtesy Ron Kosys

After 25211's little piece of glory during May working the final Charrington's tanks as described above it was of interest that 25211 would be again in the limelight the next month returning to passenger work on Cambrian metals. On June 11th 37426 failed on the 15.40 Euston – Aberystwyth, the turn being covered by 25211, also taking up the returning working on 12th. The next day 25211 returned west from Shrewsbury, being attached to a now functioning 37426, the Class 25 being required at Machynlleth for permanent way duties. However all was not over for 25211 for it was required on 14th to rescue 37509 on the 07.25 Birmingham – Aberystwyth which had failed west of Newtown. Unable to release the train brakes the train was taken to Caersws, with passengers transferred to a following service. The failed train then returned to Machynlleth for repairs.

The end came on June 27th 1986 when 25211 was withdrawn from Crewe. The locomotive was initially stored at Crewe before being moved to Bescot by November 1986, possibly earlier. Here it went into hibernation for nine years, it should have been expected to make the short journey to Vic Berry's at Leicester but the unexpected closure of the facility prompted its continued stay at Bescot.

1988

The Open Day held at Bescot on October 9th 1988 included the withdrawn 25211 as one of the exhibits. The locomotive was spruced up a little with some fresh paint.
Photograph courtesy Geoff Plumb
1993 - 1995
About September 1993 25211 along with several others from Bescot was sold for scrap to MC Metal Processing, Springburn Works, Glasgow. Almost two years would pass before 25211 was removed from Bescot, travelling during June 1995 by road on its last trip, arriving Springburn on June 14th 1995, and scrapped the first week of July 1995, this was the last Class 25 to be broken up.
Page added February 7th 2009
Last updated April 18th 2015