D7565, 7565, 25215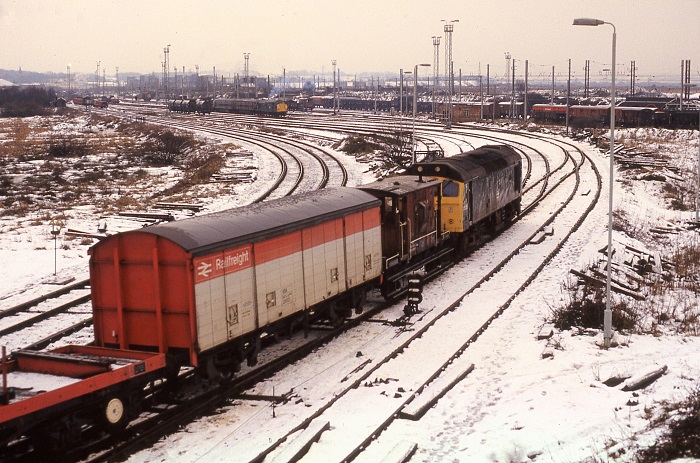 Photograph courtesy Barrie Watkins
25215 at Warrington Arpley on a snowy December 21st 1981.
The seventeen year six month career of D7565/25215 included allocations to Scottish, Western & London Midland Region depots.
Built: BR Derby Locomotive Works.
Non-standard Battery Isolating Switch Cover - three circular hinged discs.
Boiler room grilles sheeted over (1978).
Time between last Classified repair and withdrawal: 64 months.
Time between withdrawal & scrapping: 4 months.
Allocations
D7565 was new to the Nottingham Division on December 4th 1965. Further transfers were:
May 1967 to Birmingham Division (D02).
January 1972 to Nottingham Division (D16).
August 1972 to London Division (D01).
October 1972 to Haymarket (64B).
August 1975 to Cardiff.
October 1975 to Laira.
May 1978 to Crewe.
Withdrawn June 19th 1983.
Renumbered December 1973.
25215 was the 183rd Class 25 to be withdrawn, one of three retired during June 1983.
After withdrawal 25215 was stored at Crewe until moved to Swindon Works between August 27th 1983 & September 8th 1983. 25215 was scrapped by the end of October 1983.
Works Visits
Works visits (records incomplete).
Noted Derby Works July 1976.
Noted Derby Works January & February 1978 (Classified).
Highlights
1972
From October 1972 until August 1975 7565 / 25215 was allocated to Edinburgh Haymarket. During its time on the Scottish Region it did not visit Glasgow Works for any type of Classified repair. However it did at some point receive the battery isolating switch cover modification carried out at Scottish Region depots, the two hinged flaps being replaced by the three circular access panels. Most likely this modification was removed during its visit to Derby Locomotive Works during January & February 1978.
1975
D7565/25215's first recorded passenger workings occurred midway through its service life whilst allocated to the Western Region. On February 27th 1975 the 20.15 Exeter St. Davids - Newton Abbot was worked by 25215.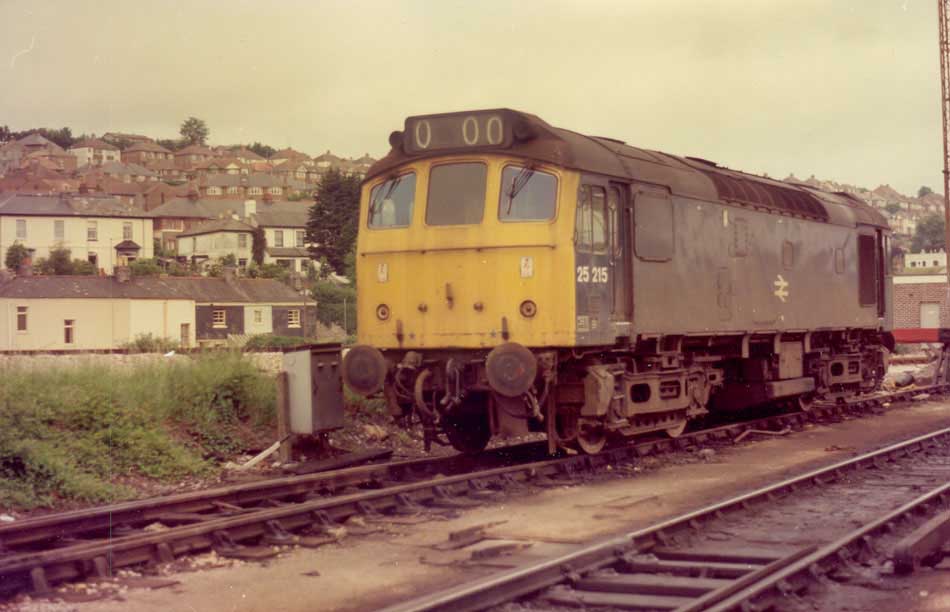 Photograph collection of webmaster
25215 was allocated to Laira from October 1975 to May 1978. It is seen here on the headshunt at Laira, date unknown.
1977
The 08.30 Paddington - Plymouth failed at Tiverton Junction on March 19th behind 50020, 25215 dragged the service to Newton Abbot where both locomotives were replaced. The summer of 1977 would see 25215 working many services in the Barnstaple - Exeter - Newton Abbot - Plymouth area. On September 24th the 09.48 Paddington - Newquay was worked between Plymouth & Par by 25215 & 25217, with 50037 taking over at Par. The same pair then took the 10.30 Newquay - Paddington from Newquay (?) to Plymouth.
Condition May: blue/yellow livery, blanking plates fitted, hand/footholds plated over, straight sided sandboxes, three-rung bogie mounted footsteps, non-standard BIS cover - three circular discs ex-Scottish Region mod.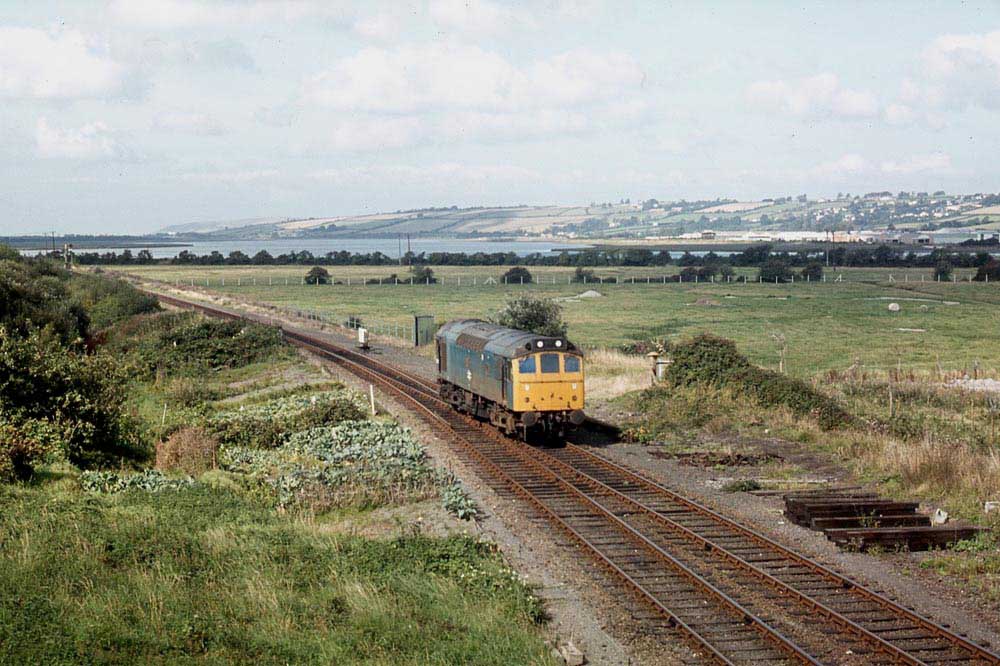 Photograph courtesy Peter Lovell
25215 runs round its train at Barnstaple on September 18th 1977 having recently arrived with the 11.10 from Exeter.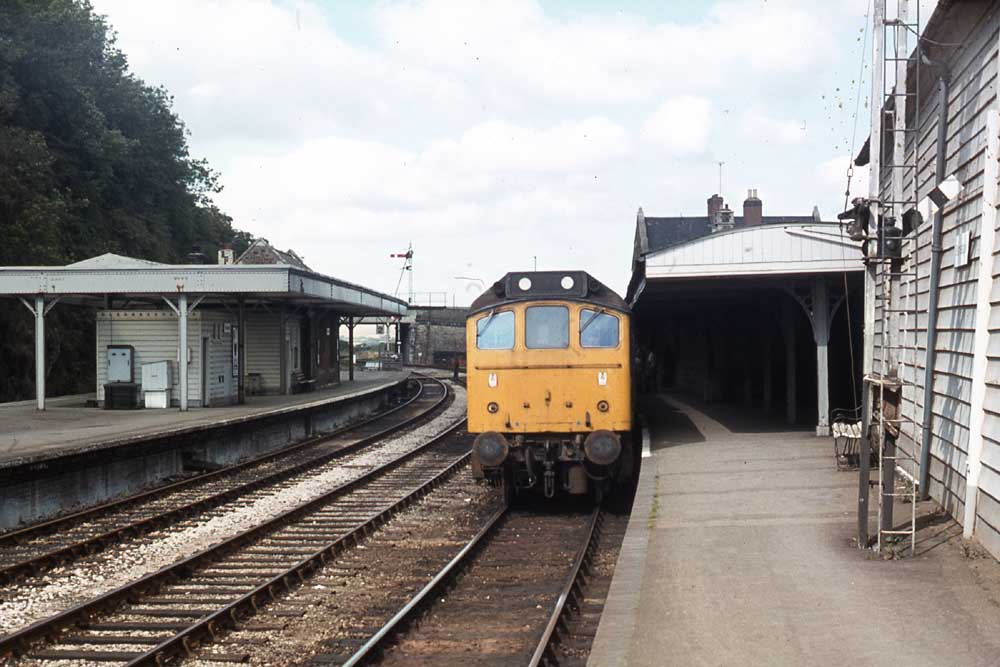 Photograph courtesy Peter Lovell
The starter is already up for 25215 to leave Barnstaple on September 18th 1977 with the 12.30 to Exeter St Davids.
1978
During May 1978 25215 was transferred from Laira to Crewe and was only three months out of a repair at Derby Works, including a full repaint.
The only recorded passenger working so far observed during 1978 took place on a sunny August 5th with 25215 working the roundtrip Nottingham - Llandudno Town.
25215 was noted at Severn Tunnel Junction on the late afternoon of September 13th.
1979
Late into March the two remaining Class 24s 24063 & 24081 were still soldiering on, observed on the Oakamoor sand train were 24081 & 25215 on March 28th.
Since June Dee Marsh sidings had been accumulating Class 502 stock, (replaced by the new Class 507s), some condemned, some simply stored. On July 20th 25047 & 25215 hauled off to Birkenhead six ex-works units.
1980
The early morning 05.43 Grange – Shotwick freight on January 7th, in charge of 24081 got into trouble at Greenbank, with a main generator fault disabling the locomotive. Rescue came in the shape of 25071 as far as Oakleigh, where 25215 took the train forward, whilst 25071 took the errant Class 24 to Crewe.
The Cambrian line was visited on June 7th when 25215 & 25272 worked the 10.10 Euston - Aberystwyth from Birmingham New Street and the 16.10 Aberystwyth - Shrewsbury.
A month later on July 4th 25215 worked the 16.42 Llandudno Town - Crewe, the 20.30 Crewe - Bangor and the 22.45 Bangor - Llandudno Junction. Two days later (9th) it was the turn of the 09.40 Manchester Victoria - Llandudno Town for 25215. On July 13th the 08.45 Birmingham New Street - Aberystwyth and 18.10 Aberystwyth - Euston to Wolverhampton were worked by 25215 & 25208. On July 19th 25215 was north of the border working the 18.07 Carlisle - Glasgow Central.
1981
The last recorded passenger workings for 25215 took place during 1981. On June 6th 25215 & 25200 started out with the 08.35 Derby - Yarmouth but were removed at Nottingham and replaced by 47334.
On August 14th 25215 worked the 17.45 Manchester Victoria - Llandudno Junction and the following day's (15th) 12.40 Llandudno Junction - Holyhead and 16.30 Holyhead - Manchester Victoria.
25215 & 25123 were in charge of a lengthy Carlisle - Tinsley freight on November 4th.
1982
25215 was stabled at Cardiff Canton on May 3rd.
Condition May: blue/yellow livery, boiler room grilles sheeted over, hand/footholds plated over, straight & ridge sided sandboxes, three-rung bogie mounted footsteps, standard BIS cover, No.2 cab drivers side - aluminium unpainted window frame.
On September 2nd moved a Class 503 three-car unit from Horwich Works to Merseyrail's Hall Road depot.
25215 was noted at Warrington Arpley on September 13th with four red liveried breakdown/rerailing coaches.
1983
25215 was stabled at Cockshute on January 29th.
25215 was stabled at Chester depot on March 13th (normal BIS cover).
On March 29th a convoy of Class 76 locomotives moved from Guide Bridge to Reddish for component recovery, 25215 was used to haul 76036, 76001, 76009, 76028 & 76008.
On May 9th 25042 & 25215 were noted northbound through Crewe with a loaded sand train.
25215 was withdrawn on June 19th 1983.
Passenger workings courtesy Alan Baylis (www.class25.info)
Not all known passenger workings are recorded on this page.
31/1848
flk 0917 (1)
Page added September 7th 2013
Last updated September 25th 2017