D7566, 7566, 25216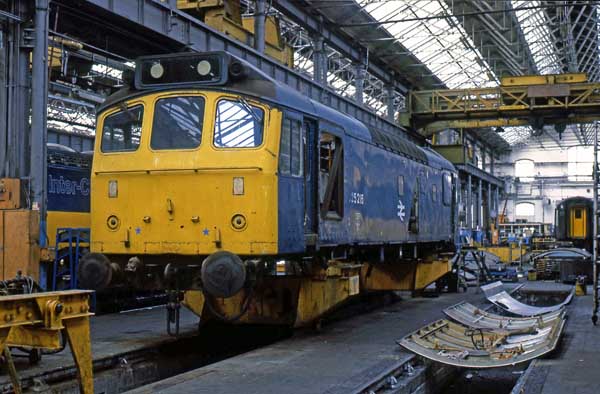 Photograph courtesy Malcolm Braim

Withdrawn Class 25 No.25216 at Derby Works on December 5th 1981 undergoing component removal.


The fourteen year eleven month career of D7566/25216 included allocations to Scottish, Western & London Midland Region depots.

Built: BR Derby Locomotive Works.
Time between last Classified repair and withdrawal: ?? months.
Time between withdrawal & scrapping: 26 months.

Allocations

D7566 was new to the Nottingham Division on January 19th 1966. Further transfers were:

May 1967 to Birmingham Division (D02).
January 1972 to Nottingham Division (D16).
August 1972 to London Division (D01).
May 1973 to Willesden.
January 1974 to Eastfield.
May 1974 to Haymarket.
August 1975 to Cardiff.
October 1975 to Laira.
March 1978 to Crewe.
Withdrawn December 28th 1980.

Renumbered April 1974.

25216 was the 83rd Class 25 to be withdrawn, one of seventeen withdrawn during December 1980.

After withdrawal 25216 was moved to Swindon Works on February 20th 1981, then to Derby Works on October 13th 1981. 25216 was scrapped at Derby Works during the first week of March 1983.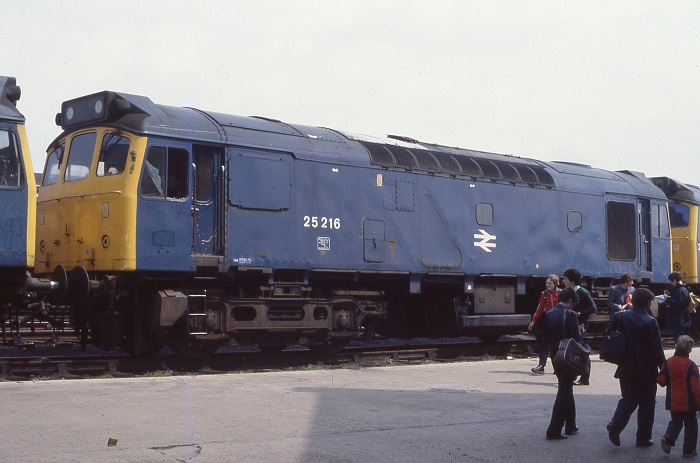 25216 at the Swindon Works Open Day on June 6th 1981.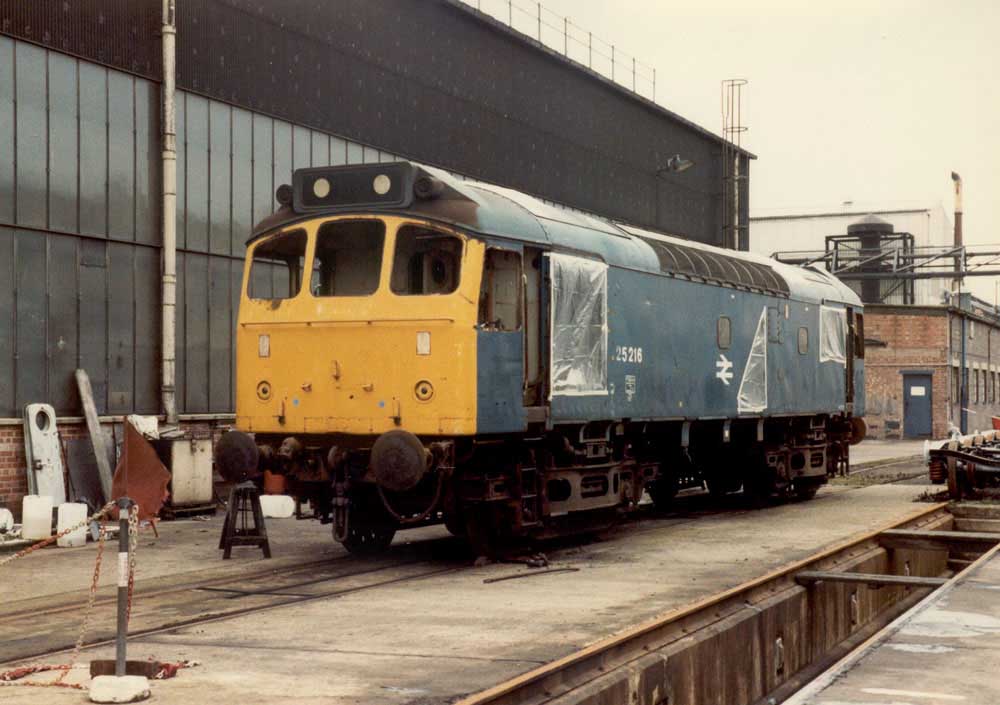 Photograph courtesy Jerry Glover
25216 on February 6th 1982 in the asbestos removal area. 25216 would remain in the Works until March 1983 when it would be broken up.
Works Visits
Works visits (records incomplete).
Noted Derby Works October 1966.
Works visit assumed 1975/76 most likely Glasgow.
Highlights
1972
On July 22nd 1972 7566 & 7554 worked the Derby - Norwich - Yarmouth - Norwich - Walsall diagram.
Condition month uncertain: blue/yellow livery, no blanking plates fitted, hand/footholds plated over, straight sided sandboxes, three-rung bogie mounted footsteps, buffer beam steam pipe connections present.
1975
During October 1975 25216 was transferred to Laira from Cardiff. No doubt during the summers of 1976 & 1977 25216 would be used frequently on the Barnstaple - Exeter - Paignton - Plymouth locals.
1976
On August 4th 25216 worked the morning Moorswater clay, then was noted shunting at Fowey. The next day (5th) 25216 worked a Liskeard - St Blazey freight.
1977
25216 was used to drag a fire damaged 1041 from St Blazey to Laira on February 15th, this was the last use of a Class 52 on the china clay trains.
On September 10th 25216 & 25225 worked the 08.08 Wolverhampton - Penzance from Plymouth, returning to Plymouth with the 09.35 Penzance - Wolverhampton. The same diagram was worked on September 24th by 25216 & 25224.
1978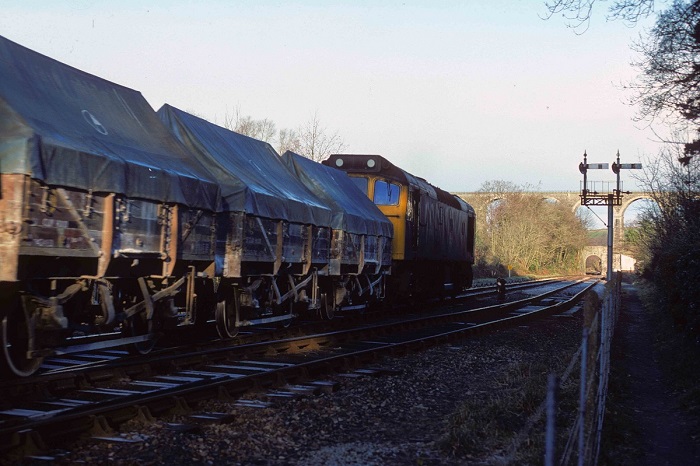 Photograph courtesy Roger Geach

25216 at Coombe Junction with empty clay hoods for Moorswater on January 13th 1978.


25216 was transferred from Laira to Crewe during March 1978.

On September 7th 25215 was noted passing Stoke Works with three passenger coaches, the middle one apparently wrapped in plastic sheeting.

1979
On August 3rd 1979 the 12.25 Crewe - Cardiff failed behind 25219 somewhere in the Hereford (?) area, 25216 dragged the service to Cardiff and returned north with the 17.10 Cardiff - Crewe. A Spalding - Aberystwyth day excursion on October 13th was worked from/to Walsall by 25216 & 25160.

1980
The last recorded passenger workings for 25216 took place during August 1980. On August 12th 25216 & 25217 worked the 13.00 Holyhead - Euston to Crewe, whilst on August 28th 25216 & 25168 worked the 20.30 Crewe - Bangor.

25216 was withdrawn on December 28th 1980.

Passenger workings courtesy Alan Baylis (www.class25.info)
Not all known passenger workings are recorded on this page.

23/1577
flk 0917

Page added September 7th 2013
Last updated January 17th 2017