D7567, 7567, 25217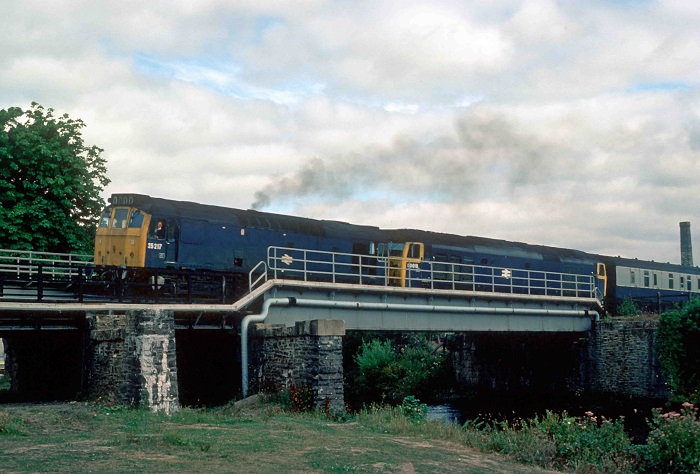 Photograph courtesy Roger Geach

25217 assists 50018 and the 08.42 Plymouth - Penzance at Lostwithiel on July 30th 1976.


The fifteen year career of D7567/25217 included allocations to Scottish, Western and London Midland Region depots.

Built: BR Derby Locomotive Works.

Allocations

D7567 was new to the Nottingham Division on January 20th 1966. Further transfers were:

May 1967 to Birmingham Division (D02).
January 1972 to Nottingham Division (D16).
August 1972 to London Division (D01).
May 1973 to Willesden.
November 1973 to Longsight.
January 1974 to Eastfield.
May 1974 to Haymarket.
August 1975 to Cardiff.
October 1975 to Laira.
March 1978 to Crewe.
Withdrawn February 1st 1981.

Renumbered April 1974.

After withdrawal 25217 was stored at Crewe until moved to Derby Works during April 1981 and scrapped there by the third week of January 1982.

Works Visits

Works visits (records incomplete).

Noted Derby Works June 1970.
Noted Derby Works November 1979 (N6 repairs).

Highlights

1973

7567 and sister at Elford. The new roof panels at one end of the engine compartment suggest 7567 has recently had the exhaust port relocation completed. The other Class 25 still has the exhaust port in its original location.
Photograph collection Steve Jones / old buffers.com
1974
7567/25217 spent about eighteen months allocated to Scottish Region depots, only one passenger working for that time has so far been recorded. On June 1st 1974 25217 worked the 20.46 Dundee - Glasgow Queen Street.
1975
During October 1975 25217 was transferred to Laira, from time to time its duties would cover the Barnstaple - Exeter - Paignton - Plymouth area passenger workings, primarily during the summers of 1976 & 1977.
1976
On July 30th 25217 was noted at Lostwithiel assisting failed 50018 and the 08.42 Plymouth - Penzance.
On November 21st 25217 was noted between Aller Jct and Newton Abbot hauling/propelling a number of test vehicles.
25217 with its non-standard numbers manouevres around Exeter signing on point sometime during 1976. The wasteground behind the locomotive was a storage point for the motor vehicles brought in by train, and prior to their distribution to local car dealers.
Photograph courtesy Peter Wilmott.
1977
Some of the diagrams were busy, on July 31st 1977 for example 25217 worked the 09.50 Exeter St. Davids - Paignton, a Plymouth - Paignton, a Paignton - Exeter St. Davids and a Barnstaple - Exeter St. Davids. The next day 25217 worked the 18.15 Paignton - Bristol Temple Meads. Almost at the end of the summer timetable on the 09.48 Paddington - Newquay was worked between Plymouth & Par by 25217 & 25215, at Par 50037 took the train forward, the Class 25's returned to Plymouth on the 10.30 Newquay - Paddington from Newquay (?).
1978
During March 1978 25217 was transferred to Crewe although no passenger workings have so far been recorded for 1978 & 1979.
1980
25217 was noted at Wakefield with the Healey Mills breakdown train on June 12th.
On June 16th 1980 25217 worked the 13.40 Manchester Victoria - Llandudno Town, the 16.42 Llandudno Town - Crewe and the 20.30 Crewe - Bangor. A month later on July 19th 1980 the 10.20 Manchester Victoria - Llandudno Town and the 13.48 Llandudno Town - Llandudno Junction were worked by 25217. On August 12th 1980 with sisters 25216 & 25217 on the 13.00 Holyhead - Euston as far as Crewe. The last passenger working for 25217 took place on October 18th working the 07.54 Crewe - Cardiff.
25217 with the Amlwch tanks on August 28th 1980.
Photograph courtesy Colin Webb.
Passenger workings courtesy Alan Baylis (www.class25.info)
Not all known passenger workings are recorded on this page.
30/1235
flk 0616
Page added September 7th 2013
Last updated June 6th 2016