D7571, 7571, 25221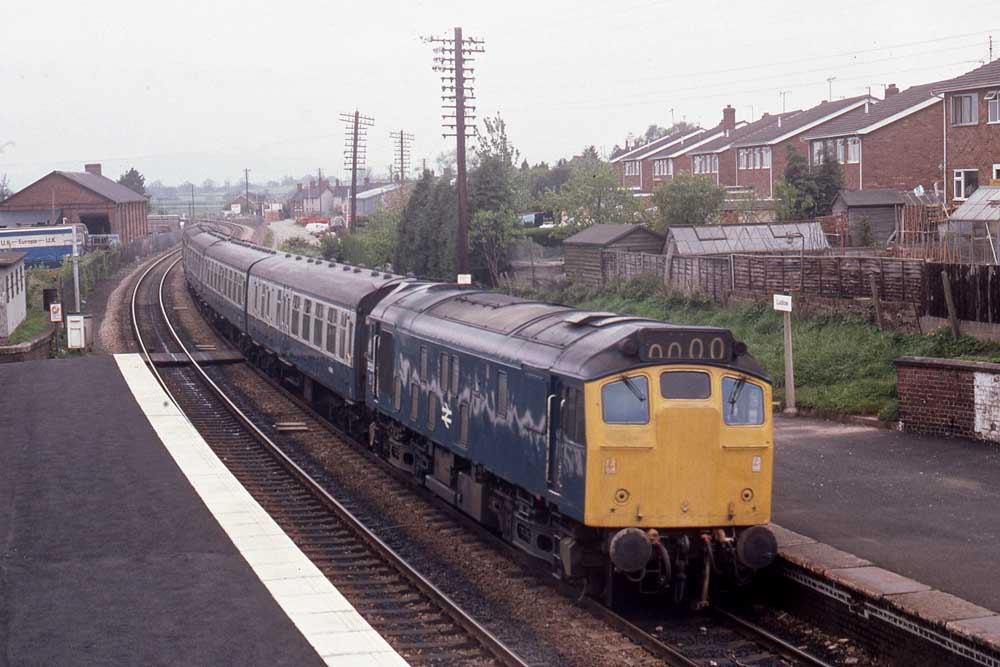 Photograph courtesy of Peter Lovell
25221 arrives at Ludlow with the 10:00 Crewe – Cardiff on May 7th 1981.
The twenty year career of D7571/25221 started with almost four years on the LMR followed by five years at Leeds Holbeck, then the remaining eleven and a half years back on the LMR.
Built: BR Derby Locomotive Works.
Boiler equipped.
Dual braked.
Royal Train cabling modification (cab front access panel).
Center lampbracket & other fittings removed.
Never carried 'Domino' headcode display.
Time between last Classified repair and withdrawal: 96 months.
Time between withdrawal & scrapping: 32 months.
Allocations
D7571 was new to Cricklewood West (14B) on October 12th 1963. Further transfers were:
October 1964 to Derby (16C).
January 1965 to Nottingham Division (D16).
June 1965 to Leicester Division (D15).
July 1965 to Nottingham Division (D16).
March 1967 to London Midland (Midland) Lines (LMML).
August 1967 to Holbeck (55A) on loan, made permanent August 1967.
August 1972 to Nottingham Division (D16).
March 1973 to London Division (D01).
May 1973 to Willesden.
September 1973 to Cricklewood.
March 1974 to Willesden.
June 1975 to Cricklewood.
May 1977 to Crewe.
August 1981 to Longsight.
Withdrawn January 31st 1984.
Renumbered February 16th 1974.
25221 was the 213th Class 25 withdrawn, one of five retired during January 1984.
After withdrawal 25221 was stored at Springs Branch until moved to Swindon Works with 25069, 25236 & 25318 during February 20th - 21st 1985. 25221 was broken up by the middle of December 1986.
Works Visits
Works visits (records incomplete).
Noted Derby Works November 1964.
Noted Derby Works December 1966.
Noted Derby Works July 1967.
Noted Derby Works April 1968.
Noted Glasgow Works October 1971.
Noted Derby Works January 1973.
Noted Derby Works November & December 1976 (Classified repair, gangway doors sheeted over).
Noted Derby Works November 1979 (N4 repairs).
Noted Swindon Works March 1980 (N4 repairs).
Noted Derby Works September & October 1982 (N6 repairs).
Highlights
Although 7571/25221 spent five years allocated to Leeds Holbeck, and many years allocated to LMR London area depots, it was still able to run up a considerable number of passenger miles. This was enough, according to the sterling research of Alan Baylis, to be placed in the top ten in the mileage table for passenger miles covered by Class 25s. Mileage recorded so far is 16,500+ miles.
1964
Condition: green livery with small yellow warning panels, curved upper corners, warning panel covers frame level stripe, straight sided sandboxes.
1970
On May 8th a Kings Cross - Bradford service was worked forward from Leeds by 7571.
1971
The variety of passenger workings available to 7571 whilst allocated to Holbeck were numerous including many workings between Bradford and Leeds. It would also have no doubt crossed the Pennines many times on Trans Pennine workings. On May 12th & 14th it was noted on the 16.11 Leeds - York (possibly ex Manchester Victoria?). About a month later on June 12th the 10.25 Portsmouth Harbour - Sheffield was worked forward from Nottingham by 7571. June 26th was a busy day for 7571, it worked the 09.10 Bradford - Poole as far as Nottingham, returning with the 10.25 Portsmouth Harbour - Sheffield from Nottingham and finally the 10.45 Poole - Bradford Exchange from Sheffield or Huddersfield(?) At least the first two workings from June 26th were also handled on July 3rd.
7571 returned to the 16.11 Leeds - York working on August 17th.
A frequent memory of your webmaster's visits to Doncaster include see a Holbeck Type at the north end of Doncaster station waiting to take over an ex-Kings Cross service. On November 13th 7571 worked the 17.30 Kings Cross - Bradford / Halifax forward from Doncaster to at least Huddersfield.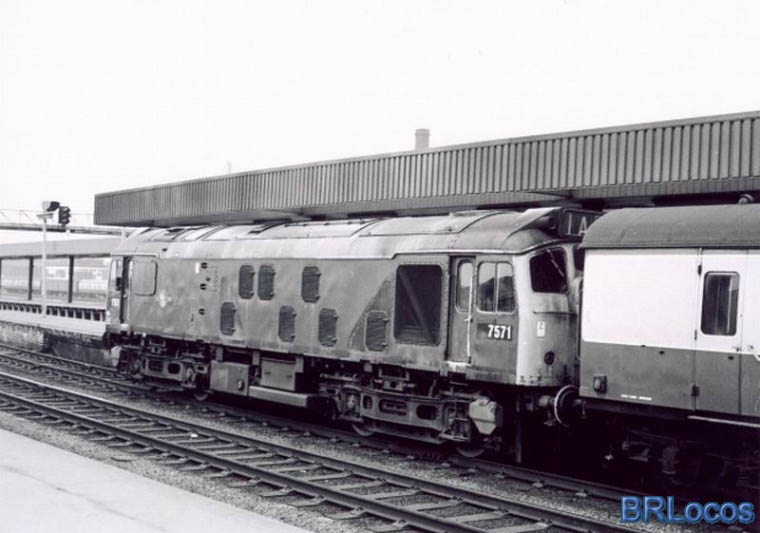 Photograph courtesy of Andy Parr
A rather forlorn looking 7571 awaits departure from Leeds City. The hinged grilles on the side of the locomotive indicate this is a dual braked locomotive, used by Holbeck to handle the empty coaching stock movements of the ECML workings equipped with dual braked or air braked stock.
1973
Despite its allocation to London area depots from March 1973 to May 1977, the depots of which were not known for frequent passenger turns, 7571/25221 was able to acquire some passenger mileage. On September 22nd 7571 & 5266 worked the 08.00 Walsall - Yarmouth to Norwich, returning with the 14.30 Yarmouth - Walsall from Norwich. The following month, on October 16th 7571 & 7664 worked the 13.45 Derby - St Pancras and the return 17.25 St Pancras - Derby.
1975
25221 & 25256 were unusual power for July 1st's 19.40 Dagenham Dock – Halewood freight. 25221 was noted in December still retaining its gangway doors.
1976
On October 24th the 10.45 St. Pancras - Derby was noted arriving Derby with 25221 & 25266 instead of the more normal Class 45, which is believed to have failed somewhere south of Leicester.
1977
With 1977 being the Jubilee Year for Queen Elizabeth II, the monarch and family made many public appearances, making considerable use of the new Royal Train. A visit to Stockport on June 21st ended with the Royal Train utilised for the journey to Porthmadog. 25221 & 25222 were noted all spruced up at Crewe Depot on June 22nd. The journey west of Shrewsbury was handled by 25221 & 25222. After staying overnight at Porthmadog the train ran to Harlech, where the Royal Family took to road transport. From Harlech the empty stock was taken forward by 25218. On July 10th 25221 was stabled at Llandudno Junction. On July 26th 25221 & 25222 were noted bringing the empty Royal Train from Wolverton to Newcastle, via Carlisle. At Newcastle Princess Anne boarded for the journey to Dumfries.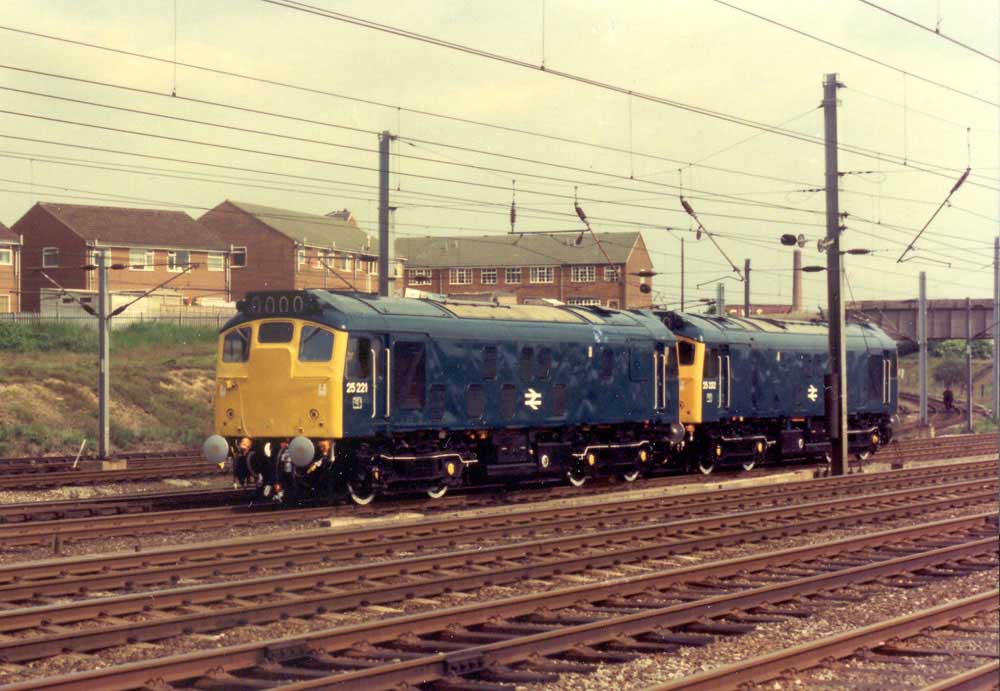 Photograph collection of webmaster.
These views are undated but it is presumed they refer to some of the workings detailed in the text above from the summer of 1977 for 25221 & 25222. The radio communication cable can clearly be seen running up from the buffer bean and draped over the handrail below the secondman's window. 25221 is about six months out of a major repair at Derby Works, so hopefully would have good reliability.
During May 25221 was transferred to Crewe, a move which would see it become a regular on the Crewe - Cardiff services.
25221 was noted on the Crewe - Cardiff services on October 23rd and November 12th/15th/25th.
1978
25221 was noted on Crewe - Cardiff service on March 18th/24th/28th.
In between the many Crewe - Cardiff turns other passenger jobs occasionally were handled. On June 11th 25221 & 25193 worked a roundtrip day excursion from Matlock to Barmouth throughout, a total 375 miles.
On June 18th 25221 was noted on a Crewe - Cardiff service.
On July 14th Prince Charles paid a visit to Bangor from ? with 25220 & 25221 in charge of the train as it arrived at Bangor, 25219 was used to shunt the stock at Bangor, the empty coaching stock later headed east.
Elsewhere during July 25221 was noted on the Crewe - Cardiff services on July 25th/27th/28th/29th.
Things were not good on August 20th when 25221 & 25088 were turned out for the 08.06 Manchester Piccadilly - Aberystwyth day excursion, but failed south of Crewe, 86228 on a following train pushed everything to Stafford where 81006 took over to Wolverhampton, being replaced here by 25276 & 25293.
Crewe - Cardiff services were worked by 25221 on September 2nd/27th, October 25th/28th & December 14th.
1979
On a snowy February 10th 25221 worked a Cardiff - Crewe service and also on February 17th but with less snow.
During March 25221 worked Crewe - Cardiff services on March 3rd/12th/17th.
The Easter weekend found 25221 misbehaving on the Cardiff – Crewe services. On Good Friday (13th) it expired on the 15.10 Cardiff – Crewe in the vicinity of Leominster. 47099 took the train forward with the Class 25 limping back to Hereford. After repairs it headed north light engine. Easter Sunday (15th) brought more trouble when 25221, this time working the 14.15 Cardiff –Crewe expired near St Devereux. 37210 was taken off a nearby engineers train to rescue the passenger service. At Hereford 25221 was removed and 47106 substituted. In getting the Class 47 extricated from the stabling point 45004 had become derailed creating more problems for the authorities.
On June 14th/19th/23rd/24th and July 20th 25221 worked Crewe - Cardiff services.
On August 15th 25211 & 25221 worked a Cliffe Hill - Hayes freight. The next day (16th) the same pair worked a relief Derby - Skegness and return. By 20th 25221 was back on the Crewe - Cardiff workings.
Crewe - Cardiff services were worked by 25221 on September 18th and October 6th.
During the Christmas week on December 20th the 08.00 Euston - Bridgnorth was worked from New Street to Bewdley and back by 25221 & 25224, routed via Sutton Park & Dudley due to freight train derailments.
1980
During 1980 the passenger variety for 25221 increased somewhat.
On January 15th 25221 failed on the 12.25 Crewe - Cardiff at Pandy and was assisted forward to Newport by 47027.
Crewe - Cardiff services were worked on February 17th and May 2nd/3rd/10th whilst on May 4th 25221 worked the 03.57 Crewe - Birmingham New Street.
The 17.10 Cardiff - Crewe was worked by 25221 on June 16th.
On July 22nd/23rd/24th 25221 was quite active away from the Crewe - Cardiff route. On 22nd 25221 & 25143 worked the 09.27 Birmingham New Street - Llandudno Town from Crewe and returning with the 18.10 Llandudno Town - Crewe. On 23rd/24th 25221 & 25126 worked the 09.27 Birmingham New Street - Llandudno Town from Crewe.
Three weeks later on August 16th 25221 & 25320 worked the 07.40 Euston - Aberystwyth from Wolverhampton, returning with the 17.55 Aberystwyth - Wolverhampton.
On August 22nd 37290 assisted 25221 on the 17.10 Cardiff - Crewe. The next day (23rd) 25221 & 25245 worked a Crewe - Cardiff services.
Crewe - Cardiff services were worked by 25221 on October 7th, November 22nd and December 8th/9th.
1981
During 1981 25221 saw plenty of action on the Crewe - Cardiff services until transferred away to Longsight during August.
25221 was noted on the Crewe - Cardiff services on January 8th/20th/29th, February 9th/10th/16th/18th/19th. The working on February 9th produced two round trips for a total of 556 passenger miles.
Workings during March occurred on March 6th/9th/22nd with the March 22nd working seeing 25221 & 25027 on the 13.45 Crewe - Cardiff.
More Crewe - Cardiff workings took place on May 4th/5th/6th/7th/9th/10th/11th/12th/27th.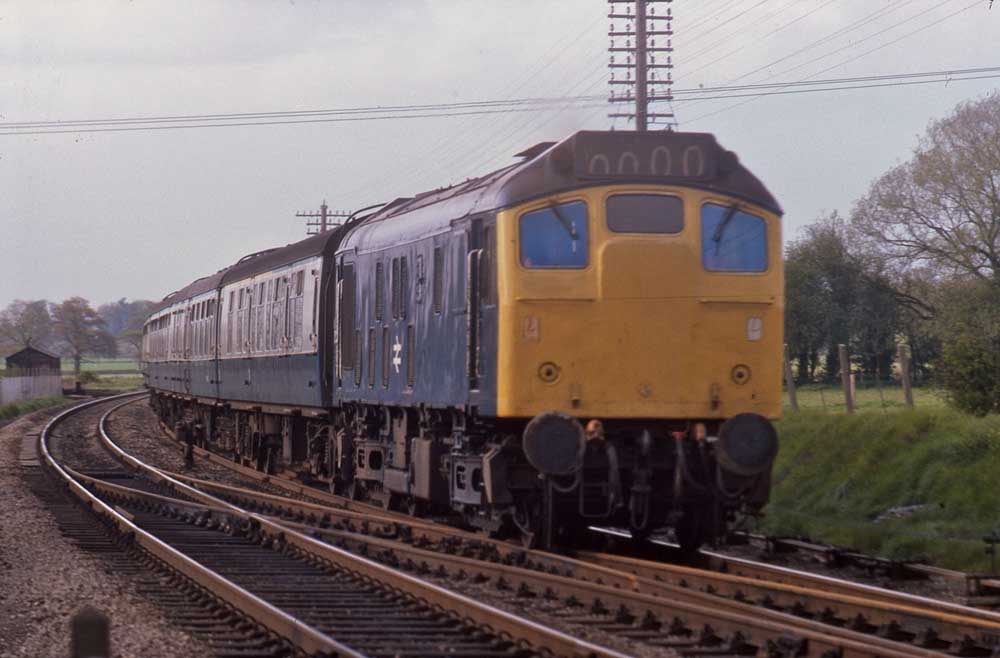 Photograph courtesy of Peter Lovell
25221 approaches Tram Inn on May 6th 1981 with the 16:02 Crewe - Cardiff. The allocation history of 25221 reveals a well travelled locomotive, at the time of this photograph its time at Crewe was drawing to a close, during August 1981 it transferred to Longsight.
Away from the Marches route 25221 managed a couple of days on the Cambrian line workings to Aberystwyth. On May 23rd & 24th it was working with 25312 between Birmingham New Street, Wolverhampton, Shrewsbury & Aberystwyth on four separate workings. Its return to the Crewe - Cardiff services was not without incident, on May 27th whilst working the 17.10 Cardiff - Crewe it required the assistance of 25138 to Crewe sidings where 25139 attached to train to bring it into the station.
Crewe - Cardiff services worked in June included June 3rd/28th/29th and July 1st/2nd/4th/27th, whilst on July 14th 25221 & 25035 worked the 09.32 Cardiff - Manchester Piccadilly throughout.
25221 would return to the Cambrian lines on August 9th working a day excursion from Stoke-on-Trent to Aberystwyth with 25236.
During August 25221 was transferred from Crewe to Longsight, this would be its last transfer. On August 23rd 25221 worked the 03.57 Crewe - Birmingham New Street.
Perhaps the most unusual working for 1981 occurred on September 5th when 25221 & 25271 worked the 08.40 Manchester Victoria - Scarborough and return throughout.
On October 31st a Shrewsbury - Stirling day excursion was worked between Shrewsbury & Warrington and return by 25221 & 25080.
25221 was noted on a Cardiff - Crewe service on December 11th.
1982
With Longsight as its home since August 1981 the focus of 25221 passenger workings changed, with more activity in the North West & the North Wales coast. Although to start things out on January 3rd 25221 worked the 16.15 Birmingham New Street - Leeds throughout!
On February 17th 47425 failed whilst working the Wigan breakdown crane to an electric multiple unit derailment at New Brighton, 25221 came to the rescue.
25221 received an 'E' exam at Tyseley during April.
On May 1st a Euston - Machynlleth day excursion was worked from/to Wolverhampton by 25221 & 25084. Later in May, on 22nd 25221 & 25044 worked a Paddington - Bewdley steam railtour from Dorridge to Bewdley and returning as far as Saltley.
25221 was noted at Derby on August 6th. The next day (7th) 25221 & 25325 worked August 7th's 08.50 Leicester - Skegness and 12.35 return. A week later on August 14th 25221 & 25153 worked the 09.00 York - Llandudno Town. On August 21st 25221 handled the 08.57 Leeds - Carlisle.
25221 was stabled at Birkenhead Mollington Street on September 5th.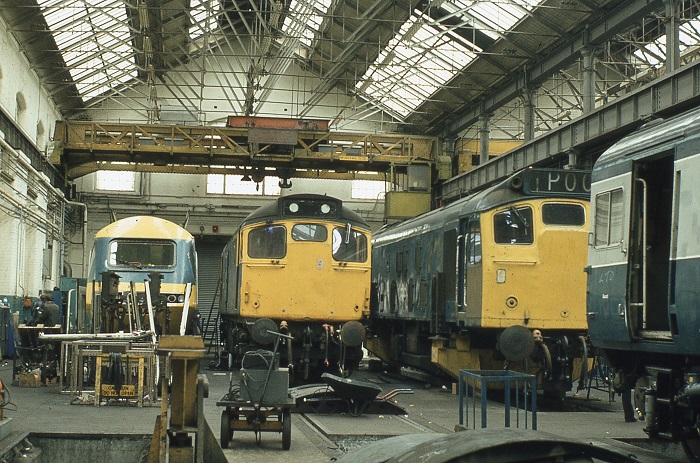 Photograph collection of webmaster
25221, 27042 & 43053 under repair at Derby during sometime during September or October 1982. It would appear that 25221 never carried the 'domino' style headcode displays.
25221 passed through Manchester Victoria westbound with a single parcels van on October 16th.
On October 23rd 25221 worked two round trips between Manchester Victoria & Bangor, a total of 400 miles.
To close the year out on December 9th 25221 worked the 10.15 Sheffield - Manchester Piccadilly and the 17.38 Sheffield - Manchester Piccadilly and return, these extra trains being laid on due to the accident at Linslade tunnel. possibly these workings may have contained Mk III coaches.
25221 was noted at Bescot on December 26th (no snow!).
1983
The first working for 1983 was a rescue job, on January 8th a failed Class 85 on the 20.55 Euston - Inverness found 25221 & 25145 assisting between Rugby & Crewe. Most of the other workings for 1983 were concentrated in the North West, although there were at least two Trans-Pennine workings. On January 19th 25221 worked a Manchester Victoria - Bangor roundtrip. On January 25th 25221 worked the 12.05 Liverpool - Scarborough but failed en-route, at Manchester Victoria? or York?
On February 5th the 22.47 Crewe - Blackpool North was worked forward from Preston by 25221.
On April 2nd 25221 worked the 07.16 Manchester Victoria - Scarborough as far as York, two days later (4th) it worked an afternoon/evening Manchester - Bangor round trip. Two weeks later on April 15th 25221 worked the 12.50 Birmingham New Street - York as far as Derby.
25221 was noted passing Chinley on June 8th with loaded ICI hoppers for Northwich. Later that day Northwich utilised 25221 for a mixed goods working bound for Healey Mills.
On June 18th the 10.47 Glasgow Central - Paignton with 86221 (or 86238) was assisted by 25221 between Preston & Stockport due to the power being off for bridge works at Hartford. Two days later (20th) 25221 worked the 17.15 Manchester Victoria to Blackpool North.
The southbound GMC binliner was noted at Agecroft behind 25221 on July 27th (and/or 22nd).
On August 3rd 25221 was noted southbound at Warrington Bank Quay with a short train of chemical tankers. The next day (4th) 25221 was stabled at Warrington Arpley.
The six days commencing August 14th were busy, starting off with the 09.50 Manchester Victoria - Llandudno Town. On August 16th it was the 09.50 Manchester Victoria - Blackpool, returning with the 12.45 to Manchester Victoria. Four days later on August 20th 25221 & 25175 worked the 07.44 Shrewsbury - Aberystwyth and the 10.10 Aberystwyth - Euston to Wolverhampton.
Passenger workings in September included the 2nd's 17.03 Euston - Blackpool North forward from Preston, the 15th's 07.45 Manchester Victoria - Bangor, whilst 25221 returned to the Crewe - Cardiff line on September 26th working the 08.01 Crewe - Cardiff and the return 11.40 to Crewe.
25221 was noted at Manchester Victoria on banking duty on October 14th.
On October 26th 25221 and the LMR Inspection coach were noted at Windmill Bridge Junction, Croydon passing over the recently completed realignment at Windmill Bridge Junction.
On November 1st 25221 was noted southbound through Warrington Bank Quay with short wheelbase ICI tanks.
  The final recorded passenger working for 25221 was definately one to go out in style with. On November 9th it worked the 06.05 Bristol Temple Meads - Newcastle as far as Birmingham New Street where 25221 was replaced by 31412.
The remaining asbestos laden Class 76s were finally sold to CF Booth's, Rotherham, with the seven machines sent in two moves. 25221 took 76002/43/48/50 on November 24th.
As if to acknowledge its many years allocated to London area depots 25221 (with headcode 1M58 displayed) was noted at St Pancras on December 18th 1983 with a short parcels working.
1984
25221 was withdrawn on January 31st 1984.
149/16503
flk 1116 (1)
Not all passenger workings are recorded on this page.
Page added January 22nd 2013.
Last updated April 27th 2018.