D7573, 7573, 25223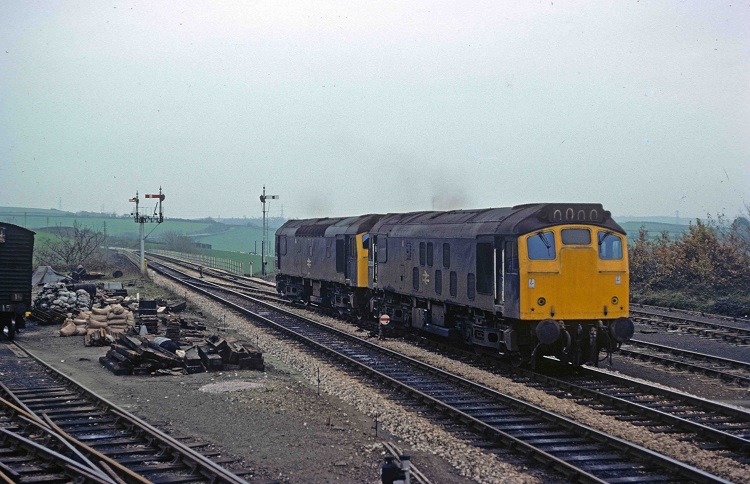 Photograph courtesy Roger Geach
25223 & 25215 at Liskeard on November 21st 1976.
The seventeen year career of D7573/25223 included allocations to London Midland, Eastern and Western Region depots.
Built: BR Derby Locomotive Works.
Boiler equipped.
Center lampbracket & other fittings removed.
Allocations
D7573 was new to Cricklewood West (14B) on October 26th 1963. Further transfers were:
October 1964 to Derby (16C).
December 1964 to Cricklewood West (14B).
January 1965 to London Midland (Midland) Lines (LMML).
August 1967 to Holbeck (55A), on loan then permanent same month.
May 1968 to Longsight (9A).
June 1968 to Manchester Division (D09).
October 1971 to Laira (84A).
Withdrawn October 5th 1980.
Renumbered April 1974.
25223 was moved to Swindon Works on October 10th 1980 (two days after being withdrawn), and broken up at Swindon Works by the first week of November 1980.
Works Visits
Works visits (records incomplete).
Noted Derby Works March & April 1966 (accident repairs).
Noted Derby Works March 1972.
Noted Derby Works April 1979 (NF repairs).
Highlights
1963
The frames for D7573 were laid down during the summer of 1963 at Derby, with D7573 were delivered to Cricklewood (14A) towrds the end of October.
D7573 & D7574 worked their test train to Corby on October 18th 1963.
1965
On April 19th the 15.30 Manchester Central - Sheffield was worked by D7573.
1966
D7573 was noted at Derby Works with accident damage during March & April.
1967
The London Midland boiler equipped D7568 - 7573 were sent to Holbeck during August in exchange for D7627 - 7632, these being used to replace steam on Leeds - Bradford workings. D7573 would stay at Holbeck for nine months.
Condition August: green livery with small yellow warning planels, squared upper corners, frame level stripe painted over.
1968
Although this January was a remarkably mild one heavy snowstorms on January 9th & 10th brought considerable chaos to many parts of the country. Particularly hard hit were the London commuters with most of the termini suffering many cancellations due to frozen up equipment. Perhaps because of this it was no surprise to find Holbeck based D7573 on January 13th noted working the 08.48 Halifax - Kings Cross (load four coaches), observed south of Peterborough, possibly due to weather related points failure in the Wortley area.
With steam in the north-west rapidly in decline the areas parcels trains were now diesel hauled - the afternoon Leeds City - Patricroft a regular Holbeck Type 2 working, noted in January were D5147 (10th), D5096 (12th) & D7573 (26th).
During May D7573 moved to Longsight (9A).
1970
On April 29th whilst negotiating the crossovers at the center of Manchester Victoria station 7573 become derailed. The Newton Heath breakdown crane arrived behind 5154, taking about an hour to put 7573 back on the rails.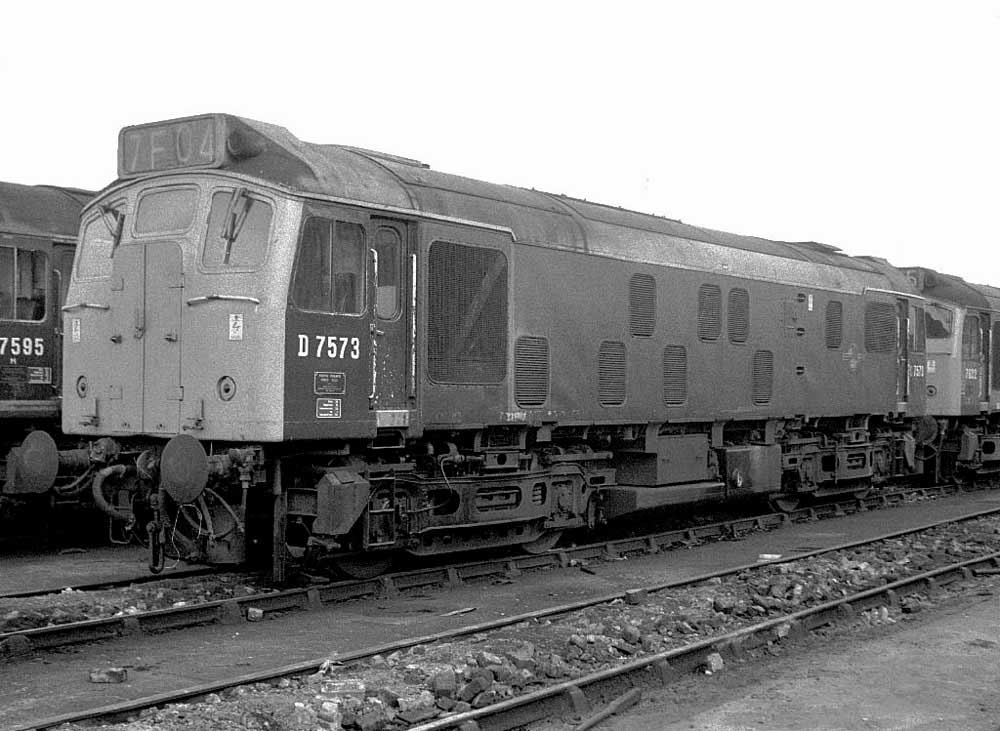 Photograph courtesy Tony Sayer
7573 is captured on film laying over at Newton Heath on August 15th 1970.
1971
With the Western Region making further inroads into its hydraulic fleet 7573 - 7575/7577 were transferred to Laira (84A) during October, part of a larger fleet reorganisation. The Class 25's were not the most popular machines in the south-west, their mechanical condition leaving a lot to be desired. Typical was 7573 spending a month out of service at Exeter before being moved to Laira for repair. The Class 25s had still not fully replaced the Class 22's on the local duties in Devon and Cornwall, crew training still taking place at several locations. Not helping matters was the use of Laira based 7574 at Bristol for crew training. Additionally the Class 25's were still not cleared for use on the Drinnick Mill branch.
7573 would spend the remainder of its working life on the Western Region and would become familiar on the secondary passenger duties in the Exeter area, with eight years in this area it is more than likely 25223 covered all the local passenger duties many times over. It would also be very active on the summer holiday extras and assisting the long distance workings out of Penzance & Plymouth from time to time.
1972
Derby Works was host to 7573 during March.
On June 10th the through Paddington - Barnstaple service was hauled by 7573 & 7647 beyond Exeter, returning with the 14.40 to Paddington as far as Exeter. This was at a time of a serious shortage of motive power in the west, a number of Hymeks & Warships having been reinstated to cover the shortages.
On July 1st 7573 & 7575 worked the 7B34 19.40 Bristol Temple Mills to Ponsandane freight, the 1E21 10.30 Penzance to Bradford passenger service to Plymouth, then light engines to Laira depot and ending with the 7B31 18.20 Plymouth Friary to Par freight. The same diagram as worked by 7573 & 7507 on July 8th. On July 22nd the 7B31 18.20 Plymouth Friary to Par freight was worked by 7573 & 7507.
1973
July - still fitted with gangway doors.
On July 21st the Kensington Olympia - St Austell motorail arrived at its destination with 7573 & 7574 assisting an ailing 1662. The return working used the same pair of Class 25s as far as??
1975
On March 27th 25223 & 25224 worked the 17.30 Plymouth - Penzance and the 21.05 Penzance - Plymouth.
July - still with gangway doors, but welded up the middle.
1976
Ex-works condition during March.
On June 5th 25223 handled an Exeter - Plymouth relief to provide connections from the extremely late arrival of a Waterloo service. 25223 would be noted on many of the local Exeter area passenger workings during the summer season.
25223 was noted at Penryn on August 21st hauling a three car Swindon unit.
Photograph courtesy Tony Sayer
Seen here on a taxing duty of one PMV, 25223 heads through Truro on September 15th 1976.
1977
On June 4th a 'Queen's Silver Jubilee Special' day excursion from Bideford to Paddington was worked as far as Exeter by 25223 & 25052.
On Saturday July 2nd 25223 & 46022 were noted at Truro double heading a Penzance – Paddington service, no doubt they were replaced at Plymouth.
The local Round Table in the Barnstaple area ran a special on August 29th from Barnstaple to Meeth. The ten coaches were 'top & tailed' by 25223 & 25052!
On September 17th 08.08 Wolverhampton - Penzance and the 09.35 Penzance - Wolverhampton were worked by 25223 & 25224 west of Plymouth. The West Country hosted a number of enthusiast specials during the early part of October. 40081/84 worked a special from Paddington to Exeter on October 9th, replaced here by 25052 & 25223 for the round trip to Paignton for the Kingswear branch.
1978
During 1978 25223 continued with a regular diet of working local passenger services in the Exeter / Newton Abboot area. On February 11th 25223 worked the 09.20 Liverpool - Penzance forward from Plymouth.
On September 9th 25223 worked the 18.00 Torrington - Exeter milk tanks. On the evening of September 13th 25223 was stabled at Exeter.
The year closed out with bad weather on December 29th. Heavy snow over the New Year plagued services with delays and faulty equipment made life even more difficult to maintain the timetable. In the West Country Exeter proved to be a graveyard for frozen up locomotives, with temperatures reaching down to -13C most things simply froze up. The 00.05 Paddington - Penzance was reported sixteen hours late at Plymouth, 50046 had left Paddington 150 minutes late continuing to loose time throughout the journey, before expiring completely at Brent, with 47106 coming to the rescue. The train was cancelled at Plymouth with Penzance passengers connecting with the 10.30 from Paddington, arriving at Penzance some eighteen hours late! At Exeter the local services were cancelled with the dmu's frozen solid. The diesels fared little better with eighteen frozen up locomotives including 25052, 25206/225/263, the only serviceable machine being 46020, which had been equipped with steam lances for the freeing of pointwork and rodding.
1979
25223 visited Derby Works during April.
25223 continued its work on the local passenger services, this would be its last full year in service. On June 16th 25223 was noted in charge of the 10.38 Newquay - Paddington between Newton Abbot (?) and Exeter St. Davids. On October 20th a WRC 'Atlantic Coast Express' railtour from Crewe to Meeth & Meldon Quarry was worked between Exeter St. Davids and Meeth/Meldon Quarry by 25223 & 25052.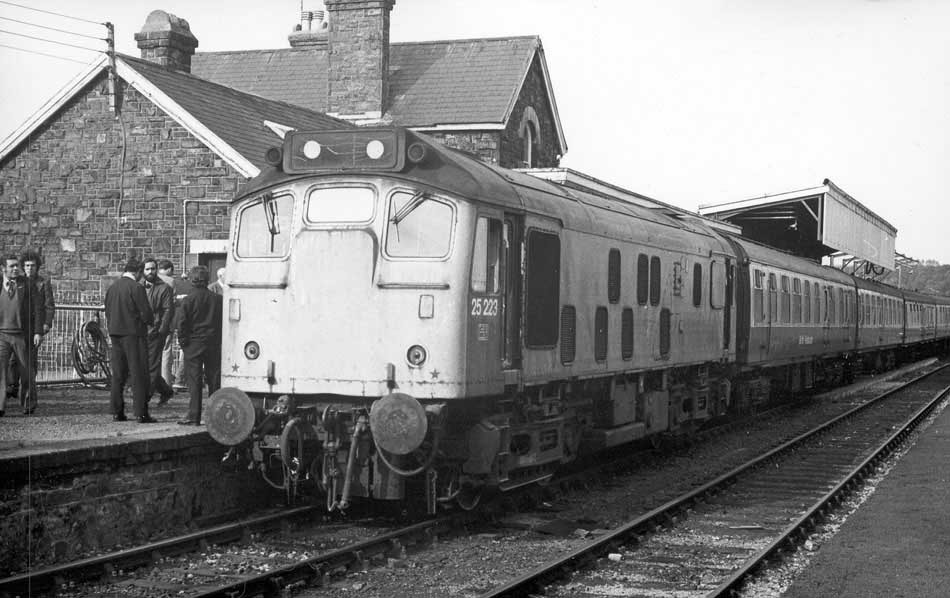 Photograph collection of webmaster.
25223 with train at Torrington, October 20th 1979 with the WRC 'Atlantic Coast Express' railtour. The modern canopy structure midway down the platform was the covered area used for loading the milk tanks.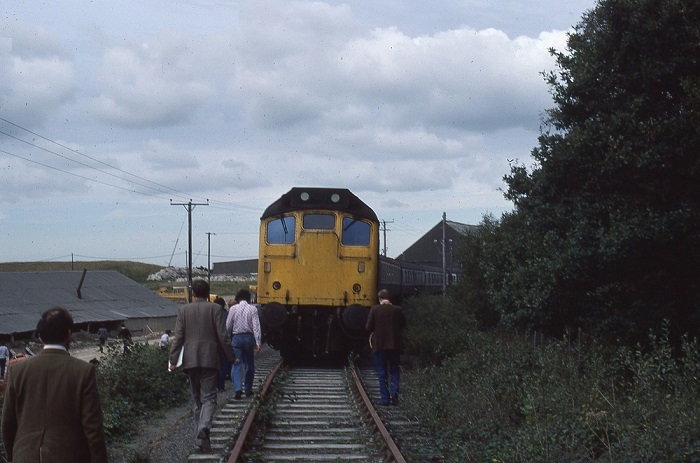 Photograph collection of webmaster.
The WRC 'Atlantic Coast Express' railtour has reached the end of the line at Meeth. 25223 waits for the passengers to reboard the train, October 20th 1979.
1980
25223 continued its passenger workings in south Devon, although the recorded workings were not as frequent as previous years. On April 9th a late afternoon Barnstaple - Exeter St. Davids service was noted behind 25223 & 33013.
October 5th saw an Alfreton - Barnstaple charter handled by 45061 to Exeter with 25223 & 25080 working the train roundtrip to Barnstaple. Later this day 25223 was withdrawn! The TOPS reports reveal 25223 was turned off for good on October 7th,
25223 was promptly moved to Swindon Works and was quickly broken up by the first week of November. Along with 25052 & 25225 these were very quick disposals.
55/2337
flk 0616
Passenger workings courtesy Alan Baylis (www.class25.info)
Not all known passenger workings are recorded on this page.
Page added June 21st 2002
Last updated March 4th 2017