D7615, 7615, 25265



Photograph courtesy Steve Morris


Its March 15th 1987 and this was the date when the Class 25's were to be officially turned off, seen here on this day is 25265 at Holyhead, presumably the last Class 25 to visit here in regular service. 25265 would officially be withdrawn at Crewe on March 18th 1987.

The almost twenty one year career of D7615/25265 commenced with just over two years on the Scottish Region, followed by almost nineteen years allocated to London Midland Region depots.

Allocations

D7615 was new to Eastfield (65A) on May 12th 1966. Further transfers were:

August 1968 to Liverpool Division (D08)
September 1968 to Preston Division (D10)
November 1968 to Birmingham Division (D02)
December 1970 to Nottingham Division (D16)
October 1971 to Birmingham Division (D02)
January 1972 to Nottingham Division (D16)
February 1973 to Birmingham Division (D02)
March 1973 to Nottingham Division (D16), then to Toton when the LM Division allocations were abandoned.
May 1974 to Cricklewood
June 1974 to Willesden
June 1975 to Cricklewood
January 1984 to Crewe
Withdrawn March 18th 1987.

Renumbered March 2nd 1974.

Works Visits

Works visits (records incomplete).

Noted Derby Works March - May 1974, including fitting of dual brake equipment.
Noted Derby Works May & June 1980, for a General repair

Highlights

(Highlights for this batch of locomotives including 25265 whilst allocated to Eastfield can be found on the 25261 page.)

Despite its longevity D7615/25265's recorded passenger workings were not prolific. As expected, being a longtime LMR locomotive it featured on occasional trips to the regular seaside resorts, but also gained mileage on several of the lesser known workings. Its longest recorded passenger working occurred on September 1st 1979 working the 07.34 Leicester - Paignton with 25264, a distance of 234 miles. Two days later and presumably making their way north the same pair of locomotives worked the 15.15 Plymouth - Manchester Piccadilly between Gloucester and Birmingham New Street.

1980

25265 soaks up the morning sun at Holbeck sometime during 1980. 25265 would be one of the Class 25's to remain in service until the very end, its last duties being in the Holyhead area. And of course it would eventually reach preservation.
Photograph courtesy Richard Armstrong.
1982
On June 5th 25265 & 25251 worked the 10.10 Euston-Aberystwyth forward from Birmingham New Street.
On September 8th 25265 worked the 16.05 Leeds - Carlisle throughout.
On October 25th the 06.00 Derby - Poole with 47536 required assistance from 25265 between Banbury & Reading after the Class 47 failed.
25265 at Cockshute on February 6th 1982.
Photograph courtesy Jerry Glover.
A dull, snowy day at Crewe finds 25265 in charge of some passenger stock. Hopefully this is only an ecs move since 25265 is not equipped with a train heating boiler. The four stain marks on the bodyside are similar to the Cockshute view above, suggesting this view is from early 1982.
Photograph courtesy Ian Mawson
Surrounded by the ever present piles of brake blocks 25265 awaits attention on May 22nd 1982. Three weeks later on June 5th & 6th 25265, with 25251 would work six scheduled services over Cambrian Line metals, totalling just over 400 miles.
Photograph courtesy Tony Sayer
1984
May 7th brought two long distance excursions to Aberystwyth including 25265 & 25283 with day trippers from Stratford, the train comprised of Mark 2 coaches, a first for the Cambrian line.
On June 16th 25265 took a brand new London Transport 1983 Jubilee Line 3-car underground train from Metro-Cammell, Washwood Heath to Ruislip.
A lengthy 6V93 Mossend Yard - Severn Tunnel Junction Speedlink service was noted passing through Shrewsbury behind 25265 on July 7th. 25265 & 25300 worked the 6V32 14.56 Ellesmere Post - Cranmore oil tanks on July 19th. On the afternoon of July 24th 25265 was noted at Garston Holding Sidings.
On August 31st the 15.13 Crewe - Barrow was worked forward from Preston by 25265.
On November 19th 25265 worked the 15.02 Manchester – Bristol parcels.
25265 worked the first leg of the 6S75 12.25 Severn Tunnel Junction - Mossend on December 17th, the train being comprised of about twenty short wheelbase Railfreight wagons. 25265 was stabled at Warrington Arpley on December 26th.
1985
When 27023 failed at Dumfries on August 23rd with the 07.40 Glasgow Central - Carlisle, 25265 was on hand to take the train forward to Carlisle and cover the 12.40 back to Glasgow and the 17.30 return to Carlisle. 25265 was noted at Glasgow Central on September 1st.
25265 and the Octel tanks pass through Rhyl on an overcast September 7th 1985. Within a week 25265 & 25309 would work a relief passenger (originating from Birmingham) between Carstairs & Edinburgh (13th) and a York - Plymouth relief as far as Sheffield (15th).
Photograph courtesy John Powell
On September 10th 25265 worked the 16.02 Lancaster - Hull as far as Leeds after the diagrammed Class 31/4 failed.
25265 & 25309 were noted at York stabling point on September 14th. The next day (15th) these Class 25s were diagrammed for the 14.05 York - Plymouth relief as far as Sheffield, where the train was taken forward by 47574.
On November 2nd 25265 was noted at Wembley on a loaded ballast working.
A diesel multiple unit failure on November 4th saw the 07.40 Nottingham - Birmingham New Street being hauled forward from Derby by 25265.
December 30th saw 25265, 20049 & 20178 running light through Hagley under cloudy skies and with light snow on the ground.
1986

As an express passenger service heads towards the capital on April 19th 1986, the 0Z17 Bescot - Willesden with 31326, 31285, 25244 &, 25265 also head south at a more sedate rate, presumably to allow the 31's the opportunity to complete the journey without falling apart.
Photograph courtesy Ian Hammond
The 09.38 Swansea – Shrewsbury was noted at Craven Arms on May 24th with 25265 hauling failed Cardiff based diesel multiple unit set C802.
During June & July a number of Trans-Pennine workings were handled, principally between Liverpool & Sheffield. On June 6th 25265 worked the 08.45 Liverpool - Sheffield & 11.22 return. On July 23rd 25265 was noted passing through Carlisle light engine, three days later (26th) 25265 worked the 14.00 Preston - Liverpool, on July 29th the 08.45 Liverpool - Sheffield & 11.22 return and the 14.45 Liverpool - Hull as far as Sheffield. 25265 was noted at Derby in the early hours of July 30th on a parcels working.
25265 was noted at Hereford with an engineers train on August 3rd. On August 22nd 25265 was noted passing through Warrington on cement tankers and was noted the next day (23rd) at Bescot.
25265's last passenger hauled working was brief, and again involved a failure, this time the 18.00 Holyhead - Birmingham New Street on September 29th which failed at Sandwell & Dudley behind 86214, 25265 working the last five miles to New Street.
Late in its career 25265 was unofficially named Castell Harlech / Harlech Castle, the name being neatly stencilled in white on the bodyside (see view above at Holyhead).
25265 works the 6T46 Coventry - Three Spires on October 7th 1986. Once the end of the train has cleared the points just visible somewhere underneath the middle of the train, the train will set back into the siding alongside the main lines and then draw forward into the yard's reception siding!
Photograph courtesy Ron Kosys
On November 18th 25265 was noted eastbound through Manchester Victoria with an engineers train (no painted name 'B' end leading)
25265 (with painted name) was noted at March on November 26th.
1987
Of the thirteen Class 25's delivered new to Eastfield (D7611 - D7623), three would remain in service until March 1987 including 25265, the other two were 25262 as 25901 & 25268 as 25902. It would also be one of two from this batch to be preserved.
Highlights from 1987:
December 29th 1986, noted Tinsley arriving 15.30
December 31st 1986, noted Leicester arriving 04.40
January 8th 1987, arrived Warrington Old Walton 16.10, booked for 6F10 15.38 to Llandudno Jct (for 9/1?)
January 10th 1987, arrived Wigan TMD 07.00 for battery repairs, expected OK by January 12th
January 13th 1987, arrived Warrington 19.36 (6T69)
January 17th 1987, arrived Newton Heath TMD 13.10 for repairs to jumper cables, expected OK January 18th
January 24th 1987, working Barrow - Red Bank (5T55) at Preston 06.21
January 24th 1987, arrive Manchester Victoria 19.45 (3J08) allocated Target MR84
January 27th 1987, arrive Manchester Victoria 21.30 (0T84) allocated Target MR84
January 29th 1987, arrive Longsight carriage sidings 17.00 (0Z00)
January 31st 1987, arrive Rugby 21.05 (0Z00) allocated Target BC25
February 10th 1987, arrive Birkenhead Cavendish 09.25 (6M90), allocated 7D14 to Llandudno Jct
February 11th 1987, arrive Llandudno Jct 08.25 (ex 6D14 04.28 Warrington Arpley?)
February 13th 1987, arrive Holyhead 14.05 (0Z00), allocated Target HD08
February 14th 1987 - March 16th 1987, stopped at Holyhead??
March 4th 1987 - depart Holyhead with freightliner working (or marshalling the train?)
March 16th 1987, arrived Basford Hall 11.15 (0Z00) and taken out of service.
After withdrawal 25265 was stored at Basford Hall, Crewe until moved on July 14th 1987 as the 9L37 10.50 Basford Hall - Leicester Humberstone Road (with 25035, 25057, 25109), before being tripped as the 9T16 13.00 to Vic Berry's yard on September 11th 1987 (with 25057 & 25313). The locomotive was secured for preservation and moved to Peak Rail, Buxton between July 7th - 16th 1988
1989

A line up of 25265, 25035 & 45144 on June 5th 1989. The two Type 2's will eventually move on into preservation. 45144 suffered derailment damage at Malago Vale carriage sidings, after withdrawal it was dispatched from there direct to Vic Berry's. By July 1988 it would be no more.
Photograph courtesy Jerry Glover.
Preservation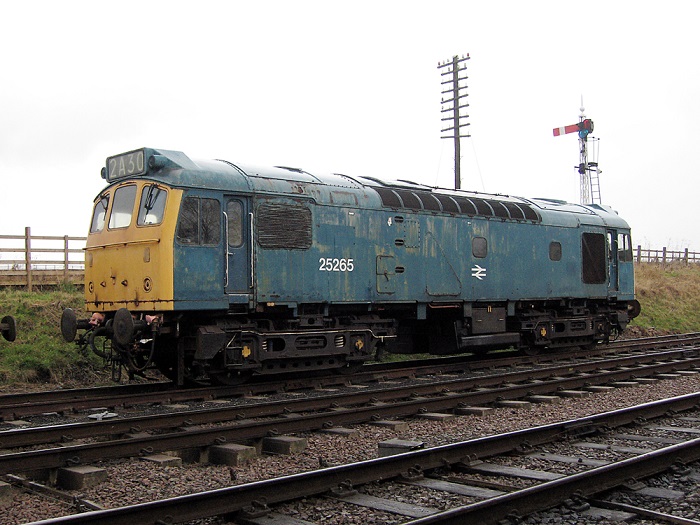 Photograph courtesy Steve Morris

25265 on the Great Central Railway on March 9th 2006 being used this day for slip testing.


flk 0116
Passenger workings courtesy Alan Baylis (www.class25.info), 1987 TOPS information courtesy Neil Cannon.

Page added October 7th 2012
Last updated January 14th 2016