D7654, 7654, 25304

Built: Beyer Peacock, Manchester.

The sixteen year five month career of D7654/25304 was spent allocated to a modest selection of London Midland Region depots.

Allocations

D7654 was new to the London Midland (Midland) Lines on June 24th 1966. Further transfers were:

August 1967 to Birmingham Division (D02)
June 1968 to Stoke Division (D05)
November 1968 to Nottingham Division (D16)
November 1970 to Liverpool Division (D08)
January 1971 to Manchester Division (D09).
May 1973 to Longsight
October 1975 to Crewe
Withdrawn November 28th 1982.

Renumbered April 1974.

After withdrawal 25304 was stored at Crewe until moved to Derby Works during March 1983. On February 5th 1985 it moved to Swindon Works and was broken up there by the middle of June 1985.

Works Visits

Works visits (records incomplete).

Noted Derby Works September & October 1971.
Noted Derby Works April 1973.
Noted Crewe Works September 1975 (full repaint).

Highlights

1966
D7654 was one of a batch of seven delivered to the London Midland (Midland) Lines allocation, with D7654 placed into service during the last week of June.

On September 3rd the 10.15 Glasgow Central - Euston was worked between Beattock & Carlisle by D7654, which had replaced D148.

1967
During August D7654 moved to the Birmingham Division (D02).

1968
As part of the move to finish steam in the North West D7654 moved the Stoke Division (D05) in May. Its stay here was brief, by November D7654 had moved to the Nottingham Division (D16).

1970
After two years at the Nottingham Divison (D16), 7654 went to the Liverpool Division (D08).

1971
In January 7654 moved to the Manchester Division (D09). During September & October 7654 was present at Derby for repairs.

1973
7654 was briefly at Derby Works during April. A new Freightliner service was established between Forders siding, Bedford and Trafford Park/Garston. The route out was via the Midland line and the Hope Valley route, returning over the WCML. From the beginning of the service Class 25's have been used, with 7592, 7654/55 frequently being noted.

1975
25304 visited Crewe Works for repairs during September, the following month it was transferred to Crewe, this was 25304's last transfer.

1976
On July 25th a Weston-super-Mare - Aberystwyth day excursion was worked roundtrip by 25304 & 25125.

1978
On June 19th the 09.42 Llandudno Town - Manchester Victoria was worked by 25304.

1979
A slightly out of focus view of snowplough equipped 25304 on July 28th 1979 as it sits in the long shed at Cockshute.
A solitary hiker and one car fills the beach as 25304 approaches Abergele during 1979.
Photograph courtesy Larry Goddard.
On September 15th the 15.40 Manchester Victoria - Bangor was worked by 25304.
The 15.15 Plymouth - Manchester Piccadilly was worked by 25304 between Gloucester & Birmingham New Street on November 20th.
On December 18th 40116 failed near Llandudno Junction with the 07.47 Manchester Victoria - Bangor, 25304 dragged the service to Bangor.
1981
On May 16th the 'Salopian Steam Special' with 4498 required the assistance of 25304 up Miles Platting bank.
June 27th saw 25304 & 25275 working the 07.40 Euston - Aberyswyth forward from Wolverhampton and returning with the 16.05 to Wolverhampton.
25304 worked an unidentified Blackpool North - Preston service on August 1st.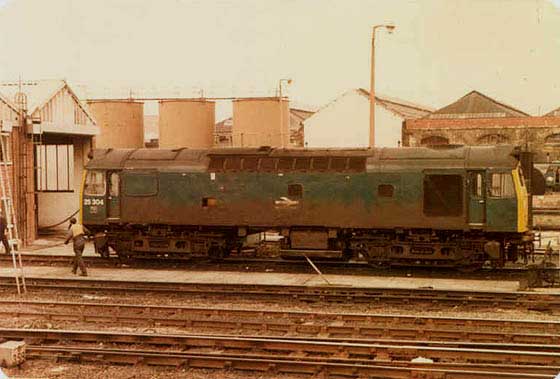 Photograph courtesy Bill Richardson

Its November 1981 and although the Eastern Region has long since given up its allocation of Class 25's they are still regular, though increasingly unpopular, visitors to much of the region. Seen here is 25304 at Gateshead Greenfield depot looking well worn with a good coating of grime on its sides. By this time next year 25304 will be withdrawn.

1982
This would be the last summer in service for 25304, it managed quite a variety of passenger workings during this period. On June 19th 25304 & 25270 worked the 07.40 Euston - Aberystwyth forward from Wolverhampton, returning with the 14.00 to Shrewsbury. Unfortunately 25270 was removed at Machynlleth leaving 25304 to take the train forward alone. On July 31st the Manchester Victoria pilot - 25304 - was used to rescue an ailing diesel multiple unit on a late evening Manchester Victoria - Southport service. The Class 25 worked the train to Wigan where a replacement was waiting, 25304 then reversed its route to get the defective set back to Newton Heath. Four days later on August 3rd 25304 worked 10.45 Manchester Victoria - Holyhead and the return the 15.17 Holyhead - Manchester Victoria.

Somewhat off the beaten track on September 17th 25304 covered for a diesel multiple unit failure on the 16.33 Cheltenham Spa - Swindon! The next day (18th) it was coupled to 25194 to work the 07.40 Euston - Aberystwyth forward from Wolverhampton, coming back with the 14.00 to Shrewsbury. By the 27th it was on the 04.27 St Pancras - Derby newspapers, on the 30th it was on the 15.02 Manchester - Bristol parcels which included some preserved stock.

Possibly the last passenger working for 25304 was on November 2nd when it rescued a Morecambe - Leeds diesel multiple unit, bringing the service into Leeds. 25304 was withdrawn in November and dumped at Crewe.

1983
In February withdrawn 25304 was moved from Crewe to Derby Works.
This is little doubt here for the fate of 25304, with 27203, seen here at the back of Derby Works on November 26th 1983. Only the end will not be at Derby, another fifteen months will pass until 25304 is dragged off to Swindon Works for final scrapping.
Photograph courtesy Phiilip Moore.
1985
After three years rotting at Derby 25304 became one of the hulks towed to Swindon for final cutting, the movement took place on February 4th & 5th and included 25036/049, 25150, 25228/253/277 25304/317/320 as the 9X12 Derby - Swindon. By the middle of June 25304 was no more.
Undated views:
In this undated view at Northampton 25304 waits with a mixed assortment of wagon beside a fine looking signalbox. Against the backdrop of the high speed WCML electrified route both the Class 25 and the signal box seem a little dated.
Photograph courtesy Gary Thornton.
21/1600
no flk
Passenger workings courtesy Alan Baylis (www.class25.info)
Not all known passenger workings are recorded on this page.
Page created February 2nd 2002
Page updated April 18th 2014