D7663, 7663, 25313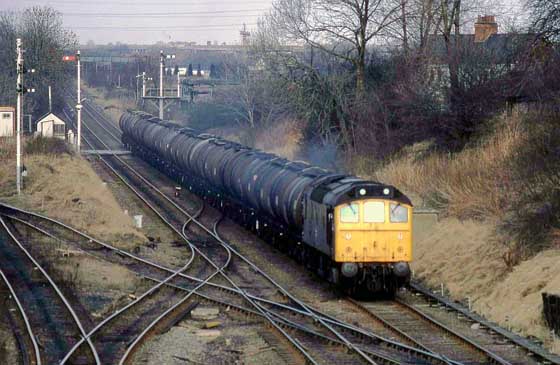 Photograph courtesy Ron Kosys
25313 heads past Three Spires on February 19th 1986 with the 7E53 13.42 Charringtons - Ripple Lane empty oil tanks.
1966
D7663 was new from Derby Works during late November, being delivered to the London Division (D01). This was part of the final batch of locomotives built at Derby after Beyer Peacock failed to complete its intended order after filing bankruptcy. These final eighteen machines were delivered in blue with full yellow ends, although it took Derby Works a little while to get the positioning of the numbers, emblem and warning panel right.
1968
During December 7662 - 7665 were moved to the Birmingham Division (D02).
1971
7663 moved back to the London Division (D01) during May.
1973
After two years at Willesden 7663 was transferred to Cricklewood during May.
1977
Derby Works received 25313 for repairs during February & March.
As the year closed 25308 - 25313 were moved to Toton.
1978
25313 headed north to Springs Branch during February, then was moved to Cricklewood during July.
1980
In early November the BR/LT dmu service north of Rickmansworth suffered from leaf-fall on the section of line that climbed through the Chilterns. A number of Class 25's, including 25313 (4th) and 25251 (6th) were used to assist northbound dmu's, the commuter service being considerably disrupted.
1981
On May 12th 85022, running light at Speke Jct, collided with 25316 & 25313 working the 00.19 Garston – Forders brickliner. 25316 sustained damage and moved to Derby Works two days later.
June 27th 1981 finds 25313 resting at Buxton, perhaps in between working turns with the Tunstead - Northwich ICI limestone trains.
N4 repairs were carried out to 25313 at Derby during August.
1982

Typical of the duties performed over the WCML for many years were the airbraked freight and parcels workings. Here 25313 waits at Northampton on June 25th 1982.
Photograph courtesy Gary Thornton.
The surplus of Type 4's and the recently arrived Class 31's on the Midland did not prevent the use of the Class 25's on some odd workings during August. Passenger services featured Class 25 haulage, August 13th's 8.28 St Pancras – Nottingham used 25313 & 45138 whilst the next day's 08.10 St Pancras – Leicester used 25326.
The 1M26 16.05 Leeds - Carlisle on September 7th was hauled by 25313, the inbound working had arrived behind 47113, presumably Holbeck had a more profitable use for it than to send it back to Carlisle on a 'local' working.
1983




Photograph courtesy W A Sharman

Its April 2nd 1983 and the Settle & Carlisle is being used as a diversionary route, hence the reason for 40082 being on standby at Blea Moor. Meanwhile 25313 heads south, different sources suggest this is either the Stranraer - Euston empty vans or a working bound for Red Bank, go figure!

The Easter weekend found WCML traffic diverted over the Settle & Carlisle, with Class 47's predominating. However the Stranraer – Euston empty news vans was noted behind 25313 on April 2nd. Six days later, en route to Parkeston, 25313 came to the rescue of the 14.53 Cambridge – Harwich Town dmu (E51298/E56468) which had failed at Six Mile Bottom. The passenger service was cancelled upon reaching Ipswich two hours late, allowing 25313 to return to Parkeston to take up the 20.53 Speedlink service to Widnes
Its a dull June 18th 1983 as 25313 attached as ever to another Class 25 await its next turn of duty from Toton.
Photograph courtesy Tony Sayer.
Visitors to Exeter on the bitumen tanks from Ellesmere Port included 25213 & 25210 on June 1st and 25236 & 25313 (3rd).
1984
During January 25313 was moved to Longsight, then on to Bescot during July.
25313's first passenger haulage in 1984 was believed to be on March 30th when it rescued an ailing Class 47 at Bolton whilst working the 10.16 Barrow - Nottingham, taking the train forward to Manchester Victoria. More haulage occurred on May 13th when engineering work required 25313 to haul 85008 and its Euston - Liverpool service between Northampton & Coventry.
The summer dated Cambrian line services saw two visits by 25313. On July 21st it worked with 25279 the 07.44 Shrewsbury - Aberystwyth, returning on the 10.10 to Euston as far as Shrewsbury. A month later on August 18th it was with 25268 on the 10.10 Euston - Aberystwyth forward from Wolverhampton and returning with the 17.05 to Shrewsbury. Ten days later it covered for a failed DMU on the 15.40 Carlisle - Newcastle service.
One of the bay platforms at Rugby on September 8th 1984 finds 25313 keeping company with an un-identified Class 31. It was common to find the combination of 25's & 31's on the WCML at this time. Conversations with a number of former Bletchley drivers indicated their preference for the Class 25's.
Photograph courtesy Gary Thornton.
October 5th's 17.36 Great Malvern - Birmingham New Street service required the assistance of 25313 from Stourbridge when the DMU failed. November 19th found 25313 & 25262 in charge of South Wales bound load of steel coils.
1985
Scottish duty found 25313 & 25316 taking forward May 3rd's 12.05 Bristol - Edinburgh relief from Carstairs. Although the summer dated Cambrian line services were now in the hands of Class 37's the unadvertised 1G82 16.05 Saturdays only Shrewsbury - Wolverhampton featured Class 25 haulage during the early part of the season, on May 25th 25313 & 25195 were in charge - this was the 13.40 ex Aberystwyth extended due to late running.
July 9th proved to be a banner day for 25313 in the north-west, due to a DMU failure it covered two Manchester Victoria - Blackpool round trips.
25313 continued to soldier on rescuing a Worcester - Birmingham New Street DMU at Stourbridge Jct on August 19th.
25313 was transferred to Crewe during September, its last transfer.
1986

A misty day in the West Midlands finds 25313 and 31121 at Bescot on February 15th 1986.
Photograph courtesy Ian Hammond.
25313 at Duke Street Sidings, Birkenhead on March 19th 1986. (See notes below)
Photograph courtesy Mark Coyle.
Its March 19th 1986 and Driver Gary Wilson leans out of the second man's side of 25313 at Duke Street Sidings, Birkenhead, as Guard George Boyland walks back to get the train ready. Having worked in 6F19 from Ellesmere Port and then gone on to Birkenhead North to drop off a couple of ballast wagons at Moreton Sidings, 25313 is now back at Duke Street at the head of 8L10 - the Ellesmere Port ballast trip. Today Target 10 will convey 30 loaded ZDV's weighing 827 (including the locomotive) on a short trip to Helsby where the wagons will be left before being taken forward to Ince Moss tip by another of the Civil Engineer's trips. By this time the Class 25's were becoming less common and, on the following day, Target 10 was being used for driver training and was headed up by 31119. (Details courtesy Mark Coyle)
August 20th saw 25313 turned round at Hereford having arrived on a Carlisle – Severn Tunnel Jct freight, going back north with empty tanks for Stanlow.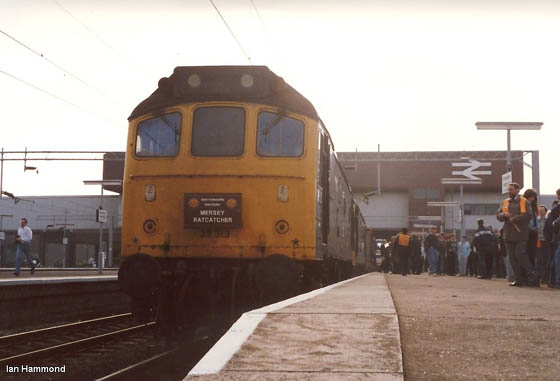 Photograph courtesy Ian Hammond & Nick Ross
25313 & 25249 wait to be uncoupled from their train at Birmingham International whilst working the final Class 25 hauled railtour, see below.
Four Class 25's took part in the very last Class 25 railtour, Hertfordshire Railtours 'Mersey Ratcatcher' (1Z30) of September 28, 1986. The tour started in Euston behind 25313 & 25249 running as far as Birmingham International where 86237 took over for the trip to Birmingham New Street. This odd move was created due to construction at New Street closing the west end of the station making run rounds difficult. 25313 & 25249 came back on the train heading off to Leicester, Derby, and over the Hope Valley line to Manchester and Liverpool Lime Street. Here 25904 & 25910 made the short run down to Crewe, via Chester, where the original pair took up the final run to Euston via the Trent Valley line, completing a day of 490 miles of 25 haulage. Both 25313 & 25249 would continue in service into 1987, both reached Vic Berry's during the summer of 1987, for 25249 it was the end, the more fortunate 25313 would reach preservation.

1987
For 25313 the New Year was spent in the Llandudno area, by the afternoon of January 8th it was at Wigan, three days later it was noted at Warrington, it was to work a turn to Llandudno Jct on the 16th. The following morning it was at Willesden to work the 1A02 to Bletchley and the 3L49 to Camden Carriage sidings. By the early morning of 24th it was at Shrewsbury followed by a trip to Machynlleth.

On January 27th 25313 rescued ex-works 37895 on the 1E16 15.16 Llandudno – York, after the latter failed at Chester. From York it was allocated the 5Z07 to Oxford Carriage sidings. on 29th it was in the Birmingham area working off Saltley.

Bescot was visited on February 1st, the Stoke and Crewe area was visited on February 10th - 12th. By 15th it was at Tebay on the 6L61, then heading north to Carlisle, where on the late evening of 18th it was sent off to Stranraer, it spent several days around Ayr before returning to Carlisle at tea time on February 23rd. It then made a couple of round trips to Dumfries before being seen at Preston during the early hours of March 1st. It was at Manchester Victoria late on the 3rd, diagrammed to work the 1P55 02.28 Manchester Victoria - Barrow and return 5P55 to Red Bank. The next six days were spent in the Crewe - Chester area.

On March 13th 25313 assisted 47532 on 07.07 Newcastle - Liverpool forward from Manchester Victoria. On 16th it spent time in the Liverpool area before working the 4J15 to Red Bank Carriage Sidings after which it worked the 1P55 to Barrow and 5J55 to Red Bank. During the morning of 17th it worked a trip to Bolton and then the 1H07 to Manchester Piccadilly. Newton Heath and Manchester Victoria were visited on 18th before being sent to Crewe arriving in the evening where it was promptly withdrawn.

By the end of April 25313 was at Basford Hall remaining here until moved as 25191, 25212, 25278, 25313 9L37 10.50am Basford Hall – Leicester Humberstone Road on July 8, 1987. It remained here until September 11th due to a missing buffer, when it was tripped with 25057 & 25265 as the 9T16 to Vic Berry's yard. It was still present during May 1988 but by the middle of June 1988 it had been removed, travelling by road to Llangollen.

(With thanks to Neil Cannon for making available the TOPS reports for 1987).

Page added July 3rd 2004.
Page updated February 11th 2012.

Return to Picture menu
Return to Home page