Class 25 Freight & Parcels Workings

This page takes a look at some of the freight and parcels workings that were a staple of the Class 25's work on British Railways. The workings shown below hopefully describe and illustrate some of those jobs where Class 25's were regularly diagrammed so that on any given day one could expect that a Class 25 would turn up.

1M25 18.08 Manchester Piccadilly - St Pancras parcels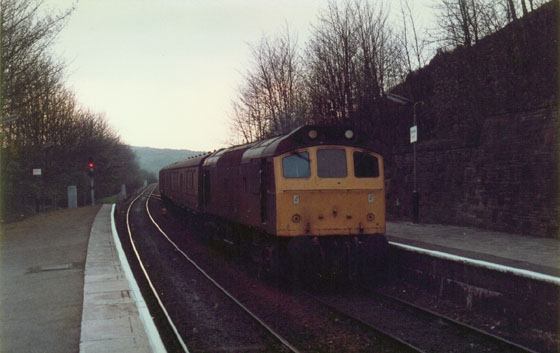 Photograph courtesy Steve Houlker

25209 at New Mills Central on May 3rd 1985 with the 1M25.

This working required an early evening departure from Manchester Piccadilly which would be a major impediment for the photographing of this working, especially if a late departure occurred. The above view, taken at New Mills Central shows the challenges of capturing this working on film.

This had been a Class 25 working for many years, substitutues when they did occur were either Class 40's or 47's. Double headed Class 25's were extremely rare on this job. This turn did not run on Sundays.

In October 1982 Class 40's were diagrammed to take over this turn. October 1st saw the surprise combination of 37128 & 40164, the next day it was 25279 then Class 40's settled in for the remainder of the week. More Class 25's returned between October 9th & 19th, after this it became a solid Class 40 turn with only occasional Class 25 substitutions. When the Class 25's had held this turn it was rare to see the same locomotive on consecutive nights, but with the arrival of the Class 40's it became common to see the same locomotive on two or three consecutive nights.

The spring of 1983 saw the dominance of the Class 40's decrease on this turn, more Class 37's and Class 47's showed up as well as the occasional Class 25.

At Derby the locomotive bringing in the train from Manchester would be replaced by a Class 45/1 for the run up to St Pancras. Quite frequently the Class 25 would quickly return north light engine to Guide Bridge or sometimes Longsight, infrequently the Class 25 would return north on freight workings, in particular the 6M98 Parkeston Quay - Warrington Arpley Speedlink.

(To be continued.)

3M07 03.37 Stranraer - Euston parcels (diverted)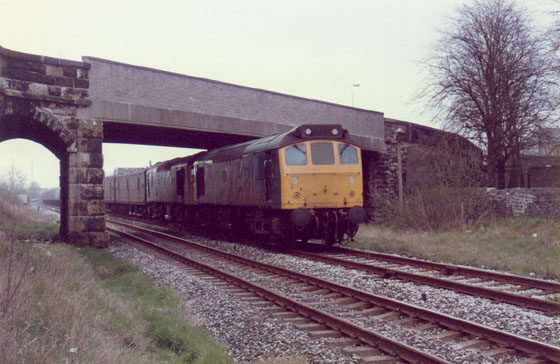 Photograph courtesy Steve Houlker
25324 & 25276 pass through Clitheroe with the 3M07 on May 4th 1985.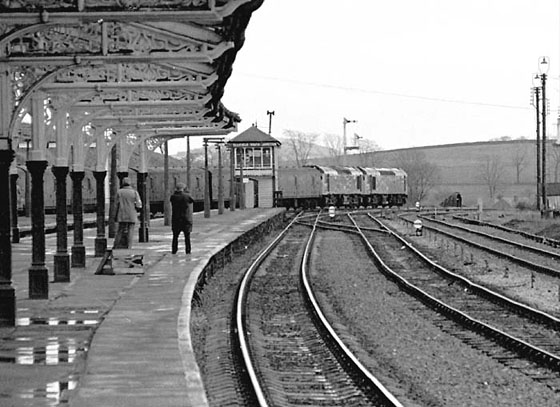 Photograph courtesy John Broughton

Two unidentified Class 25's take the Blackburn line at Hellifield on April 5th 1985.

This train would load to approximately ten parcels vehicles with a weight of 260 - 300 tons, usually vacuum braked and allowed a maximum speed of 90mph. The Class 25's were regular performers on this train when it was diverted off the WCML and on to the Settle & Carlisle route.

Ditton - Broughton Lane, Sheffield BOC tanks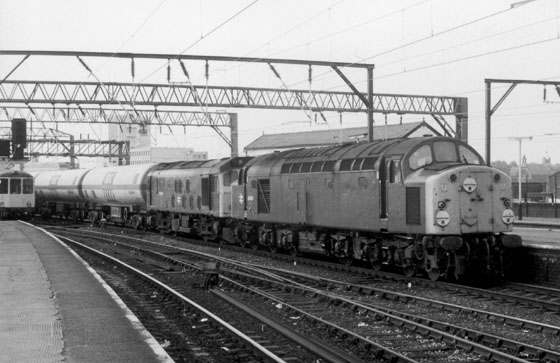 Photographer not known

40056 & 25229 at Stockport on May 29th 1984.

This working brought together a Class 25 & Class 40 combination on a consistent basis throughout the years. This combination appears to have been first recorded in 1981 when 03.54 Ditton – Broughton Lane, Sheffield loaded BOC tanks and 15.20 return empties. The sightings below are only a small representation of the dates and locomotives involved.

1981
July 21st 25060 & 40197
August 11th 25199 & 40118
August 20th 25321 & 40171

1984
April 28th 40196 & 25254
April 29th 25249 & 25262 (an extra working)
May 5th 40155 & 25059
May 15th 40001 & 25209
May 29th 40056 & 25229 (see photograph above)
May 31st 40079 & 25276
August 4th 25178 & 40181
August 9th 25176 & 40155
August 13th 25213 & 40192
August 17th 25181 & 40044
August 22nd 25201 & 40028
By this time incursions by Class 47's were becoming more frequent, by October they would be the norm.

The rapidly increasing withdrawals of both Classes 25 & 40 saw this working trialled with Classes 37, 47 & 56 during late September/early October. However October 3rd found the working behind 40099 & 25239, and on October 8th saw 25199 & 40194. By month end Class 47's would be in charge of the BOC working.

The plant at Ditton also sent out tanks to a variety of other locations, these were not normally hauled by Class 25/40 combinations. However from time to time this combination did work to other destinations.

January 22nd 1982 the 11.30 Ditton – Corby BOC special was hauled by 25250 & 40127.

The Ditton – Wolverhampton BOC working was diagrammed for pairs of Class 25's but occasionally featured a Class 25/40 mix. On August 4th 1983 a special Ditton – Polmadie working used 25202 & 40131.
25176 and an unidentified Class 40, with plenty of exhaust showing, lead a train of BOC tanks, possibly the Ditton - Sheffield working, date & location unknown.
Photograph courtesy David Whitehead

Miscellaneous Engineers Workings
Here are a number of views of Class 24/25's on a type of working that they were very well suited for - the engineering/permanent way trains that were a staple of weekend engineering works.
A most interesting working here including two cranes and their support vehicles. Details are not known about this view but it may be on the North London line in the mid 1960's..................
Photographer not known
5166 is busily engaged in track lifting of some sort surrounded by bolster wagons and a small crane, date and location are unknown but it maybe somewhere in the Vale of York? 5166 spent its entire life allocated to the Eastern Region, the lack of a 'D' prefix indicates this is sometime after the summer of August 1968.
Photographer unknown.
25047 rolls through Romiley on June 16th 1974 with a typical short engineers train comprised of two brakevans a small crane and another brakevan.
Photographer unknown.

Brick Workings
The notes and views below are courtesy of Nick Ross and form the beginning of a look at the Brick trains that were once workings regularly handled by the Class 25's.
Several workings identified by Nick so far are:
4E78 1930 SX Forder's- Kings Cross Goods
4M80 1025 SX Kings Cross Goods – Forder's
6A31 1735 Forder's – St Pancras Churchyard Sdgns
These workings could be heavy, maybe 900 tons plus of bricks bound for Kings Cross or Garston.
The 4E78 was made up of FFA liners with FGA outers basically modified Freightliner flats running in 48 SLU's formation. London Brick panels on the brick pallets added to the trains character.
In 1984 London Brick was taken over by Hanson and a switch to road transport saw the last Kings Cross flow run in October 1984 complete with a wreath on the lead loco, 25288.
Another working, a three days a week brick train also ran from Forders to Garston/Allerton area running north via Bedford, Wigston and the WCML, returning via the WCML and Bletchley. This flow finished six months later and again featured Class 25's.
Photograph courtesy Nick Ross
25213 & 25178 head south through Leighton Buzzard with the Forder's - Kings Cross Fletliners on ??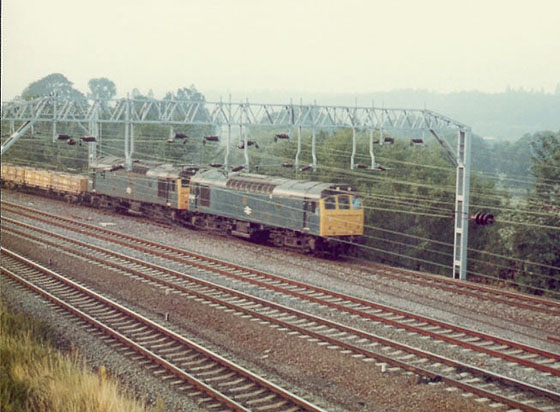 Photograph courtesy Nick Ross
25288 & 25324 approach Linslade Tunnel with the Forder's - Kings Cross fletliners on August 11th 1983.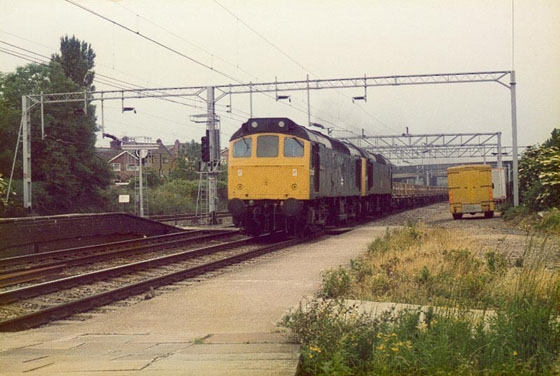 Photograph courtesy Nick Ross
25262 & 25315 approach Leighton Buzzard station with the Forder's - Kings Cross fletliners on June 19th 1984.

Heysham - Neville Hill oil tanks
7624 & 45206 eastbound July 19th 1968 5N28
More workings to be added as time permits.
Page added December 23rd 2007
Last updated April 20th 2009