Associated Electrical Industries (1928 - 1967)
with British Thomson-Houston & Metropolitan Vickers
A brief historical review with a bias towards their railway applications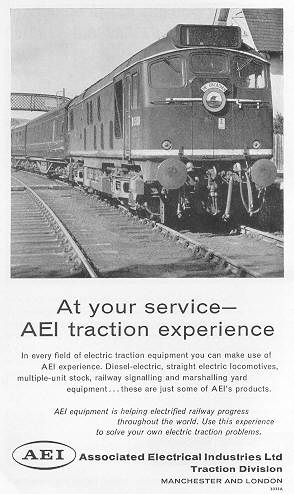 BR/Sulzer Type 2 D5130 features in a 1962 advertisement for AEI Traction Division. The Type 2s did not have the honour of hauling many named trains, but 'The Orcadian' was very much their province, being introduced in 1962 as a fast four hour service to Wick/Thurso, departing Inverness at 9.05am.
In 1928 Associated Electrical Industries (AEI) was established as a result of the merger of rivals Metropolitan-Vickers (MV) and British Thomson-Houston (BTH). This combination would be one of the few companies with the ability to compete with Marconi's Wireless Telegraph Company or the English Electric Company. Also included in the new group were Edison Swan Electric Company (Ediswan) and Ferguson Pailin of Openshaw, Manchester (which BTH had been in the process of buying in 1928). MV & BTH remained separately quoted companies, were frequently in competition with each other, with poor communication across the companies and intense rivalry, which amongst other things prevented AEI from gaining effective control.
By 1956 the main companies in the AEI Group were: BTH, Metropolitan-Vickers Electrical Co, Edison Swan Electric Co, Ferguson Pailin, AEI Lamp and Lighting Co, Hotpoint Electric Appliance Co, Coldrator, Newton Victor, Premier Electric Heaters, Siemens Brothers and Co, Sunvic Controls & AEI-Birlec.
During 1957 & 1958 reorganisation commenced to assimilate the three subsidiary companies into one, with all to use the AEI brand name, whilst separate trading of the constituent companies would cease. On January 1st 1960 AEI stopped using the names BTH and Metrovick. The three main manufacturing companies were reorganised into divisions of AEI: Turbine-Generator, Transformer, Traction, Switchgear, Instrumentation, Electronic Apparatus, Heavy Electrical Plant, Motor and Control Gear, Cables, Construction (Cables and Lines) Radio and Electronic Components & Telecommunications. What was planned on paper suffered badly in reality, sales fell in the heavy electrical industry because the brand name 'AEI' was unknown, leading to a serious drop in AEI's stock price. The two separate management structures were never successfully combined, by the mid-1960s the entire AEI empire was in financial trouble.
In 1959 AEI came to an arrangement with Alco, who built both diesel engines and the mechanical parts of locomotives, and was an established manufacturer with a worldwide market base. Added to that was the established access to GE technology on the BTH side of AEI, which meant that AEI could supply equipment that was interchangeable with that which GE supplied to Alco.
By 1961 AEI was Britain's largest electrical manufacturer which included design, manufacture and distribution; the company had 103,450 employees with Works in more than fifty UK towns.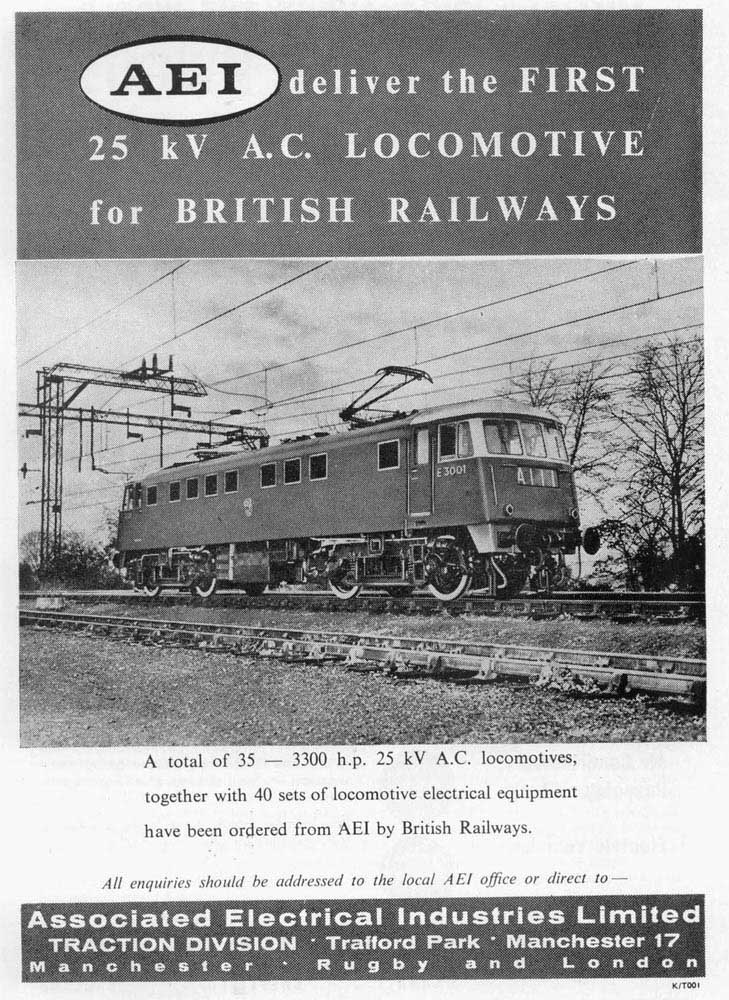 As well as the diesels AEI provided a considerable quantity of electrical equipment for the newly electrified West Coast Main Line. Featured is E3001, later to become 81001.
Perhaps the greatest opportunity for AEI with regard to a large locomotive order came in 1961 with the consortium of BRCW/Sulzer/AEI producing a six axle 2,750hp 114 ton (gross) demonstrator as the next step in British Railways Type 4 development. As dealt with elsewhere in this website this proved to be a dead end for BRCW & AEI.
Throughout the life of AEI the company struggled with the internal rivalries between BTH & MV, though the subsidiaries themselves were very successful especially in the War years (1939 - 1945), the parent never resolved the serious problem of integration. The drastic revitalisation and leadership required to enact this major change was not forthcoming and the whole issue faded into oblivion when GEC made a GBP120 million bid for AEI, with the merger taking effect on Thursday, November 9th, 1967.
Interestingly less than a year later on September 6th, 1968, GEC also acquired The English Electric Company, at a stroke, literally, a multitude of competing electrical suppliers at the onset of British Railways Modernisation Plan were now consolidated into one major company.
Rolling stock on British Railways that utilized AEI electrical equipment (this list is not exhaustive):
Ruston & Hornsby 0-6-0 shunter, Class 07: 2985 - 2998, one traction motor.
BR/Sulzer Type 2s, Class 25: 5176-5299, 7500-7677 (25026-25327), four AEI 253 AY traction motors.
BRCW/Sulzer/AEI Type 4, D0260 'Lion', (introduced 1962), six AEI traction motors.
AEI/BTH BoBo Type A Electric, Class 81: E3001-E3023, E3096/97 (81001-81023), four type 189 847 hp d.c. traction motors.
AEI/MV BoBo Type A Electric, Class 82: E3046-E3055 (82001-82008), four type 189 847 hp d.c. traction motors.
BR/AEI BoBo Type A Electric, Class 85: E3056-E3095 (85001-85040), four type 189 847 hp d.c. traction motors.
Class 304 four car emu LMR 001-045, four AEI 207hp dc traction motors, introduced 1960.
Class 303 four car emu ScR 001-091, four AEI 207hp dc traction motors, introduced 1960.
Class 311 four car emu ScR 092-110, four AEI 222hp dc traction motors, introduced 1967. Possibly the last powered rolling stock on BR to have electrical equipment using the AEI brand.
Advertisement showing the attempt by AEI to unify the the BTH/MV image by discontinuing the latter trademarks and going forward with only the AEI name.
Advertisement for the traction gears supplied by AEI.

British Thomson-Houston (1894 - 1960)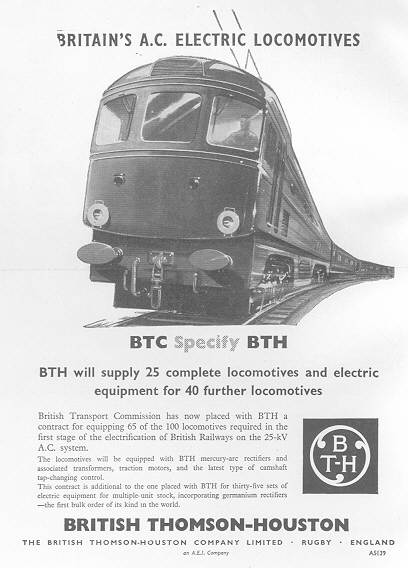 An 'electric BRCW type 3' graces a BTH advert in 1960!
The US based American Electric Company sold their products to the English market through the The Laing, Wharton & Down Company, the latter formed in 1886 and incorporating in 1889. The American Electric Company was later renamed the Thomson-Houston Company and in 1892 became the General Electric Company (USA) following the merger of the Thomson-Houston Company and Edison General Electric. Two years later in 1894 the Laing, Wharton and Down Construction Syndicate was renamed British Thomson-Houston (BTH) having acquired the British rights to the Thomson-Houston patents, with BTH being majority owned by General Electric Company (USA). Over time BTH became well known for steam turbines and electrical systems.
The Power Act of 1900, which would bring electricity supplies to large areas of the country included BTH as one of the suppliers. Rugby was selected as a production center, aided by nearby coal supplies and good railway connections, land was purchased in 1900 with manufacturing commencing in March 1902, principally steam turbines, motors, converters & switchgear.
The advancement of electrified underground and commuter railway routes in the United Kingdom saw BTH win contracts in 1903 from the North Eastern Railway to provide electrical equipment for motor units, carriages and laying of third rail and the District Line's use of the Sprague-Thomson-Houston system of multiple unit train control. In 1904 BTH became the contractors for the Central London and Great Northern and City lines electrification using direct current.
1909 saw BTH provide electrical equipment for London's first trolley buses. Equally important was the production of lightbulbs, made possible by the growth of the electricity grid. Expansion because of World War One and afterwards saw factories established at Birmingham, Chesterfield, Coventry, Lutterworth & Willesden, with production now featuring domestic appliances.
The diversity of BTH was illustrated in 1922 when it became one of six telecommunications companies to found the British Broadcasting Company (BBC).
The various BTH works specialised in items produced: Rugby - turbo plant, heavy machinery, electric traction equipment and lighting and radio material; Birmingham - electric motors; Coventry - radio apparatus and fractional horse-power motors and Willesden - switch gear.
A proposed merger of a number of electrical companies in 1926, headed by GEC of America, came to nothing. However in 1928 BTH merged with Metropolitan Vickers, also included were the companies Edison Swan Electric Company (Ediswan) and Ferguson Pailin of Openshaw, Manchester (which BTH had been in the process of buying). The merger included the acquisition of the Ordinairy shares in BTH held by General Electric of USA. In 1929 the merged entities became known as Associated Electrical Industries (AEI). Although MV & BTH were now under the same roof with very similar product lines they kept their identities & operations separate, which would eventually lead to serious commercial rivalry between them, causing a serious internal destabilising influence for AEI.
The Depression years hit the company hard, but AEI continued to expand its (BTH) Rugby plant. During 1935/1936 the Rugby plant was involved with Frank Whittle in constructing one of the world's first jet engines. BTH appeared disinterested in the development of the jet engine, in 1943 Rolls Royce took over the production.
In 1950 the LMS/Ivatt originated branch line prototype diesel electic locomotive 10800 was built using the consortium of NBL/Paxman/BTH. Surprisingly NBL had already established a relationship with GEC to supply NBL-GEC diesel-electric and electric locomotives.
During 1950 BTH received two export orders. One was from NSWGR for ten of its twin-engined 41 class, and the other from WAGR for 18 of its Y class. Both were shunting/transfer locomotives, but suitable for some line service. Both used Paxman high-speed engines. For the NSWGR 41, BTH worked with Metro-Cammell as mechanical parts supplier, whereas for the WAGR Y, it worked with Clayton. The 41 was close to being a failure, inadequate design leading to serious problems with engine cooling. The Y fared a bit better, though later events revealed serious inadequacies with the Clayton company.
The BTH/Paxman combination reappeared in a British Railways Modernisation Plan order, the 82xx series (later Class 15), with Clayton handling the mechanical parts. This was somewhat successful as a second order was recieved. However of far greater impact for BTH was its selection as the electrical equipment supplier for the BR-built, Sulzer-engined 5xxx series (later Class 24/25) from the Modernisation Plan, a production run which produced 176 locomotives. A further 302 would be built, but using AEI branded equipment. Thus BTH was now involved with true line-service locomotives.
The successes for other parts of BTH organisation continued into the 1950s, with BTH constructing Europe's largest turbine works, at Larne in 1957.
Looking at the export market in the late 1950s BTH, with Clayton and Lister-Blackstone commissioned the Explorer CM-gauge prototype, which was ready in 1959. This featured a Lister-Blackstone engine, BTH electrical equipment and mechanical parts by established partner Clayton. Possibly Lister-Blackstone saw this as a pathway into the mainline locomotive market, as the cost was shared between itself and BTH.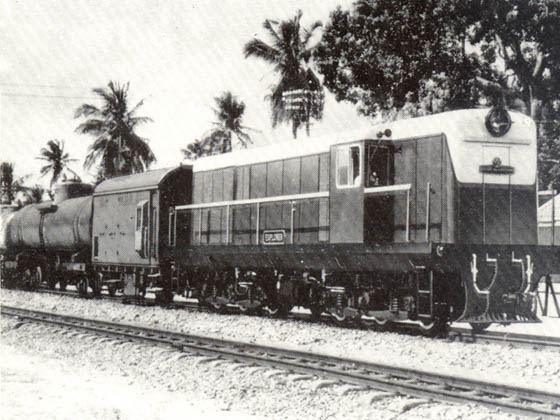 At 1100 hp (gross), with Co-Co running gear and weighing 72 long tons, the Explorer may be compared with standard road switchers from the major worldwide builders. Previous engine partner Paxman offered high-speed engines which were in a lower power range than needed for the Explorer. The Alco DL531 was slightly lighter (in CM-gauge form) and marginally less powerful, at 975 hp (gross). The GE U9C was somewhat heavier and had a nominal power of 990 hp (gross), but this was a high-altitude, high-ambient temperature rating, and the UIC number was 1060 hp. The Alco & GE utilised 6-cylinder in-line engines, whereas the Lister-Blackstone featured the relatively complex 12-cylinder double-bank form, albeit still medium-speed. This complexity allied to its weight put it at an immediate major disadvantage. There were no production orders from this prototype.

In 1959 EMD did not yet have a six-motor model in this power class. English Electric no doubt could have offered a Co-Co version of its existing eight-cylinder Latin American model with either the 8SRKT or 8SVT engine, by 1959 delivering 1100 hp. And more power would have been available from the 8CSRKT or 8CSVT engine with but minor weight penalty. Within two years Alco offered the DL535, delivering 1350 hp (gross), still with six cylinders, and weighing around 72 long tons in CM-gauge form.

The Explorer was built by the Clayton Company of Hatton, Derbyshire, order number 3548 of January 1959, it was powered by a Lister Blackstone ERS.12T 12 cylinder twin-bank engine powering BTH electrics. Cylinders were 8.75 x 11.5 inches, maximum crankshaft speed was 800rpm, output speed through the phasing gears was 1,320rpm providing 1,100hp. Either crankshaft could be uncoupled in an emergency.

The locomotive weighed 72tons and rode on metre gauge Co-Co bogies of rubber cone pivot Alsthom style. Alsthom (originally ALS-Thom(son)) had a similar relationship with GE as did BTH, and it appeared that design ideas also travelled 'horizontally' between GE 'associates'. This aspect of the Explorer design was carried over to the later AEI Zambesi type.

It was leased to the East African Railways who later bought it outright. In the late 1960s EAR reclassification it was assigned Class 79. It was allotted to the Kenya Railways in 1977, though by October of that year it was recorded as 'stabled for scrap' on the roster.

As of 2005 the 'Explorer' locomotive still exists, very much intact and still bearing its number and nameplates. It is earmarked for the Nairobi Railway Museum when funds become available.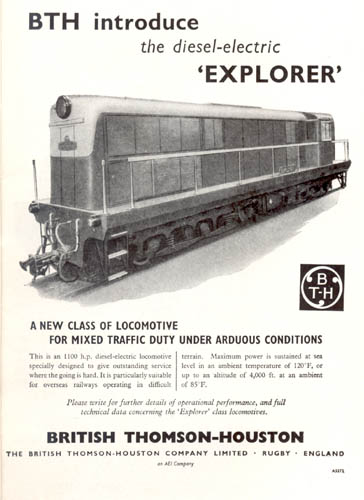 An advert from the railway press announcing the availability of the new 'Explorer' diesel-electric locomotive.
A late 1950s BTH contract was with NZR for 18 Dsc class shunting and light line-service locomotives. Rolls Royce was the engine supplier. Clayton built the mechanical parts, and apparently made a very poor job of what was basically a good design. NZR was not impressed by Clayton's lack of capability, and when it wanted more of the same locomotives, it built them itself.
AEI's internal reorganisations and the continuing rivalry between BTH and Metropolitan Vickers presented management with a considerable challenge. One aspect of unification was to promote the AEI brand name in place of the BTH & MV names, a move which backfired on AEI because the brand name of AEI was unknown, leading to falling sales, further impacting profitability. The BTH brand name was discontinued effective January 1st 1960 - see AEI above.
Continued attempts to bring together the two divisions together did not meet with the greatest of success, however all would be of no consequence when GEC successfully bid for AEI in 1967. At the time the 'AEI' brands included Metropolitan-Vickers, BTH, Edison Swan and Ediswan, Siemens Brothers, Hotpoint, Birlec and W. T. Henley. With this acquisition GEC became the United Kingdom's largest electrical group.
During the 1980s the facilities at Rugby were downsized with many building being torn down and the land reused for new development.
Rolling stock on British Railways that utilized BTH electrical equipment (this list is not exhaustive):
BR/NBL/Paxman Bo-Bo 10800 (introduced 1950), four BTH traction motors.
BR 0-6-0 shunter, 'Class 08': 3152-3166 (all withdrawn by late 1967), two BTH traction motors.
BR/Sulzer Type 2 Class 24/25: 5000 - 5175 (24001-24150, 25001-25025), four BTH 213hp traction motors.
BTH/Paxman Type 1 Bo-Bo: 8200 - 8243 (introduced 1957), four BTH traction motors.
Ruston & Hornsby 0-6-0 shunter: PWM650 - PWM654, one BTH traction motor.
Brush BoBo electric ES1 class (introduced 1902): 26500 & 26501, four BTH traction motors.
Battery Electric LMS shunter (introduced 1917): Bel 2, two BTH traction motors.
LMR Wirral/Mersey emu Class 503 (introduced 1956): M28371M-M28394M, four BTH 135hp traction motors.
LMR Wirral/Mersey emu Class 503 (introduced 1938): M28672M-M28690M, four BTH 135hp traction motors.
SR 6-PUL emu: 3001-3020, 3041-3043: eight BTH 225hp traction motors.
SR 5-BEL emu: 3051-3053, four BTH 225hp traction motors.
Advertisement circa 1957 for shunting locomotives destined for the Hindustan Steel Ltd Durgapur steelworks in India. Ten 230hp 32ton 0-4-0 & thirteen 410hp 72ton Bo-Bo diesel electric shunting locomotives were provided, all powered by Rolls Royce engines.
Advertisement circa 1957 for thirty four 800hp 68ton Bo-Bo Type 1 diesel electric locomotives for British Railways, powered by Paxman engines.
Advertisement for dock shunters for the Port of London, built by the Yorkshire Engine Company with Rolls Royce engines.

Metropolitan-Vickers Electrical Company (1899 - 1960)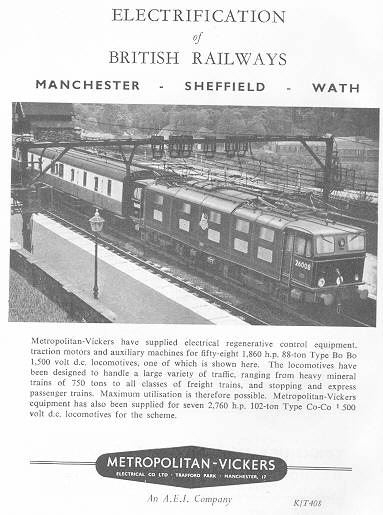 Metropolitan-Vickers Electrical Company (MV) grew out of the American owned firm of British Westinghouse. The company was formed in 1899 and was located at Trafford Park, Manchester, being well known for their industrial electrical equipment & generators, steam turbines and diesel locomotives. During World War One it was felt that American ownership of the company had been a hindrance to gaining government contracts, a British holding company was established in 1916 to acquire the American shares, with finance provided through the Metropolitan Carriage, Wagon & Finance Company and Vickers. By 1918 British Westinghouse Electrical & Manufacturing was finally under British control, continuing under the same name until requested by American Westinghouse to discontinue the use of 'Westinghouse' in the company name. The acquisition by Vickers in 1919 of Metropolitan Carriage, Wagon & Finance Company included 99% of the share capital, changing the name to the short-lived Vickers Electrical Company Ltd and then to the more familiar Metropolitan-Vickers Electrical Company (MV) in September 1919.
The diversity of MV was illustrated in 1922 when it became one of six telecommunications companies to found the British Broadcasting Company (BBC).
During 1926 a new company, Metropolitan-Vickers-GRS Limited, was formed jointly with the General Railway Signal Company of Rochester, New York, to sell railway signalling equipment, under the design of the American company, but made at the Trafford Park works.
Many problems faced British industry in the 1920s; low investment, political & labour unrest, import & export restrictions, all factors with many others culminating in the General Strike in 1926. Despite these ongoing issues MV expanded their markets both at home and overseas. The Electricity Supply Act of 1926 and the formation of the electricity 'grid' produced many orders for heavy plant - turbines, generators, switchgear and industrial motors.
Vickers had anticipated amalgamations within the electrical manufacturing industry, these had not materialised, thus when a cash offer was received in 1928 by the International General Electric Company to purchase a controlling interest in the company, Vickers took the offer. However they did retain a considerable number of Ordinairy shares.
Overseas a number of offices were opened, with major successes in South Africa, Australia & New Zealand. Most unusual was its prosperous relationship established with the Bolshevik regime in Russia for the Moscow Metro development.
In 1928 MV merged with British Thomson-Houston (BTH) and on January 4th 1929 both came under the umbrella of Associated Electrical Industries (AEI). Agreement was also reached with International General Electric Co (USA) to acquire that company's shareholding in BTH. Although MV & BTH were now under the same roof with very similar product lines they kept their identities & operations separate, which would eventually lead to serious commercial rivalry between them, causing a serious internal destabilising influence for AEI.
MV survived the depression years of the early 1930s with help from overseas contracts, a major achievement in Brazil was the awarding of a contract for railway electrification, whilst a scandal in Russia led to the arrest & conviction of six of their engineers for alleged sabotage & espionage. The Russian authorities claimed that the British engineers had gained considerable knowledge about Moscow's physical layout whilst working on the Moscow Metro project. The British Government obtained the release of the engineers and resumption of trade after a short embargo.
The Second World War brought huge demands upon MV production of a wide variety of items for all the Armed Services. This included 43 (?) Avro Manchesters (the first 13 being destroyed in a Luftwaffe bombing raid on Trafford Park) and 1,080 Avro Lancasters built at facilities at Manchester Ringway and Avro's Woodford plant.
Post war production boomed, but so did the rivalry between MV & BTH, the latter opening a huge turbine works at Larne, countered by MV establishing a smaller transformer factory at Wythenshawe. As the 1950s progressed MV made a profitable name for itself in domestic appliances - refrigerators, cookers etc.
In 1949 MV formed a joint venture with Beyer, Peacock & Co, known as Metropolitan-Vickers-Beyer-Peacock to design, manufacture and assemble non-steam powered railway locomotives. A new factory was established at Bowesfield, Stockton-on-Tees.
MV worked with Sulzer on two orders, during 1950/51 they supplied equipment for the two CIE prototypes (1100/1101) and in 1956 for the CIE B class, with BRCW being the primary contractor.
In its railway applications MV appeared somewhat backward looking. The 1.5kV DC 46 Class electric locomotives supplied to NSWGR and ordered just ahead of the WAGR X class was a new design but conformed to the obsolescent 1930s articulated bogie form with a Co+Co wheel arrangement. Using more current thinking English Electric had been building large DC electric locomotives with independent swing-bolster Co-Co bogies since the late 1940s.
In 1950 MV received an order from WAGR for 48 of the X class. This was a much larger order than other British makers were getting at the time. MV worked with Crossley as engine supplier and used the joint venture with Beyer-Peacock for the mechanical parts and assembly. Although Beyer-Peacock was a competent builder, it was somewhat backward-looking in the design department, however the use of Crossley as the engine supplier proved to be less than perfect. The X class locomotive used an obsolete rigid-frame 2-Do-2 wheel arrangement, and would not have helped the way MV was perceived by potential buyers. Possibly WAGR and/or Beyer Peacock saw the X class as being essentially the diesel counterpart to its W-class 4-8-2 steam locomotives then being built by Beyer Peacock.
Then in 1954 MV took a 94-locomotive order from CIE, for 60 A class and 34 C class. In numerical terms it appeared to be doing very well. This CIE order was placed before the WAGR X class had accumulated any significant service hours, and most likely prior to the Crossley engines revealing the magnitude and intractability of their problems. For the CIE order MV did not return to Beyer-Peacock for the mechanical portion, but went with Metro-Cammell as mechanical parts supplier, a company with whom BTH had established a relationship and would feature in later MV and AEI locomotive contracts.
MV would work with the Beyer-Peacock joint venture in 1955 for the British Railways Pilot Plan order for twenty Co-Bo (later Class 28) locomotives. These were also powered by a Crossley engine, which would prove to be their Achilles heel and no doubt seriously hindered MV's chance of success as a supplier of diesel-electric locomotives.
As part of the unsuccessful move to unify the company MV's name technically disappeared on January 1st 1960 - (see AEI above).
Rolling stock on British Railways that utilized Metropolitan Vickers electrical equipment (this list is not exhaustive):
LMR Liverpool/Southport emu Class ??? (introduced 19??): M28301 - M28310M, four MV 265hp traction motors.
Hawksworth (GWR) & MV Co-Co 18100 (introduced 1951) gas turbine, six MV traction motors (later converted to 25kV AC No.E2001.
Gresley LNER/BR & MV Bo-Bo Class EM1 1500V DC electric loco E26000 - E26057 (introduced 1941/1950), four MV 467hp traction motors.
BR & MV Co-Co Class EM2 1500V DC electric loco E27000 - E27006 (introduced 1954), six MV 415hp traction motors.
MV/Crosley Type 2 Co-Bo 5700 - 5719 (introduced 1957) five MV traction motors.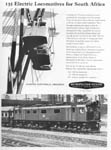 Advertisement circa 1957 showing MV's success in South Africa. The 1957 built Class 5E1 2280hp 84ton Bo-Bo mixed traffic locomotives feature in the advertisement's text but the photograph shows (I think) one of the 1944 built Class 3E 2,700hp 110ton Co-Co mixed traffic locomotives.
Michael Wimmer has provided the following detail with regard to the above view:
....the advertisement of MV with regard to the 135 Locomotives sold to South African Railways is of particular personal interest. The picture in the ad is an 3E. My interest is more than passing because my father, William (Bill) Wimmer was the traction engineer for Met Vick in South Africa and he was responsible at the South African end for getting the order. I well remember the day the order was announced on the front page of the Johannesburg newspaper, along with the excitement in the family and the pride we felt in Dad. The chief design engineer at Trafford Park was Frank Whyman. In 1936/7 my parents lived in Manchester (Fallowfields) as my father had come over from South Africa in order to be familiarized with all the design and manufacturing processes. My father's work was with the Chief Electrical Engineer of South African Railways (Wallace King) to do all the design specs for the arduous South African conditions.
The text in the ad does not refer to the 5E1, but correctly to the 3E. If my memory serves me correctly, this particular order was placed in 1953 for the 3E's. When they were shipped to South Africa, they were unloaded in Durban, where my father had frequently to go to supervise the commissioning and testing of the locomotives. If these trips coincided with my school holidays, he would take me with him. His 'in-laws', my grandparents lived a short distance outside of Durban. We would 'chase' locomotives that were already in service to get pictures that could be sent back to Trafford Park in order to have them for publicity purposes. Met Vick's South African Office was in Johannesburg, where, of course, I grew up. Naturally I recognize that the picture of the 3E is in Johannesburg station. It is entirely possible (if not almost certain!) that the picture was taken by my father.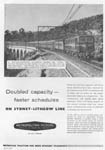 Advertisement circa 1957 for an order of electric locomotives for Australia. The locomotive featured is one of the forty 1950 built 3,820hp 108ton Co-Co electric locomotives built for the New South Wales Government Railways.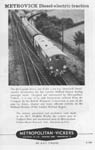 Advertisement showing one of British Railways Co-Bo diesel-electric locomotives under test.
Resources:
Steve Palmano via World Diesel Loco group
Graces Guide (internet resource)
Michael Wimmer
Page added December 18th 2003
Last updated June 25th 2018