Cheshire and Merseyside

Views from contributor Phillip Moore

I hope these views bring back a few memories for those that stop by this page. Like the un-expected working that brings a little excitement to us enthusiasts, so a picture posted to 'alt.binaries.pictures.rail' peaked my interest when I saw it. The picture was the one shown below, and after having made contact with Phillip, the contributor, he graciously forwarded many more, a growing selection of which are found below. However, for better or for worse they came with a cautionary tale, but one with a silver lining.

Phillip advised that many of these views came from the camera of a longtime friend and enthusiast, Kevin Jones. After many years of enjoying the priviledge of being a railway enthusiast/supporter Kevin suffered a fatal heart attack in March 2000, ending a life that, according to Phillip, had a railway thread running all the way through it. He had lived just a stone's throw from Vulcan Foundry at Newton-le-Willows, on leaving school he joined British Rail, a great favourite in his spare time was to travel on and photograph the happenings on the North Wales mainline. Other facets of the hobby included being a working member of the 7 1/4 inch gauge railway at Runcorn, a member of the Foxfield Railway and the East Lancashire Railway. A small garden in memory of Kevin can be found on the platform at Bury, Bolton Street station.

Although many of Kevin's early photographs are no longer with us, Phillip was able to provide a home for those that survived, and provide us here with a window into the not too distant past.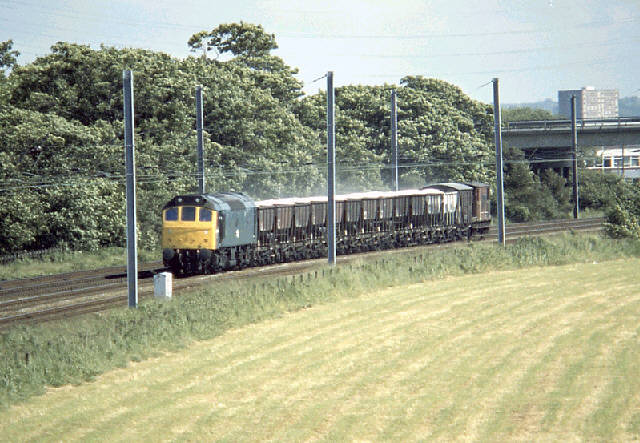 From the collection of the late Kevin Jones - now in the hands of Phillip comes this fine view of 25134 at Winwick Jct, July 01, 1981.
Crewe
We begin our journey at Crewe, where else, with a fine wintry view of 25302 coupled to four Class 47's (47193, 47333, 47348 & 47189) drifting through Crewe station on January 9, 1982.
There is clearly no doubt as to the identity of 25090 seen here at Crewe on February 19th 1983.
25050 at Crewe station on March 5th 1983.
25146 & 25119 north of Crewe station on April 28th 1984.
Chester
On a fine afternoon 25298 poses at Chester, August 12, 1984. This was one of the Beyer Peacock built machines, entering service at Tinsley in April 1966. Receiving its last general repair at Derby (March - May 1979) 25298 soldiered on until March 1985 being retired from Crewe depot. Moved to Doncaster Works for breaking, 25298 became the last Class 25 cut up there.
Another fine view from Chester depot, August 12, 1984. 25302 was one of the last Class 25's to recieve a General repair (at Derby December 1979 - March 1980). On June 1, 1985 25302 was borrowed for Reading Open Day, however by month end withdrawal had come. 25302 lingered in store at Kingmoor for almost a year before moving to Doncaster for breaking up, the end coming in June 1986.
Warrington
25194 heading north At Warrington Bank Quay with a breakdown train, May 17 1985. Withdrawal for this Class 25 was less than a month away, after exactly twenty years service. But 25194's demise would be prolonged, by ten more years! Used in some exercises at Shrewsbury shortly after its withdrawal, it was eventually removed to Bescot, joining half a dozen others dumped there. It was not until June 1995 that MC Metals, Springburn finally scrapped 25194.
25237 at Warrington Arpley, May 15 1985. The end was also near for this machine. It was failed at Hereford on June 4th whilst working a Manchester - Cardiff parcels, soon after it was noted withdrawn at Crewe. It had been one of the very last Class 25's to receive any attention at Glasgow Works, during April 1982, and would end its days at another BR Workshop, Doncaster during May 1986. Don't you just love the aesthetics of that modern, slab sided building behind the loco.
25302 drifts south through Warrington Bank Quay station May 17 1985.
The maze of lines in the Warrington area provides some interesting photo opportunities, such as this elevated view of 25321, seen here on May 15th 1985. despite its rather work weary & worn appearance 25321 still has another fifteen months left in service.
Winwick
Having survived a visit to Derby Works late in 1982 for minor repairs 25212 would soldier on until withdrawn at Crewe in May 1985. Seen here in this fine view at Winwick Jct on June 6, 1984 25212 works a short train of new cars. After two years dumped at Crewe the locomotive was one of many sent to Vic Berry's, Leicester for processing, meeting a very quick demise there in July 1987.
Its July 1st 1981 and a short container train drifts down the WCML behind 25288.
Another Class 25 to survive a trip to Derby Works, and for collision repairs at that, was 25325 between March & July 1982. When released from Derby it sported a freshly painted cab but the rest of the locomotive was untouched! Seen here at Winwick Jct on August 9th 1984 withdrawal came at the end of 1985, consigned to Carlisle Kingmoor for storage. After four years of decay 25325 became one of the first Class 25's to fall victim to MC Metals, Springburn in February 1989.
Earlestown
A short parcels train led by 25080 drifts through Earlestown on May 16th 1985. Four months later 25080 was withdrawn and dumped at Toton. This had been the last Class 25 to receive a classified intermediate repair at Derby Works during the summer of 1980.
A pair of Class 25's, 25153 & 25124 gingerly ease its train of sand through Earlestown on June 15th 1981. Both locomotives would survive until 1983, both then remained on the scrap lines for four more years, 25124 ending its days at Swindon, whilst 25153 made the trek to Vic Berry's, Leicester.
Its May 16th 1985 as 25322 negotiates the sharply curved platforms at Earlestown. Sectorisation will arrive late in 1985, when 25322 will become one of the chosen twelve, to become 25912.
Wigan
25283 & 25257 pass Wigan Springs Branch with an oil train August 10 1985.
Manchester Victoria
The twenty two year career of 25051 included frequent use on Royal Train workings. However on August 14, 1984 it is noted on a more lowly working passing Manchester Victoria. At the beginning of the year it had survived a visit to Derby Works for minor attention, sufficient to remain in service until September 1985 when withdrawal came. Stored for over a year at Kingmoor it moved to Vic Berry's Leicester for cutting up, though its bogies were returned to BR for further use under 97252.
25207 slumbers under the Victorian metalwork of Manchester Victoria on September 24th 1984. With less than two months of revenue earning service left, 25207 will eventually become just so much scrap in Vic Berry's yard. Manchester Victoria would be a popular place to see the few remaining active Class 25's in their last three months, that of January - March 1987.
25211 at Manchester Victoria during the night of September 14th 1984.

Page last updated February 10th 2007