BRCW Type 2s
Class 26 & 27
Part 1: 1958 - 1976
Introduction & Highlights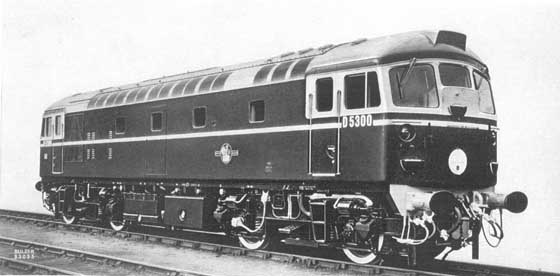 The BRCW/Sulzer Type 2s (later Class 26 & 27) originated with twenty locomotives as part of the 1956 Modernisation Plan's initial order for 171 (later 174) locomotives, identified under the Type B category (maximum of 1,250bhp).
Eventually orders were placed for a total of 116 locomotives:
D5300 - D5319 (20) ER
D5320 - D5328 (9) ER
D5329 - D5346 (18) ScR
D5347 - D5369 (23) ScR
D5370 - D5378 (9) LMR
D5379 - D5415 (38) LMR

The Power Unit
The 6LDA28 power unit selected for the Type 2 was available from the Sulzer catalogue and had already seen use in locomotives built by BRCW for use in Sierra Leone & Australia. The 1,160hp engine was also fitted to the Derby Type 2s, later Class 24.
Trials with the earliest of the 1,160hp engined locomotives revealed a higher maximum speed and a little more power would be very useful for the operating authorities. The introduction of charge air cooling provided the necessary technical advance to introduce the 'B' variant which had a continuous traction output of 1,250bhp at 750rpm. The 'B' unit would be employed in the Class 25 & Class 27 locomotives.

1958
D5300 was delivered from BRCW during September to Doncaster for acceptance trials. The design specification had called for a maximum axle loading of 18.75 tons (total 73 tons), in practice the locomotives were delivered weighing 77tons 17cwt. From Doncaster D5300 and her sisters were sent down to Hornsey (34B) for crew training prior to handling services from Kings Cross to Hitchin, Hertford North & Welwyn. Because the locomotives were overweight they were banned from working to the Southern Region via the Metropolitan Widened Lines. Whilst on test from Doncaster on November 20th D5305 failed in the Newark area. Fitters were called to assist in getting the locomotive operational.
Regular operation from Moorgate commenced on December 1st.
By December a further nine Class 26s had been ordered (D5338 - D5346).
D5300 - D5346 were built under BRCW Nos 45 - 91.
D5300 - D5309 delivered new to Hornsey (34B) between August & December.

1959
The BRCW Type 2 locomotives were arriving at Doncaster Works about one per week for acceptance trials. After acceptance the normal path was to follow the 7.52am Leeds - Kings Cross down to London.
The new Holmes Goods Shed (Lincoln) opened on January 16th, in celebration an exhibition of locomotives and rolling stock took place for two days, included in the exhibits was D5309.
Maintenance to the Hertford North Loop line commencing at the end of January was intended to facilitate the arrival of the new diesel locomotives and multiple units prior to electrification of the line. During this period the use of the Type 2s was limited to a few services including empty coaching stock moves, goods and newspapers. It was hoped that by the summer of 1959 full service would be resumed using 28 twin diesel multiple units and the Type 2s, with services able to operate at a maximum of 70mph.
During the second week of February D5307 was noted in the diesel shop at Stratford.
Previous reference to the new diesels being overweight led to the SR/ER authorities banning the BRCW Type 2's from working inter-regional freights to the SR via the Widened Lines and Snow Hill. In light of this consideration was given to moving these Hornsey based Type 2's (D5300 - 5319) to the Scottish Region. The arrival of the NBL Type 2s (D6100 - D6109) would also find them overweight, by 4.5 tons, leading to their being banned over the Widened Lines & Snow Hill.
A late morning Cambridge - Kings Cross service was noted arriving at Kings Cross behind D5305 and V2 60966 on March 18th.
During the 2nd week of April the first of the Scottish Region batch of BRCW Type 2s was noted at Doncaster Works, with trials taking place on the main line on April 14th. D5320/21 were delivered to the Scottish Region during the four weeks ending April 18th. These Type 2s were intended for service improvements on the Edinburgh - Aberdeen line, but were initially working various freights in the Edinburgh area, which included workings between Niddrie & Dundee, Dundee & Waverley, Niddrie & Perth North and Perth South & Haymarket. Although allocated to Haymarket (64B) the BRCW Type 2s called Leith Central (64H) home until the modernisation of Haymarket was completed.
Problems with certain new locomotives and railcars saw D5330 - D5335 sent down to Hornsey as a temporary measure to alleviate the problems. By the last week of September they had been returned to the Scottish Region, running light from Hornsey to Doncaster where they remained overnight to be collected by Scottish crews the next day. At the same time the Hornsey fleet of BRCW Type 2s returned to Smethwick for modifications, requiring the N2s to fill in on Kings Cross area local services.
On June 20th a Kings Cross - Grimsby passenger service was noted near Boston behind D5300.
On July 29th an excursion from the GN section (Enfield?) arrived at Southend Victoria behind D5330.
During the first week of August D5326 was noted in St Rollox Works whilst present in Doncaster Works yard on August 30th were D5337 & D5338.
The Scottish Industries Exhibition at Glasgow (August?) produced an exhibition at Glasgow Central station which included D5329.
Commencing August 31st the BRCW Type 2s started working Edinburgh - Aberdeen passengers services, frequently pairs were used on this service. However it now appeared that the major dieselisation of these services would not occur until March 1960.
On October 28th the 2.25pm Waverley - Newcastle failed at Long Niddry behind A4 60009, D5331 was nearby being used for crew training on the Haddington branch and was summonsed to assist the passenger service.
In Scotland during October (?) the BRCW Type 2's gained a regular working to Inverness on the 8.06am Perth - Inverness freight, returning with the next day's 9.20am Class C freight, then a round trip to Blair Atholl, then back to Leith Central for servicing. A return freight to Wick was also included in the duties of those machines reaching Inverness. These machines were soon to be joined by Hornsey's Type 2's (D5300 - 5319) and the NBL's (D6100 - 6109), following commencement of delivery of thirty Brush Type 2's, beginning with D5563/64 at Wood Green on November 14th.
Delivered during 1959:
D5310 - D5319 new to Hornsey (34B) between January & March.
D5320 - D5342 new to Haymarket (64B) between April & September.
D5343 - D5344 new to Inverness (60A) during October, then to Haymarket (64B).
D5345 - D5346 new to Haymarket (64B) during October.
After the delivery of the last BRCW Type 2, BRCW turned their attention to delivery of their Type 3's (D6500 - D6597).

1960
During the first week of January D5307 was noted at Stratford Works.
On January 18th D5337 & D5338 with 11 coaches, including a recording coach, (350 tons) were tested between Edinburgh & Aberdeen on a three hour schedule. The test was successful leading to eight pairs of locomotives being diagrammed for this service with a further three pairs covering the Glasgow - Aberdeen service.
By the end of February the upgrading of Haymarket depot allowed its fleet of mainline diesels to start using the new diesel servicing facilities, leaving Leith to its fleet of diesel shunters and diesel multiple units.
During April Hornseyís BRCW & NBL Type 2ís reached the Scottish Region through an interesting series of moves. The NBL units were collected in pairs by Doncaster men from New England, going light to Newcastle where ScR crews would take over. By April 22nd D6100 - 6109 had made the trip. For the BRCWís transfer Doncaster men worked up to Hornsey with brand new Brush Type 2ís, bringing back a pair of BRCWís, with crew changes at Doncaster & Newcastle. So noted on April 12th were D5602/03 going up and D5300/01 going down and April 21st D5604/05 up & D5302/03 down.
The introduction of an intensive diesel service from April 4th on the Edinburgh - Aberdeen route took advantage of the recently transferred Hornsey machines and also pulled away a great many Type 2ís from the Highland mainline. The service required eight pairs of BRCW Type 2s, with three pairs also covering two Glasgow - Aberdeen roundtrips. Transfers to accommodate this service saw D5340 & D5341 moved to Kittybrewster (61A) and D5342 & D5354 to Dundee (62B). For the steam enthusiast the loss of the diesels on the Highland mainline saw an influx of steam return, albeit only in the short term.
During the second week of April D5315 was noted in Stratford repair shop.
Towards the end of May Inverness regained most of its fleet of BRCW Type 2ís following the arrival of nearly all the BRCW Type 2s from Hornsey. Initially returning to the freight workings, May 22nd saw D5338/39 rostered for the seven coach 5.05pm Inverness - Perth, with at least one locomotive returning on the next dayís 4.00pm Perth - Inverness. The former Lochgorm Workshops had been converted into the diesel servicing shed.
During the second week of June D5300 was noted in St Rollox Workshops.
By late July BRCW Type 2ís had gained two workings over the Wick line, handling the 6.40am Inverness - Wick and 3.40pm return, a working previously in the hands of an Inverness Class 5.
Present at St Rollox Works during the first week of September were D5327 & D5345 under repair and 22 NBL Type 2s in the yard, including brand new D6155.
During late September/early October the Inverness based Type 2ís visited St Rollox workshops for the fitting of tablet catcher equipment for use on those lines radiating out of Inverness. Reports about the Type 2ís on the Highland mainline at this time suggest the Derby machines were considered inferior to the BRCW built locomotives, the latter were preferred partially due to their better finished, less draughty, quieter cabs.
The last two BRCW Type 2s allocated to Hornsea, D5318 & D5319 were transferred to the Scottish Region (Haymarket 64B) during early October.
During November D5344 was transferred to St Rollox (65B) and was noted on a late morning Buchanan Street - Dundee West on November 17th.

1961
During February D5344 was reallocated back to Inverness (60A), ending its Glasgow Buchanan Street - Dundee West workings, these were now in the hands of the NBL Type 2s.
At the end of May D5327 was noted under test in the Edinburgh area with a brake tender.
During July the first of the uprated BRCW Type 2s, D5347 & D5348 were delivered initially to Thornton Junction (62A) but then to Eastfield (65A). Following deliveries were allocated directly to Eastfield. The new locomotives were successfully tested on the West Highland line, with D5348 at Stirling for use on the Callander and Oban line.
Also during July Haymarket allocated BRCW Type 2s regularly traversed the Waverley route with the 12.00 noon Edinburgh - Carlisle and the 3.22pm return, examples would occassionally be seen in the following months over this route on a regular basis. The Type 2s on the Edinburgh - Aberdeen services sustained an increased number of failures, related to the train heating equipment and a couple of locomotives catching fire, including D5316 at Cupar on July 30th.
During August D5323 was noted under repair at Inverurie Works, other examples of the class would follow during the following months.
On the Far North lines the use of steam at a variety of sub sheds, e.g. Wick, Helmsdale etc was swept away through use of the Type 2 diesels doing whatever necessary in between their long distance workings, the intention being to make Inverness the only depot in the region. Steam was still present on the Highland mainline freights, possibly only awaiting the imminent delivery of more Type 4's to Haymarket.
By November the West Highland line had been dieselised using the Eastfield allocated BRCW Type 2s and two 350hp diesel shunters at Fort William. Heavier passenger trains, to 350 tons and accelerated timings were being considered.
The Haymarket BRCW Type 2s were now being used on the Edinburgh - Hawick local workings, frequently in pairs. With the arrival of the English Electric Type 4s at Haymarket the BRCWs were finding themselves displaced on the Aberdeen services, now handling some local services, such as to Stirling.
D5347 - D5415 were built under BRCW Nos 190 - 258. After the delivery of the Class 26s, BRCW concentrated on building the Class 33s, it was during July 1961 that both Classes 27 & 33 were being delivered jointly from Smethwick with D6556 & D5347.
D5347 - D5348 delivered new to Thornton (62A) during July.
D5349 - D5369 delivered new to Eastfield (65A) between July & December.

1962
Following the delivery of the 23 1,250hp BRCW Type 2s to Eastfield, the next nine were delivered to Thornaby between January & March. These locomotives were intended for freight service, so were delivered without train heating boilers.
A visit to Inverness on March 10th 1962 found D5329 & D5339 going about their business, both locomotrives have been equipped with tablet catchers and both have acquired yellow warning panels.
Photographs collection of webmaster.
Expanded duties over the Waverley route for the Haymarket BRCW Type 2s occurred over the New Year with the overnight Waverley - Carlisle postal and return, a Portobello - Hawick goods and an early morning Hawick - Waverley passenger. A pair had also been noted on a Dundee West - Carlisle Canal freight, returning with a freight to Niddrie. The early morning newspapers to Hawick and the return passenger to Waverley were also handled by the Type 2s.
By the first week of April the first three 1,250hp BRCW Type 2s (D5379/80/81) were recieved by Cricklewood (14A) for use on the Midland Lines. By May pairs of the Type 2s were diagrammed for a morning Nottingham - St Pancras passenger, returning at noon to Nottingham. They were also noted on empty coaching stock workings around St Pancras, parcels workings and Moorgate services.
On April 4th came disturbing news with the announcement of the intended liquidation of the North British Locomotive Company due to insolvency. The reliability of the NBL Type 2ís was already causing major concerns to the operating authorities, the almost complete destruction by fire of D6127 on March 27th whilst working the 15.15 Buchanan St - Dundee, in company with a sister, at Greenloaning, only emphasized the problems these machines were experiencing.
Further north the Inverness Type 2ís were now in full command of the services out of the Highland capital, with a number of them working throughout to Edinburgh. Steam in the Inverness area was now almost non-existent with the coaling plant already out of use, and only the Dingwall pilot, currently ex-WR Pannier Tanks 1646/49 was steam powered. These were also used to heat the TPO, though this function was under review.
In Scotland the Waverley Route saw a major shift of power from steam to diesel from May 7th. All Edinburgh - Carlisle passenger services were now in the hands of Haymarketís BRCW Type 2ís as were approximately half of the freights, with double heading being quite frequent. The 6.44am Waverley - Carlisle, 1.40pm return and 5.57pm back to Carlisle and the next dayís 9.20am to Waverley were diagrammed for one locomotive. The 2.43pm Edinburgh - Carlisle and 7.44pm return required another machine whilst the 10.20pm Edinburgh - Carlisle postal and 3.50am return was normally doubleheaded. About a dozen freights were also diagrammed for diesels, these moves created a reduction in the steam fleet at Carlisle Canal shed.
Two views of D5337 working the Aberfeldy branch on July 20th 1962. The branch became diesel operated during the summer of 1962.
Photographs collection of webmaster.
On July 15th a BRCW Type 2 worked a partially fitted 38 wagon test train roundtrip between Brent and Upper Holloway including four test stops along the route. The following month several BRCW Type 2s were noted on Marylebone - Nottingham workings.
By the summer the West Highland had been completely dieselised with a combination of the BRCW Type 2s, the English Electric Type 1s and the NBL Type 2s. Also added to the workings of the BRCW Type 2s were the services over the Ballachulish branch.
Noted at Darlington Works under repair during late August/September/October was D5370.
On August 29th D5377 and a brake tender was tested on the Teeside - Skipton ammonia tanks throughout, in anticipation of the service being dieselised in the near future.
The last of the BRCW Type 2s, D5415, was delivered to Cricklewood at the end of September. These LMR Type 2s would be regular visitors to Derby Locomotive Works until their transfer to the Scottish Region.
D5370 - D5378 delivered new to Thornaby (51L) between January & March.
D5379 - D5415 delivered new to Cricklewood (14A) between March & September.

1963
The spring saw a number of Cricklewood BRCW Type 2s working over former Great Central metals, including a morning Marylebone - Nottingham passenger, a roundtrip Neasden - Woodford freight and an evening Marylebone - Aylesbury parcels.
On July 20th a Bedford area - Southend excursion was worked by D5400. The use of the Type 2s on selected Marylebone - Nottingham workings ceased with diesel multiple units taking over.
The increasing number of Type 2s being delivered from Derby Works allowed for a reshuffle of some of Cricklewood's BRCW Type 2s. By the first week of September D5403 had been loaned from Cricklewood to March (31B), it would be transferred back to Cricklewood during October. Later in the month a block of the BRCW Type 2's moved from Cricklewood to Leicester (15C) to assist in the dieselisation of local freight workings. During October D5404 was transferred to Derby (17A), then to Leicester (15A) during November. In October Saltley (21A) borrowed D5390 (and later 5389/94) from Leicester and brand new D7569 for crew training, from November 4th they were utisiled oon the Washwood Heath - Whitemoor freights. By November 30th the diesels had taken over all workings from March. And in conjunction with the recently arrived Type 2's at Leicester they would infiltrate further north on the Midland line towards Chesterfield & Sheffield.
During the first week of November D5319 & D5336 were noted at St Rollox workshops with fire damage.
The testing of BRCW Type 3s on the Fawley - Bromford Bridge oil tanks during December saw the opportunity for examples of the BRCW Type 2s & 3s to be alongside each other in the Saltley/Washwood Heath area.
On December 28th the last Bedford - Hitchin freight took place prior to the closure of this line. D5380 with 15 wagons of bricks and two brakevans made the non-stop journey from Bedford to Hitchin in 45 minutes. The brick wagons were left in the Up yard at Hitchin, D5380 then returned to Bedford with the two brakevans, stopping at several closed stations to allow goodbyes to be made & photographs taken.

1964
D5379 - D5383 were transferred to Bedford (14C) during January and returned to Cricklewood during March. D5376 was noted under repair at Darlington Workshops during January and D5371 during March.
During March a works re-organization was authorised for the ScR, with considerable investment planned for the St Rollox workshops. The other shops in Glasgow at Cowlairs, currently only handling steam repairs, would be closed. Diesel repair would continue at Inverurie, which at this time was still the principal shops for the Inverness based Derby Type 2ís, whilst St Rollox handled the BRCW Type 2s.
On May 15th Leicester based D5387 was noted on a training trip on the Longtown branch with D8122.
The establishment of light servicing and fuelling facilities at Burton during December would see an influx of the BRCW Type 2s from Leicester on a variety of local workings.
As the year closed news from Scotland indicated that twenty of the NBL 6100ís would be re-engined with Paxman units, similar to the test bed in D6123. In contrast to the pyrotechnics of the NBLs, the Scottish BRCW Type 2s had gone about their business with the minimal of issues.
The LMR plan to allocate diesels by Division saw the following applied to the LMR BRCW Type 2s:
London Division (M14): D5383/84/85/89/96/98/99, D5400/01/02/03/07/08/09/10/15
Leicester Division (M15): D5386/88/90/91/92/93/94/95/97, D5404/05/06/11/12/13/14
Nottingham Division (M16): none
Midland Lines (ML): D5379/80/81/82/87

1965
During February D5414 was transferred to Carlisle (12A), being noted several times on the Longtown branch for crew training.
Freights from the LMR to the Glasgow continued to use LMR Type 2s, with them working local services to Wemyss Bay during the Scottish layover, several Midland Lines BRCW Type 2s were noted on these workings.
As a precursor to the abolition of the Leicester Division D5404/05/06/11/12/13 were transferred to the Midland Lines (ML) during April.
The construction of Longannet Power Station (between Kincardine & Torryburn) during the spring of 1965 would eventually lead to the decision to dedicate a small group of Class 26s to this block train service. Coal would be supplied by Seafield Colliery (between Kinghorn & Kirkcaldy).
During June D5353 was noted at St Rollox Works with collision whilst D5330 was at Inverurie Works.
An Eastfield diagram for a BRCW Type 2 included the 22.20 Glasgow Central - Carlisle, the 03.15 Carlisle - Stranraer Harbour postal, a freight to Falkland Junction, then a further freight to Bridgeton.
In the Market Harborough area at East Langton on the evening of August 20th D5383 was involved in a violent collision, leading to the loss of the driverís life and causing considerable damage to rolling stock and track. For a while Midland passenger services and through services for the south coast were diverted via Nuneaton. By the last week of October D5383 had reached Derby Works for evaluation.
BRCW Type 2 allocations as at October 30th:
London Division (M14): D5398/99, D5400/01/02/03/07/08/09/10/15
Leicester Division (M15): D5388/90/91/92/93/94/95/97, D5414
Nottingham Division (M16): none
Midland Lines (ML): D5379/80/81/82/83/84/85/86/87/89/96, D5404/05/06/11/12/13
Thornaby (51L): D5370 -D5378
Inverness (60A): D5320 - D5346
Haymarket (64B): D5300 - D5319
Eastfield (65A): D5347 - D5369
During the 2nd week of December the last steam worked Dundee - Glasgow service was diagrammed for haulage by a BRCW Type 2. For the Eastfield Type 2s these were generally out and back turns, although one turn turn required a lengthy layover at Dundee and an early evening turn to Dundee included an overnight roundtrip Millerhill freight prior to picking up the next day's midmorning Dundee - Glasgow passenger.

1966
During January the first BRCW Type 2 was withdrawn from service, being D5383 at Derby Works after sustaining collision damage at East Langston during August 1965.
In a very short lived inter-regional transfer between Leicester/Nottingham and Thornaby D5248 - 5256 were exchanged for D5370 - 5378. The actual transfer of D5248/49/50 and D5370/71/72 occurred on New Yearís Day with the Class 25ís being sent north from Leicester, the Class 27ís coming down from Thornaby, the crews changing at Masborough! D5378 was noted at Derby Works during February, previously the Thornaby Type 2s had been overhauled at Darlington Works, but this works was now approaching closure.
Dieselisation of more of the Glasgow - Aberdeen services continued using the rebuilt NBL Type 2's, however their continued unreliability saw substitutions by steam and BRCW Type 2s. Sightings of the same BRCW Type 2s over routes to Ayr & Stranraer were becoming more frequent, with D5348 retained at Ayr for three weeks in February/March. In the Dundee area the BRCW Type 2s were becoming more common on area freights.
During February four BRCW Type 2s were transferred to the Nottingham Division (M16).
The Haymarket BRCW Type 2s had been solid performers on a variety of local freight and passenger services over the Waverley route. From the end of January steam was virtually eliminated from the route, though unscheduled incursions would continue to take place, at the same time freight schedules were revised and accelerated, whilst the practice of changing crews at Hawick was eliminated on many workings. For a number of local workings to Hawick diesel multiple units replaced locomotive hauled stock.During the first quarter of 1966 there were nine through freights over the Waverley route, generally in the hands of Haymarket English Electric Type 4s or BRCW Type 2s.
D5380 was noted at Derby during late May in a two-tone green livery similar to that of the Derby Type 2s then being outshopped from Derby Works.
D5303 was reported at St Rollox during April as the first of a small batch of Haymarket BRCW Type 2s (D5300 - D5306) to be modified for use on the Cockenzie merry-go-round coal trains. By the end of July D5300 was noted undergoing a similar treatment at St Rollox. Alterations included the removal of the train heating boiler and boiler water tank, the fitting of slow speed control & air brake equipment. The front end gangway doors were also sheeted over.
Singling of the Dumfries - Castle Douglas line saw the use of D5353 on the demolition train during the middle of May.
On the late afternoon of June 27th D5347 & D5339 worked a Royal Train between Glasgow Buchanan Street & Edinburgh. Several days later on July 1st the Royal Train was noted headed south over the Waverley route behind D1974 with D1976 at Hawick as standby.
Steam was still prevalent in south-west Scotland but a sign of the times was noted on July 9th when the 08.15 Newcastle - Stranraer was noted at Ayr with D5352 & Black 5 No.44986, this type of steam/diesel combination would occur frequently until steam was withdrawn from Ayr & Stranraer during October. A week later (July 16th) a number of Edinburgh - Scarborough services were noted behind Haymarket BRCW Type 2s (as far as Newcastle?).
On August 2nd D5347 & Officer's Saloon SC45020 toured the Glasgow area's electrification works, the special started from the cavernous St Enoch station, from which passenger services had been withdrawn the previous month.
D5352 & D5367 were successfully trialled on September 13th over the Ayr - Stranraer route pending the withdrawal of steam anticipated in October. The transition saw 25 diesels replace 45 steam engines with Hurlford depot closed. The Eastfield BRCW Type 2s were part of this transition. For a while a pair of them handled a Stranraer - Euston to Carlisle, then returning on the down train before heading light to Ayr for daytime freight duties.
On October 2nd six Class 24ís (D5050/51/53/55/56) were noted heading north on the ECML on transfer to Haymarket. The completion of these transfers by November allowed the final dieselisation of the Edinburgh - Carstairs services, taking away the few remaining steam diagrams serviced by St Margaretís shed, whose closure was now imminent, and making the occurrence of steam at Edinburgh Waverley now very rare. Another proposed closure was that of the Waverley route, to be effective January 1967, though public opposition to this proposal was swift and vehement. As well as the locals to Hawick the ex-ER Derby Type 2s were often diagrammed for the return workings to Carlisle, formerly handled by the Claytonís and the BRCW Type 2s.
D5362 was noted stabled at Crewe North November 20th.

1967
D5306 & D5304 were outshopped from St Rollox during January/February with slow speed control equipment. By April D5305 had been so equipped. D5302 would be the last converted, during July.
D5389 is believed to be the first of the LMR BRCW Type 2s to be painted in blue livery, so noted during January, whilst D5343 was the first Scottish BRCW Type 2 in blue livery during February(?).
Scottish Type 2s did not get the chance to haul many named trains but on April 14th D5055 & D5365 were noted through Ayr with the Up 'Northern Irishman'.
June saw Derby Works clear out more of its withdrawn diesels with Cashmores at Great Bridge being the successful bidder. On 26th moved were Crossley engined D3123/24/26 and collision damaged D5383, the first BRCW Type 2 withdrawn.
During August & September eighteen LMR BRCW Type 2s moved north to the Nottingham Division. Likewise D5316/17/18/19 were transferred during July from Haymarket to Inverness.
The St Andrews branch was visited by an excursion on October 8th, unusual because it was a Sunday and that a locomotive was at each end of the train. The trip was run from Glasgow for the Alcan Golf Tournament using D5369, with D5122 added on the rear for the run over the branch from Leuchers.
The month of December saw the first inroads into the least succesful of the Modernisation Plan diesels, with at least twenty of the Scottish NBL 61xx series locomotives being officially withdrawn although many had not seen revenue earning service for quite a while. This marked the first step in the reorganisation of the Scottish fleet that would eventually bring all the BRCW Type 2s north of the border.
Allocation of the BRCW Type 2s at year end were
London Division (D14): D5400/01/02/03/04/05/07/08/09/10
Nottingham Division (D16): D5370-79//85/87-95/97/98/99, D5406/11
Midland Lines (ML): D5380/81/82/84/86/96, D5412/13/14/15
Inverness (60A): D5316 - D5346
Haymarket (64B): D5300 - D5315
Eastfield (65A): D5347 - D5369

1968
During January D5316/17/18 were reallocated back to Haymarket.
On March 21st the 01.05 Glasgow - Stranraer parcels was diverted into the carriage sidings at the south end of Girvan station, leading to the train, led by D5347 running through the buffer stops. The locomotive sustained damage to the trailing cab, the Ayr breakdown train took most of the day to clear the wreckage and recover the locomotive. By early April D5347 was noted at Glasgow Works for repair, as was D5339 which had also sustained collision damage.
The BRCW Type 2s were removed from the Moorgate workings effective May 6th when diesel multiple units took over the service.
D5353 was noted at Glasgow Works during May with fire damage.
At the time of steamís departure from British Railways a new classification system came into use for identifying the diesel & electric fleet. The class number would now be dependent on the horsepower of the locomotive, the BRCW Type 2s falling approximately into the middle of the table becoming Class 26 & 27. Likewise the prefix ĎDí was no longer to be used, effective October 1968. Additionally a National Traction Plan was published which attempted to correct some of the failings of the 1955 Modernisation Plan. For the diesel & electric fleet this envisaged a rationalisation of the existing 28 types, totaling 2,976 locos, to a total of 2,240 of 15 types, a reduction of 25%. This rationalisation led to continuing re-allocations, including the BRCW Type 2s. A decision was taken to allocate all the BRCW Type 2s, (the Class 26 & 27ís) to the Scottish Region. This was a logical step for maintenance and spares purposes. Consequently the Midland based Class 27ís eventually began their trek north, exchanged for Scottish Region Class 20 & 25s commencing July.
During July the first of the LMR Class 27s were transferred to the Scottish Region, whilst others were transferred to the Nottingham Division. Despite these transfers the Type 2s were still well travelled in the Midlands with D5373 noted on the Gosford Green branch on July 5th with the car train for Linwood, whilst on July 26th D5376 & D5373 deputised for a Class 47 on an afternoon Banbury - Burton freight. Many of the newly transferred Class 27s would replace Class 25s in the south-west of Scotland.
During the second week of August there were no Class 27s in Derby Works. D5408 was noted in the Works sidings during late September.
The month of September saw some of the coal output from Bilston Colliery diverted to Longannet power station, using the Class 26s and wagons normally serving Cockenzie power station. The latter was taken off line whilst urgent boiler repairs were effected.
During November 5318 & 5319 were transferred to Haymarket (64B).
Allocation of the BRCW Type 2s at year end were
Nottingham Division (D16): 5370-81/84-93/95/97/98/99, 5400/01/03-06/08-13
Inverness (60A): 5320 - 5346
Haymarket (64B): 5300 - 5319
Eastfield (65A): 5347 - 5369/82/94/96, 5402/07/14/15

1969
During January 5320 was transferred to Haymarket (64B).
The New Year brought bad tidings for the Haymarket allocated Class 26s. One of the principal mainlines they had seen service over for a number of years, the Edinburgh - Carlisle ĎWaverleyí route was closed on January 4th 1969 with BR expecting to save GBP 300,000 per annum after closure. The final week was not without its problems, the steam heating boilers of the various Type 2ís continued to be unreliable, especially during this time of unusually bad weather. So affected was 5350 working the 09:20 Carlisle - Edinburgh on January 2nd, attempts to fix it at Stainton Junction failed, so 5340 was obtained from Kingmoor. On the final day the first station to close, due to having only two trains each weekday was Tynehead. Its last service was the 16:12 Edinburgh - Hawick, headed by 5070 and four coaches complete with a small amount of mail which was met by the local postmistress. Ironically on the last day ĎGrand Tour No. 6í, an excursion hauled by 1974 with a full complement of passengers traversed the Waverley route en route to Newcastle. From here a trip to Benton & Tynemouth used 250, on return to Newcastle 1974 came back on for the run to Edinburgh via the coast route. The last scheduled train, the 1M82 21.55 Edinburgh - St. Pancras, with eight coaches and two sleepers was handled by Class 45, 60. Carlisle was reached over two hours late caused by the boisterous activities of many local people protesting the closure of the route. The Hawick pilot, 8606, was sent ahead light engine to ensure the integrity of the line south of Hawick. A light snow fall had taken place during the day, but the evening saw clearing allowing the sun to set one last time on this run and providing the protesters with a chilly night out.
During March 5403-06/08-13 were transferred from the Nottingham Division to Eastfield (65A). The remainder continued on freight workings in the East Midlands, with Coalville being a favourite layover point at weekends. Pairs of the Class 27s could also be found on the daily roundtrip Burton - Banbury freight.
5321/22/24-29 were transferred from Inverness to Haymarket during April, following the exchange of diagrams between the two depots (?).
News reports suggested the Type 4 locomotives and coaching stock would replace diesel multiple units on the Edinburgh - Glasgow service by 1971.
During June & July 5391/92/93/95/97/98/99, 5400/01 were transferred from the Nottingham Division to Eastfield (65A). These transfers were offset by Classes 20 & 25 transferred to the London Midland Region from the Scottish Region. During the second week of June Derby Works contained 5373 for a general repair and 5397 ex-works.
Services between Newcastle and Ayr & Stranraer utilised a variety of Type 2s. The 23.45 SO Newcastle - Stranraer and the next day's 13.50 return were normally in the hands of Class 24/25s whilst the 08.15 SO Newcastle - Stranraer used Class 27s west of Carlisle, sometimes loading to twelve coaches, when the train would be double-headed.
Another of the Scottish Grand Tours (No 9) ran on September 13th also with eight coaches behind 5071 & 5342 from Edinburgh to Inverness. An unscheduled stop was made at Aviemore to fill the water tank on 5071. From Inverness 5120 & 5117 made a round trip to Kyle of Lochalsh, reverting to the outbound power at Inverness for the run home over the Highland mainline.
During October & November 5372/74/75/78/79/80/86/87/90 were transferred from the Nottingham Division to Eastfield (65A), Class 20s replaced the Class 27s at Toton. Present at Derby Works at the beginning of October were 5377/81/85/88.
5315 was noted at Glasgow Works during early October with collision damage.
During November 5370/73/89 were transferred from the Nottingham Division to Eastfield (65A). In the first week of November 5381 was under repair at Derby Works. To replace the Class 27s an equivalent number of Class 20s were sent south.
5328 was seriously damaged in a freight train derailment at Inverkeithing, then forwarded to Glasgow Works for evaluation.
Allocations as of year end:
Nottingham Division (D16): 5371/76/77/81/84/85/88
Inverness (60A): 5330 - 5346
Haymarket (64B): 5300 - 5329
Eastfield (65A): 5347 - 5370/72-75/78/79/80/82/86/87/89-99, 5400-15

1970
At the beginning of January there were no Class 27s under repair at Derby Works. During 1970 EQ brakes were fitted to Class 27 locomotives at Glasgow Works, five of the ex-LMR Class 27s had been so equipped by Derby Works.
Further news about improvements for the Edinburgh - Glasgow route suggested hauled stock with a Type 2 at each end, with modification to permit 100 mph running.
Transferred from the Nottingham Division to Eastfield during February were 5371/76/81/84/85. These transfers left just 5377 & 5388 allocated to the Nottingham Division, they would be transferred to Eastfield during March, again Class 20s from Scotland were sent south in replacement of the Class 27s. During February 5437/48 moved to Haymarket, the first Class 27s to be allocated there. The influx of ex-LMR Class 27s to Eastfield allowed the Class 27s to become firmly entrenched on the Glasgow - Dundee services.
5345 sustained fire damage on March 30th whilst working the 09.45 Glasgow - Inverness with 5332. 5345 was later dumped in Ballinluig loop, whilst Inverness was reached 150 minutes late with 5308 assisting. at about the same time Glasgow Works held damaged 5317/28/82 in various states of repair.
During 1970 work commenced on converting 24 Class 27s for use on the Glasgow - Edinburgh push-pull service.
Fuel capacity was increased from 500 gallons to 685 gallons.
All of the batch selected were boiler equipped, with the exception of 5374, which was then fitted with a boiler.
In Scotland on May 17th preliminary testing of a push-pull train commenced between Edinburgh & Glasgow, with a Type 2 at each end. By the end of June an announcement advised of a new push pull service beginning in May 1971 using Mark II coaches hauled by Type 2ís, most likely Class 27ís.
The passengers on the 23.45 Edinburgh - Birmingham of June 23rd probably wished for something reliable after 5324 set fire to itself at Slateford.
5325 was noted fire damaged at Haymarket during September. As part of the lead-up to the push-pull service 5413 was sent to Derby Works for attention, including the fitting of dual brakes. By October 5409/13 were present at Derby.
On August 15th a derailment at Kirkconnel closed the GSW route with services being diverted via Beattock. A Kingmoor dmu and 5386 with three coaches maintained the local service between Kirkconnel and Carlisle. Diverted trains included 5209 & 5202 on 1S28 Blackpool - Glasgow, later returning light and 7634 & 7671 on 1S54 Blackpool - Glasgow service.
On October 5th a landslide near Tyndrum derailed and rolled 5381 onto its side whilst working a freight on the Oban line. Just over a month later on November 16th a landslip at Attadale on the Kyle of Lochalsh line blocked the railway and trapped 5342 and various items of rolling stock. An improvised service operated on the Kyle side of the blockage until March 10th 1970 when the line reopened.
Class 27s at Derby Works during Christmas week were 5404/07/08/09/11/13, whilst 5414 was noted at Haymarket equipped with jumper cables.
Class 26/27s were frequent visitors to Newcastle, particularly on freight workings, including Millerhill - Tyne roundtrips and a variety of Edinburgh - Kings Cross parcels. On the WCML it was reported that the 21.15 Perth - Euston (date unknown) reached Crewe with 5323 providing heating with 402 as the train locomotive.
Allocations as of year end:
Inverness (60A): 5330 - 5346
Haymarket (64B): 5300 - 5329, 5347/48, 5403/11/13/15
Eastfield (65A): 5349 - 5382/5384 - 5402/04-10/12/14

1971
Class 27s present at Derby Works during the first week of February were 5393, 5403/04/07/08/09/10/11. Conversion included the fitting of dual brake equipment and the removal of the train heating boilers from some locomotives. By the third week of February 5409 & 5413 had returned to the Scottish Region, now equipped for push-pull working.
On March 22nd test runs began with two push-pull locomotives and five coaches between Edinburgh & Glasgow. When introduced the 46 miles between Glasgow Queen Street & Haymarket were allowed 39 minutes, although the fastest of runs managed just over 35 minutes. If one of the Swindon diesel multiple unit sets substituted an additional six to seven minutes were required. During April two test trains were in use though a shortage of Class 27s saw Class 37s filling in. Transfers at this time were minimal with several Class 27s being transferred to Haymarket as they returned from Derby Works.
During May 5329 was transferred to Eastfield (65A).
May 11th produced some unusual sightings north of Newcastle, 5324 worked the 18.32 Liverpool Street - Edinburgh parcels after the failure of 251 at Newcastle whilst the 6F20 Immingham - Millerhill had an unusual combination of 7590 & 5320.
The new push-pull Edinburgh - Glasgow workings had produced much of interest due to the continuing shortage of properly equipped Class 27's, all substitutions requiring air braked locomotives, which were not widespread at this time. These were initially ScR Class 37's, either working with a Class 27 or with 37's at each end, so noted have been 6844 & 6936 (May 15th) and 6857 & 6844 (May 24th). Also held in reserve were several of the elderly Swindon Inter City sets, seeing occasional use with one set held at Waverley and another at Cowlairs.
Outshopped from Glasgow during June were 5374 & 5387 with the yellow extended around the cabside windows.
An SRPS special on June 19th encountered difficulties whilst returning from Inverness. The train had been worked up from Glasgow by 5360 & 5372, and these were used for the return. Unfortunately 5372 failed leaving Dalwhinnie, stalwart 5360 soldiered on alone over Drumochter only to expire at Dalguise. Rescue came from 5117 & 5121, fresh off the "Royal Highlander', pushing the train to Dunkeld, where further assistance appeared in the unlikely shape of 415, a class only recently cleared over this route. Travelers on the special finally reached Glasgow 160 minutes late.
As the month closed out bad news was received concerning the Edinburgh - Glasgow service. The high speed running of these services, day in, day out was taking its toll on the Class 27's, now suffering from vibration affecting the motor windings. Repairs were being undertaken but Class 37's and more recently Class 25's were substituting, with 7579 so noted on June 26th. By mid July the Class 37's were temporarily removed from these services leaving the Class 25's as the regular stand in's. The Swindon InterCity sets continued to be rostered occasionally, making a creditable attempt at keeping time. However for most of these units the end was near, with over thirty in store at Millerhill. One set spent several days at Inverness for testing on the Wick & Thurso service, which they were thought to be scheduled for in September. Mercifully this was not to be.
By the end of July there were no Class 27s at Derby Works.
During August the 14.15 Edinburgh - Newcastle was frequently hauled by Haymarket Type 2s from Classes 24/26/27.
By the middle of September 5391 was at Derby Works for the fitting of electric train heating equipment. Also during September (or late August) Class 37s had returned to the push-pull workings covering for failures.
With the end of the summer timetable came one of the most radical changes ever witnessed to the diesel fleet. Withdrawals in October totalled over 120, coming from two distinct areas, the Western Region hydraulic fleet and the Scottish Region's NBL & Clayton fleets. These rationalizations saw the demise of the NBL built Warships, the Rolls Royce engined Claytons and the Beyer Peacock built Claytons. To cover the loss of this large number of machines an equally large number of transfers took place. As it affected the Scottish Region, the Eastern Region, that is Leeds & Gateshead, which had already sent nine Class 24's across the border in July now sent three more (5096 - 5098) to Polmadie (66A). Thornaby's Class 25/0s were transferred to either Eastfield or Leeds. Joining the Types 2's at Eastfield were thirty Class 20's mostly from the Eastern Region. The Stoke Division sent another thirteen Class 24's to Polmadie (66A), this transfer included all the remaining locomotives from the 5000 - 5019 batch and 5073. In all of these moves the Classes 26 & 27 allocations remained unchanged.
Increasing coal traffic between Seafield Colliery & Cockenzie power station saw the diagrammed Class 20s supported by Classes 26 & 37.
Signalling and other improvements saw sections of the Edinburgh - Glasgow route with speed limits of 100mph between Falkirk Tunnel & Polmont Junction, Croy & Falkirk High and Bishopbriggs & Gartshore. The push-pull services were allowed a maximum speed of 90mph.
As the year ended withdrawals and transfers reflected the continuing rationalisation of the locomotive fleet. On the Scottish Region the last of the NBL & Clayton products were retired, though these losses did not affect the allocations of Classes 26 & 27.
Allocations as of year end:
Inverness (60A): 5330 - 5346
Haymarket (64B): 5300 - 5329, 5347/48/91/92/93, 5403/04/07 - 13
Eastfield (65A): 5349 - 5382/5384 - 5490/94 - 99, 5400/01/02/05/06/14/15

1972
During January 5347 & 5348 moved from Haymarket to Eastfield, being swapped with 5380 & 5401. During February these transfers were reversed, with additionally 5410 & 5412 moving to Eastfield.
5391 still present at Derby Works during middle of March (not present by mid June).
Industrial action by the coal miners seriously impacted the movement of coal, leading to many of the early series of Haymarket's Class 26s being sidelined at Haymarket during the strike.
During the early hours of March 27th a series of tests took place with Class 37s and hauled stock. The first test ran from Glasgow Queen Street to Edinburgh Waverley, on arrival a Class 37 dropped on to the stock and returned west. A total of five journeys were completed, the incoming locomotive at Glasgow Queen Street assisted the eastbound working up Cowlairs bank. Timings varied between 43 and 45 minutes. Although the tests were successful the push-pull service remained in the hands of the Class 27s, which had settled down to providing a reliable, fast service over the route. The use of the Class 37s was not taken up due to increased terminal time in coupling/uncoupling the locomotives and then completing the mandatory brake tests.
Released from Glasgow Works during the first quarter were 5304 & 5317 with the cab door windows removed and the replacement sheet metal painted yellow.
During July 5348 moved from Haymarket to Eastfield, swapped with 5349 (this was the first transfer for 5349), whilst during the same month 5328 would become the first Class 26 withdrawn, being the only Class 26 not to be renumbered into the TOPS numbering.
On September 16/17th a 'Railfair 72' open day style event was held at Eastfield, with a diesel multiple unit shuttle running from Queen Street. Included in the exibits was ex-works 5362.
5312 which had spent a year at Glasgow Works was finally released to traffic (during September?), still in green livery with a D prefix. 5367 was noted at the Works during October with fire damage, whilst withdrawn 5328 was also present, it would be broken up during December. At Polmadie depot 5350 was noted with fire damage.
Dual brake fitted during 1972: 5401 (January); 5380 (February); 5400 (March); 5397 (May); 5388 (July)
Broken up during 1972 at Glasgow Works: 5328 (December)

1973
During February 5329 was transferred to Inverness.
On February 14th, an extremely cold day, the 07.45 Edinburgh - Glasgow Queen Street was diverted to Springburn after the driver reported having difficulties with the braking system. Investigation revealed part of the braking gear was frozen. All subsequent westbound push-pull workings stopped at Eastfield for examination prior to descending Cowlairs bank. Later that night a severe frost was partly responsible for an overhead equipment failure that led to delays for services using Glasgow Central.
At the beginning of March 5391 was back at Derby Works.
On March 24th 5355 became derailed by catchpoints at Polmadie, fortunately the locomotive fell away from the runnings lines, causing no delays. A week later on March 31st the 4S82 Kings Crosss - Aberdeen freightliner exchanged 187 for 5303 & 5306 in the Newcastle area. It is presumed the Type 2s then worked through to Aberdeen.
During April the first diesel locomotives started to carry the new five digit TOPS numbers, for the BRCW Type 2s these number series would include 260xx, 270xx, 271xx & 272xx. Effective May 1st the TOPS system introduced two digit depot codes, replacing the former LMSR alpha/numeric shed codes. For the Class 26/27s their depot codes became ED, HA & IS (previously 65A, 64B & 60A).
Present at Derby Works during the middle of April were 5349 & 5391. During April 5327 transferred to Inverness (60A), whilst in May 5347 & 5349 moved to Eastfield (ED).
An Open Day at Glasgow Works on May 12th featured about 50 locomotives on the premises, over half of which were for scrap. Amongst those awaiting entry were 5405 & 5406, both with fire damage. A week later on May 17th the Scottish Region was affected by multiple mishaps, some of a very serious nature. For the Type 2s it started in the early morning with 5308 being derailed at Burnhouse West, followed by 5375 coming into a sidelong collision with 5008 at Cadder Yard, the 13.00 Mallaing - Glasgow Queen street (presumably Class 27 hauled) failed south of Garelochead, leading to a two hour late arrival at Queen Street. Finally 5357/98 failed prior to working the 23.03 Stirling - Newton Abbot motorail, 5013 & 5096 hurridly replaced them. Other incidents this day included Classes 08/37/47/50.
5349 & 5391 were still present at Derby Works during mid-June, 5391 would quickly be renumbered 27119, and is presumably the first Class 26/27 to receive TOPS renumbering. On June 27th 27119 & 5403 were noted on the 07.30 Edinburgh - Glasgow with fitters travelling in the the cab of 27119 to monitor the new Deutz electric train heating equipment, which was to be fitted to other members of the new sub-class (27/3 later 27/2). Eventually twelve of the Edinburgh - Glasgow push-pull Class 27s were selected to have a Deutz diesel engine added to allow the coaches to be electrically heated. The diesel engine was fitted in the space vacated by the boiler, whilst the boiler water tank was replumbed for diesel fuel, thereby increasing the total fuel capacity to 970 gallons. To identify this new sub-class 27113 - 27124 were renumbered 27201 - 27112. During the conversion 27118 (5413) was found not to be suitable, so it was replaced by 27103, with 27118 then being renumbered 27103. Additionally 5409 never carried its 27/1 number, being renumbered directly to 27210.
Late June proved to be a challenge for passengers and the operating authorities on the push-pull workings. On June 26th the 07.30 Edinburgh - Glasgow suffered the complete failure of 5399 at Lenzie, the passengers were detrained and joined a following service whilst 5386 propelled the failed train to Cadder Yard. Two days later on June 28th the 17.35 Glasgow - Edinburgh saw the leading bogie on 5387 suffer a serious failure, showering parts across the line and into nearby gardens, the parts narrowly missing a railway worker and a gardener. The train was safely brought to a stand at Falkirk High, passengers were detrained to catch following services whilst 5392 propelled the train into Polmont Loop. Finally on July 2nd the 16.30 Edinburgh - Glasgow whilst travelling at 90mph suffered the derailment of the trailing locomotive, 5400, whilst passing Cadder signalbox. The leading locomotive, 5396 and the six coaches remained on the rails, but before the train finally came to a halt the derailed 5400 had destroyed the points at the west end of Cadder Yard. Fortunately no injuries were sustained by passengers or train crew, eastbound traffic was able to pass the derailed locomotive at caution whilst westbound services were diverted through Cumbernauld until repairs were completed by the next evening. After attention at Glasgow Works 5400 would be back in traffic by August 16th.
On the evening of August 6th 27119 and a rake of eight LMR dual-heated coaches were tested between Ladyburn Yard & Larkfield Carriage Sidings to test the locomotive's ETH equipment, the trials lasted for several days with 27119 confined to pilot duties at Glasgow Central during the test period.
5412 was transferred to Haymarket during August.
On August 31st heavy rain in the west of Scotland led to the partial collapse of bridge No.51 at Drimsallie Lodge between Locheilside & Glennfinan. Two sets of coaching stock and locomotives 5350 & 5359 were trapped west of the collapsed span. A bus bridge was established at Glennfinnan, with the trapped locomotives and stock providing a shuttle between Mallaig & Glenfinnan. Despite pronouncements that the line would take a considerable amount of time to reopen, traffic was moving by October 31st, with full service resumed on November 1st.
On September 22nd 5356 & 5348 were noted departing Blackpool with a return weekend special for Glasgow.
Noted at Glasgow Works during october was 5406 with fire damage.
November 2nd saw a number of Scottish Type 2s in the Newcastle area. The 3E03 19.55 Edinburgh - Kings Cross parcels arrived at Newcastle with 5403, whilst a Royal Train headed for Kings Cross was hauled by 5361 & 5365, being replaced at Newcastle by 1970. Also on this date a 'Santa Special' arrived at Glasgow Queen Street behind a festively decorated 5359 as part of a seasonal advertising promotion by a major Glasgow store.
A collision occurred at Dingwall station on November 5th between the 7N31 16.20 Invergordon - Millburn Yard headed by 5330 and the 17.40 Inverness - Kyle of Lochalsh with 5329. The freight train failed to stop at the Dingwall North Jct home signal, running into the station and colliding with the standing passenger train. A number of passengers were injured, both locomotives and some coaching stock were damaged. Both locomotives would eventually be moved to Glasgow Works for repair, with 5330 being so noted receiving significant cab repairs during June 1974.
5349 was still present at Derby Works during early November.
During December 5374 moved from Eastfield to Haymarket in exchange for 5412.
Dual brake equipped during 1973: 5395 (March); 5396 (April)
ETH equipped and boiler removed during 1973: 5391/27119 (June)

1974
A lightweight working for the Scottish Type 2s was the 18.55 Edinburgh - Carstairs which frequently had two locomotives for two parcels vehicles. However a later leg of the diagram was the Edinburgh portion of the 23.40 Glasgow - Bristol.
On May 15th whilst working the 13.00 Edinburgh - Glasgow Queen Street service 27118 caught fire at Cadder Yard and was removed from the train. Whilst running round the train to take it forward 27101 became derailed in the down loop. The train eventually reached Glasgow Queen Street over an hour late behind 27110. Despite the occasional failures/operating challenges of the push-pull services, the services were generally maintained to a high level of on-time timekeeping. It is also apparent the the crews and station staff became very adept at keeping delays to a minimum when all but the most serious difficulties occurred.
Timetable changes for the summer timetable saw a greater number of Type 4 locomotives working over the Highland to Inverness, with a consequent impact on the Inverness fleet of Type 2s. Likewise the introduction of full electric service over the WCML between Euston & Glasgow saw a decrease in the number of visiting diesel locomotives that might be borrowed for Scottish fill-in turns.
During mid-June 5351 & 27107 were noted at Glasgow Works with fire damage.
A Royal Train working took place on July 3rd with 27043 hauling an Edinburgh - Bishopston Royal working comprised of four standard BR coaches and Saloon 396.
During the late afternoon of August 2nd a Crianlarich Lower - Corpach freight derailed several timber wagons between Bridge of Orchy & Rannoch. Considerable damage was caused to the track, with the line not being opened until noon of the next day. 27002 was hauling the train and remained on the rails. August 28th proved to be a challenge for the operating authories on the West Highland when 27014 failed near Morar with an afternoon Mallaig - Glasgow. An approaching Glasgow - Mallaig service was stopped and its locomotive 27023, was removed and dragged the failed train to Arisaig, where 27009 had been sent from Fort William to rescue the eastbound service. 27009 had to be refuelled at Fort William prior to taking the eastbound service forward, but then failed whilst restarting from Bridge of Orchy. 27040 was taken off a westbound service and added to an eastbound freight prior to relieving 27009. Arrival at Queen Street was shortly after 11pm, a nine hour journey for anyone who endured the adventure.
Just before 7am on September 14th, whilst working an LNER Charter from Euston to Wick/Thurso with 26035, 26034 suffered two failed traction motors shortly after cresting Slochd Summit. Inverness sent out 24129 & 26033 to assist the failure, with arrival in Inverness being three hours behind schedule. This simple failure led to a miserable day for operating authorities in the Inverness area, compounded by the abundance of single track with crossing loops, several long distance extras, tight connections, tight diagramming of rolling stock with the knock-on effect of late arrivals creating late departures for other services. Services were affected on the Highland mainline and the Wick/Thurso, Kyle & Aberdeen lines out of Inverness. Mercifully no other locomotive failures were recorded in the Inverness area this day.
Another derailment involving a freight hauled by a Class 27 occurred on the late afternoon of September 19th when three wagons in a freight hauled by 27019 became derailed leaving Cadder Yard blocking both main lines. The line remained blocked for the rest of the day, causing considerable operating difficulties for several passenger trains immediately impacted by the derailment.
27027 was noted at Glasgow Works in early October with collision damage to a cab. This may have been as a result of a lorry striking the 17.29 Mallaig - Fort William at Annat on August 19th.
On November 7th 27004 & 27107 hauled the Royal Train from Dundee to Edinburgh with HRH The Duke of Edinburgh on board.
ETH equipped during 1974: 27205 (December)

1975
A number of the Inverness - Aberdeen services utilised hauled stock and locomotives, with Inverness Class 26s occasionally handling the services.
On February 17th the 16.30 Edinburgh - Glasgow Queen Street suffered a broken axle on the trailing bogie of coach SC5189, which eventually derailed at 90mph at Cadder East. SC5189 was the last coach in the train and buffer locked with 27202 which then derailed its leading bogie. The train was safely brought to a halt by 27107, but two miles of track had been damaged. Fortunately no injuries were reported as the coaches remained upright. 27112 & 27024 were obtained, rejoined the train at Tulloch and reached Glasgow Queen Street by half past midnight.
During the first week of March 27005 was noted at Polmadie with collision damage to one side.
T.S.S.A action seriously impacted service levels on the push-pull services during March, with reduced coaching sets and frequently running with only one locomotive. Unusual motive power frequently substituted for the Class 27s.
27024 became the last Class 27 in green livery, being repainted in April/May. Noted at Glasgow Works Open Day on May 17th was 26005 with collision damage.
On May 31st through Kings Cross passengers on the 17.25 Fort William - Edinburgh, connectiong with the 19.45 Aberdeen - Kings Cross could have travelled half way round the world by the time Kings Cross had been reached. The twelve coach train departed Fort William with 27009 & 27039, these were removed from the train at Tulloch and returned to Fort William depot after it was established only one locomotive was functioning properly. 27112 & 27024 were obtained and returned to the train at Tulloch, finally arriving at Glasgow Queen Street at half past midnight. Falkirk & Edinburgh passengers were taken forward by a special diesel multiple unit from the High Level station. The train then proceeded to Cowlairs where the two Class 27s & several coaches were removed and 27004 coupled to the train which it worked via Mossend to Carlisle. Here 31411 took over as the 02.50 to Newcastle, which departed over an hour late. After a refreshment break at Newcastle the train departed as the 06.05 special to Kings Cross, arriving in the capital at noon, after a journey time of over eighteen hours.
The continued use of Class 40s over the Highland mainline on internal passenger workings was impacting timekeeping due to their lower horsepower than a pair of Type 2s. Frequently Class 40s from non-Scottish depots have been used.
During July 27012 was placed in store.
On July 12th a relief morning Aberdeen - Glasgow was stopped near Carmont with 27009 on fire. After fireman extinguished the fire, 47158 off the down Night Aberdonian was removed from its train to assist, but in using the crossover at Carmont became completely derailed. The line was blocked until the late afternoon with a bus bridge established between Stonehaven & Montrose.
The Scottish Region's Class 24 fleet was drastically reduced by withdrawals and storage during August (leaving Eastfield with no Class 24s), these losses were covered by transfers of Class 25s, leaving the Class 26/27 allocations unchanged.
The Inverness - Aberdeen service again suffered from diesel multiple unit shortages during the summer. Substitution involved hauled stock and various motive power including Classes 26/27.
During September 27012 was returned to traffic to Eastfield depot, at the same time 27039 was placed to store. The Crewe Works Open Day on September 20th found 27006 & 27025 present, the former with fire damage.
A surprise visitor in the yard at Crewe Works Open Day on September 20th 1975 was a work-stained 27006. The locomotive still carries the tablet catcher recesses. There appears to be some metal reinforcing added above the driver's side window, the windscreen wipers are missing and when the cab-front gangway doors were sheeted over the beading was not replaced.
During October 26016 & 27039 were withdrawn, the first renumbered Class 26 & 27 to suffer this fate. Transferred to Inverness at the same time were 26015/21/23/36. By the middle of October fire damaged 27006 was at Glasgow Works, as was fire damaged 27009.
The winter timetable saw the loss of the 17.10 Edinburgh - Newcastle, a favourite for varied motive power including Classes 26/27. The service would now only run to Berwick-upon-Tweed, but would continue to see a vast array of locomotive types handle the turn.
A further nine Class 26s were transferred to Inverness during November, leaving only 26001 - 26007 at Haymarket, although they were most frequently found laying over at Millerhill. Additionally the ongoing shortage of diesel multiple units frequently found these Class 26s substituting on local passenger services. The 1E83 17.10 Edinburgh - Berwick upon Tweed continued to see a variety of motive power, including a mixture of Class 27s.
27025 was still present at Crewe Works during early December, but had disappeared by the third week of January 1976.
On December 29th the heavy 20.50 Euston - Inverness 'Royal Highlander' suffered brake trouble and was unable to stop at Larbert, the train ran through red signals at Alloa Junction and was finally stopped on the rising grade at Plean. A small fire caused by sparks from the brakes occurred under the trailing Type 2. An inquiry revealed the coupling of the Type 2s at Mossend had left the brakes improperly secured. Possibly as a result of the stress of the runaway incident the driver died shortly afterwards.
Dual-brake equipped during 1975: 27041 (August).
ETH equipped & boiler removed during 1975: 27212 (March); 27204 (April); 27208 (December).

1976
The year was not even a month old when 27006 was retired, having been allocated only to Eastfield throughout its career.
On January 7th the early morning Millburn Yard - Stromeferry freight was loaded to over 750 tons due to a large consist of Presflo wagons, being hauled by 26024 & 26021.
Two merry-go-round trains at Cockenzie Power Station collided on January 30th, with 26003 & 20179 derailed along with some wagons.
During the first week of March 27022 was noted at Glasgow Works with collision damage.
Its March 13th 1976 as an unidentified Class 25 and 27038 undergo repair at Glasgow Works. Whilst undergoing repair 27038 would receive dual braking equipment. In the foreground are a variety of parts awaiting overhaul and return to the locomotives.
Photograph collection of webmaster.
Noted at Derby Works at the beginning of May was 27207.
On May 2nd 26046 was noted at Berwick hauling 24015/16/71 & 24117 as an Eastfield - Doncaster scrap locomotive movement.
Late on the evening of July 1st 27013 ran away at Eastfield depot, running off the headshunt, causing debris to fall onto the mainline. The damage to 27013 led to its immediate withdrawal. 27013 was always allocated to Eastfield.
During early August 27022 was noted at Glasgow Works with collision damage.
Heavy rain in the late afternoon of September 28th caused numerous problems throughout the Glasgow area. Glasgow Queen Street suffered high water levels and sustained considerable damage. Amongst the rolling stock trapped in the station was a push-pull set with its Class 27s, three other Class 27s and other assorted rolling stock.
Early on the morning of September 11th 26025 became derailed and fell on its side near the fuelling point at Perth. The Dundee breakdown crane attended in the rerailing process.
Withdrawn during September was 27035, whilst at Glasgow Works 26016 was finally broken up, although the cabs lingered for a while.
Commencing November one of the push-pull sets was taken out of service to permit a ten-day overhaul at Glasgow Works. A Mark I set with Type 4 haulage substituted with the remaining push-pull diagrams adjusted creating more intensive utilisation. It was expected to take six weeks to rotate all the push-pull sets through the Works.
The end of December saw the end of the usage of Class 24s in Scotland, bringing to an end the long time partnership of the Derby & BRCW Type 2s in Scotland, particularly at Inverness & Haymarket depots. The Class 24s did not go out quietly, with many of the few remaining operational members in frontline service, both passenger & freight. On November 23rd the 15.10 Aberdeen - Glasgow with 27011 failed south of Usan, assisted came in the shape of 24115, which on December 4th with 26043 worked the Edinburgh - Carstairs leg of an excursion to Euston.
Placed into store during December was 26020.
Dual braked during 1976: 27038 (July)
ETH equipped during 1976: 27211 (March) - the last to be converted.
Allocations as of year end:
Eastfield (ED): 27001-05/07-12/14-34/36/37/38/40-44, 27102/04-12, 27205/06/12
Haymarket (HA): 26001-07, 27101/03, 27201-04/07-11
Inverness (IS): 26008-15/17/18/19/21-46
In store: 26020


Page added January 2nd 2015.
Last updated July 11th 2015.