Derby Through the Diesel Years

1973 - 1983

This page is meant to complement the original Derby Works page created on this website, in that the original page now focuses on the period of the 1970's/1980's - essentially when I most visited the Works and for which many other photographers have supplied material.

The material on this page represents a walk through the years at Derby during its diesel days, though obviously with a bias to the post-Modernisation years! This is most definately a work-in-progress so please bear with me as new material is added, old material is rescanned and the captions updated.

1973
At the end of January there were about fifty locomotives, steam & diesel in the Works. Class 20's included 8192 & 8314 whilst larger sister 308 was in the Works yard. Another steam locomotive to enter the Works for repair was 73129 recently recovered from Barry.
You never quite knew what to expect when going round the Works, maybe a stranger visiting the Works for repairs, or something sent over from the Research Dept for modifications. In this case it's the damaged cab from 5158, which was on Works from January to March 1973.
Photograph courtesy Peter Lovell.
A surprise arrival on February 19th at the Works for attention was 4472 Flying Scotsman. The locomotive had run under its own power from Edge Hill after spending four years in America. The works was also receiving more Class 40's for repair, 235 & 242 so noted early in March, also present were 8063, 8123, 8135 & 8315 whilst 5391 had come south from the Scottish Region. Also noted next to the Works opposite the station were withdrawn shunters 3034/92/94 & 3100.
Looking across to the Works from Platform 6 is recently arrived 4472 'Flying Scotsman' awaiting entry into the Works after its return from the USA, seen here February 1973. The Works at this time had a plentiful supply of steam locomotives with several Jinties, BR Standard 73129 and Jubilee 45690 'Leander' in various states of repair.
During April Derby Works started to release overhauled Class 45's with the new five digit TOPS numbering. This numbering had so far only been applied to the LMR AC & DC electric classes. The Class 45's were the first of the diesels to be renumbered, and unlike most of the classes, their renumbering would be random. 45101/102/103 (old identities were 96, 51, 116!) were the first examples seen, the Class 45/1's were now equipped with electric train heating equipment, the old steam heating boilers being removed whilst in the Works.
At this time there were approximately sixty diesels on the Works. Early build Class 08 3009 was in the erecting shop as was the numerically interesting 4000. Joining 5391 in the Works was the first of the class 5347, whilst in the Works sidings was Clayton 8598.
Derby finally released D5391 during June under its new guise of 27119. By June 27th it was in service on the Glasgow - Edinburgh push-pull service, initially with several fitters on board to monitor the the new electric train heating equipment. The shunters stored opposite the station had now started to enter the Works for overhaul, having been sold for export to a Liberian company. Apart from the Class 27 & 45's no other classes had been renumbered so far whilst in the Works. 45690 Leander was set for running-in trials in the last week of June.
4472 Flying Scotsman left the Works during July, it was given a send-off by then BR chairman Richard Marsh and for a fee of 10p the public could visit the locomotive on the Saturday prior to its departure the next day.
In the Works at the beginning of August were almost sixty diesel locomotives either for repair or withdrawn. 5349 was still present and the only Class 40 in the Works was 307. Steam locomotive 45690 Leander received LMS red livery prior to moving to Dinting by the end of the month. Sometime in August 3051 was cut up after being a source of spares for the LAMCO shunters.
September saw Derby outshopping other classes with the new five digit numbers, so noted were 08617 (3784), 24041 (5041), 25208 (7558) & 25282 (7632). If it had been thought that the Workshops would be the only source of renumbering for the fleet it was patently obvious that this would take a great deal of time so it would be left up to the depots to assist with the renumbering process and get the fleet renumbered as quickly as possible.
Three BR Class 08 shunters Nos 3092, 3094 & 3100 are shown under repair at Derby, sometime during 1973. They are also undergoing modifications for their new home in Liberia. They were not the greatest success in Liberia, being underpowered and too light for some of the work.
The modifications to the Class 08 shunters destined for Liberia included:
Buckeye couplers fitted.
Vacuum brake removed, air brakes fitted.
Air pipes for the train brakes.
Four headlights fitted (front & back).
Air horn (replacing the whistle).
Cab controls revised to accommodate the air brakes.
Two-way radio installed.
Fuel transfer pump handle removed from inside the cab and placed next to the pump below the cab.
Side mirrors fitted to each cabside.
Substantial roof extension to provide extra shade to the cab.
Extended front and rear platforms, with footsteps, at each end of the locomotive.
In mid-November there were about sixty diesel locomotives at the Works, including 5349 & 8598 and shunters 3092/94/98 & 3100 bound for Liberia. The cabs from withdrawn Inverness Type 2 5114 had been sent down from Glasgow for reuse by Derby, at least one would be fitted to 5055. The increased number of Class 08's in for repair suggested that Derby was taking over some work from Swindon. Class 40's noted were 293 & 40107, the latter would be the first Class 40 renumbered at Derby. For awhile the repair of the Class 20's & 40's would cease at Derby. Also disappearing at this time was 3034 to the scrappers at Derby.

1974
Shunters under repair during March including Southern Region allocated 09011/14. Class 27 5349 had returned to Scotland. Class 24's under repair included 5145, 24014/029/034/044/049.
The four shunters destined for Liberia left the Works in mid-April, their journey was not a success, being turned around at Rotherham and returned to Derby for further attention. They were later shipped from Middlesborough Docks by the MV Avafors during May. There were about fifty diesels in the Works during April along with steam locomotives 47327/357, 47445, 47564 & 73129, the latter was awaiting repainting. 24110 was a stranger in the Works, normally Glasgow would handle repairs for the Gateshead based machines.
The four Class 08's sold to a company in Liberia are marshalled in a train for transhipment to Hull (?) after Derby Locomotive Works had reconditioned and made alterations for their service overseas. Clearly visible is the modified buffer beam.
Photograph courtesy BR/CPU.
The class 08's rebuilt for use by LAMCO were fitted with plates which indicated the work carried out at Derby. This view from 2011 shows one of the plates more or less intact on the remains of one of the Class 08's still present in Liberia.
Photograph courtesy John Middleton.
A typical line-up in the yard at Derby Works, a Class 45, Class 08 and 25076, probably during April 1974.
Photograph collection of Webmaster.
By the middle of May the Works was host to Claytons S18521 & 8598, also present was 44001 and Class 24's 5030/79 & 24033.
44001 stands in the erecting shop minus its bogies on May 4th 1974. The builders plate and nameplate are still attached, at some point many of the Class 44 nameplates were removed for safekeeping by the authorities at Toton depot. 44001 has just over two years of service left prior to withdrawal from Toton during October 1976.
Photograph courtesy John Gilbert.
During June the Works continued through its steady diet of Classes 08, 25 & 45/46. The volume of repairs to the Class 24's had been decreasing, noted were 24054/84. Withdrawn locomotives on the Works were 3020 & 3047.
By early August there were only three Class 24's in the Works, 24061/84 & 24142. D3003 had been recieved for a general repair, this Class 08 had been sold to Foster Yeoman, Merehead a year previously. The only un-renumbered locomotives in the Works were the two withdrawn Class 08's and about ten Class 45's.
Visitors to the Works could not help but notice the occasional visits by the Research Department's fleet of secondhand locomotives. Frequent visitors were Claytons 8598 & S18521, Baby Deltic 5901, MetroVick S15705 and other short term loaned locomotives that would briefly visit the Research Department. During August Class 35's 7076 & 7096 arrived whilst Warship 832 had been parked on the diesel stabling point for a while.
Claytons Class 17/1 No.8521 & Class 17/3 No 8598 at Derby Works, date unknown. 8521 had been withdrawn during October 1968 from the Preston Division (D10) whilst 8598 lasted until December 1971 when withdrawn from Polmadie. Both were utilised by the Research Dept at Derby but neither would reach preservation, by April 1979 both had been scrapped at Glasgow Works.
Photograph collection of webmaster.
It looks like the August 30th 1974 Works Open Day was a cloudy affair as seen in this view of the deadlines with 24026 & 25024 closest to the camera. Look at all those duffel bags, 'Adidas' bags and the clothing of the visitors. An unusual item on display in front of the office building was ex-works DMU 51856, loaned from the C&W Works.
Photographer unknown.
Other locomotives on display at the Works Open Day included 46011, restored Jinty 3Fs No. 47357 & 16440 and BR Standard 4-6-0 5MT 73129 awaiting repair after its rescue from Barry.
At the end of August 3047 had received attention, most noticeable were its extended buffers, similar to the shunters recently shipped to Liberia.
Class 20's returned to the Works in October with the arrival 20008. The number of Class 24's present increased with 24026/30/32/87. The paint shop was occupied by 25303 whilst freshly painted outside was Jinty 16440 (formerly 47357).
The gasworks that stood to the east of the Locomotive Works features prominently in many views, particularly those showing locomotives being broken up. In this view, believed to be from July 1974 parts of the boilerhouse and chimney are headed for the ground following the use of some explosives.
Photograph collection of webmaster.

1975
At the beginning of the year there were about sixty diesel locomotives on the Works, with of course the Classes 08, 25 & 45/46 predominating. Class 09's for repair were 09005 & 09026. Un-renumbered Class 45's on the Works were 63/91, 125/135. Class 24's included 24063 & 24134. Withdrawn D3047 was now liveried for LAMCO and was waiting movement to Liberia. It would make a test run to Syston early in February, no doubt to avoid the problems sustained by movement of the original four shunters shipped to LAMCO. With this test successful it was hauled on February 17th via Stoke & Crewe to Liverpool for shipment.
By the end of February Derby held only two Class 24's 24034 & 24064. The only withdrawn locomotive on the Works was 3020, although for a long time the fate of 125 hung in the balance. it had been seriously damaged in a rear end collision at Bridgwater. Another recent steam locomotive arrival at the Works was 1F 0-6-0 1708 from the Keighley & Worth Valley Railway, at 95 years of age it was must have been one of the oldest objects then in the Works.
The Works was quite full during April with at least fifty five locomotives present during the middle of the month. 95, 118, 125 & 3020 were the only un-renumbered locomotives present, Class 24's in for repair were 24022/39/40/47/57/89, time was now short for this class, the summer would see a massive reduction of the Class 24 fleet. 3020 was the only withdrawn locomotive on the Works, sometime during the month it was scrapped here, the earliest numbered of the Class 08's to be cut up here.
A visit in May found thirty Class 08's on the Works which included early build 08005 and Southern Region allocated 09024. Class 24's under repair were 24036 & 24133.
Class 09 shunter 09024 is slowly put back together during its visit to Derby Works, seen here on May 10th 1975. Its fading green livery is slowly disappearing and will be completely gone after the upcoming visit to the paint shop.
Photograph courtesy Steve Marshall.
Another view from May 10th 1975 finds 25275 undergoing a general repair. Judging by the condition of the locomotive it is definately in need of this repair.
Photograph courtesy Steve Marshall.
By the middle of June 125 was the last un-renumbered locomotive in the Works. The volume in the Works still remained at a high level, Class 24's under repair were 24023/35/36/81/91.
46026 displays signs of fire damage as it receives attention at Derby Works, believed to be in the summer of 1975.
Photograph courtesy BR/CPU.
During August Derby released freshly painted 24023 back into traffic at a time when large portions of this Class were being stored or withdrawn on the LMR & ScR. Other Class 24's on the Works were 24035/52/54/83. The only withdrawn locomotive on the Works was 08179 which had sustained collision damage after being run into by 84005 at Stafford.
Class 44 No. 44004 was received at the Works for its last Classified repair.
Visitors to the 29th annual Works Open Day on August 30th, entrance fee 10p, found almost sixty diesel locomotives either under repair or withdrawn. 24052 was in the paint shop whilst 24086 was the only Class 24 present. After quite an absence a Class 20 was in the Works with 20029 receiving repairs. Locomotives with collision damage included 25045 & 25064. In the yard was steam locomotive 46203 Princess Margaret Rose, whilst on display by the Works offices was 45075.
25045 & 45110 draw the attention of visitors to the Works Open Day on August 30th 1975. The working days of 25045 are over, but 45110 will remain in service until July 27th 1988 and would become the last mainline locomotive built at Derby Works to remain in service.
Photograph courtesy Keith Long.
After the outshopping of 24086 the Works would handle no more classified Class 24 repairs although withdrawn 24042/45/48/61 would spend a short time dumped in the Works yard, being noted there during October. Two more Class 20's 20021/53 were received for repair, being lost somewhat amongst the thirty plus Class 08 shunters in the Works. Un-renumbered 125 was still receiving accident repairs. For quite a while the Works had avoided a build up of withdrawn locomotives, that was about to change as Derby would become host to quite a variety of retired machines.
The No.1 end of still un-renumbered 125 reveals the amount of work required to get the Class 45 back into working order. As 45071 it would remain in service until July 1981. Several other Peaks recieved substantial cab repairs following collisions, including D9, D94 & 46036.
Photograph collection of webmaster.
November brought more withdrawn locomotives on to the Works, joining 08074 & 08179 was 08236. Withdrawn 24061 was chosen to replace Research locomotive 5901, the Class 24 awaiting Works attention. Two other Class 24's were in the Works yard, 24036 & 24050 presumably received for minor repairs. 20003 was the only Class 20 on the Works.
The four withdrawn Class 24's; 24042/45/48/50 had received attention to the asbestos cladding contained within the locomotives, once this had been dealt with the Type 2's were sent down to Swindon for scrapping leaving Derby early on the morning of December 18th. During December 125 was finally renumbered 45071, the last locomotive on BR to be renumbered with the exception of the Class 52's. It had also received modified nose ends, the headcode panels being sheeted over and two headlights fitted.
A 1,250hp 'B' series 6LDA28 power unit undergoes repair in Derby Works.
Photograph collection of webmaster.

1976
During February the Works had over sixty locomotives present, seven of which were withdrawn, the majority of them with collision damage. Recently outshopped 24086 had returned with minor collision damage, enough to warrant its withdrawal, 25015 also had minor damage whilst 25045 had received collision damage a while back, but had not been officially withdrawn until October 1975. Class 20's in for repair were 20081 & 20228 whilst withdrawn 20074 was in the yard with a droopy cab. For some of the Class 25's in the Works now and going forward, these would be their last classified repairs. 46049 was the first Class 46 to receive a similar treatment to that of 45071, with sheeted over headcode panels and twin headlights fitted.
Its April 7th 1976 and 25015 is in the deadlines at Derby presumably awaiting stripping. The damage that brought about its withdrawal is not visible in this view, but it does show that one cab received the later style headcode box. This would be the only Class 25/0 broken up at Doncaster, completed during January 1977.
Photograph courtesy Tony Sayer.
Its April 7th 1976 and green liveried 20129 has arrived at Derby for attention. By this time it is most unlikely that 20129 will leave Derby in green livery, the paint shop will add blue & yellow to yet another locomotive. By the beginning of May 20129 will be back in traffic. It would be left to Glasgow to put Toton's last green Class 20 into blue livery.
Photograph courtesy Tony Sayer.
Another cab view on the same day as the view above shows a slightly damaged 25222 already well stripped and awaiting removal of its cab. The position of the BR emblem under the number on the cabside panel would certainly date the locomotive's last Works visit.
Photograph courtesy Tony Sayer.
Some ten years after 'BR blue' made its appearance 25102 is seen here still wearing two tone green livery. Its April 7th 1976 and the paint shop at Derby will soon send it out in corporate blue & yellow. This was the last Class 25 to carry the two tone green livery and this would be the last major Works visit for 25102.
Photograph courtesy Tony Sayer.
As mentioned above 25102 was the last Class 25 in two tone green livery, it was received at Derby late in March for an overhaul and would be outshopped in standard blue & yellow livery. During May the last Class 25 in green livery, 25043 would arrive at Derby for overhaul, it still carried the solid green livery with the white stripe at frame level. It too would return to traffic in blue & yellow livery.
The departure of 45056 from Derby Works during May found all members of the Class 45 fleet now equipped with dual brakes. Recent arrivals in the Works were prototype HST power cars 43000 & 43001. A stranger from across the border was 27207, whilst elsewhere scattered about the Works were almost thirty Class 08 shunters. Three Jinties still remained in a dismantled state at the back of the Works; 47327, 47445 & 47592.
The Class 20 fleet remained intact until January 1976 when the first of the Class was withdrawn. The locomotive was 20074 and is seen here at Derby on May 22nd 1976, with a somewhat droopy cab. Surprisingly, withdrawn 20074 was moved to Glasgow Works, to end its days as a 'Christmas Tree' of spare parts, cut up finally sometime during November 1976.
Whilst other Workshops across the network were receiving many locomotives for cutting up, Derby seemed only too happy to pass this work on to others, in the second week of June 24086 & 25015 made separate journeys to Doncaster (24086 departed Derby Works behind 25135 on June 8th) whilst a week later 08179 & 08236 were sent down to Swindon for cutting up. 20074 would also leave the Works for Toton & Glasgow. Withdrawn locomotives remaining at Derby were 08074 and 25045, soon to be joined by the first Class 44 to be retired, 44003.
The driving position in one of the cabs of 44003 on June 8th 1976 not long after its final arrival at Derby Works. 44003 had failed on March 31st whilst working a Toton - Whitemoor freight, it returned to Toton and was immediately stored unserviceable. It was moved to Derby Works on May 7th 1976, with final withdrawal occurring on July 17th 1976. It did not linger long in the Works, by September it had been broken up, the first of the Class 44's so treated.
Photograph courtesy Michael Kaye.
A timeless view from the 1970's (actually July 1976) with 25070, 25289 and 46053 all receiving attention.
Of all the diesels built and repaired at Derby it is probably the Class 08's that had the longest continuous association with the Works. Representative of these shunters is 08106 seen in the main erecting shop during July 1976. For the number collectors Derby was certainly an interesting place as Class 08's from all regions except Scotland could be sent here for overhaul.
By the end of July seventy locomotives were on the Works, four of them withdrawn. There were almost thirty Class 08's in the Works, followed by about twenty Class 45/46's and fifteen Class 25's, the remainder being Class 20's.
46056 stands on the Works arrival sidings next to the fuelling point on July 31st 1976. There were approximately seventy locomotives on the Works this day.
Photograph courtesy Tony Sayer.
Following on from the modified nose panels on 45071 & 46049 Derby would continue to carry out this modification as the Class 45/46's passed through the Works, it was not immediately applied to every locomotive, 45055 being a recent example. It was not just all locomotive repairs at Derby, an export order was received from Kalmar Verkstads AB, Sweden for railway coach bogies. The bogies were for use under coaches destined for Kenya metre gauge lines, the design was a modified Mk II coach bogie.
One of the locomotives on display for the September 4th 1976 Works Open Day was 20025, fully respendent in its finest corporate blue & yellow livery. A month before the locomotive had been in the main erecting shop, fully stripped down and awaiting reassembly. 25110 is the Class 25 behind 20025.
Photographer unknown.
In contrast to the above view and in an area of the Works less often reached by the Open Day visitors are the cabs of 25164, 25045 and one Class 45 on September 23rd 1976.
Photograph collection of webmaster.
By October there were three withdrawn Class 25's in the Works, 25030/45 & 25174, all with collision damage of some sort. Class 20's for repair were 20003/62/84/87.
Two new classes of locomotives visited Derby Works during November. In the middle of the month Roumanian built Class 56 56005 was noted in the Works arrival sidings whilst at month-end 56003/10 were noted for rectification and commissioning work. In the middle of the month HST power car 43004 was receiving attention in the erecting shop. At the other end of the spectrum was the arrival in the Works of withdrawn 44001 on November 6th, it had failed on a Toton - Garston freight at Leigh on October 27th and withdrawn three days later. This of course was the first of the BR/Sulzer Type 4's to be built by Derby Work and now awaited stripping and scrapping, if there were any attempts at the preservation of this locomotive, they would prove unsuccessful. Elsewhere in the Works was the usual collection of locomotives, the number of collision damaged locomotives seemed to be growing, now with damaged 25061 & 25065 present.
Christmas week at Derby found the Works well filled with about seventy locomotives awaiting repair or scrapping. No HST power cars were noted, but 56010 was still in the Works.
45023 'The Royal Pioneer Corps' in front of the testhouse, believed to be late in 1976.
Photograph collection of webmaster.

1977
An unusual arrival at Derby late in February was withdrawn 40045 from Basford Hall, Crewe, presumably sent as a source of spares for other Class 40's soon to be received at Derby for repairs. Possibly 40112 would be the first to receive repairs here after a long break with the type. Six Class 20's were present: 20006/19/63, 20129/130 and withdrawn 20062. Also noted in the yard was 44006, unfortunately now withdrawn.
Not sure of the date but here is 40045 inside Derby Works undergoing stripping, with a wagon parked alongside to receive the scrap. 40045 had been withdrawn from Longsight during August 1976 and stored at Basford Hall before being moved to Derby. Surprisingly it did not live long at Derby, by March 1977 it had been broken up.
Photograph courtesy Dave Homer / Collection of webmaster
A rainy February 17th 1977 finds 44006 on the traverser outside the erecting shop, which it will soon enter to allow for removal of parts before moving out to the scrapping area. It had arrived at Derby on February 2nd 1977 from Toton, having been withdrawn after derailing at Spalding on December 14th 1976. After being rerailed it was moved slowly to March where it was collected by 44008 on December 21st 1976 for its last trip back to Toton.
Photograph courtesy John Glynn
Variety seemed to be the order of the day during March with members of seven different Classes present from 08/20/25/40/41/43/45/46 and bits from Class 44. The prototype power cars 43000/01 were present as was production variant 43030. There were no changes to the withdrawn locomotives on the Works.
All the Class 44's that did not reach preservation ended their days at Derby Works. Seen here on March 12th 1977 is the substantial remains of 44006 Whernside. After withdrawal 44006 did not hang around long in the Works, withdrawn late in January 1977, it was gone by April 1977.
Despite its solid association with the Sulzers, it is probably the English Electric powered Class 08's that have the longest continuous association with Derby Works, both in their construction and repair. In this March 12th 1977 view 08741 stands as little more than a shell awaiting entry into the shunter shop for re-assembly.
Another close-up, this time of two un-identified Class 45/1's, with & without their nose fronts on March 12 1977. With the discontinuance of headcodes Derby started to replace the nose panels on the Peaks, doing away with the headcode housings. The first so changed was 125 (45071) after its collision at Bridgwater. This locomotive was also the first Peak to incorporate the nose mounted headlights, though the style was different from all that followed.
At the beginning of April the Works was host to 40038/40, 40109/112, by this time withdrawn 40045 had been cut up. Fifteen Class 25's were present including three withdrawn examples, all accident damaged. The number of Class 08's was greatly reduced, just twelve were in the Works including withdrawn 08074.
Tucked away in a shop just off the main erecting shop stands 20174 on April 30th 1977. The Class 20's were probably the last class of mainline locomotives to visit Derby Works still wearing the green livery. Toton's last green Class 20's would receive blue livery whilst undergoing repair at Glasgow Works.
45077 awaits a move to the paint shop after receiving repairs, seen here April 30th 1977.
Its May 18th 1977 and 44010 'Tryfan' has just arrived from Toton for scrapping. A main generator failure at Mansfield Colliery Junction on May 12th 1977 whilst working a Rufford Colliery - Avenue Coking Plant freight led to its demise. It will soon be taken into the Works for removal of any useful parts, then put out to pasture until the scrapping crew arrive. By July 1978 44010 will be no more.
Photograph cortesy Adrian Healey.
Many of the Class 46's passing through the Works at this time would be receiving their last classified repairs, noted early in May were 46001/09/32/37/38/47/51, clearly there was a predominance of the Gateshead allocated examples at this time. During May 44010 sustained fire damage and was soon received by Derby Works for scrapping.
With intervals between shopping spanning several years at a minimum the condition of locomotives arriving for repair often revealed faded & flaking paint, dings and dents and considerable rust patches, if not major holes in the panelling. Seen here in such condition is 25316 on June 18th 1977.
The locomotive order books opened up for Derby Works again for six electric power cars for use in the electric version of the Advanced Passenger Train. These power cars would be numbered 49001 - 49006.
The Class 45 fleet had remained intact up until July when 45067 was retired after sustaining collision damage near Ilkeston. In earlier years several heavily damaged Class 45's had been repaired at Derby, but now a surplus of aging locomotives, the new Class 56 fleet and the increasing fleet of High Speed Train sets meant withdrawals could be more easily tolerated by the operating departments.
APT power car 49001 was released from Derby Works late in July, whilst 49002 was now recognisable in the Works. By early August there were just four Class 08's present: 08046, 08533, 08628 & 08695. Class 40's under repair were 40083, 40117/125/134/141/149/175/179. Eight withdrawn locomotives were present.
Withdrawn 44010, which had been received by Derby Works was returned to Toton on August 16th.
The 31st Annual Works Open Day took place on saturday September 10th, two steam locomotives present were Midland Railway 2-4-0 158A, freshly repainted by the Works apprentices and LSWR T9 4-4-0 120 sent up from Tyseley. In the display area were 25129 & 56031. The Open day programmes sold for 15p.
40125 heads a fine line up of locomotives on September 10th 1977, the Works Open Day.
Another view from September 10th 1977 finds 40179, 40117 & 40141 all receiving attention in the main erecting shops.
Photograph courtesy John Glynn
During October there were about seventy locomotives on the Works including the six APT power cars in various states of construction. Six withdrawn locomotives were in various states of dismemberment: 20062/79, 25030/45, 25174 & 45067. Two 'last of class' locomotives in the Works were 20228, 25327 & 45150. Alongside the aging Class 25's & 45's in the erecting shop were HST power cars 43008/09/11, the new order was coming.
Class 40 pioneer 40122 (D200) was noted in the Works during November along with eight other members of the Class, at the same time there were about an equal number in Crewe Works under repair. There was still a great mix in the Works, APT power cars under construction were 49003 - 49005 whilst HST power cars present were 43014/15/20/21, shunter volume was still way down from recent months and would eventually cease as Swindon took over repairs to the Class 08/09's.
The sunny morning of November 30th 1977 finds 40078 outside the Test House.
Photograph courtesy John Glynn
Another class to lose its first member was that of the Class 46's, 46005 was withdrawn during December and was noted at Derby during the middle of December. Other Class 46's present were 46006/09/12/16/31/36/38/53 and these were all to be found scattered through the Works yard. Construction had started on the last of the APT power cars, 49006.

1978
Withdrawn locomotives present at the beginning of the year were 20062/79, 25030/45, 25174, 45067 & 46005.
An interesting view of No. 23 Shop during 1978. Receiving attention are two sets of Class 25 cabs, one set from 25326, the other unidentified.
Photograph collection of webmaster.
There were about sixty locomotives on the Works during February including seven withdrawn locomotives. There was only one Class 20 under repair, 20228 and one Class 40, 40128. Another likely first was the arrival of 43007 for repairs to collision damage sustained towards the rear of the power car. APT power cars present were 49004 - 49006. Withdrawn 44010 was moved from Toton to Derby Works on February 10th.
By early March there were no Class 40's remaining at the Works and only one Class 20, 20143. Recently arrived 46005 had already been heavily stripped and by the end of the month had been completely broken up. Class 25's under repair totalled twelve, Class 45's under repair totalled sixteen and Class 46's totalled seven. There were no shunters under repair.
The Class 24/25's had the ability for the removal of the cabs pretty much as a whole unit. Visitors to Derby often found a number of cabs scattered about odd corners of the Works. 25220 had arrived at Derby with minor collision damage, having removed both cabs as seen here on March 18 1978.
Photograph courtesy Tony Sayer.
Its March 18th 1978 and 25135 (& 25141?) have been stripped of most parts and are currently in the process of having the asbestos content dealt with, which included the covering of all bodyside openings with plastic sheet.
Photograph courtesy Tony Sayer.
Just over forty locomotives were on the Works during May including eight withdrawn locomotives, one of which was the recently arrived 46024 which had been involved in a collision at Hereford. 49004 - 49006 were still in the Works in various states of construction.
New arrivals for scrap at Derby during July was collision damaged 25295, whilst 25174 had recently been broken up and 44010 was partially dismantled.
The next Class 44 arrival at Derby was 44005, arriving at Derby on the afternoon of July 31st behind a Class 45 - now only half the class remained in service. 44005 was quickly moved into the Works (see Open Day view below) for removal of components.
The 32nd annual Open Day took place on August 5th 1978, the entrance fee being 15p. The seven views below illustrate some of the locomotives on the Works for the Open Day visitors.
Ex-works 25146 on display for the annual Open Day on August 5th 1978. After this overhaul 25146 would run for five more years before being withdrawn from Kingmoor in August 1983. The Class 25 exhibits the standard BR Corporate Blue paint job for those machines outshopped from Derby, 25146 has also had the boiler room grille sheeted over.
Photograph courtesy Graham Turner.
56045 on display at Derby Works Open Day, August 5th 1978, the new order has arrived!
Photograph courtesy Graham Turner.
A surprise visitor to Derby for un-classified repairs was 25011 seen here on August 5, 1978. 25011 would spend its last five years (August 1975 - December 1980) allocated to the Scottish Region, hence it was more normal to find these locomotives visiting Glasgow Works for repairs. After being released from Derby 25011 went West, way West, reaching Paignton on September 7th! In the foreground a set of freshly overhauled Class 45/46 bogies await attachment to a locomotive body.
August 5th 1978 finds 44005 'Cross Fell' inside '8' Shop for one last time. Its working days done, all that remains is for the removal of components for possible re-use before being removed to Spike Island for final scrapping. In earlier times it was normal to find at least one of Toton's ten Class 44's at Derby undergoing repair.
Although built at Crewe the HST power cars were initially overhauled at Derby. Here 43023 undergoes collision damage repairs on August 5th 1978. Behind the power car stands a row of 'Peaks', for a native of Derby it was tough to see the 'Peak' hauled Derby - London & the NE-SW passengers services convert to HST's, but such is progress.
Ex-works 46007 is photographed outside the shops next to the Test House. Its August 5th 1978 and classified repairs for the Class 46's are still underway. This Works repair for 46007 will keep it in service until February 1982 when it will be retired from Gateshead.
25199 and recently arrived accident damaged 25295 await movement into the main workshops, 25199 will receive repairs and a repaint but 25295 will linger around the Works for quite sometime slowly surrendering bits and pieces to other members of the class. The date is August 5th 1978.
Photograph courtesy Brian Daniels
Locomotives on the Works late in September was the expected mix of Classes 25/45/46 with HST power cars 43028/46/47/54/55/56/57/58/59 and APT power cars 49001/2/5/6. Fire damaged 46003 was now in the Works yard with a very dismal future.
The list of withdrawn locomotives was reduced by one in October when 46024 was broken up.
The end of the summer timetable saw a number of Class 25's withdrawn, these were the first to be taken out of service without any form of accident damage. And a glimpse into the future would show that many would end up at Derby and linger for a great while before being cut up.
During November the content of the Works remained typical, 49001/02/06 were in the APT shop whilst there were eight HST power cars under repair, including 43002/03 receiving fresh coats of paint. With Crewe still busy constructing its lengthy order for HST powers, it was left to Derby to provide repairs to the fleet as they became due.
At Christmas week there were about fifty locomotives in the Works including 49006 now painted and withdrawn locomotives 20062, 25030/45, 25295, 45067, 46003. Recently broken up was 20079 during November whilst 44005 was little more than a body shell at the scrapping area, the remains would not see the year out.

1979
During January Derby completed Classified repairs on five locomotives including one General for 25209. Seventeen other locomotives were at the Works for Classified repairs including 46001.
25245 undergoes some serious repair work during a visit to Derby, January 20 1979. This was in fact 25245's last general repair, carried out between December 1978 & February 1979. The locomotive would remain in service until June 1985.
With its body a patchwork of colours and surrounded by a variety of parts 25192 undergoes a general repair on January 20 1979. 25192 would remain in service until June 1986, being one of many carted off to Vic Berry's Leicester, for final disposal sometime in July 1987.
44002 became the next Class 44 to be withdrawn, during February and was soon sent over to Derby Works. The engine from 44002 would be reconditioned and installed in to 44007. Classified repairs completed in February totalled nine including Generals to 25177/189/190/192 & 25245. Six locomotives were received for Classified in the same period.
During February and March 25032 was under repair at Derby Works. It is seen here not long after entering the erecting shop.
Photograph collection of webmaster
March saw Classifieds completed on eight locomotives including Generals on 25123/163 & 45041. Ten locomotives were received for classified repair at the same time including 46031/52. The beginning of the month also saw 44009 withdrawn with generator problems leaving just three, 44004/07/08 in service. 44007 would visit the Works in March to receive the reconditioned engine from 44002. Withdrawn locomotives present during March included newly arrived 25165. No more locomotives had been cut up since 44005 late in 1979.
44002 on April 20th 1979. 44002's last overhaul had been at Derby during June 1975, withdrawal took place on February 1st 1979.
Photograph courtesy Graham Turner.
Early in April there were just over forty locomotives in the Works, nineteen were receiving Classified repairs, seventeen were in for unclassified attention and eight locomotives were awaiting scrapping. Awaiting entry to the Works was accident damaged 46036 which had received substantial cab damage at Maas Crossing whilst working a Cardiff - Newcastle express. Class 46's receiving Generals were 46001/17 whilst 46031/52 were in for Light classifieds.
During May 45101/106 were received for a new category of repair - Heavy General. Eleven locomotives were outshopped during May having received Classified repairs including Generals to 25206/277/298, 45026 & 46001/17. Eight locomotives were received to take their places whilst authority had been received to repair 46036, whilst 25167 would received a Classified repair instead of more minor work.
Six locomotives departed Derby Works having completed Classifieds in June, including Generals for 25167, 45073 & 45101. A like number of locomotives were received in June for Classified repairs including 46010 & 46039.
A very smart 25167 is fuelled on June 20th 1979 prior to returning to traffic after completion of a General repair. This repair would provide 25167 with almost four more years service, being withdrawn from Crewe during May 1983. After nine months storage at Crewe it moved to Swindon Works during February 1984 and was broken up two months later. But for now the sun shines brightly on 25167!
Photograph courtesy John Glynn.
One would not normally associate together BREL Derby and the House Of Commons but discussion in the House did mention the chronic inability of British Rail to provide the services it advertised was partially reflected in the number of locomotives in the various BREL Workshops for unclassified repairs, in particular those received with accident damage.
During July and August fifteen locomotives left the Works after Classified repairs, those that received Generals were 25101/158/168/198, 45002, 45106 & 46002/26/39. Thirteen locomotives were recieved for Classified repairs.
The Works Open Day on September 1st produced forty seven locomotives either on special display, under repair or waiting scrapping - details are as follows:
On display: 44008, 45062, 56036 and preserved 832,
Erecting Shop: 25154/161/169, 25268/279, 45006/11/54/75, 45105, 46010/48,
Shunter Shop: 45119, 46036,
Test House: 46028,
Asbestos Area: 25224,
Outside in the yards: 25100/125/166/180, 25314/315, 45017/57/59/63/72, 45108/117/131/145, 46012/27/45 with 45044 ex-Works,
Elsewhere withdrawn were: 25030, 25295, 45067, 46003,
Scrapyard area: remains of 25045 recently cut up & 44002.
Interestingly only a few of the locomotives in the deadlines were to receive Classified repairs, the vast majority were for casual repairs.
Visiting celebrities and ex-works locomotives were usually found in the display area. Here 56036 poses for the cameras on September 1st 1979. The rundown of Derby Works came at a time when the monolith of BR's corporate blue & yellow was being over-run by a multitude of liveries. The only locomotives that left the Works in the newer schemes would have been the HST & APT power cars. Photograph courtesy John Glynn.
One of the attractions on display for the visitors at the Open Day was the use of the large overhead cranes in the main erecting shop. At the 1979 Open Day it was the turn of 46048 to be lifted from its stands and raised to a height which would allow it to be moved to another location within the shop. Two years after this view was taken 46048 suffered serious fire damage near Gloucester, bringing to an end almost twenty years of service. To the right of 46048 is 45105. Photograph collection of webmaster.
Elsewhere in the main erecting shop 46010 and 45006 stand side by side undergoing a variety of repairs. 46010 is standing on a set of repaired bogies whilst 45006 sits on the specially designed stands needed once the bogies have been removed. Photograph courtesy Barrie Watkins.
An HST power car, either 43038 or 43039 undergoes repair surrounded by a visitors passing through the shop. The HST power cars did not linger long in the Works, it was very rare to find them in the deadlines outside. 43037 was also in the Works this day. Photograph collection of webmaster.
25045 spent almost four years withdrawn, most of it at Derby Works. The Works policy on the scrapping of locomotives appeared inconsistent, scrapping some yet at other times sending batches to private breakers or other BR Workshops. However in this September 1st 1979 view 25045 & 20062 are just about done in whilst 44002 literally waits at the end of the line, the number panels already cut from the sides. 44002 would be broken up during October.
Also taken on the same day as the above view, but now with many visitors in view, a cab side panel from 20062 is about all that is identifiable from what used to be 25045 & 20062, with 44002 in the background. 20062 was the second Class 20 to be broken up at Derby Works.
Photograph courtesy Barrie Watkins
The situation was little changed at the end of September, eleven locomotives departed after receiving Classified repairs, those given Generals were 25169, 25279, 45006/09, 46010. Warship 832 was now in the Works yard and long withdrawn 25165 had been removed from the headshunt at Etches Park and moved into the scrapyard area.
October arrivals totalled six locomotives for Classified repairs including 45150 & 46056, departures were six after receiving Classified repairs.
Withdrawn Class 44 No.44009 keeps company with 45112 in the lines at Derby Works on October 6th 1979.
Photograph courtesy Bernard Mills
In the middle of November there were about forty locomotives on the Works. Withdrawn 44009 was now at the Works as was 44008 which had been received for power unit repairs. Other withdrawn locomotives present were 25030, 25295, 45067 & 46003. Outshopped during November after Classified repairs were six locomotives including 25285, 45108 & 46027 which had received Generals.
Christmas week found nineteen Class 25s on the Works, ten Class 45/0s, eight Class 45/1s and four Class 46s: 46036/44/56 were receiving Light repairs whilst 46028 was recieving a General repair. Refurbishing of the Class 45/1s was taking place with particular attention being paid to the power unit. BRs rolling stock records reveal that at the end of 1979 many locomotives had missed scheduled repair dates. Those that could be expected to be handled by Derby included:
44008 due an Intermediate in October 1977
25092 due an Intermediate in December 1978
25048 due an Intermediate in May 1979
25080 due an Intermediate in May 1979
45074 due a Light in July 1979
25155 due an Intermediate in October 1979
45059 due a Light in October 1979
46029 due a Light in November 1979
46045 due a Light in November 1979
25251 due a General in December 1979
45063 due a Light in December 1979
46035 due a Light in December 1979
45007 due a Light in December 1979
This list assumes that Glasgow would handle the Scottish Region allocated Class 25s, of which several were overdue for shopping. It also might have been a prequesite in determining the withdrawal of locomotives in Classes that had a limited future.
Classified repairs completed during December totalled five, with Generals received by 25196, 25249, 45056 & 46016. Six HST power cars were in the Works for overhaul.
A new HST cab sits on an ancient wagon somewhere within Derby Works.
Photograph collection of Webmaster.
A variety of cabs at Derby Works. Photograph courtesy Ian Jenkins.

1980
In the New Year Derby released seven locomotives after receiving Classified repairs including 46036 which received a Light repair and substantial bodywork repairs after its collision at Maas Crossing with a rubbish lorry. 46036 had been in the Works for about eight months. Five locomotives arrived in January for Classified repairs.
Approximately forty locomotives were on the Works in early February, including withdrawn 25030, 25295, 44009, 45067 & 46003. 44008 was still in the Works for power unit repairs. 45104 & 45107 were present for Heavy Generals. Classifieds completed in February were eight including Generals for 45010, 45107 & 46028. Five locomotives were received for Classified repairs. Present were ten HST powers cars on the Works including early builds 43002 - 43007, whilst APT power cars 49004/05/06 were in the shunter shop.
During the 1980's Derby normally had an allocation of about ten Class 08 shunters. Two of these would generally be allocated the duty as the Locomotive Works pilots. On February 27th 1980 it is the turn of 08028 to cover one of these duties.This locomotive had recently been transferred from Eastleigh, so for a short while was something of a novelty at Derby.
Photograph courtesy Adrian Healey.
The ability of BREL's workshops to keep the locomotive fleets in service received some help when Swindon Works started to receive locomotives for casual repair that were not normally received here. Class 31's that would have been dealt with by Doncaster and Class 25's that would have gone to Derby were now being sent south to Swindon. Reports also indicated that forty locomotives were at BREL workshops that had been out of service for at least ninety days, four of these were held at Derby and were 25042, 25113, 25177 & 44008. Released from Derby in March after Classified repairs were seven locomotives with Generals given to 25302, 45013 & 45104, five locomotive were received in exchange. Eight HST power cars were in the Works.
Released during March after Classified repairs were two machines, with 45012 receiving a General. Five locomotives were recieved for Classified repairs. HST's under repair totalled eight including 43014 - 43019, APT power cars 49002/04 were in the shunter shop. 46003 was broken up in March, with 25030 following in April.
Classified locomotives outshopped in April were few. Thirty locomotives were at the Works early in May, sixteen of which were to receive Classified repairs. Withdrawn locomotives were 25295, 44009 & 45067. Classified repairs completed in May were nine, considerably up from the few in April. Generals provided were 25201, 25309, 45025, 45112 & 46008, recieved in were ten locomotives. Swindon took in more work that would have been bound for Derby including repairs to 45023 & 45053 as well as more Class 25's and the arrival of three withdrawn Class 25's to provide spares.
After almost three years dumped at Derby the remains of 45067 were broken up during June, just leaving 25295 & 44009 withdrawn on the Works, however with serious inroads starting to be made in the Class 25 fleet the deadlines at Derby would soon begin to fill up. Outshopped in June after Classified repairs were eight locomotives including 25265, 25303, 45113 & 45114. Five locomotives were received in for Classifieds.
44009 catches a little of the summer sun on June 25th 1980. Unfortunately 44009 will not see this summer out, it will be gone by the end of July.
Photograph courtesy Simon Bell.
An attempt to reduce locomotive repairs at BREL workshops commenced by extending intervals between scheduled repairs. Further cutback were expected as certain depots started to carry out light repairs, work that was previously done by the main Workshops.
Classified locomotives outshopped in July totalled four, with Generals for 25205, 45016 & 45117. Only two locomotives were received for Classified repairs. 44009 was broken up in July, leaving just one withdrawn locomotive on the Works - 25295.
Withdrawals in July & August now affected the Class 45 & 46 fleets, the Class 46's would tend to migrate to Swindon and the Class 45's to Derby. Sent out from Derby in August after Classified repairs were four locomotives with Generals carried out on 45017 & 46014 - ironically sisters 46012/13 had just been withdrawn. Five locomotives were received for scheduled repairs.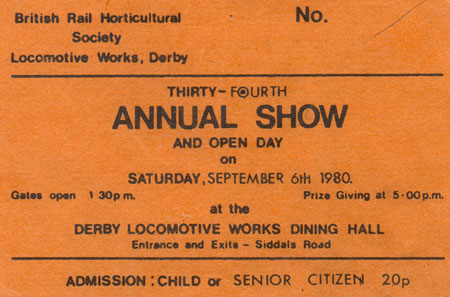 An entrance ticket for a child or senior citizen for the 34th annual Locomotive Works Open Day, the cost for an adult was 40p. I'd forgotten just how short a time the Works was open to the public (1.30pm - 5.00pm) for the Open Day. (Ticket courtesy of Steve Houlker)
The Derby Works Open Day took place on September 6th and present at the Works were:
Display area: 25251, 45115 & visitor 56071,
Erecting Shop: 25151/170, 45002/14/19/20, 45102/10/18/37, 46009,
Paint Shop: 40106, 45004,
Alongside Paint Shop: 25188,
Works Yard: 25295, 45026/30/34/43/51/69, 45123/140/144/145, 46053.
Its September 6th 1980 and the Locomotive Works Open Day, heading up a line of HST's is one of the prototypes; ADB975813. Built at Crewe in 1972 as 41002 (later renumbered 43001), they were a familiar sight around Derby. On June 12 1973 they obtained the world speed record for diesel traction by achieving 143mph between Darlington & York. The disc brakes fitted to these machines were originally tested on the high speed Edinburgh - Glasgow service powered by the Class 27's.
For Derby Works Open Day on September 6th 1980 the weather proved favourable and the sun shone! The potentially dark & dingy '8 Shop' was not, here the sun shines in on 25151. The near cab already shows much patchwork, running into a Ferryvan at Huddersfield in the summer of 1982 would cause considerable damage and put an end to the career of 25151.
Outshopped after Classifieds in September were five locomotives, all having received Generals: 25251, 45004/20/42 & 45115, received were just two locomotives. The General being given to 45020 had now taken ninety days, but the locomotive were finally be returned to traffic by the end of September.
Five locomotives were released during October after completion of Classified repairs, receiving Generals were 45014, 45102 & 45118. Seven locomotives entered the Work, 25278 & 46011 were two of them, these would eventually become the last of their types to receive Classified overhauls at Derby. Joining 25295 in the withdrawn ranks were 25092 & 45047. Nineteen of the locomotives on Works in the last week of October were awaiting unclassified repairs. Eight HST powers cars were under repair at this time including 43036 - 43039 whilst 49005 was in the shunter shop.
In late November there were less than thirty locomotives on the Works of which nine were receiving Classified repairs, including 25278 the last Class 25 to be given such a repair at Derby. Only two Class 46's were on the Works, 46004 & 46011 both being given a Light repair. Four locomotives were outshopped in November, 45110 received the only General. Four locomotives were received four Classified, all were Class 45's. 25137 was the latest withdrawn locomotive to arrive at the Works. Six HST power cars were present as were APT cars 49003/05.
On the last day of November the remaining three Class 44's: 44004/07/08 were taken out of service, 44007 would eventually reach Derby for scrapping, the other two would end up in preservation. On December 2nd under its own power 44007 ran light engine to Derby Works for stripping and scrapping.
Christmas 1980 presented a gloomy picture at Derby with only twenty four locomotives (excluding HST power cars) under repair, and of these only eight were Classifieds and two of these were the last of their Type for the Class 25's & 46's. Outshopped in December were 45059 & 45077, both with Light Classifieds Six HST power cars were in the Works as well as prototype 975813. APT power cars present were 49003/05.

1981
During January four locomotives left the Works after receiving Classifieds, Generals had been given to 25278 & 45126, with Lights to 45055 & 46011. Three Class 45's were received in for Classifieds. It is presumed that the departure of 25278 & 46011 was without fanfare.
25200 in No.8 Shop at Derby Works on January 24th 1981 undergoing N4 repairs. To the right is HST power car 43133.
Photograph courtesy Barrie Watkins.

Volumes continued to remain low in February, 45116/119/122 were released after Heavy Generals whilst 45064 & 45111 were received. The Eastern Region shopping program for 1981 included no Class 45/46's, the latter not surprising since half the Class were in store at Swindon and Gateshead could pick and choose the best machines to keep running, and of course assisted by Stratford Works. Withdrawn locomotives present were 25092, 25295 & 45030 with 40042 & 45047 being broken up. Six HST power cars were under repair and APT power cars 49001/03/05 were in the shunter shop.

In March only 45127 was released after a Heavy General overhaul, whilst 45120/132/136 were received. Derby's workload for 1981 was thirteen Heavy General Repairs for Class 45/1's. Unfortunately at the end of 1980 Derby had not met their quota of twenty four, thus by March 1981 they were in arrears by six Class 45/1's. In the middle of March the Works held just eighteen locomotives, all were Class 45's. The recent huge inroads made into the Class 25 fleet had seen some of these withdrawn locomotives reach Derby. Present at this time were 25043/092, 25295, 44007, 45030 & 46053.

Early in April several Class 25's were noted in the Works for casual repairs, this would be an occurrence at Derby until the very end of the Class 25's, in some cases locomotives received for minor repairs would be found to have more serious work required, which would be outside of the cost estimates, this would then lead to withdrawal! But these machines would provide valuable spares to keep more fortunate members running a little while longer. Received for N4 repairs in April were 25054 & 25058. Eight Class 45's were in the Works, all were Class 45/1's apart from 45038 receiving a General. The number of withdrawn locomotives in the Works almost equalled the number under repair, not a good sign. Withdrawn locomotives were 25043/92/94, 25217/295, 44007, 45030, 46053 with bits of 40042 still recogniseable. Ten HST power cars were on the Works as were APT power cars 49001/03/05.

During May 45111 was outshopped after a Heavy General whilst 45148 was received for a Classified repair. The remnants of recently cut up 45030 were still visible in the scrapyard area.
Over the years Derby Works carried out repairs to many Class 40's, but only scrapped two of the fleet: 40042 & 40045. In this view from May 21st 1981 cutting has recently started on 40042.
Photograph courtesy John Glynn.
25209 at the Test House on May 9th 1981.
Photograph courtesy Tony Sayer.
Thirteen locomotives were under repair early in June, 25036, 25178, 25250 & 25311 for casual repair, the rest were Class 45/1's except for 45005 in for a Light repair. Eight HST power cars were under repair including early builds 43004 & 43005.
45130 was the only locomotive outshopped from Derby during July, having received a Heavy General. Arrivals at Derby in July were withdrawn 45011/25/31/35 from Tinsley, all were retired in May. Class 25's present at the end of the month for casual repair were 25044, 25136, 25202, 25312 & 25316, the latter with substantial collision damage to one cab.
Classified repairs completed during August was 45130, whilst 45121 & 45145 were received for repairs. However the number of HST power cars in for repair had increased with fourteen examples in the Works, along with APT power cars 49003/05.
September's output was little better than that of August with only 45133 released after a Heavy General, and 45137 & 45140 received for Classifieds.
A surprise arrival in October was withdrawn 25216 sent up from Swindon Works. Equally suprising was the approval given to repair collision damaged 25316, noted in the erecting shop in October. Recently scrapped were 45011 & 45031. Outshopped in October was 45135 whilst 45143 was received. Ten HST power cars were present, as was APT power car 49005.
Late in November the Works could must no more than ten locomotives under repair, four of which were Class 25's in four casual repair. However the scrapyard had been busy having taken care of 44007, 45025 & 45035. Locomotives awaiting scrapping were 25092/94, 25216/17/67 with collision damaged 25148 in the Works arrival sidings. Nine HST power cars were in the Works along with two APT power cars. Information released at this time suggested that a number of Class 45/1 overhauls might be transferred away to Crewe during 1982.
Outshopped in December were 45137/40/43/45 after completion of Heavy Generals. No locomotives were received, Derby having completed its current contract for Class 45/1 Heavy overhauls. Elsewhere in the Works were 45003/41/43/58/60 receiving casual repairs. The recent reinstatement of many Class 46's back into service would no doubt provide Derby with some work. Nine HST power cars were in the Works as well as the two prototypes in the yard. In the scrapyard work had commenced on breaking up 25217.

1982
If bad weather in Scotland could ever be a blessing, it was to Derby during January as a number Class 27's would be sent south to Derby to assist Glasgow in clearing up a backlog of weather related damage. Which was perhaps fortunate since apart from the average ten or so HST power car repairs, the other activity at Derby was a sorry sight. During the first week of January repairs were limited to 25262, 45003/41/43/58, 45144, whilst recently reinstated 46032 was in for power unit repairs. 46040 had been sent up from Swindon to assist with the repairs to 46032.
By February 25072, 27003/21 & 27203 had been received from the Scottish Region for power unit repairs. Withdrawn locomotives present were 25038/66/92/94, 25216/271/299, 45073, 46040, with 25217 now completely cut up and work was starting on 25267. Ten HST power cars were on the Works, as were the two prototypes and APT power cars 49004/05.
25216 on February 6th 1982 in the asbestos removal area. Derby would receive a number of withdrawn locomotives for the purposes of asbestos removal. 25216 would remain in the Works until December 1982 when it would be broken up.
Photograph courtesy Jerry Glover.
Various Class 25 & 45 cabs. Not too sure of the date on this one, but if it is also February 1982 then the chance of the Class 25 cabs seeing any use are almost nil! One of the painted cabs just visible behind the new cabs belonged to 25165.
Photograph courtesy Jerry Glover.
A hazy sun catches 45003 by the Test House on February 6th 1982. 45003 had been received for power unit repairs. In years gone by the view behind the Test House would have revealed at least one line of locomotives awaiting entry into the Works buildings, not today though.
Photograph courtesy Jerry Glover.
Surrounded by the HST power cars that had taken away much of its work 45144 'Royal Signals' receives power unit repairs.
Photograph courtesy Jerry Glover.
Withdrawn 46040 stands in the main erecting shop on February 6th 1982 surrendering parts for reuse by recently reinstated 46032 and others. For this purpose 46040 had been sent up from Swindon Works. By April 46040 would be broken up.
Photograph courtesy Jerry Glover.
Haymarket allocated 25072 receives attention on February 6th 1982. It had been sent down from the Scottish Region with a handful of Class 27's to receive repairs caused by extreme wintry weather north of the border. Behind the Class 25 is 43037.
Photograph courtesy Jerry Glover.
The scrapyard on February 6th contained the remnants of 25267, seen here in its final hours. The destruction of 25267 reveals a little of how it was all put together sixteen years earlier at the Beyer Peacock workshops. It had been withdrawn from Toton during February 1981.
Photograph courtesy Jerry Glover.
During March Crewe Works received the first of its order of Class 45/1's for a Heavy General: 45146. Meanwhile back at Derby an increase in casual repairs had boosted the locomotives in the Works to almost twenty with another nine awaiting scrapping. Also sent down from Scotland was withdrawn 27011, presumably as a parts source. Another Class 46 accepted for repairs was 46045.
Fire damaged 27041 and withdrawn 25271 strike an interesting pose at Derby on March 24th 1982. The pair provide some insight into how two sets of designers met BR's Type 2's specifications, in particular the treatment of the cabs. 25271 will be scrapped in September, the overhaul given 27041 will keep it in service for just over three more years, before endings its days at Vic Berry's, Leicester.
Photograph courtesy Adrian Healey.
During 1982 a number of Scottish Type 2's were sent to Derby for repair due to a backlog at Glasgow. On March 25th 1982 fire damaged 27011 sits in the erecting shop, sent by Glasgow as a source of spares for the other Class 27's received here. It had been withdrawn from Eastfield one year earlier and would be broken up at Derby during September 1982.
Photograph courtesy Adrian Healey.
By April the withdrawn locomotive situation at Derby was growing, now present were 25038/66/85/92/94, 25129/184, 25216/261/262/271/272/299, 25308, 27011, 45073 & 46040. Of these locomotives 46040 was soon moved into the cutting up area and would be broken up by month end. Repairs would be sanctioned for 25262 & 25308.
A grimy and work worn 27003 waits in the Works for attention, April 8th 1982.
Photograph courtesy John Glynn
Also during April announcements were made to close Horwich & Shildon Works as well as substantially reduce the workload at Swindon beginning in 1983. The necessary changes to shift these workloads did not impact Derby Locomotive Works at all, which clearly did not bode well.
Work is well underway on the overhaul of 27041 including some bodywork repairs to the cab side, seen here on May 20th 1982.
Photograph courtesy John Glynn
Arrivals in May for cutting were 25105, 25274 & 40075. In the latter half of the month present for repairs were 25184, 25262, 25308/325, 27041, 45075, 45120/135. Of the Class 25's 25184/262/308 had previously been stored unserviceable, whilst 25325 and 45135 had sustained collision damage. 25094 was the latest locomotive to be cut up followed by 25299 whilst a surprise arrival was 40075.
Seven Class 25's received repairs during July. Late June and the first half of July proved to be a time of challenge for the railways as the NUR and then ASLEF went on strike.
By mid-August there were about thirty five locomotives on the Works of which twenty were awaiting scrap. Newly arrived withdrawn locomotives included 40132 & 40140, whilst waiting in the arrival sidings were 27014 & 27104, just sent down from Scotland. Locomotive recently cut up were 25092 & 25272.
September 4th was the date for the 36th Annual Horticultural Show and Open Day at Derby Locomotive Works, admission was 50p. 25036 was one of the locomotives on display in front of the office block. Also on the Works receiving repair was the first production HST power car, 43002.
The crowds are out in force for the 1982 Works Open Day. The two prototype HST Power Cars head a line up of condemned locomotives of which heavily stripped 25216 & 25129 are visible. 25216 would be broken up at Derby during December 1982 whilst 25129 ended its days at Swindon in March 1985. Any familiar faces in the crowd?
Photograph collection of webmaster.
Fourteen locomotives were present for repair in the middle of September and as such it provided a little variety. Class 25's under repair were 25036/51, 25175, 25247; Class 27's 27014/41/42, 27104; Class 45's 45063/72, 45103/107/108/145. Stored unserviceable was 45037, awaiting next year's funding for a Heavy General. Also just arrived in the Works arrival sidings were six Class 25's for minor repairs and withdrawn 40163.
Eighteen locomotives were under repair at the beginning of October including the numerically similar 27014, 27041 & 27104. Ten HST power cars were under repair, whilst prototypes 975812/13 were in the yard. APT power cars 49001/004 were also present.
Scrapping of locomotives at Derby was handled by a small team of men, who judging by this view of 25271 had an 'artist' among them who seemed averse to cutting in straight lines. Here in this September 29th 1982 view the partially burned/dismantled remains present some grotesque, almost gothic image amongst the piles of scrap metal.
Photograph courtesy John Glynn.
Withdrawn locomotives present in November were 25066/85, 25105/129/150/170, 25216/220/261/274/290, 25312, 40018/75, 40132/140/163, with 45073 partially dismantled in the scrapyard area.
At year's end the following locomotives were under repair: 25033/35/76, 25200/212/247/297, 27014, 27104, 45014/63, 45109 & 46046. 45037 had just completed its General leaving 27014 as the only locomotive in the Works receiving a Classified Intermediate repair. In the scrapyard 45073 was finally broken up after a long time spent in the cutting area.
December 22nd 1982 finds damaged 27203 awaiting entry into the Works. It had just arrived from Scotland behind 37188, having been involved in a collision at Dalmuir on Septemer 14th 1981. Derby were reluctant to carry out the repair, the locomotive eventually being condemned during May 1983, its final demise was left to Vic Berry's men at Etches Park in February 1986.
Photograph courtesy Adrian Healey.

1983
Arrivals in January included 45049 for a Classified repair and a significantly damaged 27203 from Scotland, allegedly for repair. 25066 & 25216 were broken up during January.
The previously announced plans to close Horwich & Shildon Works which had been put on hold, were revived in February and now included those at Temple Mills.
Early in February there were just eleven locomotives receiving casual repairs, with 45049 and 27014 with the only Classifieds, progress on several of the locomotives appeared to be very slow. Twenty locomotives were awaiting scrapping.
45049 left Derby in March after completion of its General repair.
25170 had been stopped at Reddish because of generator problems in March 1982, sent to Derby Works during April for repair, it was discovered that more work was required, so the locomotive was condemned. Seen here on March 8th 1983 the final cutting of 25170 is underway.
Photograph courtesy A Healey.
Withdrawn during October 1981 and dumped at Tyseley 25290 initially moved to Swindon Works during March 1982 but during June was moved north to Derby Works. In this March 15th 1983 view 25290 appears to be the next machine in line for breaking up. By the end of April 25290 was no more.
Photograph courtesy A Healey.
Collision repairs were part and parcel of the routine of the Workshops, though finding a slot in the Works planned repair schedules was not always easy. In this view of 45045 on March 28th 1983, repairs will not be effected, the rundown of the Class had begun and locomotives sustaining accident damage were more than likely to be quickly withdrawn.
Photograph courtesy A Healey.
Broken up in April was 25170.
April 28th 1983 finds HST power car 43118 in the main erecting shop receiving attention to a seriously damaged cab. Because the of high demand placed on the HST power cars it was very rare to find them lingering in the deadlines at Derby.
Photograph courtesy Adrian Healey.
During May ten locomotives were under repair, all casuals except the ever present 27014 with its Intermediate - it was now in the paint shop. Recently arrived were collision damaged 25050 & 45045, both would be withdrawn. 25085 was broken up in May with 25261 next in line.
In the latter part of May 25234 paid a brief visit to the Works, it is seen here on May 21st catching the light quite nicely. It would remain in service until February 1985.
Photograph courtesy Jerry Glover.
45105 has arrived for 'N6' repairs which presumably relate to bogie repairs and is seen here on May 21st up on jacks. It would operate almost to the end of the regular service for the class 45's, being retired in May 1987. (See note below)
Photograph courtesy Jerry Glover.
In the view above in front of the locomotive is one of many specialised bits of equipment that could be found in the Workshops. This item is a portable vacuum exhauster and vacuum chamber, which would be plugged into the mains (110 volts in this case) and connected to a locomotive. A vacuum would be created (21" of mercury) so that brake system checks and tests could be carried out without the need to run the engine. Should a leak be recorded one tried and tested method of locating it would be the use of a paraffin lamp and watch where the fumes get sucked in!
Air system testing was far easier, a suitably adapted compressed airline was connected to the main air reservoir pipe on the locomotive buffer beam, to 'blow' the locomotive up before testing. A list of readings needed to be achieved, depending on the position of the brake handle. And of course the meter reading on the test equipment had to agree with what was showing on the cab gauges.
Two arrivals late in June from Crewe were 25314 & 25319, both intended to be converted to ETHEL units for the Scottish Region. In reality only 25314 was converted, after receiving remedial work at Derby.
25314 at Derby Works sometime during 1983. It had been withdrawn on March 20th 1983 and stored at Crewe. After leaving Derby and movement to Scotland it would eventually become 97252 'ETHEL 3'.
Photograph collection of webmaster.
Regular Classified repairs recommenced at Derby with authority received to restart Light repairs on the Class 45's, the first called were 45044 & 45105. Approximately fifteen locomotives were receiving repairs during the middle of June, including Scottish long stayers 27014 & 27104. In the scrapyard work had started on cutting up 25261, however a dispute halted this work and no further locomotive would be cut up here by BREL staff. The partially dismembered 25261 would remain in this state until December 1985 when Vic Berry was called in to finish the job.
There was probably no finer sight at the Locomotive Works than that of a locomotive just outshopped, having recieved a complete repaint, and before the immaculate finish begins to take a beating. Seen here in just such a condition is 27014 on June 6th 1983 awaiting movement back to the Scottish Region.
Photograph courtesy Adrian Healey.
Late in July there were fifteen locomotives under repair including withdrawn 25314 prior to its movement to Aberdeen for conversion to an ETHEL.
During August 27014 finally left the Works after completion of its Intermediate repair. 45006 was received for a Classified.
The Class 56's were occasional visitors to Derby Works, especially when the first examples were delivered from Roumania. On September 27th 1983 56042 was in the erecting shop for attention to its bogies.
Photograph courtesy John Glynn.

At the end of September the Department of the Environment ruled that historic facade of Derby station would not be granted listed status because not enough of the original building remained. This opened the way for demolition of the station's frontage.

Outshopped after Classified repairs in October were 45044 & 45105 whilst received was 45150 was received for a Heavy General. Locomotives under repair were 25034/64, 25181/182, 25208/218/283/298, 25320, 45002/06/16, 45105/108/124/132/134/136/150. Twenty six withdrawn locomotives were scattered about the Works.

Early in November there were nineteen locomotives under repair, 45150 was receiving a Heavy General, the remainder were casual repairs, ten of which were Class 25's, three Class 45/0's and five Class 45/1's.
Its November 26th 1983 and withdrawn 25129, 40163 & 25274 await an uncertain fate. The two Class 25's will eventually be moved to Swindon and broken up there, whilst the Class 40 will be taken to Leicester and broken up at Vic Berry's yard. In this view the Class 40 was just an empty shell, even missing its leading pony wheels from each bogie.
Photograph courtesy Phillip Moore.
By year's end two more Classified had been completed at Derby, 45044 having received an Intermediate and 45006 a Light, whilst received in the Works for a Classified was 45069.
Present at year's end were 25034/49/51/78, 25176, 25206/218/235, 45051/077 & 45132 receiving casual repairs whilst 45069 was receiving an Intermediate and 45150 a Heavy General. there were twenty seven withdrawn locomotives scattered about the Works of which the greater majority were Class 25's.
Not quite sure on the date for this view but it shows 27203 and a heavily stripped 25304 near the cutting up area. After withdrawal 25304 had surrendered its bogies to 25305 and its power unit to 25288. Now it just awaits a tow to Swindon where it will be finished off during June 1985.
Photographer unknown.

The Unknown Warrior
This view was acquired with no details accompanying the slide. Initially the view was considered to be Swindon, but a careful study of the background including the angled concrete fenceposts suggests this view is at Derby Works, the lighting suggests it was taken in the late afternoon. But which Class 25 could this be? Since Derby only scrapped twenty one Class 25's (including 25261 but excluding those scrapped at Derby by Vic Berry) there should be some chance of identifying this cabless locomotive.
Photograph collection of webmaster.
The Class 25's scrapped at Derby Works by Works staff were 7605, 25030, 25038, 25043, 25045, 25066, 25085, 25092, 25094, 25165, 25170, 25174, 25216, 25217, 25261 (partly), 25267, 25271, 25272, 25290, 25295 & 25299.
Obviously the view is not of 7605, and 25030 - 25066 would be immediately eliminated because they had the earlier body style. Although the cabs are gone the body reveals that the boiler room grille has been sheeted over (possibly the whole panel from frame to cant rail), the BR emblem is centered under the window (frequently the emblem was centered on the body side above the center fuel tank/boiler water tank cross member support) and there are no numbers or data panel decals on the bodyside.
This eliminates all but one of the Class 25 locomotives scrapped at Derby, only 25170 meets these conditions. 25170 was scrapped at Derby between March & April 1983, there is a view of it above which really doesn't tie in with this cabless view. So is this really 25170? Who knows?

Page added October 22nd 2007
Last updated December 4th 2017
Derby Works 1947 - 1973
Derby Works 1984 - 2007
Return to Picture menu
Return to Home Page