D5002, 5002, 24002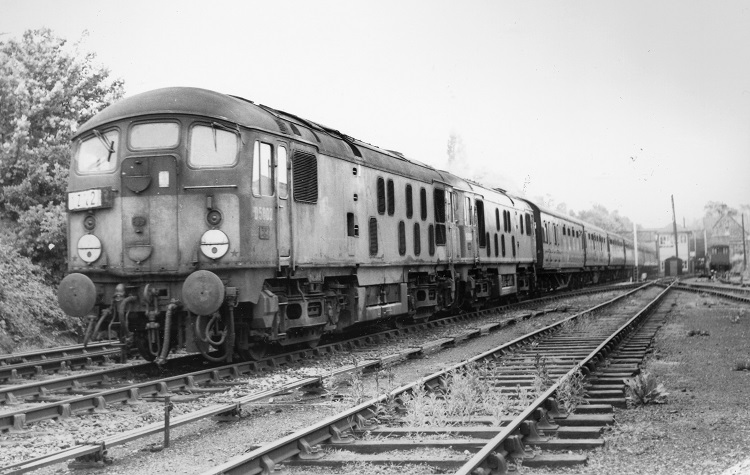 Photograph courtesy the Rex Conway collection.
A day trip to somewhere picks up passengers at Sutton Park, possibly destined for one of the Cambrian coast resorts. The lead locomotive is a rather grubby D5002, but generally in original condition apart from small yellow warning panels.
The sixteen year ten month career of D5002/24002 was spent allocated to London Midland Region, Southern Region & Scottish Region depots.
Built Derby Locomotive Works.
Full size fuel & water tanks (shortened water tank added later).
Split radiator screens.
Five upper and four lower air filters on non-BIS side, four upper and lower on BIS side.
Additional headcode disc brackets fitted (for use with SR six disc headcodes).
Gangway doors sheeted over whilst locomotive still carrying green livery.
Headcode discs centered on cab front (Glasgow modification).
Roof modification (above generator/brake cubicle): no raised panels.
Time between last Classified repair and withdrawal: ?? months.
Time between withdrawal & scrapping: 21 months.
Allocations
The frames for D5002 were laid down at Derby Works during September 1958 and was delivered new to Crewe South (5B) on December 3rd 1958, but then immediately loaned to Derby (17A). Further transfers were:
January 20th 1959 to Hither Green (73C) on loan.
May 1962 to Crewe South (5B).
May 1962 to Willesden (1A).
June 1962 to Crewe South (5B).
June 1962 to Rugby (2A) (later 1F).
June 1965 to Bletchley (1E).
June 1966 to Rugby (1F).
April 1966 to London Division (D01).
April 1967 to Stoke Division (D05).
January 1969 to store (at Chester).
March 1969 reinstated to Stoke Division (D05).
March 1971 to Eastfield (65A) on loan.
January 1975 to Longsight.
February 1975 to Eastfield.
July 7th 1975 to serviceable store.
October 5th 1975 withdrawn.
Renumbered April 1974.
24002 was stored at Carlisle from July 1975 until March 15th 1976 when it was forwarded to Glasgow Works and broken up during July 1977, although the cabs lingered until July 1978.
Movement: 24002/04/10/11 Carlisle – Glasgow Works March 15th 1976.
Works Visits
Works visits (records incomplete).
Noted Derby Works January, March & August 1960.
Noted Eastleigh Works November 1961.
Noted Derby Works January - July 1963 (continuous?).
Noted Derby Works October & November 1964.
Noted Derby Works October 1965.
Noted Derby Works May 1967.
Noted Derby Works September 1968.
Highlights
1958
D5002 was laid down at Derby Works in the summer of 1958, part of an order of twenty locomotives which was itself a component of the original 'Modernisation Plan' inventory totalling 181 (later 184) locomotives. In order to speed the introduction of this class the first ten locomotives were equipped with power units built by Sulzer Brothers at Winterthur. When delivered in November D5002 was on paper allocated to Crewe, but immediately transferred to Derby (17A).
1959
The New Year brought a request from the Southern Region to borrow locomotives for a short period pending the arrival of the BRCW Type 3s and the completion of the North Kent electrification scheme. The LMR obliged by sending fifteen new Class 24s to Hither Green (73C), with D5002 its way south via the Midland mainline on towards the end of January 24th. D5002 was noted at Derby on a frosty January 4th with the boiler water tank removed.
It was well known that these early machines were considerably overweight, to alleviate this D5002 - D5006 had their steam heating boilers and boiler water tanks removed, giving these five machines a slightly better route availability.
The loaned Southern Region Type 2s now numbered fifteen but had been subdivided into two distinct groups, those with their boilers removed (D5002 - D5006), and those still as built (D5000/01/07-14). On the Eastern section all were banned between Tonbridge and Bo Peep Junction, Middle Junction to Sheerness on Sea and from the Tilmanstone & Tenderten branches. The heavier machines were also banned from the Allhallows, Grain, Hawkhurst and Westerham branches. Oddly all were allowed down the steeply graded Folkestone Harbour branch. On the Central section the only restrictions applied to the heavier machines, banned between Three Bridges and East Grinstead and onto Ashurst Junction and the Heathfield line. The Cranleigh, Kemp Town, Lavant & Steyning branches were also off limits. On the Western Section all were banned from the Bodmin North, Barnstaple & Ilfracombe, Callington, Halwill, Hayling Island, Lyme Regis and Torrington branches. Double heading of these machines, with themselves or other engines was not permitted except on short trips.
From the middle of June the Margate - Birkenhead through train was diesel hauled from Margate to Redhill and back, D5001 noted on June 15th, D5002 (16th), D5005 (17th) & D5004 (18th - 20th).
1960
D5002 visited Derby Works several times in the first half of the year, being noted there in January, March & August.
On March 24th D5002 worked a late afternoon Redhill - Tonbridge stopping service.
The evening mail trains on the South Eastern Division were regularly hauled by Type 2s, during December they featured in an unusual 'push-pull' maneuver in the Redhill area. Amongst trains affected were the 11.50pm London Bridge – Deal and the 9.28pm Margate – Cannon Street, both running via Redhill. Engineering works required use of the Quarry Line, necessitating the use of a steam locomotive on the Earlswood – Redhill section to draw the train backwards. On December 9th this move featured D5000 on the Deal and D5002 on the Margate.
1961
D5002 visited Eastleigh Works during November.
1962
The Southern Region was now over its temporary shortage of power, the Kent Coast scheme was up and running and the Type 3s were now being recieved from BRCW's Smethwick plant. Hence the loaned LMR Type 2s started to migrate back to depots north of the Thames, with D5002 returning to the LMR during May.
D5002 worked the 07.55 Rugby - Liverpool on October 25th.
On September 30th D5002 was receiving attention at Rugby shed.
Condition no month: green livery with frame level stripe, gangway doors present, headcode disc brackets fitted (for use with SR six disc headcodes), full size fuel & water tanks, no blanking plates, hand/footholds present, cantrail water filler cover present, ridge sided sandboxes, two-rung bogie mounted footsteps, five upper & four lower ventilators on non-BIS side, split radiator screens fitted (both sides), all valencing fitted.
1963
D5002 spent from January to July at Derby Works.
1964
During June excursions from the Derby area to the North Wales resorts were hauled by D5030 & D5002 (14th), D5260 and D5279 (both 21st).
1965
5002 worked the 20.14 Euston - Bletchley on December 15th.
1967
The completion of the electrification out of Euston, with the local services in the hands of the AM10s and the continuing arrival of the later Derby & Beyer Peacock built non-boilered, dual braked Class 25s to work the local parcels & freight workings found the Class 24s virtually redundant. However in the North West steam was still very active, so late in 1966 a mass exodus commenced with many Class 24s headed north to the Stoke Division (D05), although it is with Crewe that they would be long remembered. D5002 made the move north in April.
The recently improved LM electric service suffered a major disruption on February 28th following a collision at the Birmingham end of Stechford station, at the junction of the Aston loop line. The 13.15 Manchester - Coventry powered by green liveried AM4 026 traveling at about 70mph ran into the side of D5002 running light, coming off the down line of the Aston loop. The locomotive escaped major damage but the two leading coaches were seriously damaged, the driver, W D Burt of Stoke on Trent was killed in the wreck along with eight other passengers. Several other Stoke drivers learning the road were seriously injured. All lines were blocked with much damage to the overhead equipment. It took the permanent way department three days of hard work to clear the wreckage and make the lines reusable. The leading coach of the AM4 unit, M75670 was cut up on site whilst 70493, 61638 & 75690 were removed to Wolverton where the badly damaged 70493 languished, not being broken up until 1976. Stechford had seen a similar collision on March 4th 1962 when 46150 on a Holyhead - Broad Street meat train had a sidelong collision with the 16.35 Birmingham - Coventry diesel multiple unit at Stechford No.2 box, the line being closed for eighteen hours.
When the head shunter at Stechford allowed D5002 to begin its unusual run-round manouevre (this would normally have been accomplished by using the Grand Junction line platforms, but today the train was too long for the siding) the action contravened the operating procedures for this location. Such run-round manouevres were permissible, but they were for emergency situations only and required the authority of the Regulator at Birmingham New Street power box - this manouevre met neither of these conditions and should have been approached by splitting the train and using the cross overs at the Coventry end of the station. Although New Street power box was contacted to allow the release of the local ground frames the full detail of the manouevre was not communicated to the staff involved.
With the locomotive now in motion proper operating procedures would still have brought to light the dangerous position the locomotive was in. Confusion over the meaning of a hand signal issued by the head shunter, believed to be intended for the guard, but witnessed by the second man led to the locomotive moving off towards Stechford station. At this point the driver was still in the cab used since leaving Coventry, with the locomotive now in reverse the leading cab should have been occupied by an authorised person, however the secondman was in the same cab as the driver, leaning from the cab door watching down the line as it curved back towards Stechford station.
Perhaps the most frightening observation came to the secondman on the approach to the diamond crossover - their intended route was blocked by a Birmingham bound multiple unit waiting in the down platform for departure. On seeing this the driver was told to stop as something was very wrong, of course driving the locomotive from the rear cab had probably not revealed the full nature of the dangerous position they had placed themselves, especially now as the locomotive had come to an almost complete stop on the diamond fouling the 'up' Stour Valley line. Should anyone have been watching this movement on the panel in New Street box it must also have seemed that something was seriously wrong.
That D5002 had almost completely come to a stop on the diamond crossover was the worst of all situations, to have stopped short or to have cleared the crossing completely, whilst still a dangerous situation would have removed the locomotive from harms way in relation to traffic on the 'up' line, which was operating as if there was no conflicting manouevre at Stechford, because the staff at Stechford had not properly advised New Street power box of their intended actions. What the crew of D5002 now intended to do in light of this precarious situation was not allowed to unfold as the sudden arrival of the Coventry bound service ended the normality of this day at Stechford.
Eight lives were lost in a situation that had been reviewed when the line had been modernised & electrified, a review which effectively banned the manouevre from day to day operations. But only a short while after the inception of the new electric services the 'banned' manouevre takes place suggesting that no matter how one might strive to make things as safe as possible, that success will be only brief & temporary.
D5002 was present at Derby Works during May.
1969
The original order of D5000 - D5019 lacked certain refinements/improvements added to the later members of the Class. Thus when a surplus of Type 2s occurred as a result of shrinking freight traffic, service cutbacks and line closures, the original twenty were prime candidates for taking out of service. Thus in January 5000/01/05/10/19 and 5090 (accident damaged) were withdrawn, 5001 being at Crewe South when withdrawn, & later joined by 5013. As the year progressed others of this batch went in to storage at various locations, 5002 was stored in January at Chester with six other Class 24's. However an upturn in traffic on the Eastern Region and the loss of five Class 24s in a runaway accident at Chester saw authorities searching for a means to cover these demands.
5002 was reinstated during March.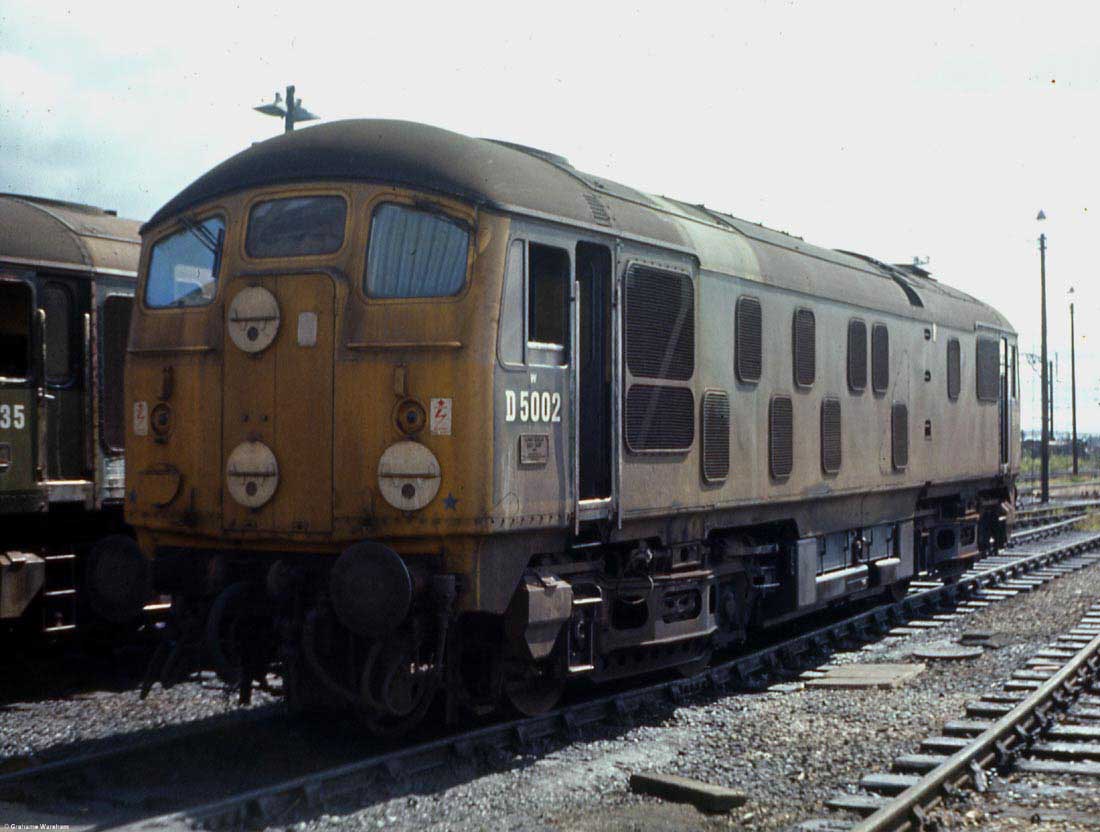 Photograph courtesy Grahame Wareham.
Back in service after a brief spell stored at Chester 5002 basks in the sun at Crewe in the summer of 1969.
Condition August: green livery with full yellow cabfronts, gangway doors present, headcode disc brackets fitted (for use with SR six disc headcodes), full size fuel tank, shortened water tank, no blanking plates, hand/footholds present, ridge sided sandboxes, two-rung bogie mounted footsteps, five upper & four lower ventilators on non-BIS side, split radiator screens fitted (both sides), all valencing fitted.
1971
During March 5002 moved north to Eastfield (65A), being part of a large group of locomotives sent north to assist the authorities in removing the remaining Claytons and North British types.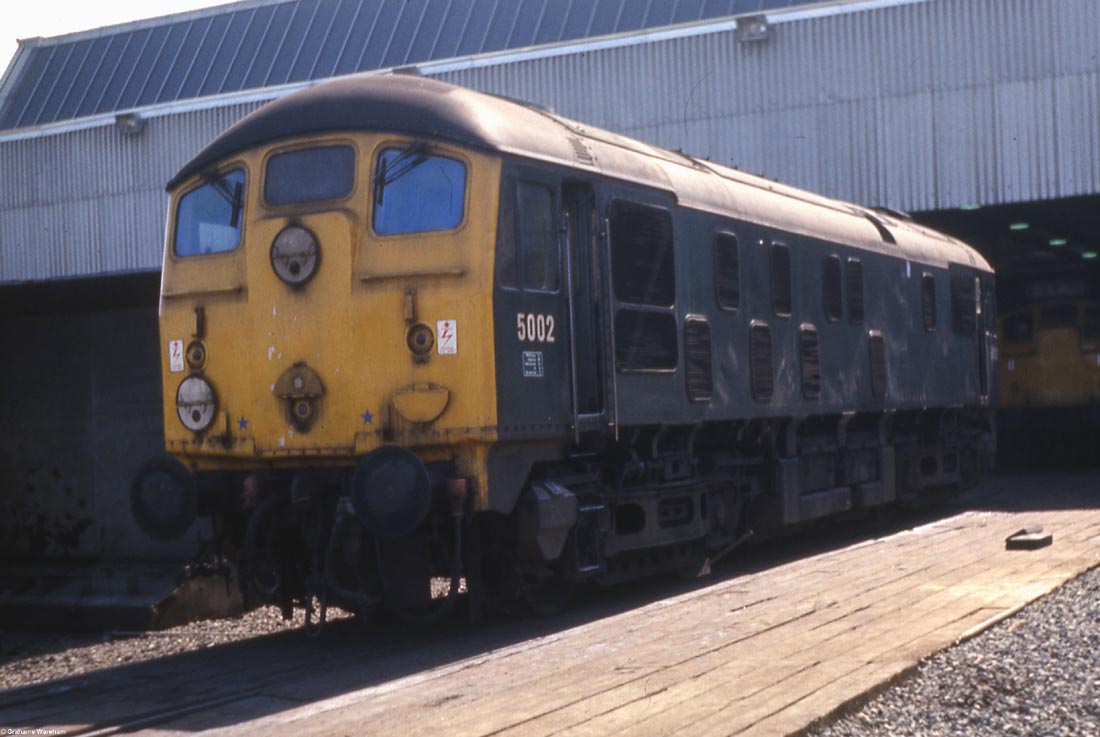 Photograph courtesy Grahame Wareham.
By the summer of 1971 5002 has been through a major repair, evidenced by the sheeting over of the gangway doors and the plating over of the handholds to the roof level waterfiller. The positioning of the blue star coupling code symbols and the centered center discs indicated that Glasgow handled the last major repair. The white discs have also received a black edging. The builders plate has been moved from the cabside to the door.
Condition August: green livery with full yellow cabfronts, no frame level stripe, gangway doors sheeted over, headcode disc brackets fitted (for use with SR six disc headcodes), headcode discs centered on cabfront, full size fuel tank, shortened water tank, no blanking plates, hand/footholds plated over (footsteps on bogie to hand/footholds not removed), ridge sided sandboxes, two-rung bogie mounted footsteps, five upper & four lower ventilators on non-BIS side, split radiator screens fitted (both sides), all valencing on bodysides removed.
1973
On April 23rd 5002 was stabled at Ayr in shabby condition, with the gangway doors sheeted over and the headcode discs centered, with the blue star codes in the Glasgow position.
On the evening of May 27th 5002 was stabled at Motherwell (green with full yellow ends).
1974
5002 was stabled at Eastfield on September 15th, still in a shabby green/yellow livery.
1975
24002 was briefly transferred to Longsight during January, returning north to Eastfield during February.
With the WCML electrification complete and its resultant cascading of locomotives creating a surplus in the lower powered category the decision was made to store/withdraw the greater part of the Class 24 fleet. 24002 was stored during July and withdrawn during October 1975.
Condition final: blue/yellow livery, gangway doors sheeted over, headcode discs centered on cabfront, headcode disc brackets fitted (for use with SR six disc headcodes) both cabs, full size fuel tank, shortened water tank, blanking plates fitted, hand/footholds plated over, ridge sided sandboxes, two-rung bogie mounted footsteps, five upper & four lower ventilators on non-BIS side, split radiator screens fitted (both sides).
flk 0322
Page added August 28th 2016.
Last updated March 12th 2022.
Back to 24001
Forward to 24003