D5019, 5019, 24019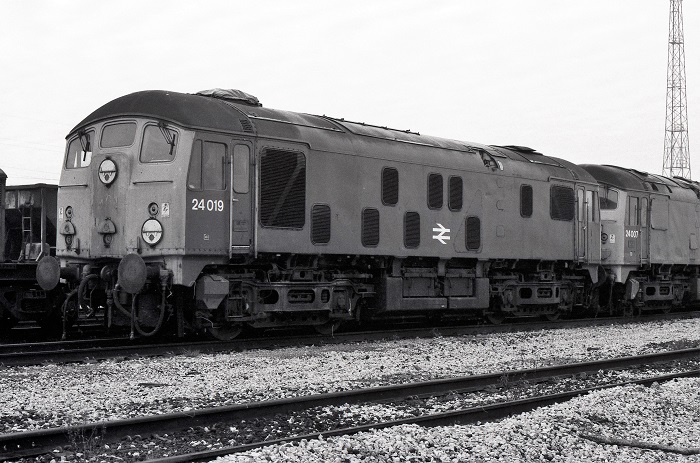 Photograph courtesy John Turner (via RG).
24019 in store at Carlisle circa October 1975. Whilst in store attempts have been made to cover the radiator fan opening perhaps on the assumption the locomotive might return to service. 24019 was one of five of the twenty Modernisation Plan build to retain full size fuel/water tanks to the end (the others being 24008/12/16/17).
The sixteen year three month career of D5019/24019 began with allocations to the London Midland Region, Eastern Region and Scottish Region.
Built Derby Locomotive Works.
Delivered with Athermos axleboxes.
Full size fuel & water tanks (retained until withdrawn).
Air filters: four upper and four lower on non-BIS side, four upper and four lower on BIS side.
Time between last Classified repair and withdrawal: ?? months.
Time between withdrawal & scrapping: 32 months.
Allocations
D5019 was new to Crewe South (5B) on July 11th 1959. Further transfers were:
July 1959 to Derby (17A) on loan.
September 1959 to Crewe South (5B).
October 1959 to Camden (1B).
December 1965 to Bletchley (1E).
April 1966 to London Division (D01).
July 1966 to Birmingham Division (D02).
June 1967 to Stoke Division (D05).
January 25th 1969 withdrawn (stored at Chester).
October 5th 1969 - reinstated to Holbeck (55A).
May 1971 to Gateshead (52A).
October 1971 to Polmadie (66A).
March 1972 to Eastfield (65A).
July 7th 1975 stored serviceable.
October 5th 1975 - withdrawn.
Renumbered May 3rd 1974.
After withdrawal 24019 was stored at Carlisle until February 14th 1978 when it was moved to Doncaster Works, being broken up there during June 1978.
Movement: 24019/66, 24102/121 07.00 Carlisle - Doncaster 9Z14 February 14 1978. (25191 to Skipton, then 31183 to Doncaster)
Works Visits
Works visits (records incomplete).
Noted Derby Works June 1960.
Noted Derby Works January & February 1962.
Noted Derby Works June & July 1962.
Noted Derby Works May & December 1963.
Noted Eastleigh December 1965.
Noted Derby Works April 1966.
Noted Derby Works January 1970.
Noted Derby June 1972.
Noted Glasgow Works May 1973.
Highlights
Condition (no date, early 60s?): green livery with small yellow warning panels, curved upper corners, yellow extends over frame level stripe, full size fuel & water tanks, two-rung bogie mounted footsteps, athermos axleboxes, steam style shedplate on cab front.
1959
During July, not long after delivery D5019 was noted on a Manchester Central - Nottingham semi-fast service.
1960
On June 29th D5019 worked the 20.00 Euston - Tring.
1964
On the morning of January 18th D5019 was at Rugby with a seven coach Birmingham New Street - Euston service.
On the afternoon of March 14th D5019 was at Bletchley with a seven coach Rugby - Euston service.
On the late morning of April 9th D5019 was at Rugby with a five coach Birmingham - Euston service.
On the morning of April 21st D5019 was at Rugby with a Birmingham New Street - Euston service.
On April 24th D5019 worked the 10.11 Birmingham New Street - Euston.
On November 18th D5019 was unable to heat the 09.50 Birmingham - Euston, it was replaced by 44942. As the month closed out regular electric working on the WCML advanced southwards from Nuneaton to Rugby.
1965
On September 12th D5029 & D5019 were stabled at Bletchley.
1967
On the afternoon of September 30th D5008 & D5019 were northbound at Acton Grange with a freight, the locomotives later returned southbound light engines.
On the afternoon of October 31st D5019 was light engine at Creswell (Blythe Bridge).
1968
On the evening of February 27th D5019 was northbound at Crewe with a parcels.
On April 26th D5019 was noted at Kidsgrove with an up permanent way train.
On the afternoon of August 18th 5019 was noted at Whittington (GW) with an up freight.
1970
One of the newly transferred Eastern Region Class 24s, 5019 in multiple with 5173 found itself on front line passenger duty on January 23rd when the 12.10 Swansea - Newcastle arrived at York short of fuel. After a quick engine change the Type 2ís completed the journey to Newcastle, both returning south later that day on a parcels working.
1972
A lengthy train of vans powered by Haymarket allocated 5019 was an unusual visitor to Preston on July 18th.
1973
On the evening of May 27th Class 24/25s noted at Eastfield were 5004 (still in green/yellow livery), 5019, 5096, 5101, 5159, 5161, 5296, 7581 & 7583.
D5019 worked the 06.55 Mallaig - Glasgow Queen Street forward from Fort William on July 6th.
The failure of Class 47 No.1859 on a northbound Motorail service on July 19th brought 5019 & 5398 to the rescue, being noted heading through Stirling during the evening.
1975
24019 was withdrawn on October 5th.
1978
Final condition (withdrawn): blue/yellow livery, gangway doors sheeted over, headcode discs centered on cabfront, full size fuel & water tanks, hand/footholds plated over.
flk 1221
Page added July 1st 2016.
Last updated September 5th 2022.
Back to 24018
Forward to 24020