D5021, 5021, 24021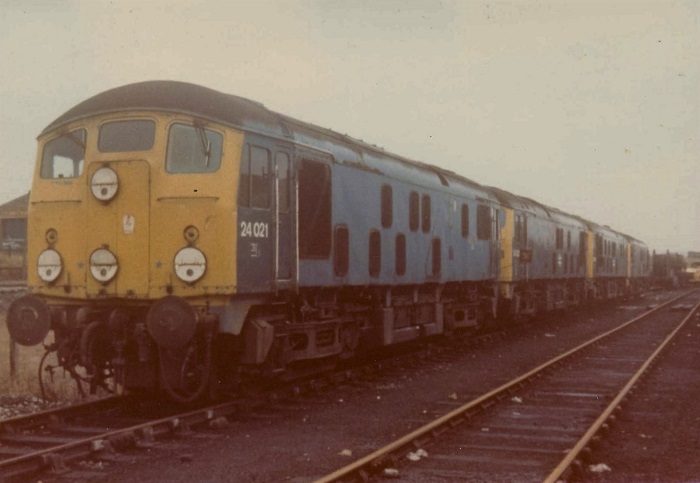 A gloomy, overcast view of 24021 and 24005/022/024 (not sure of the exact order) in store at Reddish on December 29th 1975. This locomotive was one of those that retained its gangway doors to the end of its career. It also did not carry the BR 'barbed wire inter-city' emblem, rather this machine retained the 'lion & wheel' logo to the very end, its just visible at the far end of the locomotive. The position of the blue star coupling code symbols on the cab front is also a little unusual.
The sixteen year career of D5021/24021 included allocations to the London Midland Region & Eastern Region.
Built Derby Locomotive Works.
Full size fuel & water tanks (shortened water tank added later).
Four upper and four lower air filters on non-BIS side, three upper and four lower on BIS side.
Gangway doors never removed.
Time between last Classified repair and withdrawal: ?? months.
Time between withdrawal & scrapping: 19 months.
The allocation histories and working careers of 24020 & 24021 are very similar.
Allocations
The frames for D5021 were laid down during the late spring of 1959 at Derby Works. D5021 was new to Ipswich (32B) on August 20th 1959. Further transfers were:
March 1961 to Stratford (30A).
April 1961 to Willesden (1A) on loan, made permanent June 1961.
January 1965 to Camden (1B).
December 1965 to Bescot (2F).
April 1966 to Birmingham Division (D02).
June 1967 to Stoke Division (D05).
March 1972 to Manchester Division (D09).
May 1973 to Longsight.
July 6th 1975 stored serviceable.
August 10th 1975 - withdrawn.
Renumbered March 30th 1974.
After withdrawal 24021 was stored at Reddish until February 15th 1977 when it was moved to Swindon Works, being broken up there by the last week of March 1977.
Movement: 24005/20/21/24 9X45 04.38 Reddish - Crewe - Banbury -Swindon February 15th 1977
Works Visits
Works visits (records incomplete).
Noted Derby Works October & November 1962.
Noted Derby Works November 1964.
Noted Derby Works May 1966.
Noted Brush Works, Loughborough 1966/1967.
Noted Derby Works September 1972.
Highlights
1959
Derby Works delivered D5021 new to Ipswich (32B) during August. The annual Horticultural & Flower show (Open Day!) at Derby on August 29th found new diesels D2, D3782 & D5021 on display alongside steam locomotives Britannia 70004 & 9F 92165.
1961
During March D5021 headed south to Stratford, though its stay here was brief, by May D5021 was transferred to Willesden (1A). The transfer of D5020/21 to Willesden (1A) during May completed the movement of sixteen Type 2s (D5020 - D5035) between the GE and the LMR. This was made possible by the newly arriving English Electric Type 3s and Brush Type 2s upwards from D5694, after the transfer of the BR/Sulzer Type 2s more of the local services out of Euston became dieselized.
1962
Condition April: green livery with frame level stripe, full size fuel & water tanks, ridge sided sandboxes, two-rung bogie footsteps, side ventilators 4/4 non BIS side.
D5021 visited Derby Works during October & November.
1963
Travellers on a party special on June 16th from Hemel Hempstead to Hastings hauled by D5021 had quite an adventure when trying to make the return trip home. The locomotive became a complete failure prior to the return leg, which had to be cancelled due to no other power being available. Many passengers squeezed onto a similar special returning to Watford whilst D5021 was removed to St Leonard's depot for attention.
D5021 worked the 09.46 Peterborough East to Northampton train on October 29th.
Condition October: green livery with small yellow warning panels, curved upper corners, warning panel does not completely cover the frame level stripe, full size fuel & water tanks, two-rung bogie footsteps.
1964
D5021 was noted at Derby Works during November.
1965
In January D5021 moved to Camden (1B). As the year closed D5020 - D5024 moved north to Bescot (2F).
1966
With the creation of the LMR 'Divisions' D5021 joined the Birmingham Division. D5021 was at Derby Works during May.
Because of the heavy workload at Derby Locomotive Works, several Type 2s were sent to the Brush Works, Loughborough for repair, including collision damaged D 5021, D5218 & D5283.
With regard to the June 10th directive to begin painting locomotives in blue & yellow livery on August 2nd Brush wrote to the CM&EE BR at Derby with concern over three points: would the polyurethane paint be used on those locomotives being refurbished at Loughborough; would it be used on new locomotives from the current order and would BR take their stocks of green paint off them if the change to blue livery was to include those locomotives at Brush? The CM&EE BR responded in the affirmative for each question. At the end of 1966 Brush held three collision damaged Type 2s: D5021, D5218 & D5283, instructions had been received to repaint them green, this took place for D5021 & D5218 but on January 5th 1967 instructions were received from A.E.Robson, Chief Engineer (T&RS) to repaint all three in the new blue polyurethane livery. However D5021 & D5218 were outshopped with old-style small yellow warning panels and both received the old style crest!
The repaint into blue livery at Brush would be the last full repaint for D5021, but it would receive full yellow cab fronts during the 1970s.
1967
Between April and August the entire block of D5000 - 5049 moved north to the Stoke Division (D05), with D5010 - D5023 transferred during June.
1968
On June 2nd, whilst on permanent way work at Stafford, D5021 failed and was rescued by D5000, both were later noted en-route to Crewe.
1970
An odd combination was noted late in the evening of February 13th at Wolverhampton when Hymek 7021 failed on the down 4M02. Rescue came in the shape of 5021, taken from another down working.
1971
Condition May: blue/yellow livery, BR lion & wheel emblem, full size fuel tank, shortened water tank, no blanking plates fitted, hand/footholds plated over, two-rung bogie mounted footsteps, ridged sandboxes.
1972
On February 16th 5021 & 5033 were noted at Bletchley on the northbound 'Clayliner'. Normally an electric working the diesels, along with others were used to ease the power crisis due to the ongoing coal miners strike. 5021 & 5033 were again in action at the southern end of the WCML on February 23rd, in charge of an Eastleigh - Oldham empty van train. 5020 - 5023 moved to the Manchester Division (D09) in March. 5021 was noted at Derby Works during September.
1973
With the abandonment of the LMR Divison allocations 5021 was allocated to Longsight during May.
1975
24021 was noted heading westbound through Manchester Victoria with a short parcels train on June 28th.
In the big purge of the Class 24s during the summer of 1975 24021 was placed into store at Reddish during the first week of July and then withdrawn on August 10th.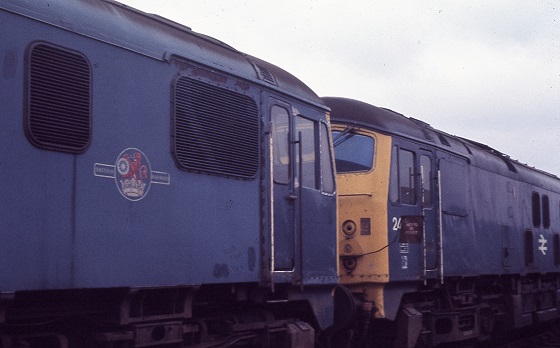 A gloomy close up of the 'Lion & Wheel' emblem still carried by 24021 on December 29th 1975, and a 'Not to be moved' sign, a warning not heeded too much at Reddish, every trip we made there seemed to find the Class 24's in a different location somewhere on the depot's tracks. I suppose being in store here for over eighteen months would make movement round the depot very possible.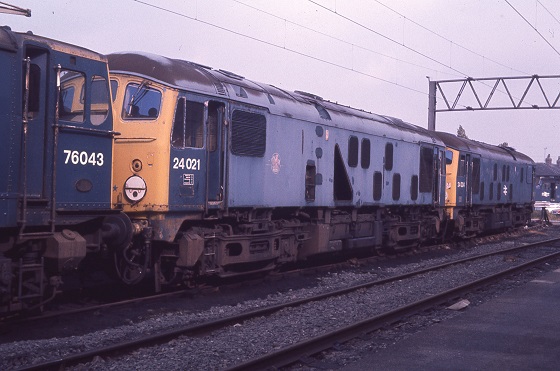 Occasionally the sun did shine on our visits to Reddish - on this particular visit on August 29th 1976 24021 was noted on the other side of Reddish depot. The paint has continued its fade into oblivion. Behind 24021 sits 24024.

The end came on February 15th 1977 when 24005/20/21/24 were hauled away to Swindon as the 9X45 04.38 Reddish - Crewe - Banbury - Swindon special freight. Both were scrapped within a week of each other at the end of March/beginning of April.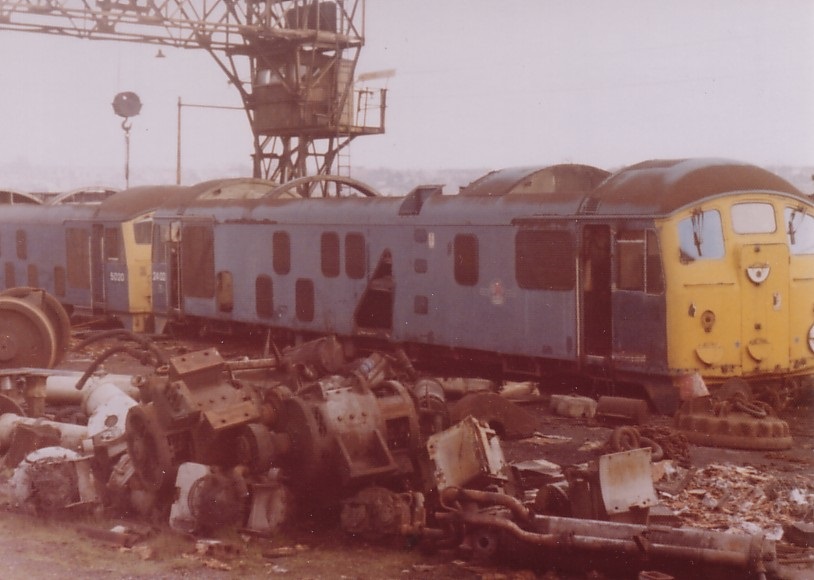 Photograph courtesy Neil Phillips

On arrival at Swindon the former Longsight Class 24s did not linger long. As they had left Derby Works together eighteen years earlier, and spent most of their workings lives close together, so they would end their days together at Swindon during April 1977.

Condition Final: blue/yellow livery, gangway doors present, full size water tank, shortened fuel tank, hand/footholds plated over, straight sided sandboxes, two & three rung bogie mounted footsteps, carried BR 'Lion & Wheel emblem to the end.

flk 1017 (2)

Page created February 25th 2000
Page last updated November 16th 2019