D5026, 5026, 24026

FROM MR CHRISTOPHER PARKINSON PARKINSONCHRISTOPHER@YMAIL.COM TO THE CLASS 24/25 SOURCES FOR THE BOOKS OF MR JOHN BATES AND BRIAN HUSDON SUNDAY 12 JANUARY 1964 D5026 STABIED AT EDGELEY SHED WEDNESDAY 22 JANUARY 1964 AT DERBY MIDLAND D5246 LIGHT TUESDAY 18 FEBRUARY 1964 ON DARLINGTON SHED D5158 D5159 DARLINGTON WORKS D5106 D5148 D7586 D5171 D7587 D7588 D5159 D5097 D5180 SATURDAY 22 FEBRUARY 1964 AT LEEDS CITY D5186 ON ECS FOR 1035 LEEDS TO GLASGOW SUNDAY 15 MARCH 1964 AT HOLBECK SHED D5205 NEVILLE HILL SHED D5100 D7578 YORK SHED D5098 D5099 TH0RNABY SHED 51 L D5158 D5113 D5183 D5168 D5112 D5166 D5171 D5175 D5172 D5151 D5155 D5160 D5165 D5169 D5163 TUESDAY 17 MARCH 1964 DERBY MIDLAND D5236/D5247 LIGHT WELLINGBOROUGH YARD D5237/D5245 STABIED ST AIBANS D5230 ON SHUNTING CRICKIEWOOD YARD D5220/D5239 SUNDAY 22 MARCH 1964 D5017 1105 MANCHESTER PICCADILLY TO CARDIFF INTO CREWE LONGSIGHT YARD D5138 CREWE NORTH SHED D5021 D5076 SUNDAY 29 MARCH 1964 ON HAYMARKET SHED D5123 PERTH STATION D5118/D5120 LIGHT SUNDAY 5 APRIL 1964 CRICKLEWOOD SHED 1 A D5189 D5085 D5089 D5241 D5237/D5250 D5204 D5228 D7576 D5222 D5223 D5086 WILLESDEN SHED 1 A D5081 D5079 D5013 D5145 D5021 LONDON ST PANCRAS D5221/D5218 SUNDAY 5 APRIL 1964 KENTISH TOWN D7574/D5084 LEICESTER SHED D7571/D5404 MONDAY 31 MAY 1964 WATFORD SHED D5029/D5076 D5075 SATURDAY 13 JUNE 1964 AT POLMADIE SHED 67 A D5024 D5133 SATURDAY 20 JUNE 1964 D5207 1730 SHEFFIELD MIDLAND TO MANCHESTER CENTRAL SUNDAY 5 JULY 1964 TOTON SHED 18 A D5243 D5263 D5244 D5234 D5251 D5247 D5262 D5245 D5249 D5279 D5268 D5281 D5280 D5185 D5257 D5277 D5184 SUNDAY 5 JULY 1964 NOTTINGHAM SHED 16 A D5264 D5199 D5231 D7583 D7585 D7590 D5239 D5258 D7591 D5203 D7568 D5193 D5224 D5289 SATURDAY 11 JULY 1964 D5276 LIVERPOOL LIME STREET TO CAMBRIDGE FRIDAY 17 JULY 1964 D5183 2000 MANCHESTER CENTRAL TO DERBY MIDLAND SUNDAY 13 SEPTEMBER 1964 ON TRAFFORD PARK 9 E D5274 D7586 D5275 HOLBECK SHED D5218 D5183 D5231 D5234 TUESDAY 15 SEPTEMBER 1964 ON CREWE NORTH SHED D5145/D5135 SUNDAY 11 OCTOBER 1964 YORK SHED D5098 D5100 D7582 DONCASTER WORKS D5052 D5015 SUNDAY 18 OCTOBER 1964 AT LONDON EUSTON D5133 D5146 SATURDAY 14 NOVEMBER 1964 D5146 ON EC S AT MANCHESTER PICCADILL AT 2330 SUNDAY 15 NOVEMBER 1964 ON CAMDEN SHED 1 B D5016 D5018 D5022 CRICKIEWOOD SHED 14 A D5204 D5217 D5213 D5211 D5218 D5219 D5194 D5206 D5214 WILLESDEN SHED 1A D5015 D5032 D5006 D5007 D5074 D5004 D5080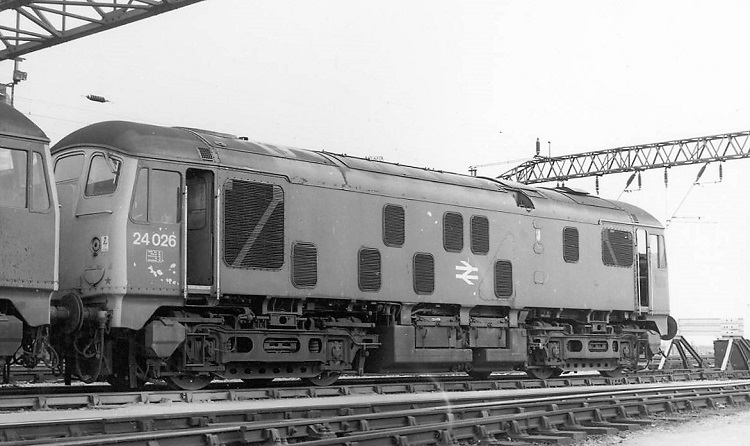 Photographer unknown at this time.
24026 stands in the deadlines at Crewe, date unknown, but sometime between August 1975 and October 1976. 24026 ended its days with the gangways doors sheeted over at the No.1 end, but retained at the No.2 end.
The fifteen year ten month career of D5026/24026 saw allocations to Eastern Region and London Midland Region depots.
Built Derby Locomotive Works.
Full size fuel & water tanks (shortened water tank added later).
Four upper and four lower air filters on non-BIS side, three upper and four lower on BIS side.
Gangway doors not removed (No.2 end only).
Time between last Classified repair and withdrawal: ?? months.
Time between withdrawal & scrapping: 17 months.
Allocations
The frames for D5026 were laid down during the summer of 1959 at Derby Works. D5026 was new to Ipswich (32B) on October 22nd 1959. Further transfers were:
September 1960 to Stratford (30A).
November 1960 to Camden (1A) on loan, made permanent December 1960.
December 1965 to Bescot (2F).
April 1966 to Birmingham Division (D02).
August 1967 to Stoke Division (D05).
May 1973 to Crewe.
May 1973 to Longsight.
March 1974 to Crewe.
January 1975 to Longsight.
May 1975 to Crewe.
July 6th 1975 stored serviceable.
August 10th 1975 - withdrawn.
Renumbered March 18th 1974.
24026 was stored at Reddish from July 1975 until August 1975, it was then moved down to Crewe, remaining here until October 20th 1976 when it was forwarded to Swindon and broken up there during the first week of January 1977.
Movement: 24026/31/44/76 Crewe - Swindon October 20th 1976 by 25245.
Works Visits
Works visits (records incomplete).
Noted Derby Works February 1961.
Noted Derby Works February & March 1962.
Noted Derby Works April 1963.
Noted Derby Works August - October 1964.
Noted Derby Works September 1966.
Noted Derby Works February 1971 (ex-works).
Noted Derby Works August 1973.
Noted Derby Works August - October 1974 (continuous?).
Highlights
1959
D5026 was delivered from Derby Works during late October.
Condition original: green livery with frame level stripe, full size fuel & water tanks, ridge sided sandboxes, two-rung bogie mounted footsteps.
1960
After almost a year at Ipswich D5026 moved to Stratford (30A) during September. Two months later D5026 had been transferred to Camden, remaining there for the next five years.
1962
D5026 was noted at Derby Works during February & March and recieved a repaint before outshopping.
1964
D5026 was noted at Derby Works from August to October.
1965
With the WCML electrification well under way a gradual move northward of the Class 24s took place with D5026 moving to Bescot (2F) in December.
1967
After twenty months allocated to Bescot/Birmingham Division D5026 moved to the Stoke Division during August.
Condition August: blue livery, small yellow warning panel, squared upper corners, full size fuel tank, shortened water tank, ridge sided sandboxes, two rung bogie mounted footsteps, hand/footholds present, valencing fitted; non-BIS side BR double arrow on driver's cabside, number located on bodyside and 2nd man's cabside.
1971
Noted at Derby Works during February was 5026.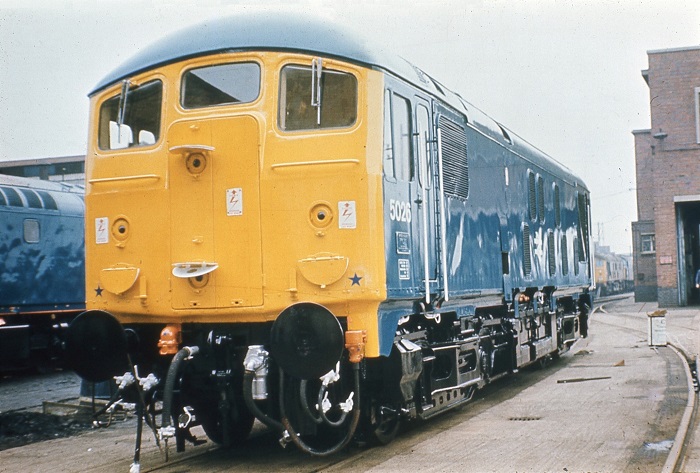 Photograph courtesy John Gilbert.
An ex-works 5026 stands by the Test House, Derby on February 27th 1971. The gangway doors remain in place, whilst the locomotive has received the shortened boiler water tank.
Condition February: blue/yellow livery, gangway doors present, full size water tank, shortened fuel tank, no blanking plates, hand/footholds plated over, two-rung bogie mounted footsteps, ridge sided sandboxes.
1973
During May 24026 moved to Longsight and was noted at Derby Works during August.
The 08.45 Holyhead - Euston was normally a Class 40 working, on May 26th it was worked by 5026 to Crewe, with the return working, the 10.20 Euston - Llandudno worked forward from Crewe by 5044 & 51xx.
1974
After ten months at Longsight 24026 was transferred to Crewe in March and then spent August, September & October at Derby Works.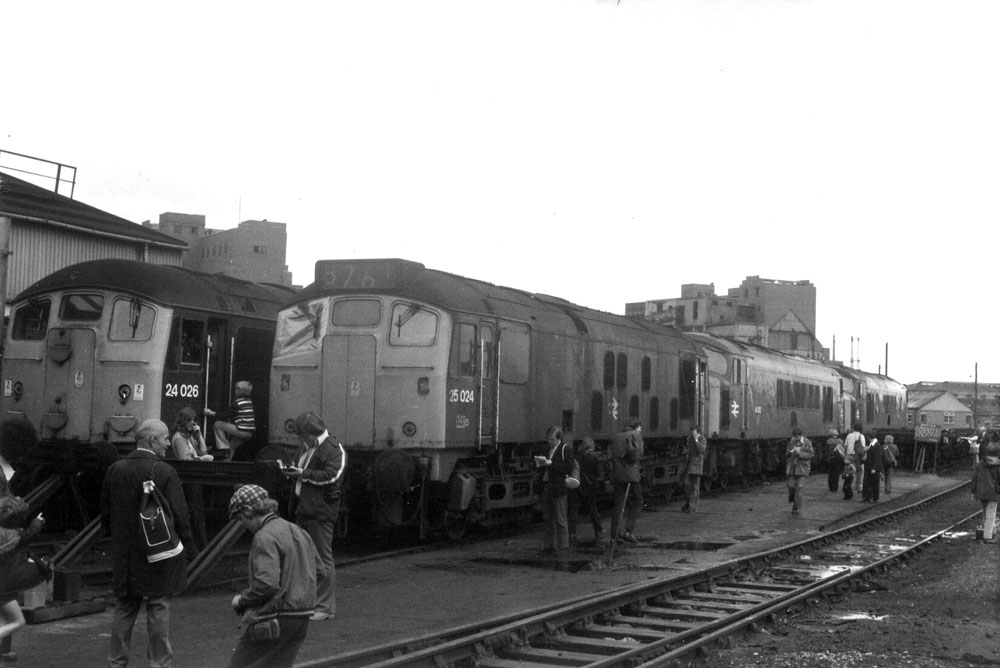 Photographer unknown at this time.
It looks like the August 30th 1974 Works Open Day was a cloudy affair as seen in this view of the deadlines with 24026 & 25024 closest to the camera. Look at all those duffel bags, 'Adidas' bags and the clothing of the visitors.
Whilst under repair at Derby Works the No.1 cab front gangway doors of 24026 were sheeted over. One wonders about the expense incurred in such repairs when within twelve months the locomotive would be taken out of service and withdrawn. It may have been difficult to anticipate future traffic patterns but certainly the completion of the WCML eletrification was drawing near and the introduction of the HST passenger trains was also not far off. Both would lead to the cascading of locomotives and the withdrawal of surplus machines. And recent history had certainly shown that the Class 24s were expendable.
1975
24026 returned to Longsight during January, then transferred back to Crewe during May. The summer of 1975 brought the massive withdrawals to the Class 24 fleet with 24026 stored in early July followed by final withdrawal in August.
Condition final: blue/yellow livery, gangway doors sheeted over No.1 cab, gangway doors present No.2 cab, full sized water tank, shortened fuel tank, ridge sided sandboxes, two-rung bogie mounted footsteps, no blanking plates, hand/footholds plated over.
flk 1017 (1)
Page added February 25th 2000.
Page updated May 4th 2019.