D5029, 5029, 24029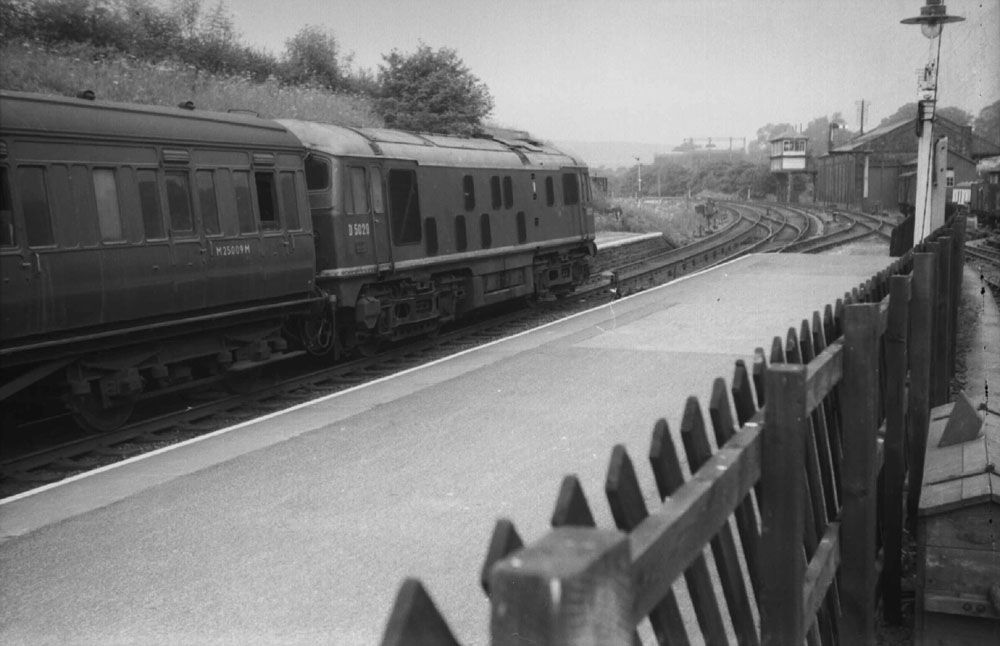 Photograph collection of webmaster.

An early view of D5029 at Matlock, date unknown but possibly sometime in 1961/62. The condition of the locomotive suggests it has been in service for several years.


The fifteen year eight month career of D5029/24029 saw allocations to Eastern Region and London Midland Region depots.

Built Derby Locomotive Works.
Full size fuel & water tanks (shortened water tank added later).
Four upper and four lower air filters on non-BIS side, three upper and four lower on BIS side.
Gangway doors never removed.
Roof modification (above generator/brake cubicle): original style retained until withdrawn (raised panels).
Time between last Classified repair and withdrawal: ?? months.
Time between withdrawal & scrapping: 19 months.

Allocations

The frames for D5029 were laid down during the late summer of 1959 at Derby Works. D5029 was new to Ipswich (32B) on November 28th 1959. Further transfers were:

September 1960 to Stratford (30A).
March 1961 to Willesden (1A) on loan, made permanent April 1961.
December 1965 to Bescot (2F).
April 1966 to Birmingham Division (D02).
August 1967 to Stoke Division (D05).
May 1973 to Crewe.
May 1973 to Longsight.
September 1973 to Crewe.
January 1975 to Longsight.
March 1975 to Crewe.
July 6th 1975 stored serviceable.
August 10th 1975 - withdrawn.

Renumbered March 30th 1974.

24029 was stored at Crewe from July 1975 until January 10th 1977, when it was forwarded to Swindon and broken up there during the second week of March 1977.

Movement: 24025/29/33/34 06.45 Crewe - Swindon January 10th/11th 1977 by 25269.

Works Visits

Works visits (records incomplete).

Noted Derby Works May 1961.
Noted Derby Works April 1962.
Noted Derby Works July 1963.
Noted Derby Works October 1964.
Noted Derby Works June & July 1966.
Noted Derby Works September & October 1969.
Noted Derby Works December 1970.
Noted Derby Works February & March 1974.

Highlights

1959
D5029 was the last locomotive of two orders totalling thirty locomotives (D5000 - D5029) built at Derby, with D5029 delivered to Ipswich (32B) during November.

1960
D5029 worked the 18.22 Liverpool Street - Ipswich relief on April 29th.

On the afternoon of October 29th D5029 was noted at Northumberland Park with an Up service.

1962
On the afternoon of Sunday November 11th D5029 was light engine and was later noted with empty coaching stock.

1963
On April 12th D5029 was noted at Norcott Hall with a large crane being used to position a large concrete beam as part of the WCML electrification works.

Condition April: green livery with small yellow warning panel, curved upper corners, ridge sided sand boxes, two rung bogie mounted footsteps, no blanking plates.

On the afternoon of June 1st D5029 was at Euston with empty coaching stock.

On the afternoon of October 23rd D5029 was shunting at Harrow.

1964
On April 20th D5029 worked the six coach 16.50 Northampton - Birmingham New Street.

On April 29th D5029 worked the 21.01 Euston - Bletchley.

On May 19th D5029 worked the 3K07 11.27 Euston - Crewe parcels.

On May 31st D5029, D5075 & D5076 were stabled at Watford.

1965
On September 12th D5029 & D5019 were stabled at Bletchley.

1966
On June 16th D5029 was stabled at Stourbridge.

On the morning of June 29th D5029 was up light engine at Coventry.

Condition June: green livery with small yellow warning panel, curved upper corners, bottom of warning panel partially covers frame level stripe; ridge sided sand boxes, two rung bogie mounted footsteps, blanking plates fitted, handholds present, full size fuel & water tanks, most of the valencing is present.

1967
On the late morning of August 5th D5029 was northbound at Preston with headcode 1L35.

1968
On the afternoon of April 22nd D5018 & D5029 were light engines at Crewe.

On the morning of September 16th 5029 was shunting at Stafford.

1970
At noon on Sunday September 20th 5026, 5029, 5042, 5049, 5077 & 5142 were stabled at Crewe Diesel depot.

1971
Condition June: blue/yellow livery, recently ex-works.

1972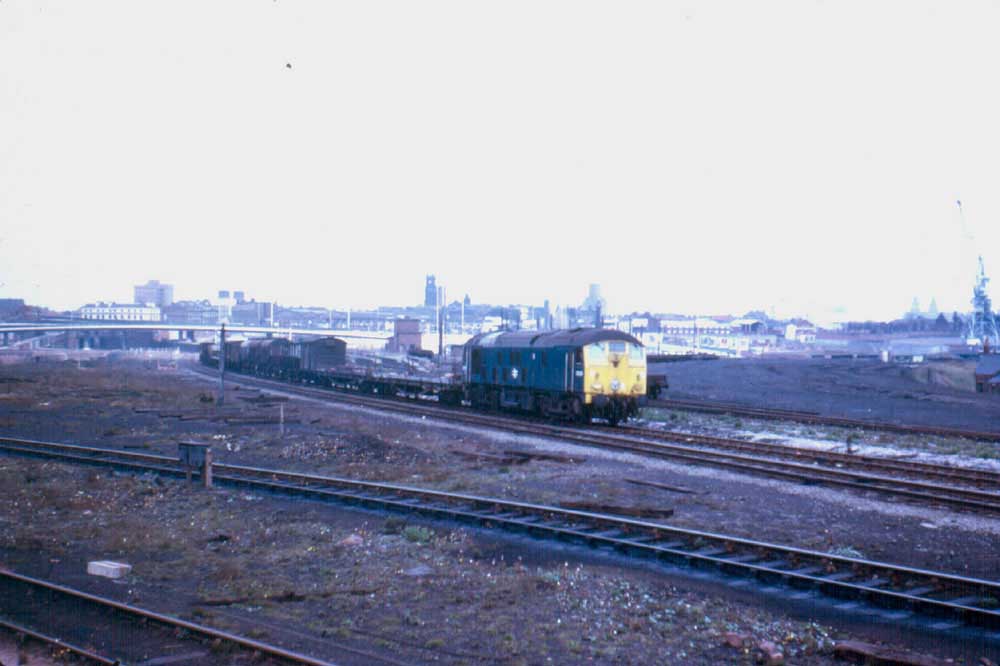 A hazy April 23rd 1972 finds 5029 and train coming from the docks and passing Birkenhead shed (out of sight to the left). To the left and in view are Blackpool Street sidings with the shed side removed and the sidings for the gas works. On the right is whats left of the carriage sidings, and the yard for Cammel Laird traffic, you can see the bridge over the road giving access to the ship yard. Photograph collection of webmaster (AH/M).


At about 7am on May 22nd 5029 was noted passing Manchester Victoria with a down freight.

On October 19th 5029 was stabled at Crewe Diesel depot.

1973
At about 5pm on February 8th 5029 was noted at Chester with a down van train.

During May 5029 moved to Longsight, then returned to Crewe during September.

5029 was the Manchester Victoria banker (T42) on June 13th & 14th.

At about 5.30pm on July 20th 5029 was noted passing Ordsall Lane with an up van train (4H07).

5029 was the Manchester Victoria banker (T42) on September 17th. At about 6pm on September 20th 5029 was noted passing Miles Platting with a down freight.

1974
24029 was under repair at Derby Works during February & March.

On August 24th 24029 was noted at Stoke on Trent.

1975
On February 12th, 13th &16th 24029 was noted at Manchester Victoria.

24029 returned to Longsight during January, but was transferred back to Crewe during March.

On March 9th 24029 was noted at Newton Heath depot.

The summer of 1975 brought the massive withdrawals to the Class 24 fleet with 24029 stored in July followed by final withdrawal in August.

Condition final: blue/yellow livery, gangway doors present, full size fuel tank, shortened water tank, blanking plates fitted, hand/footholds plated over, straight sided sandboxes, three-rung bogie mounted footsteps

flk 0322

Page added September 13th 2016.
Last updated October 3rd 2022.