D5040, 5040, 24040
One of the two-tone green examples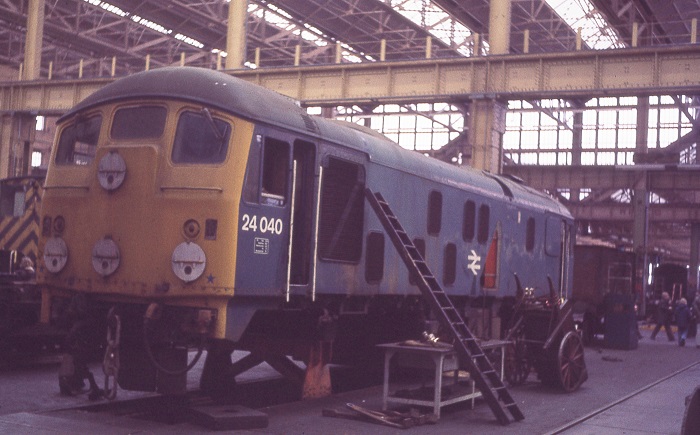 Its January 23rd 1977 and 24040 has reached the end of the road, seen here being stripped of parts at Swindon Works.
Built Crewe Locomotive Works.
Full size fuel & water tanks (shortened water tank fitted later).
Four upper and four lower air filters on non-BIS side, three upper and four lower on BIS side.
Cab roof ventilators sheeted over at some point (whilst on the ER), No.2 cab roof had no ventilators at withdrawal.
Roof modification (above generator/brake cubicle): original style retained until withdrawn (raised panels).
Time between last Classified repair and withdrawal: 8 (??) months.
Time between withdrawal and scrapping: 13 months.
Allocations
The frames for D5040 were laid down during the summer of 1959 at Crewe Works. D5040 was new to Ipswich (32B) on October 12th 1959. Further transfers were:
November 1959 to March (31B).
June 1960 to Ipswich (32B).
June 1965 to Tinsley (41A).
July 1965 to Ipswich (32B).
January 1966 to Bletchley (1E).
August 1967 to Stoke Division (D05).
May 1973 to Crewe.
December 1975 stored unserviceable.
January 4th 1976 - withdrawn.
Renumbered March 4th 1974.
24040 was stored at Crewe from December 1975 until December 7th 1976 when it moved to Swindon Works, and was scrapped there by the second week of February 1977.
Final movement: 24040/59/89/135 Crewe - Swindon via Banbury December 7th, 1976 by 25157.
Works Visits
Works visits (records incomplete).
Noted Stratford April 1962.
Noted Derby Works April - July 1965 (painted into two-tone green livery).
Derby Works July 1970?? (noted ex-works in service, repainted blue).
Noted Derby Works April 1975.
Highlights
1960
On June 25th D5037 & D5040 was stabled at Ipswich station.
1961
D5040 & 61043 worked the 08.30 Liverpool Street - Yarmouth forward from Norwich on July 15th.
1964
The 4.43pm Peterborough - Kings Cross on January 17th was noted at Kings Cross behind D5040, which had replaced a defective Brush Type 4 en-route.
1965
During June/July D5040 was briefly loaned to Tinsley depot (41A), however D5040 was at Derby Works during most of this period. When outshopped it was one of a handful to receive the two-tone green paint scheme. Additionally the exhaust port had been moved to the engine room roof.
D5040 worked the 08.12 Bury St Edmunds - Liverpool Street forward from Cambridge on November 6th.
1968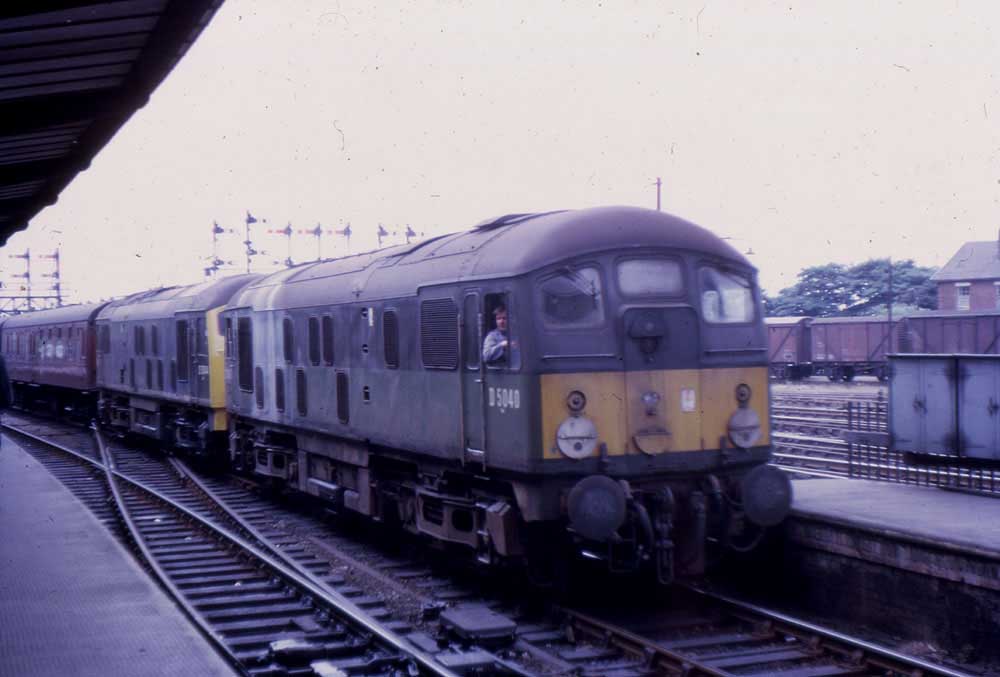 Photograph courtesy Geoff Coward.
5040 & 5044 pass through Preston on August 3rd 1968. Both locomotives still carry their roof level water filler covers, and D5040 has the cab roof ventilators for both cabs covered over.
1970
On July 25th 5040 was noted with cab roof ventilators in the No.1 end cab.
A treat for enthusiasts at the London end of the WCML on August 8th was the arrival of Crewe based 5032 & 5040 on a southbound coal train (to Chelsea Basin?). Although once very familiar to this area, by this time they were rarely seen south of Rugby. Their return to the north was very prompt, light engines only.
1971
Condition June: blue/yellow livery.
1974
On July 13th 24040 was eastbound at Chester with an evening parcels train for Derby.
Final condition: blue/yellow livery, full size fuel tank, shortened water tank, gangway doors sheeted over, foot/handholds plated over, ridge sided sandboxes, three rung bogie mounted footsteps. Cab roof ventilators at No.1 cab only.
1975
On April 29th 24040 made a test run from Derby Works.
The snag sheet for April 29th recorded:
24040; April 29th 1975; 3C48 Nottingham
| | | | | | |
| --- | --- | --- | --- | --- | --- |
| Load | Speed | Amps | Volts | Notes | Other |
| 1 | 28 | 850 | - | - | - |
ECV conduit loose
Air blows from air inlet manifold.
1976
24040 was withdrawn on January 4th 1976.
flk 0222
Page created May 9th 2016.
Last updated July 10th 2022.
Back to 24039
Forward to 24041