D5042, 5042, 24042

24042 - the first Class 24 broken up at Swindon Works

The fifteen year ten month career of D5042/5042 saw allocations to Eastern Region and London Midland Region depots.

Built Crewe Locomotive Works.
Full size fuel & water tanks (retained until withdrawn).
Four upper and four lower air filters on non-BIS side, three upper and four lower on BIS side.
Cab roof ventilators sheeted over at some point (whilst on the ER)
Gangway doors retained.
Roof modification (above generator/brake cubicle): original style retained until withdrawn (raised panels).
Time between last Classified repair and withdrawal: 20 months.
Time between withdrawal and scrapping: 6 months.

Allocations

The frames for D5042 were laid down during the summer of 1959 at Crewe Works. D5042 was new to Ipswich (32B) on October 12th 1959. Further transfers were:

October 1959 to March (31B).
June 1960 to Ipswich (32B).
August 1967 to Stoke Division (D05).
May 1973 to Crewe.
August 3rd 1975 to serviceable store.
August 8th 1975 - withdrawn.

Renumbered January 21st 1974.

After withdrawal 24042 was stored at Derby Works until December 18th 1975 when it was moved down to Swindon Works and scrapped there by the last week of February 1976.

Movement: 24042/45/48/50 Derby Wks – Swindon December 18th 1975.

Works Visits

Works visits (records incomplete).

Noted Doncaster Works December 1964.
Noted Derby Works February 1966.
Noted Derby Works August & November 1973.

Highlights

1960
On March 5th D5042, D5065, D5076 & D5079 were stabled at March.

1967
D5042 was noted at Stratford depot on April 16th.

Condition April: green with small yellow warning panels, squared upper corners, yellow warning panel covers frame level stripe, full size fuel & water tanks, valencing all in place, two-rung bogie footsteps, cantrail water filler cover in place, exhaust situated above engine room.

As part of the plan to remove steam from the North West a large group of Class 24s were transferred to the Stoke Division (D05). These transfers included the Class 24s from the southern end of the WCML and all the Class 24s remaining in East Anglia. This included 5042/43/44, this would be their last reallocation, and from now on all would be familiar sights in the Crewe area. Their duties would include the WCML between Rugby & Preston, the North Wales main line and its branches, the Cambrian lines to Aberystwyth & Pwhelli and the miriad of lines in the Liverpool and Manchester areas. Although primarily to be used on freight workings they would from time to time be used on passenger services, particularly on summer excursions and extras. All heavy repairs would now generally be handled by Derby Works.

1970
5042 & 5049 with brake van were at Stoke-on-Trent on December 19th.

1971
Condition June: green livery, full yellow ends.

1972
At about 5.30pm on October 4th 5042 was noted passing Ordsall Lane with an up van train.

1973
A rear-end collision at Kidsgrove on April 27th involved four Class 24s and led to the death of one railwayman. 5032 & 5145 were in charge of the 1K00 03.55 Crewe - Stoke on Trent newspaper train which had stopped as scheduled at Kidsgrove. It was run into by the 8K52 02.20 Ordsall Lane - Cresswell goods train hauled by 5049 & 5042, this train was under the control of the second man, it was his life lost in the collision when the No2 end cab was crushed back to the bulkhead, which itself was bent backwards into the boiler compartment. The rear vehicle of the newspaper train sustained only minor damage, it also came into contact with the overhead electrified wire. Responsibility for the accident lay mostly with the driver of the goods train who had isolated the AWS equipment, it is believed both crew members may have temporarily nodded off on the approach to Kidsgrove.

Condition May: green with full yellow cabfronts, full size fuel & water tanks, blanking plates fitted (blue), valencing partially fitted, two-rung bogie footsteps.

24042 was noted at Derby Works during August & November.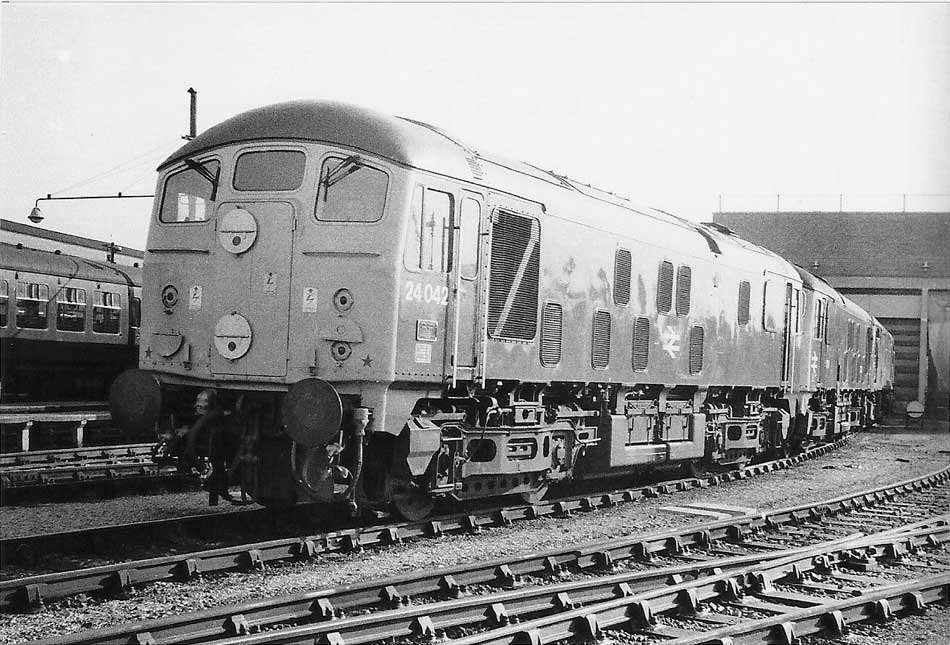 Photograph courtesy Glyn Weight, collection Paul Roberts.
An undated view of a clean looking 24042 at Chester depot. The locomotive still carries its original size fuel & water tanks and the cab steps are of the two step variety.
1975
24042 was stabled at Chester on March 22nd.
A Holyhead (?) - Crewe relief was worked by 24042 on August 1st.
The four Class 24s lying withdrawn at Derby Works (24042/45/48/50) finally made their way to Swindon for scrapping on December 18th, having spent time at Derby to allow for asbestos removal. This left only 24086 remaining at Derby, with collision damage, most unfortunate due to it being one of the last outshopped.
1976
During February the scrapping of the first Class 24s from the withdrawal purge of the summer of 1975 took place, with 24042 at Swindon and 24012 at Doncaster.
flk 0222.
Page added June 27th 2016.
Last updated February 21st 2022.
Back to 24041
Forward to 24043