D5065, 5065, 24065

The sixteen year two month career of 5065/24065 saw allocations to Eastern Region, London Midland Region & Scottish Region depots.

Built Crewe Locomotive Works.
Shortened fuel tank & full size water tank (retained until withdrawn).
Circular gauge fitted to fuel tank.
Four upper and four lower air filters on non-BIS side, three upper and four lower on BIS side.
Tripcock fitted (Eastern Region modification).
Headcode discs centered on cab front (Glasgow modification).
Roof modification (above generator/brake cubicle): no raised panels.
Time between last Classified repair and withdrawal: ?? months.
Time between withdrawal & scrapping: 5 months.

Allocations

The frames for D5065 were laid down at Crewe Works during November 1959, D5065 was new to March (31B) on February 2nd 1960. Further transfers were:

October 1960 to Willesden (1A).
May 1961 to Finsbury Park (34G) on loan, made permanent June 1961.
August 1966 to Haymarket (64B) on loan, made permanent September 1966.
March 1968 to Eastfield (65A).
May 1968 to Longsight (9A) on loan.
June 1968 to Manchester Division (D09).
November 1968 to Stoke Division (D05).
November 1970 to Haymarket (64B) on loan, made permanent December 1970.
May 1975 to Eastfield.
July 7th 1975 - to serviceable store.
December 18th 1975 - reinstated to Haymarket.
October 22nd 1976 - to store unserviceable.
December 31st 1976 - withdrawn.

Renumbered October 1973.

During July 1975 24065 was stored at Cadder Yard before moving to Carstairs from October to December 1975, from there it was reinstated to service. During October 1976 it was stored at Haymarket, then moved during January 1977 to Millerhill, remaining there until moved on May 4th 1977 to Swindon Works and broken up by the first week of June 1977.

Movement: 24065, 24107/15/24 02.20 Millerhill-Derby-Gloucester-Swindon May 4th 1977.

Works Visits

Works visits (records incomplete).

Noted Derby Works February & March 1961.
Noted Doncaster Works February, March & July 1963.
Noted Doncaster Works January & December 1964.
Noted Derby Works June 1966.
Noted Crewe Works September 1968.
Noted Glasgow Works February - May 1971.

Highlights

1960
D5065 marked the end of a run of thirty six Type 2s (D5030 - D5065) built at Crewe Works. The next ten, D5066 - D5075 were built at Derby whilst the 2nd batch built at Crewe comprised D5076 - D5093.

On March 5th D5047, D5065, D5076 & D5079 were stabled at March.

1962
On January 10th D5065 worked the 17.37 Broad Street - Hertford North.

On September 24th D5065 worked the 08.10 Gordon Hill - Broad Street.

1964
Condition circa 1964: green livery with small yellow warning panels, squared upper corners, yellow extends over frame level stripe; steam style shed plate on cabfront, full size water tank, shortened fuel tank, blanking plates fitted, hand/footholds present.

1966
During August D5065 was one of several Class 24s transferred from Finsbury Park to Haymarket, being noted there on August 4th with D5061.

The memories below come from Mr. John Love with detail, on a personal level, revealing the impact of the arrival of D5065 and her sisters at Haymarket:

I was never really a trainspotter collecting engine numbers, but occasionally I took a particular interest in individual locomotives, D5065 was one. The start was inauspicious, it was 1966 and I was a schoolboy and had really taken to my heart a group of half a dozen standard 4MT tanks, based at St Margaretís (64A) and engaged mainly in empty coaching stock workings between between Craigentinny and Edinburgh Waverley. The numbers were 80006, 80026, 80055, 80113, 80114 and 80124, of which 80113 was my favourite. There were also a couple of ex-LMS 4MT tanks, but I didnít care so much for them and I canít remember their numbers!

In August 1966 I came back from a holiday and saw between St Margaretís and Abbeyhill Junction the dirtiest diesel I have ever seen. It was D5065 covered in brown dirt with the number and a 34G Finsbury Park shed plate the only things legible on her! I had a sense of foreboding, and maybe I was right because I never saw any of my standard pugs working again. Shortly afterwards I took a trip to Carstairs (late August/early September), to look at steam which was still plentiful there, and hoping still I might have a steam engine to take me there: it had been a standard pug turn. Well instead I got D5065, by now a little cleaner! And when the time came to go home, after watching various run-down Britannias, 9Fís, 8Fís, Black 5ís and a Caprotti-fitted Standard 5, D5065 came back out of Carstairs shed yard, where she had sat the whole time I was there, and took me home again. And, I donít know if it was out of a sense of guilt or pity (to me the early Class 24s always look browbeaten little engines!), from then on I remembered her number and looked out for her!

Strangely perhaps, though I later became a goods guard at Cadder and at Sighthill, though I saw her occasionally, I never got to work with her. I suppose at Sighthill we had some of the more prestigious freight work, and prestigious jobs and Class 24s never really went together! They werenít popular engines either with their cramped narrow cabs. I suppose D5065 got to carry class 1 headlamps on the trip to Carstairs Ė as good as it got?

I always imagined that she stayed at Haymarket after arriving in 1966, but it seems she moved around a bit.

Well, now, thanks to your website I know her fate: she nearly made it to her 16th birthday, which I suppose wasnít bad for a Class 24, and she was scrapped at Swindon, a town that I often visit because my sister lives there. 80113? She didnít quite make her 12th birthday, and was scrapped at Faslane. So her last journey would be down the Faslane branch Ė I used to work that when I was at Cadder. I never knew they broke up engines as well as ships there.

I like the photo of D5062 and D5305 outside St Margaretís shed, though I wouldnít have liked it at the time. Behind the diesels you can see the dim shapes of steam engines inside the shed. Usually engines inside a shed are under repair or maintenance, but doubt if any of these were ever steamed again. It really was the end of regular steam working in Edinburgh. The Edinburgh Division ran a last V2 excursion in November and a last B1 excursion in December, and for a while a withdrawn B1 and a withdrawn Black 5 deputised for a failed carriage-heating boiler at Craigentinny. They still came up the main line to coal at St Margaretís!

D5065 worked the 12.56 Carlisle - Edinburgh on December 6th.

D5065 worked the 14.10 Glasgow Queen Street - Dundee on December 30th.

1970
5065 was noted passing Llwyngwril with a down freight on July 13th. A down school special was noted with 5065 at Aberystwyth on July 14th and passing Llwyngwril in the Up direction on the morning of July 15th.

1971
5065 reached Bardon Mill colliery on September 7th on the regular turn from Carlisle.

1972
Light duty on August 27th for 5065 & 5094 was one BG on the Edinburgh Ė Carstairs portion of the Up West Coast Postal.

1973
On the afternoon of May 27th 5065 was stabled at Haymarket.

1974
On March 2nd 24065 worked a two coach Carstairs - Edinburgh Waverley service.

The 13.40 Edinburgh - Inverness was worked by 24065 & 26018 on May 21st.

1976
24065 & 26040 worked the 16.35 Inverness - Glasgow Queen Street on January 29th.

24065 worked the 13.10 Glasgow Queen Street - Aberdeen on February 28th.

24065 was stabled at Motherwell on May 23rd.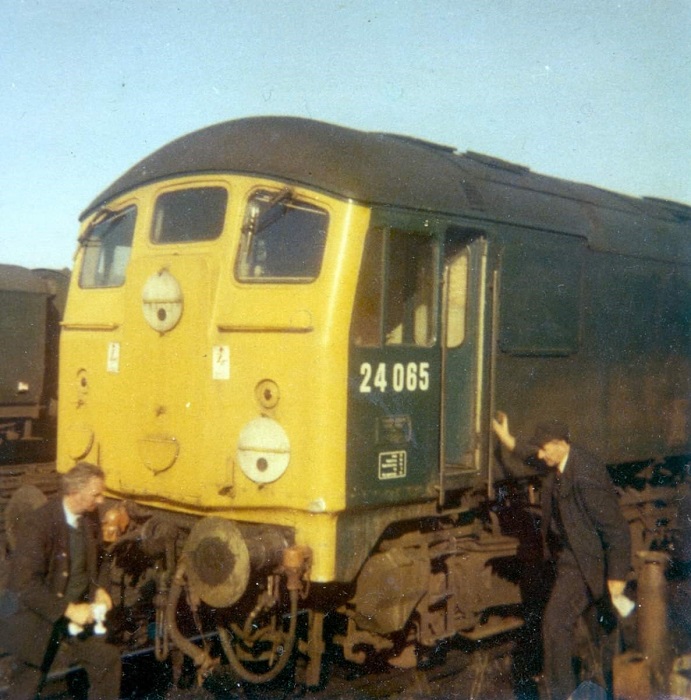 Photograph courtesy Michael Ross (via C J Rich).
Class 24 No. 24065 at Inverness sometime during 1976.
On July 18th 24065 was noted on a ballast working at Inverness.
24065 worked the 1C96 21.45 Edinburgh Waverley - Carstairs on July 23rd.
24065 worked the 1C96 21.45 Edinburgh Waverley - Carstairs on August 31st.
On October 1st 24065 was noted shunting coal wagons at Arbroath.
Possibly the last working for 24065 took place on October 21st working a Thornton trip.
Final condition: blue/yellow livery, gangway doors sheeted over, headcode discs centered on cab front; full size water tank, shortened fuel tank with circular gauge fitted, blanking plates fitted, hand/footholds plated over, non-standard number style (similar to 25217, san serif?).
1977
Only one batch of Scottish allocated Class 24s was taken to Swindon Works for scrapping, 24065 was part of that batch, all would be broken up very quickly at Swindon.
flk 0222
Page added June 8th 2016.
Last updated February 11th 2022.
Back to 24064
Forward to 24066