D5085, 5085, 24085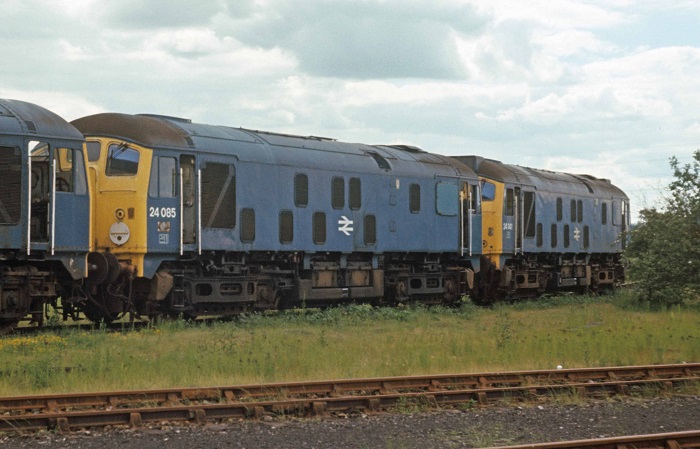 Photograph courtesy Roger Geach
24085 & 24141 at Swindon Works during June 1977
The fifteen year eight month career of D5085/24085 was spent entirely on the London Midland Region apart from its very brief (paper only?) allocation to the Eastern Region.
Built Crewe Locomotive Works (from batch 5076 - 5093).
Shortened fuel tank & full size water tank (retained until withdrawn).
Four upper and four lower air filters on non-BIS side, three upper and four lower on BIS side.
Gangway doors never removed.
Time between last Classified repair and withdrawal: 38 months.
Time between withdrawal & scrapping: 27 months.
Allocations
The frames for D5085 were laid down at Crewe Works during February 1960, D5085 was new to March (31B) on August 20th 1960. Further transfers were:
August 1960 to Willesden (1A) on loan, made permanent September 1960.
January 1961 to Cricklewood East (14A) on loan, made permanent February 1961.
September 1963 to Cricklewood West (14B).
January 1965 to Cricklewood Division (D14).
March 1965 to Willesden (1A).
April 1966 to London Division (D01).
March 1967 to Stoke Division (D05).
May 1973 to Crewe.
May 2nd 1976 to store serviceable.
July 17th 1976 - withdrawn.
Renumbered May 1974.
24085 was stored at Crewe from May 1976 until May 31st 1977 when it was moved Swindon Works, where it was scrapped by the second week of November 1978.
Movement: 24079/85, 24134/41 Crewe - Swindon May 31st 1977.
Works Visits
Works visits (records incomplete).
Noted Derby Works January, May & June 1961.
Noted Derby Works February 1963.
Noted Derby Works March 1965.
Noted Derby Works November 1966.
Noted Derby Works August 1969.
Noted Derby Works April & May 1973 (Classified, received full repaint).
Highlights
1960
On October 12th D5085 worked the 21.01 Euston - Bletchley.
On November 11th D5081 & 5085 were in Scotland having arrived on the Luton - Bonnybridge car train.
1961
The dieselisation in the St Pancras area had reached down to the level of the station pilots and certain empty coaching stock workings, in early August D5085/86 were on these duties, this was also reflected in the storage of eighteen steam locomotives at Kentish Town shed.
1962
D5085 was noted at Southend Central with a day excursion for the LMR on February 3rd.
1963
D5085 worked the 16.38 Marylebone - Nottingham on September 14th.
1966
On June 4th D5085 worked the 15.55 Birmingham - Yarmouth (via Rugby, Peterborough), presumably replaced at March.
Passenger services between Rugby and Peterborough ceased on June 6th, so ending a cross-country route long familiar to the BR Sulzer Type 2s. The line was used by a number of long distance services including the Birmingham - Yarmouth, which on the last day had D5085 with ten coaches including a buffet. It was running about twenty minutes late after holding a connection at Rugby for a Perth service. En route it passed, at Welford, D5145 on the Harwich - Rugby (the 16.13 off Peterborough). The Yarmouth service was re-engined at Peterborough with D5526, allowing D5085 to handle the four coach 20.12 final service back to Rugby. This left D5185 working the final 20.20 Leicester service, with Peterborough East closing completely after the 23.15 to March.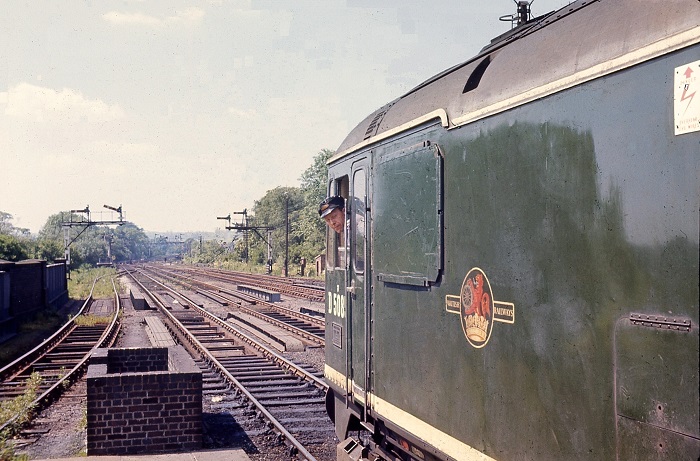 Photograph collection of webmaster
D5085 at Market Harborough headed towards Rugby, date unknown.
D5085 worked the 14.38 Marylebone - Nottingham on September 2nd.
1973
5085 & 5082 worked the 1A69 18.25 Shrewsbury - Euston to Wolverhampton on February 11th.
On May 30th 5085 made a test run from Derby Works.
The snag sheet for May 30th recorded:
5085; May 30th 1973; Nottingham
| | | | | | |
| --- | --- | --- | --- | --- | --- |
| Load | Speed | Amps | Volts | Notes | Other |
| 1 | 28 | 850 | - | - | - |
No.1 speedometer to change
Load regulator switch to change
No.1 end driver's side door seal hanging off.
Condition: December, blue & yellow livery, gangway doors still in place, full size water tank, shortened fuel tank, blanking plates fitted, foot/handholds plated over. Locomotive appears recently ex-works from its visit to Derby during April 1973. Apart from renumbering into TOPS there was no measurable change to the locomotive's condition from this point in time until withdrawal.
1974
A day excursion on June 16th was run from Plymouth to Barmouth, with 47110 working through to Shrewsbury where 24137 & 24085 took over for the round trip over the Cambrian metals.
1975
August 6th found a Banbury/Leamington – Barmouth special in the hands of 24085 & 24143 working throughout.
1976
On April 24th 24085 & 24133 worked a Crewe – Holyhead railtour, including a run down the branch to Blaneau Ffestiniog. The load was ten coaches 331/350 tons. A week after this railtour was run, 24085 was placed into store and would not run again.
24085 was withdrawn on July 17th 1976.
Condition: Final, blue & yellow livery, gangway doors still in place, full size water tank, shortened fuel tank, blanking plates fitted, foot/handholds plated over, straight sided sandboxes, three-rung bogie mounted footsteps.
flk 0222
Page added May 17th 2016.
Last updated June 8th 2022.
Back to 24084
Forward to 24086