D5087, 5087, 24087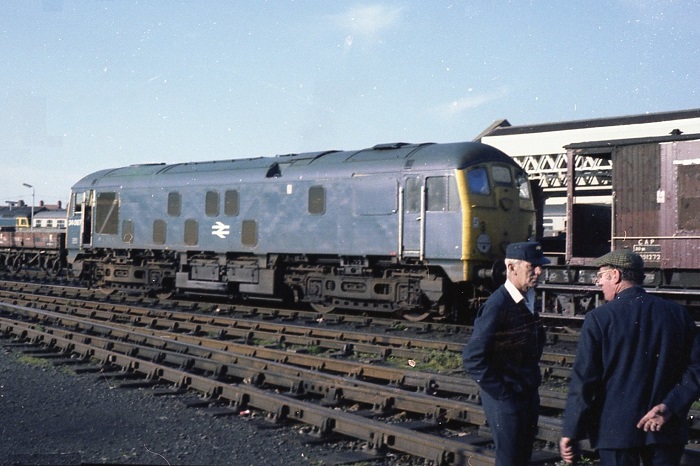 Photograph collection of webmaster
24087 at Llandudno Junction, date unknown.
The eighteen year seven month career of D5087/24087 was spent entirely on the London Midland Region apart from its very brief (paper only?) allocation to the Eastern Region.
Built Crewe Locomotive Works (from batch 5076 - 5093).
Shortened fuel tank & full size water tank (shortened water tank fitted later).
Four upper and four lower air filters on non-BIS side, three upper and four lower on BIS side.
Time between last Classified repair and withdrawal: ?? months.
Time between withdrawal & scrapping: 7 months.
Allocations
The frames for D5087 were laid down at Crewe Works during spring 1960, D5087 was new to March (31B) on June 9th 1960. Further transfers were:
June 1960 to Willesden (1A) on loan, made permanent June 1960.
December 1960 to Cricklewood East (14A) on loan, made permanent January 1961.
September 1963 to Cricklewood West (14B).
December 1964 to Willesden (1A).
April 1966 to London Division (D01).
March 1967 to Stoke Division (D05).
May 1973 to Crewe.
July 1976 to store serviceable.
July 24th 1976 - reinstated to Crewe.
February 1st 1978 - withdrawn.
Renumbered February 2nd 1974.
24087 was stored at Crewe from February 1978 until July 1978 whjen it was moved to Doncaster Works, being scrapped there during September 1978.
Movement: 24087, 24133 06.30 Crewe - Doncaster July 24th/26th 1978, hauled by 31211.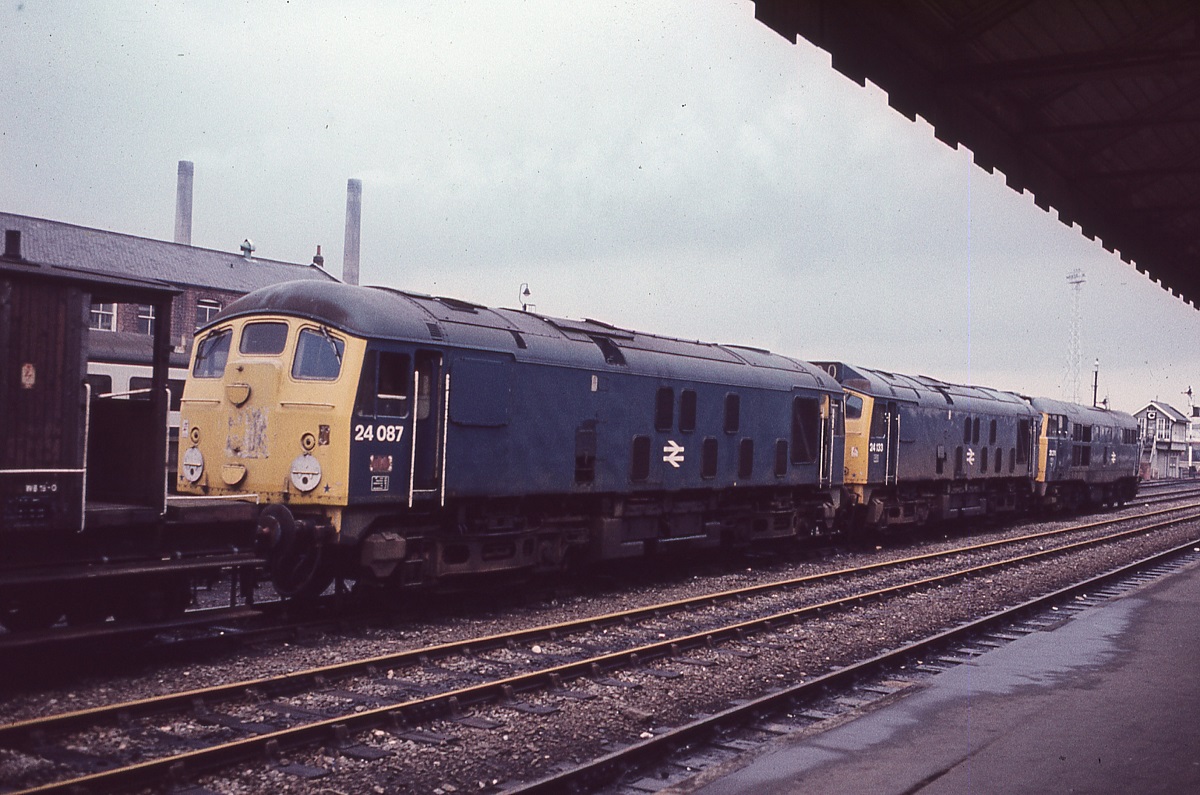 Photograph collection of webmaster
31211 drags 24133 & 24087 through Doncaster station on July 26th 1978, enroute to Doncaster Works.
Works Visits
Works visits (records incomplete).
Noted Derby Works November 1960.
Noted Derby Works October 1962.
Noted Derby Works May & June 1964.
Noted Derby Works May & November 1965.
Noted Derby Works August & October 1974 (Classified).
Noted Derby Works June 1975.
Highlights
1962
On September 24th D5087 hauled the Cricklewood breakdown crane to Bedford North to assist in the recovery of Ivatt 2-6-0 43121 which had derailed itself and some wagons, blocking the northern entrance to the station and the entrance to the railcar holding sidings!
1965
On November 18th D5087 was noted at Euston with the empty coaching stock for the Down West Coast postal.
1967
Condition March: green livery with small yellow warning panels, squared upper corners, warning panel covers frame level stripe, shortened fuel & water tanks, blanking plates fitted, hand/footholds present, ridge sided sandboxes, two rung bogie mounted footsteps.
1968
On January 30th D5087 worked a ten coach football special from Shrewsbury for an Arsenal - Shrewsbury FA Cup third round replay, did it work throughout?
1970
Condition July: green livery, small yellow warning panels, upper corners are square, two rung bogie footsteps, shortened water & fuel tanks, blanking plates fitted, hand/footholds still present, straight sided sandboxes, three rung bogie mounted footsteps.
1971
June: blue/yellow livery.
1973
Condition: blue/yellow livery, gangway doors present, shortened fuel & water tanks, straight sided sandboxes, three-rung bogie mounted footsteps, blanking plates fitted, hand/footholds plated over, valencing missing from above the batteries.
On June 10th the first F&W railtour took passengers from Gloucester to Pwllheli on 'The Snowdonian' with 5079 & 5087 in use west of Birmingham New Street.
1975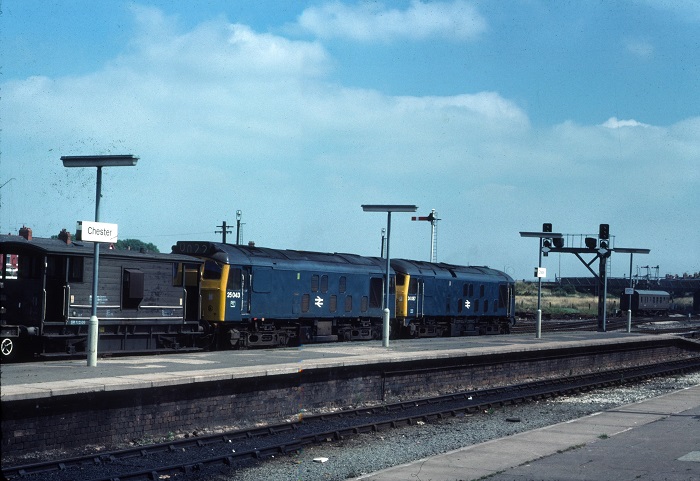 Photograph courtesy Barrie Hughes.
25043 & 24087 eastbound at Chester at the end of July 1975.
October 17th found 24087 in charge of a Guide Bridge – Cardiff parcels, normally a Class 40 duty.
1976
The week prior to Easter saw the re-instatement of service between Aberystwyth and Dovey Junction following the severe flooding in January. Only one excursion ran during the Easter period, a mystery excursion from Lichfield with 24087 & 24133 on April 19th.
An Ideal Home Exhibition at the National Exhibition Center opened on October 16th with many visitors arriving by train. A number of specials ran that day including 24087 & 24133 from Aberystwyth.
1977
On February 19th 24087 & 24133 powered the eleven coach NSPCC/Western Tours 'Lledr Valley Express'. The tour was essentially a run up the North Wales coast, starting at Crewe to Llandudno Junction, then a run over the branch to Blaenau Ffestiniog before returning to Llandudno Junction and on to Holyhead, followed by the return to Crewe.
On March 19th (or 20th) a Chester - Ramsgate mystery excursion started its journey behind 24087, hopes of a trip to the south coast were dashed for the Type 2 when it was replaced at Wolverhampton by 81003! On the return leg 47538 took over at Wolverhampton.
24087 was noted at Wrexham on May 6th. During May the Stoke - Healey Mills freight was a regular Type 2 diagram, usually a Class 25 but May 23rd produced 24081 & 24087, whilst 24087 made the run solo the next day. The Stoke area could normally guarantee workings for the remaining Class 24s, they were still regular visitors on the stone trains from Oakamoor and Caldon, and Cockshute stabling point was a favourite place for them to layover.
24087 was stabled at Warrington Arpley on June 7th.
Lenton permanent way yard was host to 25306 & 24087 on the afternoon of July 4th arriving with a load of rails, returning light engines to the west. Six days later 24087 & 24133 worked a Crewe - Manchester - Preston - Carnforth railtour.
24087 was stabled at Cockshute on September 3rd.
On October 8th 24087 and another Class 24 were noted at Shrewsbury heading in Craven Arms direction, presumably a Cambrian lines service?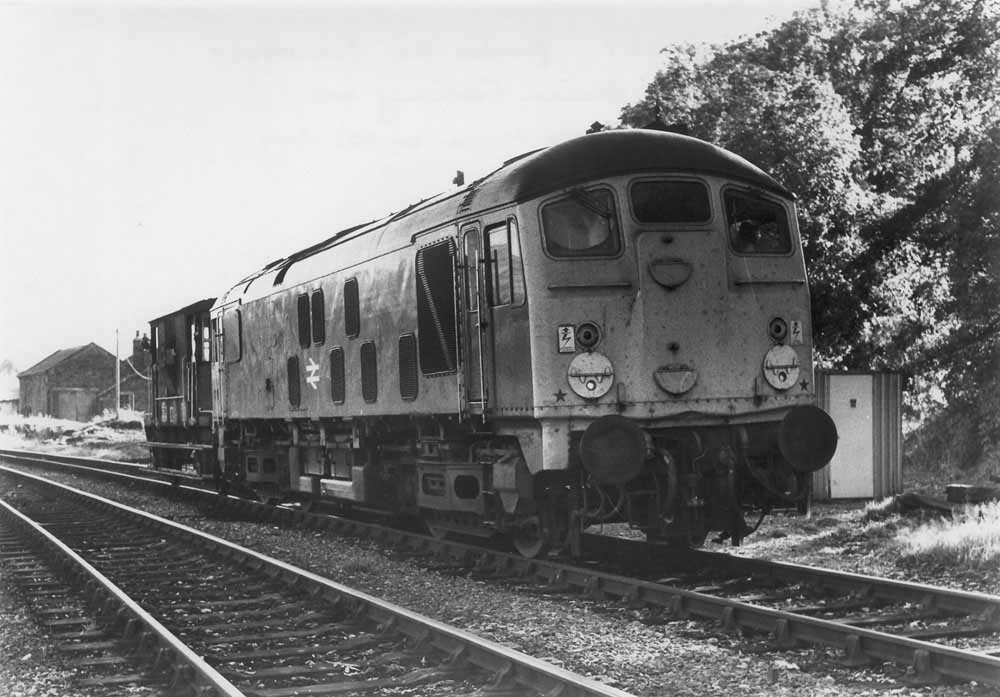 Photograph courtesy Malcolm Roughley.
On October 25th 1977 24087 was diagrammed to work the the 9T50 coal train from Blaneau Ffestiniog. There was no traffic this day, so all 24087 had in tow was its brake van, both are seen here at Harwrwst.
November 3rd's 06.15 Crewe - Cardiff failed somewhere north of Hereford, 24087 was on hand to take the service forward to Cardiff (about 30 minutes late). 24087 returned with the 11.30 Cardiff - Crewe, the return working featured 46028. On November 14th 24087 & 24023 were noted at Birkenhead North with iron ore for Shotton.
On December 1st 24087 was noted at Croes Newydd. On December 22nd an extra Holyhead – Euston was laid on, with 24087 provided as far as Crewe. Arrival here was nearly fifty minutes late due to the heavy train.
1978
24081 & 24087 were on the Shotton iron ore working on January 13th.
On January 27th 24087 & 24133 ran from Crewe to Bescot in preparation for the next day's railtour. The Mercia Railtours 'Cambrian Coast Express' on January 28th was advertised as the last chance to ride behind Class 24s on an advertised passenger service. The thirteen coach railtour started at Euston behind 86224, with 24087 & 24133 taking over at Birmingham New Street. The late running of the train at this point saw it routed via Tipton to Wolverhampton rather than the advertised route via Bescot. it is reported that due to a fault with the jumper cables, both locomotives were manned after Wolverhampton.
At Machynlleth the railtour split in two, 24133 and six coaches made a roundtrip to Barmouth whilst 24087 & 25165 made a roundtrip to Aberystwyth. 25165 assisted 24087 as the latter was reported as suffering a traction motor fire and/or not being able to restart. When the portions combined at Machynlleth for the return leg 24087 was left behind, with 25165 & 24133 taking the train as far as Birmingham New Street.
It is presumed that the failure which afflicted 24087 on this railtour led to its withdrawal three days later.
Final condition: blue & yellow livery, gangway doors sheeted over, shortened fuel & water tanks, blanking plates fitted, hand/footholds plated over, three-rung bogie mounted footsteps, ridge sided sandboxes.
flk 1117
Page added May 14th 2016.
Last updated September 14th 2021.