D5089, 5089, 24089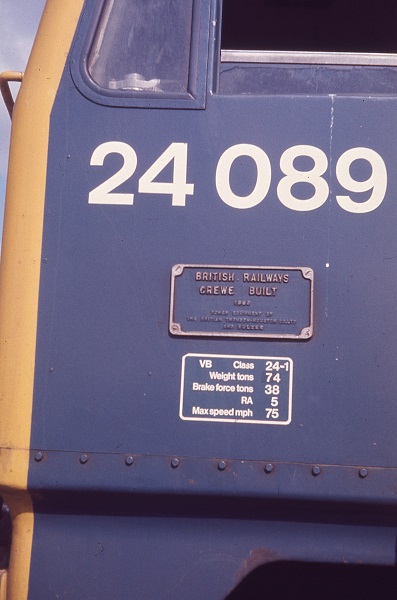 The cabside of 24089 at Swindon Works on April 3rd 1977.
The fifteen year five month career of D5089/24089 was spent entirely on the London Midland Region apart from its very brief (paper only?) allocation to the Eastern Region.
Built Crewe Locomotive Works (from batch 5076 - 5093).
Shortened fuel tank & full size water tank (retained until withdrawn).
Four upper and four lower air filters on non-BIS side, three upper and four lower on BIS side.
Time between last Classified repair and withdrawal: ?? months.
Time between withdrawal & scrapping: 18 months.
Allocations
The frames for D5089 were laid down at Crewe Works during spring 1960, D5089 was new to March (31B) on June 20th 1960. Further transfers were:
June 1960 to Cricklewood East (14A) on loan, made permanent July 1960.
September 1963 to Cricklewood West (14B).
August 1964 to Willesden (1A).
September 1964 to Cricklewood West (14B).
December 1964 to Willesden (1A).
April 1966 to London Division (D01).
March 1967 to Stoke Division (D05).
May 1973 to Crewe.
December 1975 to store unserviceable.
January 4th 1976 - withdrawn.
Renumbered March 16th 1974.
24089 was stored at Birkenhead with collision damage from December 1975 until December 7th 1976 when it was moved to Swindon Works and scrapped there by the third week of July 1977.
Movement: 24040/59/89/135 Crewe - Swindon via Banbury December 7th 1976 by 25157.
Works Visits
Works visits (records incomplete).
Noted Derby Works December 1960.
Noted Derby Works October 1961.
Noted Derby Works March - May 1962.
Noted Derby Works January 1963.
Noted Derby Works September & October 1964.
Noted Derby Works March - July 1965.
Noted Derby Works April 1975.
Highlights
1960
D5088 - D5090 arrived on the Midland for crew training, one machine each being allocated to Bedford, Cricklewood and Kentish Town, working local parcels trips and the Moorgate services. They would be a very familiar sight on the St Pancras - Bedford line until the arrival of the Class 25/1's.
1961
Sometime during August D5089 and a second Class 24 were noted in the bay at Uttoxeter (?). Also present were a two-car diesel multiple unit and brand new Class 45 No.112.
1964
Stabled at Cricklewood on Sunday April 5th were D5085, D5086, D5089, D5189, D5204, D5222, D5223, D5228, D5237, D5241, D5250 & D7576.
1965
On October 13th D5089 worked the 20.14 Euston - Bletchley.
Noted at Marylebone on the morning of December 22nd were:
D5009 light engine
D5024 down freight
D5089 pilot
44847 with the 08.15 Nottingham - Marylebone.
1966
In the Marylebone area on the evening of August 8th were:
D5007 & D5089 light engines
D5033 on parcels stock
D5002 at Neasden shunting.
September 3rd was the final day for the Marylebone - Nottingham Victoria through services. Whilst working the 08.15 Nottingham - Marylebone 44872 (16B) failed at Aylesbury, rescue came in the form of D5089, with the return working, the 14.38 to Nottingham being handled by D5000. Other services that day were steam hauled. The final up service, the 22.50 (SO) Manchester Central - Marylebone, comprised of three coaches and parcels van started out with D6753, changing at Leicester to 44858, which was replaced at Woodford No 2 box by D5089. This was the last service to call at Woodford Halse at 3.21 am and the last over the Rugby - Calvert section clearing Ashendon Junction at 4.16 am. Following this finale a truncated service ran between Rugby and Nottingham Arkwright Street.
1967
On the afternoon of November 13th D5089 was noted at Crewe.
1971
On July 8th 5089 was noted with a short freight southbound on the Bidston - Wrexham line.
Condition July: blue/yellow livery, gangway doors present, blanking plates fitted, handholds/footsteps plated over, straight sided sandboxes, three rung bogie mounted footsteps.
1972
At about 7am on May 24th 5089 was noted passing Salford with an up freight.
Condition: September - 5089 is in standard blue/yellow, hand/footholds plated over, blanking plates fitted, shortened fuel & water tanks.
On the morning of October 27th 5143 & 5089 were northbound at Crewe with loaded sand hoppers.
On the morning of November 27th 5089 was noted at Heaton Norris with an up freight, possibly with a brakevan and locomotive derailed.
1973
On October 27th 47059 and 5089 were southbound at Sutton Bridge, Shrewsbury with a lengthy freight.
1975
On October 24137 & 24089 were noted at Madeley (WCML).
On December 16th 24135 & 24140 were working between Shotwick & Bidston Dock on the iron ore service. They entered Bidston Dock at about 6.30am believing they were the only engines in the yard. However the signalman had let 24089 and another Class 24 into the yard. The two sets of locomotives eventually came into collision with each other, with 24089 and 24135 coming off the worst.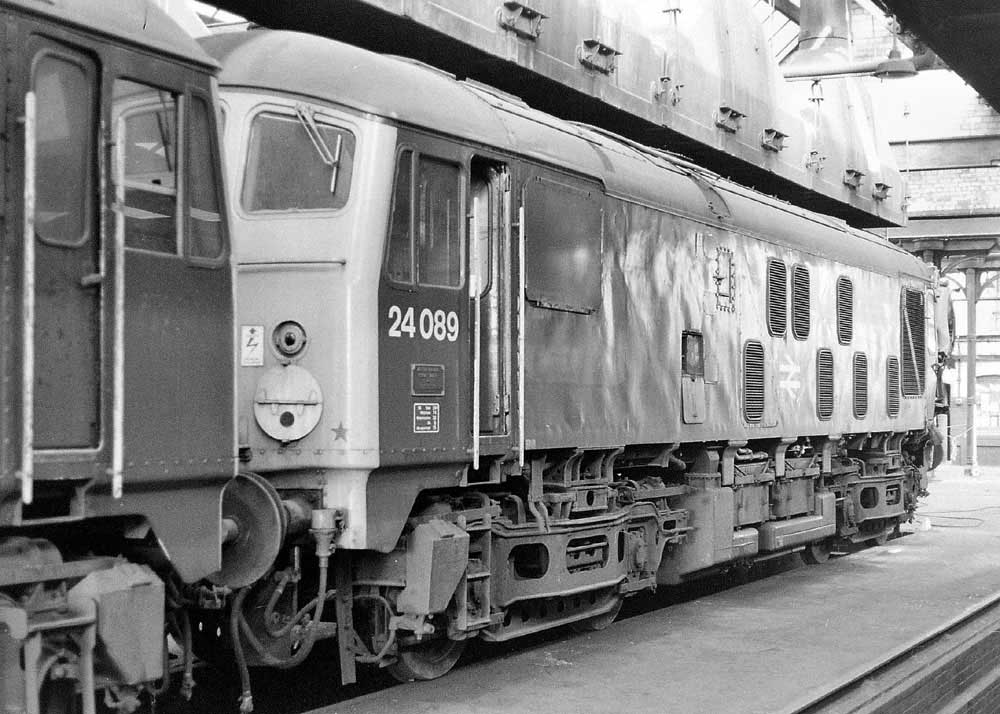 Photograph courtesy David Rapson.
A fine detailed view of 24089 at Birkenhead in its final condition, which is very similar to those detailed in September 1972. Additional changes include the sheeting over of the gangway doors, the removal of the buffer beam steam pipe connections and there is no ventilator in the No.2 end cab roof. 24135 is to the left of 24089.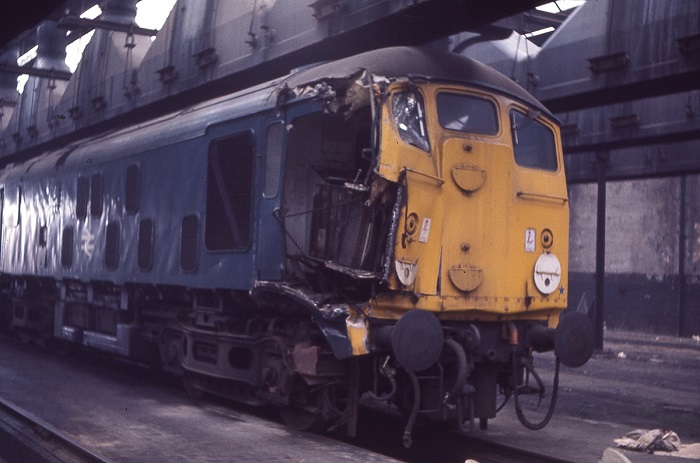 24089 at Birkenhead on April 10th 1976 revealing the collision damage which ended its service life.
1976
24089 was withdrawn on January 4th 1976.
flk 0222
Page added May 13th 2016.
Last updated October 6th 2022.