D5097, 5097, 24097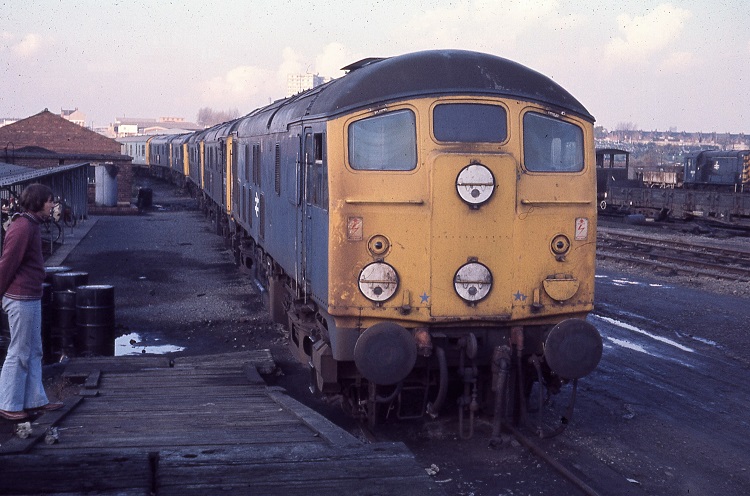 24097, 24125, 24126, 24127 (not sure of the exact order of the last three) at Doncaster depot on October 31st 1976.
The fifteen year ten month career of D5097/24097 was split between North Eastern Region depots and Scottish Region depots.
Built BR Darlington Works (batch D5094 - D5113).
Shortened fuel tank & full size water tank (retained until withdrawn).
Four upper and four lower air filters on non-BIS side, three upper and four lower on BIS side.
Headcode discs centered on cab front (Glasgow modification).
Time between last Classified repair and withdrawal: ?? months.
Time between withdrawal & scrapping: 11 months.
Allocations
The frames for D5097 were laid down at Darlington Works during December 1959, D5097 was new to Gateshead (52A) on May 5th 1960. Further transfers were:
October 1967 to Holbeck (55A).
October 1971 to Polmadie (66A).
March 1972 to Eastfield (65A).
August 4th 1975 - stored serviceable.
February 2nd 1976 withdrawn.
Renumbered January 1974.
After withdrawal 24097 was stored at Carlisle New Yard from August 1975 until March 13th 1976 when it moved to Glasgow Works, remaining here until July 5th 1976 when it was forwarded to Doncaster depot. It was moved to Doncaster Works during September 1976 and was broken up by February 1977.
Movement: 24017/97 Carlisle – Glasgow Works March 16th 1976.
Works Visits
Works visits (records incomplete).
Noted Darlington Works September 1960.
Noted Darlington Works February & April 1963.
Noted Darlington Works February & August 1964.
Noted Derby Works February 1966.
Noted Derby Works February 1968 (collision damage).
Noted Glasgow Works October & November 1971.
Highlights
1960
The Newcastle area had become home to the first of its Type 2s, D5096, working out of Gateshead, Heaton and South Gosforth. It worked the 9.40am Newcastle - Newbiggin parcels on April 19th, was noted at Edinburgh Waverley on April 23rd with a test train and as previously mentioned it reached Scarborough on April 30th, later being noted on the morning Carlisle parcels on May 9th, 11th, 12th & 14th, by which time D5097 had been released from Darlington.
Type 2s had returned to handling the Newcastle - York - Leeds services, D5097 on 7.30am Leeds - Newcastle and 11.05am return (July 9th) and D5099 on 11.40am Leeds - Newcastle and 5.33pm return (July 9th). By month end they were being used in pairs.
1961
September 3rd found D5097/5108 & B1 61002 in charge of the Clifton (York) – Red Bank empty coaching stock.
1962
Gateshead's Type 2s now held a virtual monopoly on the local trip freights, frequently assigned to the Berwick, Carlisle, Thornaby & York workings. The Carlisle trips included two parcels workings, one of which returned on the 2.50am Carlisle - Newcastle passenger. They also frequently enjoyed outings on the 9.18am Newcastle (6.55am ex York) - Edinburgh, returning with the 2.25pm ex Edinburgh. From April 16th - 19th this turn was powered by D5147, D5097, D5104 & D5148.
1964
On February 18th D5097, D5106, D5148, D5159, D5171, D5180 & D7586/87/88 were at Darlington Works.
The end of August saw Darlington Works release the last locomotive to be built there, D7597. The Works was still overhauling a reduced number of steam and ER diesels, the only other BR Sulzer 2 present was D5097.
1966
Condition April: green livery with small yellow warning panels, square upper corners, bottom of panel covers frame level stripe, locomotive looks recently ex-works - little exhaust residue on roof.
1967
Double headed Gateshead Type 2s worked the Saturday's only Newcastle - Ayr - Stranraer passenger in both directions. So noted in June & July have been D5097/5112 (24th), 5149/5112 (1st), 7601/5149 (8th), 7611/5051 (15th) & D5101/5112 (22nd), ScR examples filled in, especially on the eastbound runs after failures had occurred. On August 26th the afternoon Stranraer - Newcastle was worked by D5097 & D5113.
1968
On the evening of February 2nd D5097 was noted working the 3N25 Wigan - Leeds vans.
D5097 was noted at Derby Works in late February awaiting collision damage repair. The No.1 cab driver's side had sustained damage, the cab sheeting & valencing had been shoved forward about one foot.
On August 9th D5097 was noted at Huddersfield with a Leeds - Newquay passenger service.
1969
Still in green livery with full yellow cabfronts, gangway doors fitted.
On a snowy November 29th 5097 was noted northbound over the Settle & Carlisle with a loaded coal train.
1970
5097 worked the 17.40 Bradford Exchange - Kings Cross, to Leeds on November 21st.
1971
On July 5th 5097, 5100, 5101 & 5167 were stabled at Holbeck.
1973
Condition May: green livery with full yellow cabfronts, lion & wheel crest, new style numbers on cab sides.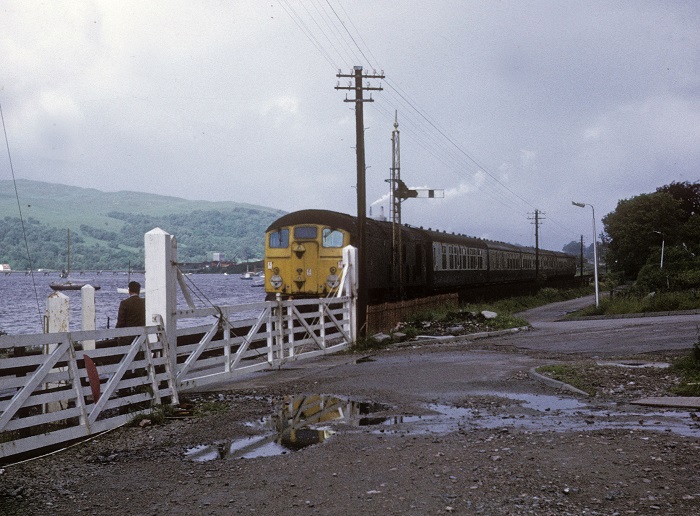 Photograph courtesy collection of Roger Geach.
5097 passing Corpach with a Mallaig - Fort William service on July 2nd 1973.
1974
On July 29th a parcels train with 85026 was assisted into Glasgow Central by 24097, presumably the electric locomotive had failed.
1976
24097 was withdrawn on Fevruary 2nd 1976.
Condition final: blue/yellow livery, gangway doors sheeted over, headcode discs (with black rims) centered on cab front, full size water tank, shortened fuel tank, blanking plates fitted, hand/footholds plated over, three-rung bogie mounted footsteps, ridge sided sandboxes.
At least one of the number & data panels was saved from scrapping.
flk 0122 (1).
Page added September 1st 2016.
Last updated July 29th 2022.
Back to 24096
Forward to 24098